Are you looking for a great ski backpack? If so, you are in the right place! From ultralight hydration packs to multi-day backcountry backpacks, here you will find the best models of the year.
Before making a choice, you must think about the type of skier you are. Do you ski mainly at resorts? Are you a backcountry skier? Do you love ski mountaineering? The features you should look for in your model will depend on your activity. Pay attention to important features such as capacity, materials, straps, special compartments, and safety systems, and find the model that best suits your needs.
Take a look at other articles to find the best ski jackets, pants, gloves, hats, boot bags, cameras, snowshoes, and ski bags.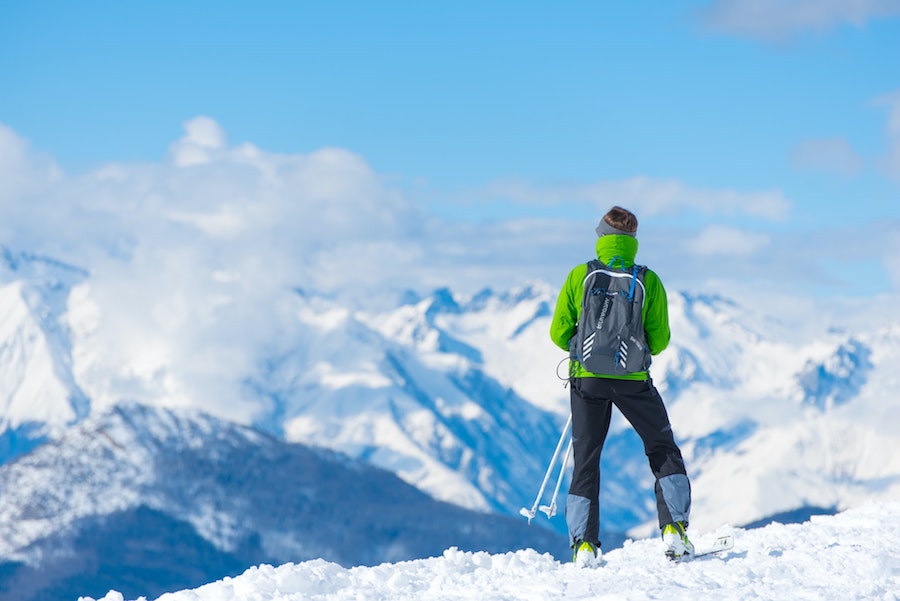 THE BEST BACKCOUNTRY SKIING BACKPACKS
---
SCOTT PATROL E1 22
"Equipped with an airbag"
TYPE: Airbag
CAPACITY: 22 L
WEIGHT: 86.4 oz including airbag
AIRBAG: Included
HYDRATION: No
WOMEN'S VERSION: Unisex
The Scott Patrol E1 is one of the best avalanche backpacks you can find on the market. This model includes an advanced electronic airbag that can be charged by batteries or a USB port. This means you don't need to refill a CO2 canister as in other models. In addition, you can fly with it (airlines don't allow CO2 airbags aboard).
It has other great features, too: diagonal or A-frame ski-carry straps, ice ax straps, a safety gear compartment, and easy-to-operate zipper pullers. The main drawback is that the airbag increases weight and takes up quite a lot of space. Keep in mind that this pack is not cheap at all.
---
OSPREY KAMBER
"Premium quality"
TYPE: Backcountry skiing, mountaineering
CAPACITY: 42 L
WEIGHT: 4.1 lb
AIRBAG: No
HYDRATION: Compatible
WOMEN'S VERSION: Osprey Kestra
The Osprey Kamber 42 is a medium-capacity backpack that includes a bunch of technical features for short and mid-distance expeditions. It has an Avy Gear compartment, a fleece-lined goggle pocket, a hydration sleeve, and several attachment points for ice axes, ski poles, and skis. The shoulder straps are ergonomic and well-padded. Overall, it's a really comfortable backpack, but keep in mind that it's too big for the resort. This pack could be great for hut-to-hut ski tours.
---
DEUTER FREERIDER PRO 28 SL
"Perfect women's design"
TYPE: Sidecountry skiing
CAPACITY: 28 L
WEIGHT: 3 lb 12 oz
AIRBAG: No
HYDRATION: Compatible
WOMEN'S VERSION: Yes
The Deuter Freerider Pro is a great option for short expeditions just outside the resort boundary, snowshoeing tours, and short cross-country ski tours. This model has a compact design with padded straps, a removable waist belt that is really comfortable with medium loads, a dedicated compartment for avalanche gear, a helmet attachment point, and side straps that allow you to haul your skis in an A-frame configuration. In addition, it includes a removable foam structure that can be used as a handy sit pad.
---
ORTOVOX ASCENT 32
"For demanding skiers and climbers"
TYPE: Backcountry, sidecountry skiing, climbing
CAPACITY: 32 L
WEIGHT: 32.4 oz
AIRBAG: Depends on the model
HYDRATION: Compatible
WOMEN'S VERSION: Unisex
The Ortovox Ascent is an ultralight technical backpack designed for demanding expeditions. It's built from lightweight, resistant materials and has a 3D padding system that perfectly distributes the weight over your back, shoulders, and waist. It features a wide variety of straps for your skis (A-frame configuration) and snowboard, as well as other technical features: Avy tools compartment, map compartment, hydration bag sleeve, helmet mesh, ice ax holder, and rope fastener.
---
BLACK DIAMOND DAWN PATROL 25
"Perfect for short expeditions"
TYPE: Resort, sidecountry
CAPACITY: 25 L
WEIGHT: 2 lb 5 oz
AIRBAG: No
HYDRATION: Compatible
WOMEN'S VERSION: Unisex
The Black Diamond Dawn Patrol is perfect for skiers looking for a compact backpack that can be used in the resort, but with enough capacity for short expeditions. If you ever decide to get outside the ski center boundaries, this model will not disappoint you. The Black Diamond Dawn Patrol is compatible with an Avalung device and has a dedicated pocket for avalanche gear. In addition, it has a comfortable suspension system, as well as a bunch of pockets and straps to attach your skis, ice ax, poles, and helmet.
---
DAKINE HELI PRO 24L
"Best mid-range ski pack"
TYPE: Resort, sidecountry skiing
CAPACITY: 24 L
WEIGHT: 2 lb
AIRBAG: No
HYDRATION: Compatible
WOMEN'S VERSION: Unisex
The Dakine Heli Pro strikes the perfect balance between technical performance, capacity, and price. This model can be a great choice for both resort skiing and sidecountry tours. It features a zippered back panel that gets you direct access to all your gear (with enough space to store a fleece jacket, a pair of gloves, a hat, etc.). It also includes a dedicated Avy Gear compartment. The shoulder straps and waist belt provide a firm and comfortable fit.
---
BLACK DIAMOND CIRQUE
"For medium-distance tours"
TYPE: Backcountry skiing
CAPACITY: 45 L
WEIGHT: 2 lb 4 oz
AIRBAG: No
HYDRATION: No
WOMEN'S VERSION: Unisex
The Black Diamond Cirque has a streamlined design, generous capacity, and perfect features for ski mountaineering, ice climbing, and backcountry skiing. It has several straps that you can use to attach your ice axes, ski poles, ropes, skis, and helmet, as well as a dedicated Avy Gear compartment. Due to its 45-liter capacity, it can be used for long expeditions, too. However, keep in mind that it's not very comfortable with heavy loads. This model is perfect for medium-distance technical backcountry tours.
---
DAKINE HELI 12L
"For the resort"
TYPE: Resort
CAPACITY: 12 L
WEIGHT: 1.6 lb
AIRBAG: No
HYDRATION: Compatible
WOMEN'S VERSION: On Amazon
The Dakine Heli is a lightweight, compact backpack, perfect for resort skiing. It features several attachment points for your skis (both A-shape and diagonal), a hydration sleeve, a fleece-lined goggle pocket, and a fair amount of interior space to store a shovel, a pair of folded ski poles, and an extra layer. Also, it has a great price that makes it one of the most popular options this year.
---
DAKINE MISSION PRO 18L
"Great value for the money"
TYPE: Resort, sidecountry skiing
CAPACITY: 18 L
WEIGHT: 2 lb
AIRBAG: NO
HYDRATION: Compatible
WOMEN'S VERSION: N / A
The Dakine Mission Pro is a great choice for both the slopes and short tours around the resort. The main advantages are: 1- It's compact, lightweight, and comfortable. 2- It has a streamlined design, without long straps that can get hooked on the chairlift. 3- It includes a dedicated pocket for avalanche gear in case you want to venture outside the resort. 4- It's fairly priced.
---
CAMELBAK ZOID
"Stay hydrated"
TYPE: Hydration pack
CAPACITY: 2 L
WEIGHT: 10 oz
AIRBAG: No
HYDRATION: Included
WOMEN'S VERSION: Unisex
The Camebak Zoid is an ultralight hydration pack that is specially designed for snow sports. It has a streamlined, functional design that keeps you hydrated without the need to give up on comfort. The filling system allows you to refill the hydration bladder without removing it from the pack. The hydration sleeve and a shoulder strap are thermally insulated to prevent the water from freezing. Also, this model has a small pocket in which to store small belongings, such as keys, a wallet, and some snacks.
FACTORS TO TAKE INTO ACCOUNT BEFORE CHOOSING YOUR SKI BACKPACK
TYPES OF PACKS
What kind of skier are you? You won't need the same model for short expeditions around the ski resort as you will for multi-day tours in the Alps. You may need a duffel bag to carry your equipment (jacket, pants, base layers, hat, gloves, etc.) from your home to the ski resort, but I'm not going to talk about this type of bag today. In this article, I'll focus on ski backpacks.
Downhill skiing
If you're a resort skier, you should choose a compact, comfortable model. Make sure your backpack features padded straps, easy-to-open external pockets, and a simple design without long straps.
Backcountry skiing
Touring ski backpacks have advanced features, extra accessories, and special compartments. When you are touring, you'll need to bring more gear (especially if you're planning to camp in the open), including technical equipment like ropes, ice axes, helmets, etc.
Everything will come down to the type and duration of the expedition. Some models are perfect for short tours during which you stay in huts, while other models are specially designed for technical mountaineering trails.
Depending on the route, you should look for a model with enough straps to attach your skis, helmet, ski poles, and other gear. These backpacks seek to offer the best performance while maintaining a light weight.
Skiers who frequently access remote areas with an avalanche risk should look for a model equipped with avalanche safety systems.
Cross-country skiing
Many cross-country skiers don't like to carry backpacks when traveling short distances. However, a backpack can be really helpful on medium and long tours. In that case, look for a compact model with storage capacity for some snacks, water, and extra layers.
CAPACITY
To find the right capacity, you must consider the type of skiing you practice, the duration of the expedition, and the outside temperature. Do you need extra layers for the coldest months? Are you carrying ropes, ice axes, and other mountaineering equipment? Are you planning a multi-week expedition during which you'll be carrying camping gear?
10-30 liters
Some minimalist skiers opt for ultralight 10-liter backpacks, which are basically hydration packs with an extra pocket to store some belongings.
Many resort skiers will appreciate the light weight of a 20-liter backpack, which typically offers enough space to store a pair of backup goggles, an extra layer, a hydration bag, and some snacks.
Thirty-liter models are popular for both in-bound and sidecountry tours. This is a really practical size, with a perfect balance between capacity, weight, and comfort. Generally, these models have dedicated pockets to store avalanche tools.
40-60 liters
Backcountry skiers will need a larger capacity to store extra layers, sleeping bags, ropes, harnesses, avalanche gear, and other technical equipment.
SKI STRAPS
If you are planning to go on technical expeditions, you may need to take off your skis to cross rocky areas or difficult terrain. Many models on the list feature special straps so that you can attach your skis to your backpack while hiking or climbing.
Ski straps can offer different carry options, including diagonal and A-frame set-ups. The important thing is that they provide a firm hold, so you don't lose a ski in the middle of the expedition. Keep in mind that carrying your skis on your back is not really comfortable. This solution is practical for crossing short sections but not for long distances.
AVALUNG DEVICE
Avalung devices are like snorkel valves that are inserted into the shoulder strap of Avalung-compatible backpacks. This safety device supplies air to the skier in case he or she is buried under an avalanche. The Avalung doesn't protect you from an avalanche, but it keeps you alive longer, increasing the chances of rescue.
As you will see, some models on the list are compatible with Avalung. Like other safety systems, it can be really helpful when you are skiing in potential avalanche areas.
AIRBAG
Airbag-equipped packs are a revolution in safety systems. Most airbags inflate around your neck or from the sides (depending on the design) when you pull a small cord.
This system has two advantages: 1- It protects you from possible blows by branches or rocks that can break off due to the violence of an avalanche. 2- It keeps you closer to the surface, so you don't get sucked in by the avalanche. This makes rescue work much easier.
These models can be extremely expensive (the cheapest models cost around $600), but they can literally save your life. If you are an extreme skier who frequently crosses avalanche-prone areas, I recommend that you go for an airbag-equipped backpack.
HYDRATION SYSTEM
Hydration systems are really helpful for ski touring, so many models are compatible with hydration packs. Generally, there is a dedicated sleeve for the hydration bladder, which is separated from the rest of the equipment.
CLOSURE SYSTEMS AND COMPARTMENTS
All models have several compartments specially designed for different purposes. All the compartments must feature easy-to-use closure systems, such as oversized zipper pullers or drawstrings, which can be easily operated with your gloves on.
If you need to open the main compartment quite often, you should look for models with U-shaped zippered panels, which give you quick access to all your equipment.
If you are going to open your backpack mainly on the chairlift, go for models with top zippers. Some models include a special fleece-lined compartment in which to store your ski goggles.
AVY GEAR STORAGE
If you're a resort skier, don't worry too much about these safety features. In fact, a compact backpack or simple hydration pack could be enough to spend a good day in the snow.
However, backcountry skiers will definitely be exposed to greater risks. If this is your case, make sure your backpack has a dedicated compartment for avalanche tools, commonly known as Avy gear storage.
Certain safety elements, such as a shovel and a probe, must be kept in the Avy gear storage. In this way, you'll know exactly where the tools are, which means you'll have quick and direct access to them in the event of an avalanche.
However, keep in mind that you shouldn't store the rescue beacon in this compartment; rather, keep it close to your body. If you have doubts about how to use all these avalanche devices, I recommend that you take a safety course with an authorized association.
CLIMBING GEAR
Skiers who combine backcountry skiing with ski mountaineering will need a few extra compartments in which to store technical equipment such as ropes, carabiners, grigris, ice axes, helmets, etc. These compartments can be used to store ski poles and other basic equipment, too.
COMPRESSION STRAPS
Compression straps allow you to adjust the capacity of your pack depending on how much gear you are carrying. When you aren't carrying many things, you can tighten the straps, so your backpack will stay closer to your back, thus increasing overall comfort.
GLOVE COMPATIBILITY
If you are skiing in really cold weather, you won't want to take off your gloves at any time. Having cold hands is a terrible feeling. This is why most ski backpacks feature oversized zipper pullers for easy and fast opening. Keep in mind that most regular backpacks don't include this feature.
DURABILITY
Top-end models are made from strong materials, typically nylon and polyester, which are highly abrasion-resistant and durable. Trusted brands like Black Diamond, Scott, Deuter, and Osprey offer great products designed to last for years. I recommend that you invest your money in a durable backpack.
DESIGNS FOR WOMEN
Most models on the list are unisex. However, some manufacturers have created women's versions of their most popular backpacks. These models have small differences in terms of shape, height, capacity, and suspension systems to better fit the anatomy of women.
Hi, I'm Miguel; Adventure traveler, scuba diver and hiking lover. I have been traveling the world for the last 12 years and I hope my experiences, photos and hiking routes inspire you to travel the world too.