If you are planning a trip and looking for a good travel backpack, you have come to the right place!
There are many great backpacks with different capacities, shapes and features, but the only thing that matters is what you really need.
Based on my experience, after more than five years traveling around the world and testing dozens of backpacks, I would choose a backpack as indicated in the following situations:
– If you are planning a short trip in which you won't go hiking, or even a longer trip (if you are able to pack lightly), go for a carry-on backpack. They are comfortable to wear, as well as easy to pack and organize, and you don't need to go through the check-in desk at the airport… perfect for a backpacking trip around Europe or Southeast Asia!
– For long-term trips, especially if you like hiking and will carry a sleeping bag, a tent, some warm clothes and boots, etc., get a 60 to 70 liter hiking backpack. Yes, they will get heavier, but you'll need that extra space if you are going to explore cold mountain areas. I used an Osprey Aether 70 during my last trip across the Andes and I couldn't be happier.
– If you are looking for a compact backpack for a day trip or weekend trips, a daypack might be enough.
– If you need a lightweight backpack for hiking, have a look at this article in which I review the Best Ultralight Backpacks for Hiking.
Check out other gear reviews to find the best camping hammocks, tents for backpacking, sleeping bags and sleeping pads!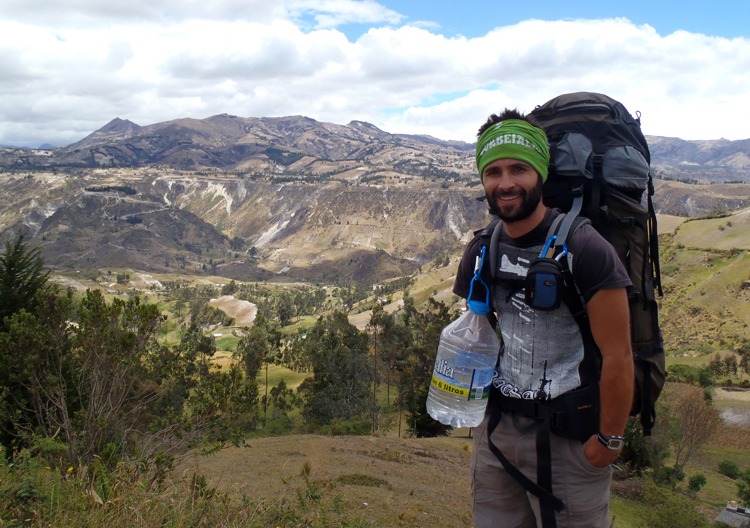 A few thing to consider when choosing a backpack:
Carry-on backpacks
Pros:
√ Good size and comfortable load
√ No need to check in at the airport
√ The backpack zips open like a regular suitcase
√ Easy to access and pack your stuff
Cons:
× The suspension system is not that comfortable
× Sometimes they don't have a hip belt, so all the weight goes to your shoulders
Hiking Backpacks
Pros:
√ More capacity for long-term trips
√ Comfortable suspension system
√ Lots of straps to carry extra stuff (sleeping pad, tent)
√ Adjustable hip belts to transfer the weight to your hips instead of your shoulders
Cons:
× Difficult to pack
× Heavier. We tend to fill available space, so even if you don't carry much stuff in the beginning, the backpack will end up pretty full.
× You have to check in at the airport
What do you need?
Do you have doubts about which backpack is better? No worries, I'm going to review the Top 11 Best Backpacks for Traveling based on my own experiences along with reviews from other travelers so you can choose the one that best fits your needs:
---
THE BEST BACKPACKS FOR TRAVELING. CARRY-ON BACKPACKS
OSPREY FARPOINT 55 (40 +15)
"Best all-around travel backpack"
The Osprey Farpoint 55 is an ultralight, easy-to-pack, full-featured backpack for short- and long-term travel. It comes with a daypack that zips into the main pack, which is perfect for visiting cities or short walks.
Pros:
Great suspension system
Comfortable hip belts
Carry handles on top and side of the backpack
Lightweight
Detachable daypack
You can zip away the hip belt and shoulder straps
---
OSPREY FARPOINT 70 (55 + 15)
"Capacity and comfort"
The Osprey Farpoint 70 is exactly the same backpack as the previous one, with a bigger capacity. I wanted to review this model too because it's good to have extra space for longer trips, when carrying hiking or snorkel gear. Keep in mind that taking off the daypack, you still get a 55 liter backpack, which might be too big to carry on, although it is possible depending on the airline.
Pros:
Bigger capacity
Great suspension system
Comfortable hip belts
Carry handles on top and side of the backpack
Detachable daypack
Zip-away hip belt and shoulder straps
---
KELTY REDWING 50
"Good value for the money"
The Kelty Redwing 50 is a lightweight, comfortable and affordable backpack. That's why it's so popular among many backpackers and hikers. It features a U-shaped zipper for easy access, a good suspension system and comfortable hip belts.
Pros:
Good size to carry on
Good suspension system
Hip belts
Vented system to prevent a sweaty back
Lots of pockets
Detachable daypack
Good price
---
OSPREY PORTER 46
"Great backpack for short trips"
The Osprey Porter 46 is a durable, ultralight and well-constructed travel backpack. It is very resistant and compact. I'd recommend this backpack mainly for short trips. Well, it always depends on how much stuff you need, but this model is pretty simple; it doesn't feature many pockets and the suspension system is not as good as those of the others.
Pros:
Compact to carry on
Hip belts
Carry handles on top and side of the backpack
Zip-away hip belt and shoulder straps
Very good price
---
AMAZONBASICS BACKPACK
"For Urban Travelers"
The Amazon Carry-on backpack is a good option for short trips or even work trips, as it has a special compartment for your laptop with lockable zippers (also great for digital nomads). I wouldn't use it for adventure travel, as the suspension system is not that great, but definitely it's a good choice for a eurotrip.
Pros:
Perfect carry-on size
Interior pockets and compartments
Comfortable shoulder straps
Special padded compartment for laptop
---
DEUTER AVIANT PRO
"Reliable brand"
The Deuter Aviant Pro is another roomy backpack that is ideal for weekend trips. This is a backpack you don't want to carry for many hours, as the shoulder straps are not that comfortable and there are no hip belts to transfer the weight to your hips. However, it's a great, affordable option for short trips.
Pros:
Great carry-on size
Interior pockets and compartments
Special padded compartment for laptop
---
The Best Backpacks for Hikers and Long-Term Travelers
OSPREY AETHER 65
"For adventure travelers"
The Osprey Aether 65 is a fully featured, resistant backpack. I used mine during my last trip along the Andes range, and I can say it's an awesome backpack. The Osprey Aether features lots of straps to hold your sleeping pad, tent, boots or whatever you need. Yes, it's not as easy to pack and it's not as ultralight as carry-on backpacks. You'll also have to pay some extra bucks to check in at the airport, but that's the price you pay for more space and comfort.
Pros:
Great suspension system
Lots of pockets and compartments
Resistant construction
Comfortable shoulder straps and hip belts
Front J-zip for easy access to the main compartment
One of the best backpacks for traveling and hiking
---
DEUTER LITE 65+10
"Great capacity"
The Deuter Aircontact Lite is another good choice for hikers and long-term travelers. My friend Jabi had this backpack when we crossed South America, and I really like it too. Both backpacks have lots of straps, comfortable padded shoulder straps and hip belts. The capacity of the Deuter is a bit bigger, but I prefer the Osprey Aether 70 because it is equipped with a front J-zip for easy access to the main compartment. Both are great travel backpacks.
Pros:
Great suspension system
Several interior pockets
Solid construction
Padded shoulder straps and hip belts
Comfortable with heavy loads
---
OSPREY KESTREL 48
"Adjustable and comfortable"
The Osprey Kestrel is a great option not only for hikers but for backpackers, as it's fully equipped with lots of exterior and interior pockets as well as many straps for carrying extra gear. It's very comfortable to wear because it features an adjustable harness to fit the torso length and adjustable hip belts to accommodate different hip sizes. Also, it's lighter than the Aether and the Atmos.
Pros:
Adjustable harness
Good suspension
Several interior and exterior pockets
Durable construction
Padded shoulder straps and hip belts
---
The Best Backpacks for Ultralight Travel
OSPREY TALON 22
"Super Compact"
The Osprey Talon 22 is a compact and ultralight backpack for those who really want to pack light. If you are OK with doing some laundry evey few days and don't need to carry much gear, this might be a great choice.
Several compartments
Zippered pockets on hip belts
Compact and lightweight
---
OSPREY DAYLITE 13
"Affordable, compact backpack"
The Osprey Daylite 13 is one of the smallest and most lightweight backpacks you can find on the market. Keep in mind that just a few articles of clothing can fit inside. This is more like a daypack for short visits, running, going to the gym, etc.
Lightweight
Super compact size
Several exterior pockets
You can attach it to other Osprey backpacks
---
HOW TO CHOOSE THE BEST BACKPACK
FIND THE RIGHT CAPACITY
Several factors can help you find the right size. Obviously, this is very personal. Some people tend to carry more stuff than others, while some people are more cold-blooded and want to bring a lot of warm clothes, etc.
If you aren't going to take a long trip, I recommend keeping the capacity at 40 or 50 liters. This is a very comfortable size for travel; the backpack doesn't feel heavy and you'll save a lot of money by not having to check in your backpack at the airport.
If you love hiking and usually include mountain routes on your trips, 50 liters won't be enough. A good sleeping bag, a sleeping pad, a stove or a tent take up a lot of space. In this case, think about 70 or 80 liters to comfortably store all your gear. This way, you won't have to hang your boots out of your backpack.
STRAPS
No matter how light you go, at the end of the day you'll feel the weight of the backpack. That's why it's so important to get a quality backpack. Most cheap backpacks have terrible straps that can take their toll on you.
When choosing your backpack, ensure that the straps are well-padded. In addition, your backpack must have a good hip strap. The backpack's weight shouldn't rest on your shoulders, but on the hip strap. This way, most weight is distributed over the upper body, giving some release to your shoulders.
POCKETS
One of the biggest disadvantages of backpacks is that internal organization can be a bit chaotic. The best travel backpacks incorporate a variety of pockets and compartments for organizing clothes, separating electronic items, storing accessories for personal hygiene, etc.
Sometimes the inside pockets have special zippers or Velcro to store important documents, money, credit cards, etc. The backpack should also have several exterior pockets where you can store things you want to always have at hand, such as your phone, a map, a bottle of water, etc.
MATERIAL
At some point during the trip, you'll get dirty. A sudden rain in the city, a storm in the middle of the mountain, a fall in the mud … every backpack experiences some of those moments. That's why you should buy a travel backpack made from high-quality materials. Water resistance is an important factor to consider. This doesn't mean that the backpack is totally waterproof. However, water-resistant backpacks will withstand some rain, and your clothes won't get soaked.
In addition, the backpack's material must resist scratches, and the seams must withstand weight and pulls without loosening.
I recommend that you invest a little more and buy a quality backpack. Many people who paid $20 for their backpacks complain that they don't have good seams, they don't resist water, etc. Of course, it's a $20 backpack; you can't expect the quality of a $250 Osprey.
DESIGN
Regardless of the backpack's style and the type of trip, your backpack must be comfortable. We've already talked about some comfort factors, such as the type of straps, the capacity, etc. However, the design also plays an important role. The backpack must distribute the weight correctly so that you aren't uncomfortable.
Remember that your backpack will become an inseparable friend, and you'll have to learn to love her. The most important thing is to find a good design that fits your back well, without metal reinforcements that might be uncomfortable and featuring padded straps and a special hip strap.
REMOVABLE DAYPACK
Some models, such as the Osprey Fairpoint, include a removable backpack. Therefore, they have a small backpack zippered to the main one. Actually, it's like carrying two backpacks in one. This can be a good option for city trips or short mountain routes. You can leave the main backpack in the hostel and bring the small one with you to explore during the day.
ADJUSTABILITY
In addition to having a good design, the backpack must be adjustable to your height, thickness, etc. Many of the best backpacks feature an adjustable back system so you can position the straps according to your preferences. This is essential for adapting the center of gravity to the size of your back.
BREATHABLE SYSTEM
Many models include a system that helps keep your back dry (or less wet). However, not all backpacks have this. Among carry-on models, some include basic breathing systems while others do not.
Mountain backpacks, on the other hand, usually feature more advanced systems. In some cases, the system includes a mesh that rests on the back and that includes a space between the mesh and the backpack itself. This way, the entire area is more efficiently ventilated.
EASY ACCESS
In addition to pockets, backpack accesses are key to keeping everything well-organized. I wouldn't buy a backpack that opens only from the top. This way, you won't have to take out and repack everything simply to find an electrical adapter.
I love backpacks with a U-shaped or J-shaped access in the front because you can open them like a suitcase, with direct and easy access to anything you might need. Many hiking backpacks also include an access or a separated compartment in the lower area. This can be helpful for keeping a sleeping bag or rain jacket, so when you see a storm coming, you can take it quickly.
RAIN COVER
A rain cover is a simple element, yet one that you should always take into consideration. Most of the time it's located at the bottom of the backpack, inside a small compartment which usually opens with Velcro.
As we have seen, most backpacks are not completely waterproof, and in the event of rain, they end up wet (including the clothes inside). Try to get a backpack with a rain cover. If you find a model that you like and that doesn't have a rain cover, don't worry; you can buy the cover separately.
COMPARTMENTS IN THE BELT
Backpacks with great capacity (40-80 liters) almost always include an adjustable hip strap to distribute the weight comfortably. If you're going to buy a backpack like this, I recommend that you find one featuring pockets in the hip straps. This seems silly, but having a small, accessible compartment can be very helpful.
I usually carry some coins and small bills in it. You can also store napkins, sunglasses or even your phone. It's great to have quick access to those things without having to take off your backpack, start looking, get what you want and then put your backpack on again.
LAPTOP COMPARTMENT
Today many people travel with a laptop, especially those who work online (so-called digital nomads). If this is the case with you, look for a backpack with a special compartment to store your laptop. Otherwise, you can consider buying an extra backpack to carry your computer, electronic devices, etc.
Many small carry-on backpacks include a compartment of this type. On the other hand, big backpacks don't usually feature laptop compartments.
LOCKABLE ZIPPERS
To finish with the main features of a backpack, you should know that many backpacks include lockable zippers so you can use a padlock and improve security. One thing is clear: A backpack is not a safe, and if someone wants to open it, he or she will. However, the idea is to make access as difficult as possible for the thief.
WHY TRAVEL WITH A BACKPACK?
A suitcase or a backpack? For me, the answer is simple: A good travel backpack is better. Regular suitcases can be good for moving stuff from one city to another or maybe if you're going on an organized trip during which someone will be taking your luggage from one place to another. However, when you travel on your own, a backpack offers more advantages.
For a start, when you travel to rural areas or countries in Asia or Latin America, the pavement tends to be in bad condition. If you visit European cities, many streets are cobbled, so they aren't very comfortable for dragging a suitcase (even with the best wheels in the world). A backpack adapts to your back and gives you total freedom of movement … you can get into any path you want!
In addition, you'll have your hands free so you'll be able to open a map to locate yourself or comfortably look at your phone to find your hostel address.
When moving around the city, there's no comparison. Taking the subway or the local bus with a suitcase is a terrible experience! A backpack is much more flexible, so you can place it comfortably between your feet.
Many people complain about the burden of carrying a travel backpack on their shoulders. Sure, there are some disadvantages. The key is to not overload it. You should travel as light as possible. Haven't you ever returned from a trip and realized that you didn't use many of the things you packed?
If you manage to pack only the essentials, you will be able to travel comfortably. In addition, you may not have to check in at the airport, thus saving the check-in tax.
I hope I convinced you. As you can see, travel backpacks offer a lot of advantages!
Would you pin it? Thanks!
---
Other travelers also liked:
---
Rei article about How to Choose the right backpack
---
Did you like the Top 11 Best Backpacks for Traveling? Please, leave a comment!
---
Disclosure: As an Amazon Associate I earn from qualifying purchases. If you click on the link and purchase the item, I will earn advertising fees. There are other affiliate links to REI and Leisure Pro.
Hi, I'm Miguel; Adventure traveler, scuba diver and hiking lover. I have been traveling the world for the last 10 years and I hope my experiences, photos and hiking routes inspire you to travel the world too.