When we are scuba diving, we need to use the right gear to keep our bodies warm. Feeling cold is uncomfortable, right? To prevent heat loss, we must ensure that we protect our hands, especially when we are diving in mild or cold waters. Also, we must ensure that our wetsuits and gloves are appropriate for the temperature of water in which we are diving.
Dive gloves will also come in handy if you like to dive in tropical waters. They help keep your hands warm while simultaneously protecting them from scratches and cuts, which are common when one is wreck diving or spearfishing.
Hundreds of models are available on the market, so making a choice isn't easy. What should you choose in terms of thickness, design, and materials? Don't worry! In this article, I'll talk about the main factors to consider when you're choosing the right model. In addition, I'll review the best models of the year so you can find the one that most suits your needs.
Check out other buying guides to find the best booties, dry snorkels, dive BCDs, dive regulators, diving bags, spearfishing fins, spearfishing wetsuits, dive masks, and dive knives.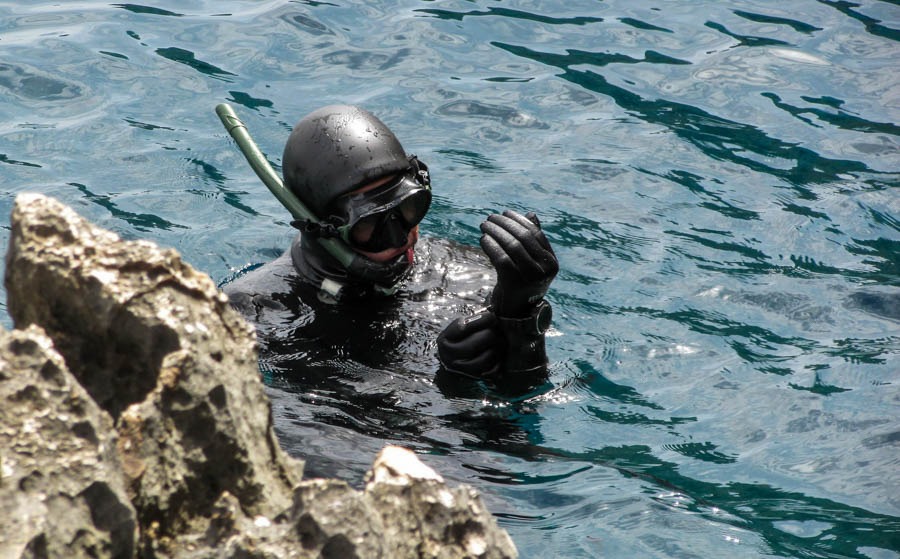 The 10 Best Gloves for Scuba Diving:
SCUBAPRO EVERFLEX
MATERIAL: Neoprene
THICKNESS: 3 mm
FEATURES: Flexible and easy to take on and off despite the fact that they don't feature a zipper or Velcro wrist. Offer great abrasion resistance. Reinforced fingers and palms allow for a better, more secure grip. Built with comfortable "Everflex" neoprene that dries quickly and provides great sealing. Blind-stitch construction prevents water from entering the glove. Great option for diving in mild waters.
---
MARES FLEXA 3 mm / 5 mm
MATERIAL: Neoprene
THICKNESS: 3 mm
FEATURES: Double-coating neoprene featuring blind, glued seams. Include a rubber layer over the palms to improve grip.
Very popular among all types of divers due to its comfort, sensitivity, and price.
---
SCUBAPRO SEAMLESS
MATERIAL: Neoprene
THICKNESS: 1.5 mm
FEATURES: Lightweight, durable, and comfortable to wear. Heat-taped seams for better performance. Palms feature a rubber pattern to provide a better grip. Don't include Velcro or zipper fasteners, but are easy to put on and take off. Recommended for warm-water diving.
---
CRESSI HIGH STRETCH
MATERIAL: Neoprene
THICKNESS: 2.5 mm
FEATURES: Low-density neoprene that stands out for its elasticity. Ultrastretch lining reinforced with PV throughout the glove. Medium abrasion resistance, but really comfortable, versatile, and elastic. A great option for recreational diving, freediving, and spearfishing.
---
MARES BLUE HUNTER
MATERIAL: Neoprene and amara
THICKNESS: 2 mm
FEATURES: Don't provide as much heat insulation as thicker gloves do. However, they allow for finger mobility and sensitivity.
Amara layer improves resistance, durability, and grip. Wrist straps closed by Velcro. Great option for spearfishing and professional scuba diving.
---
CRESSI ULTRASPAN CAMO
MATERIAL: Neoprene
THICKNESS: 2.5 mm
FEATURES: Good wrist sealing. Built with Ultraspan neoprene to increase flexibility and comfort. Non-slip dot pattern on fingers for better grip. Offers great mobility-insulation ratio. Camo design is very popular among spearfishers.
---
AQUALUNG THERMOCLINE ZIP
Here at: Amazon
MATERIAL: Neoprene
THICKNESS: 3 mm
FEATURES: Zipped wrists to reduce water entry. Built with high-quality neoprene and blind-stitched seams.
Really comfortable to wear. Easy donning and doffing. Recommended for mild-cold waters.
---
CRESSI TROPICAL
MATERIAL: Neoprene and Nappa leather
THICKNESS: 2 mm
FEATURES: Built with soft, lightweight materials. Palms and fingers are reinforced with Nappa leather for better grip and durability. Wrist is closed by Velcro straps. Great model for those who need sensitivity in their hands. Recommended for spearfishing, freediving, and scuba diving in mild-warm waters.
---
NEOSPORT
MATERIAL: Neoprene
THICKNESS: 3 mm
FEATURES: Textured palm and fingers with special design for greater grip. High-quality glued and sewn seams.
Optional Velcro fasteners to improve sealing. (They can be cut if not needed.) Great value for the money.
---
SEAVENGER ABYSS
MATERIAL: Neoprene, leather, and Lycra
THICKNESS: 1.5 mm
FEATURES: Leather reinforcement on palms and fingers. Very comfortable to wear, fantastic grip. Don't feel as warm as other models on the list, but are pretty economical. If you are looking for budget gloves with good performance, these may be your best option.
---
What are the benefits of scuba gloves?
The main benefits are: 1- They help keep our hands warm. 2- They protect us from scratches and cuts. These accidents are common when we touch the seabed, when we are wreck diving, or when we are spearfishing.
WARMTH
The main reason is to protect our fingers and hands from the cold. In fact, we lose quite a bit of heat from our hands and feet while we are diving.
The water temperatures you encounter will depend on your destination and the season of the year. That's why the gloves you'll wear while diving in Sipadan will be different from the gloves you'll wear while diving in Iceland or in South Africa. It's very important to wear the right model.
In very cold climates, you may need dry gloves, which include a sealing system, guaranteeing that absolutely no water will enter the glove.
PROTECTION
They also provide hand protection. That's why they're helpful when you're diving in mild or tropical waters. Sometimes you may need a good grip, either to hold your speargun or for underwater work.
Remember to respect the seabed and the coral reefs. Though the gloves are protecting your hands, you must never touch the corals.
How to choose the right model:
The following features will affect the level of warmth and protection. These are key factors in finding the right model.
THICKNESS
When choosing the glove's thickness, you should think about the temperature of the water in which you are going to dive, as well as about your cold tolerance. Some people (like me) are pretty cold-blooded.
Most warm-water divers wear 1 mm or 1.5 mm gloves. This thickness is good for diving in Thailand, Indonesia, Mexico, Belize, etc.
For diving in mild waters, such as in the Mediterranean Sea, most people opt for 2 mm or 3 mm, depending on the season.
For diving in cold waters, such as in northern Europe, at least 3 mm to 7 mm is recommended (also depending on the season).
The overall recommendations are:
1-3 mm: water temperature between 16-24°C (61-75°F)
5-7 mm: water temperature between 8-16°C (46-61°F)
MATERIALS
Neoprene is the most-used material because it is comfortable, flexible and durable. Above all, it also has great insulating properties. As you know, neoprene works very well underwater, which is why it has been used to manufacture diving suits, booties, and other diving gear for decades. Neoprene models are usually manufactured up to 7 mm thick.
Some gloves are made with synthetic textiles and leather, which provide greater sensitivity and grip.
Other models include reinforcements in the palms and fingers. Kevlar is widely used to reinforce the palms, as it provides great resistance, thereby preventing abrasion-related damage. Kevlar designs are popular for spearfishing, wreck diving, cave diving, and underwater work. In addition to Kevlar, some gloves feature linings made from amara (a synthetic leather that improves grip) and Dyneema (a very resistant type of polyethylene).
WHAT SIZE DO YOU NEED?
As you would with any type of diving gear, you must ensure that your gloves fit well.
If you choose a size that's too small, you're likely to feel uncomfortable. Too-small gloves will restrict your finger mobility, thereby resulting in decreased sensitivity.
On the other hand, if you choose a size that's too large, water could enter the glove. This means you would lose your protection against the cold. In addition, large gloves can make it difficult to use your diving equipment, which could be dangerous in the event of an emergency. Make sure they are slightly tight against your fingers and wrist while still being comfortable.
FASTENERS
The sealing system plays an important role in determining the insulation performance. There are several types of fasteners that provide different sealing qualities. When combined with various other factors, the type of fastener you choose will determine the amount of water that enters the glove. Also, a good fastener will help you quickly put on or take off your gloves.
The zip fastener is quite common. Most zips include a relatively large puller so that you can easily use the other hand to operate the zipper.
Velcro wrist straps make donning and doffing pretty easy, too. Simply put on the glove and then use your other hand to adjust the Velcro wrist.
However, the most popular system is a glove with a long flexible wrist, without Velcro and without a zipper. The wrist sealing is created by the glove's flexibility. This kind of glove may lose some flexibility over time but, in general, it works well. Most of the time, this is also the most affordable option.
WHAT'S THE PURPOSE OF YOUR DIVE?
What type of scuba diver are you? In addition to the water temperature, you must think about the purpose of your dive. If you are a recreational diver, basic gloves will work. You won't need to worry about having many extra features.
If you do underwater work, fish farm repairs, etc., you'll need extra-resistant reinforced gloves. Also, if you like night diving, wreck diving, or cave diving, keep in mind that these activities may result in accidental scratches on your hands. Therefore, look for models with special reinforcements made from amara, leather, or other resistant materials.
Photographers will need thin gloves that allow for greater mobility and sensitivity in the fingers. If you are planning to take photos in cold waters, you'll need thicker gloves, so try to find a balance between sensitivity and thermal insulation.
DESIGN
The most commonly used design is the classic five-finger glove. It fits perfectly on your hand, thereby enabling greater mobility and grip. All the models featured in the list are five-fingers.
The mitten-shape design is used mainly for diving in very cold waters. They have a large space for the four major fingers and a separate space for the thumb. The four fingers stay together, which means they retain heat more easily. This design is not recommended if you need to handle certain gear or underwater cameras.
BRANDS AND BUDGET
Many manufacturers produce high-quality diving gear. Mares, Cressi, Neosport, Aqualung, and ScubaPro are good brands that offer quality products at reasonable prices. While there are other brands that are more expensive, you don't have to spend a fortune to get a good pair of gloves (unless you have really specific needs).
Also, you'll find cheap models on the market for less than 10 USD. These are typically made in China, and I do not recommend them. You'd do better to spend a little more money and get a model that provides good insulation and durability. Most models on the list cost around $25, which is a reasonable price.
How to care for your gloves:
To properly care for your gloves, simply follow some basic recommendations. 
Actually, this is the same process you'd use to take care of most of your diving gear. The most important thing to do is to clean your gloves with fresh water after each dive. Any remaining salty water must be removed, as it can damage the glove's materials.
Some divers use specific soaps to clean their gloves. If you do this, make sure you're using the right soap, as the wrong type of soap could damage the neoprene and reduce your gloves' lifespan. Honestly, I recommend that you simply clean them with fresh water. Do not put them in the washing machine.
As always, store them in a ventilated, dry place, out of the reach of the sun.
---
Did you enjoy the Top 10 gloves for scuba diving and spearfishing? Leave a comment!
Hi, I'm Miguel; Adventure traveler, scuba diver and hiking lover. I have been traveling the world for the last 12 years and I hope my experiences, photos and hiking routes inspire you to travel the world too.