Are you looking for a handled GPS for your next hiking adventure? If so, you have come to the right place!
Whether you are hiking through canyons or volcanoes, or climbing high peaks, these modern devices can be very hepful in many situations. They will let you know your actual location, the distance left to the final point, the altitude, the orography and much more.
Check out other gear reviews to find the best travel backpacks, sleeping bags, and hiking sunglasses!
I know, there are many different models out there and it's hard to pick one. That's why I've created this buyer's guide to help you make the right choice.
The Best 10 Hiking GPS:
TOP-END
---
GARMIN OREGON 750t
The Garmin Oregon 750t is one of the most advanced and sophisticated GPS devices on the list. The high-resolution touchscreen provides excellent readability and includes an 8 MP built-in camera and a very sensitive satellite tracking system.
FEATURES:
Medium size, Touchscreen
Built-in 8 MP camera
Preloaded Topo U.S 100K maps
AA batteries or NiMH battery pack
3-axis compass, accelerometer, barometric altimeter
---
GARMIN MONTANA 700i
The Garmin Montana 700 is a bit bigger than the previous Garmin Oregon (but pretty rugged). That makes it a bit heavier, but also easier to read and use, even with gloves.
FEATURES:
Full size, Touchscreen (glove-friendly)
Built-in 8 MP camera
Preloaded Topo U.S 100K maps
AA Batteries or Rechargeable lithium-ion battery
3-axis compass, barometric altimeter and Wi-Fi tech
inReach Technology
"Big device with high resultion"
---
GARMIN RINO 750
The Garmin Rino 750 is a sophisticad GPS device that has the advantage of featuring a radio, which is great for hikers traveling in a group.
FEATURES:
Full size, Glove-friendly touchscreen display
FRS/GMRS radio capability
Preloaded Topo U.S 100K maps
AA Batteries or Rechargeable lithium-ion battery
3-axis electronic compass, barometer and altimeter
8 MP camera with flash
"Communicate with other hikers"
---
GARMIN eTREX TOUCH 35
The Garmin eTrex Touch 35 is a small and lightweight device equipped with the latest technology. Thanks to its compact size, it's also a great GPS for cycling and other activities.
FEATURES:
Small size, Touchscreen display
Preloaded Topo U.S 100K maps (only the 35T model)
AA Batteries
3-axis compass and barometric altimeter
"Compact Size and Advanced Technology"
---
MID-RANGE
GARMIN GPSMAP 64X
The Garmin GPSMAP 64 is a simple and easy-to-use device equipped with great reception, a high-resolution screen and wireless connectivity.
FEATURES:
Full size, Buttons menu (no touchscreen)
Preloaded Topo U.S 100K maps
Rechargeable lithium-ion battery and AA batteries
3-axis compass, barometric altimeter and Wi-Fi tech
"Great satellite reception"
---
GARMIN eTREX 32x
The Garmin eTrex 32x is a small and lightweight GPS device with great features. I think it's a good option for entry-level hikers who don't want to break the bank.
FEATURES:
Small size, No Touchscreen
Preloaded Worlwide basemap, Can upload Topo maps.
AA batteries
Long Battery Life
Wireless connectivity
"Compact and Lightweight"
---
BUDGET
GARMIN eTREX 22x
The Garmin eTrex 22x is a pretty simple device equipped with the most basic but important features. It doesn't provide a compass, barometer, altimeter or wireless technology, but you can load topo maps and the quality of the screen is really good.
FEATURES:
Small size, No Touchscreen
Preloaded Worlwide basemap, Can upload Topo maps
AA batteries
Long Battery Life
---
In addition to the Best Handheld GPS for Hiking, I'd like to recommend a couple of Hiking Watches equipped with GPS. One thing is sure: the mapping system of a handheld GPS is way better than the one in hiking watches. However, a good hiking watch is smaller, lighter and more comfortable to wear. In addition, the batteries run longer and it is usually equipped with lots of features like an altimeter, a barometer, a thermometer, biometrics data and more.
WRIST WATCHES
---
GARMIN FENIX 7X
The Garmin Fenix 7X is a great hiking watch equipped with GPS (of course), a 1.2-inch high-resolution display, water resistance, heart activity tracking, solar battery and much more.
FEATURES:
Mesures oxygen levels and heart activity
Solar battery
Altimeter, barometer and compass
Wi-Fi connectivity with your Smartphone
Multi-sport mode
---
SUUNTO 9 BARO
The Suunto 9 Baro is another good option for those looking for a GPS watch with the most advanced features. You can track your progress with altitude and distance statistics. It also estimates daily steps and calories and connects to your smartphone via Wi-Fi.
FEATURES:
Tracking of steps and calories
Sunset and sunrise times
Storm alarm
Altimeter, barometer and compass
Wi-Fi connectivity with other devices
---
Conclusion:
I have tried to put together the best GPS's based on quality, durability, battery life, weight and size. All these models come in portable sizes, so you can fit them in your pocket. If you don't want to carry a handheld GPS, hiking watches are a very good alternative.
Personally, I love the Garmin Montana 750t, which has a bigger display and one of the longest battery lives on the list. If you'd like to get a hiking watch, the Garmin Fenix 7X is probably the best option.
---
A few things to take into consideration before buying the Best Hiking GPS:
CONSTRUCTION
If you go hiking pretty often, odds are you will drop your GPS on the rocks at some point, right? A good handheld GPS must be waterproof, robust and shock-resistant.
DISPLAY
A handheld GPS should have a high-resolution display. The size of the screen must big enough for easy reading of the map.
BATTERY LIFE
One of the advantages of a handheld GPS over regular Smartphones is that their batteries last much longer. You should get a GPS with a minum battery life of 10-12 hours. Moreover, most GPS can use rechargeable batteries as well as alkaline batteries.
WEIGHT
When you go hiking, carrying light gear is important. All the next GPS are pretty light, but keep in mind that some models with larger screens might be a bit heavier.
FEATURES
Most GPS devices are equipped with a barometer to track weather conditions, an electronic compass to indicate the direction and an altimeter to indicate the altitude.
RECEPTION
Some GPS models are more sensitive than others, getting a stronger signal from the satellite even if you are in dense woods. I've reviewed only GPS with the best reception.
TOPO MAPPING SYSTEM
Not all GPS devices can accommodate topo maps. Some of them have monochrome screens and a basic mapping system. Getting this feature usually depends on the price you want to pay to get the best GPS for hiking. However, there are some budget options with pretty good topo maps.
WIRELESS TECHNOLOGY
Some GPS models are equipped with Wi-Fi technology to share tracking data with other devices.
POSITIONING TYPE
All tracking devices rely on a GPS system to determine your position as accurately as possible. However, this positioning system is not always perfect. Sometimes, in certain places such as deep canyons or dense forests, it may show an incorrect position. That's why, for greater performance, many new devices use the traditional GPS system along with the GLONASS system.
Garmin is one of the pioneer brands using this system, so you'll see that most of the devices on this list are Garmin. The GLONASS system offers a more accurate reading because it uses more satellites to get the right position.
Most devices also use the WASS system to get even better results. Therefore, I recommend that you get a device using the three positioning systems: GPS, GLONASS, and WASS.
BUILT-IN CAMERA
Some models on the list include built-in cameras that offer several advantages. First, you can take photos without carrying a heavy camera. (However, keep in mind that these cameras don't offer the same quality as DSLRs or mirrorless cameras.)
In addition, the photos you take will be tagged with information about exactly where you took them. This way, you can share your GPS routes along with photos of the trail.
SMARTPHONE APPs vs. HANDHELD GPS
You can find some great apps to use on your smartphone. I have used Wikiloc a few times and it's fantastic. It really depends on the type of trail you are going to hike. For day hikes, you may not need a handheld GPS; carrying your smartphone might be enough.
However, keep in mind that handheld GPSs have better navigation features, better satellite reception, and a much longer battery life. If you are planning to take a multi-day hike (especially when you can't charge your smartphone every day) or high-altitude trek, I suggest going for a handheld GPS.
DO I STILL NEED A GOOD MAP?
The fact that you're carrying a GPS doesn't mean you don't need a map. Some people still make the big mistake of forgoing a map, which can lead to very dangerous situations. A map is essential for any mountain route, even if you don't end up using it. A GPS device can run out of batteries or break in the middle of your trail, and then what will you do?
RECEPTION
Most modern devices have an accuracy of about 5 to 10 meters. For a GPS using the WASS system, the accuracy goes down to about 3 meters. Some models have the option of attaching an external antenna to improve accuracy.
DO I NEED PRELOADED MAPS?
Many models come with preloaded maps, which, to be honest, tend to be quite bad. You can buy a model with preloaded maps, but you'll see that the maps are not very detailed, contour lines are missing, etc. The good news is that you can find many maps on the internet, and usually for free. Almost all devices include enough memory to hold the maps you might need.
HOW DOES A GPS WORK?
A GPS positioning system uses a signal sent by several satellites to determine your location. This network is based on 30 satellites orbiting the earth at an approximate distance of 20,000 km.
The system is designed in such a way that no matter where you are on Earth, at least four visible satellites will be retransmitting a signal. Your device reads this signal and calculates the distance to each satellite depending on the signal's arrival time. This shows your current location with great accuracy.
How to use your GPS
– Some of these GPS's have many features. Take your time to learn how to use them before you go on a hike.
– Be sure your GPS is fully charged.
– Check out the latest maps and apps and always keep your GPS updated.
Would you pin it? Thanks!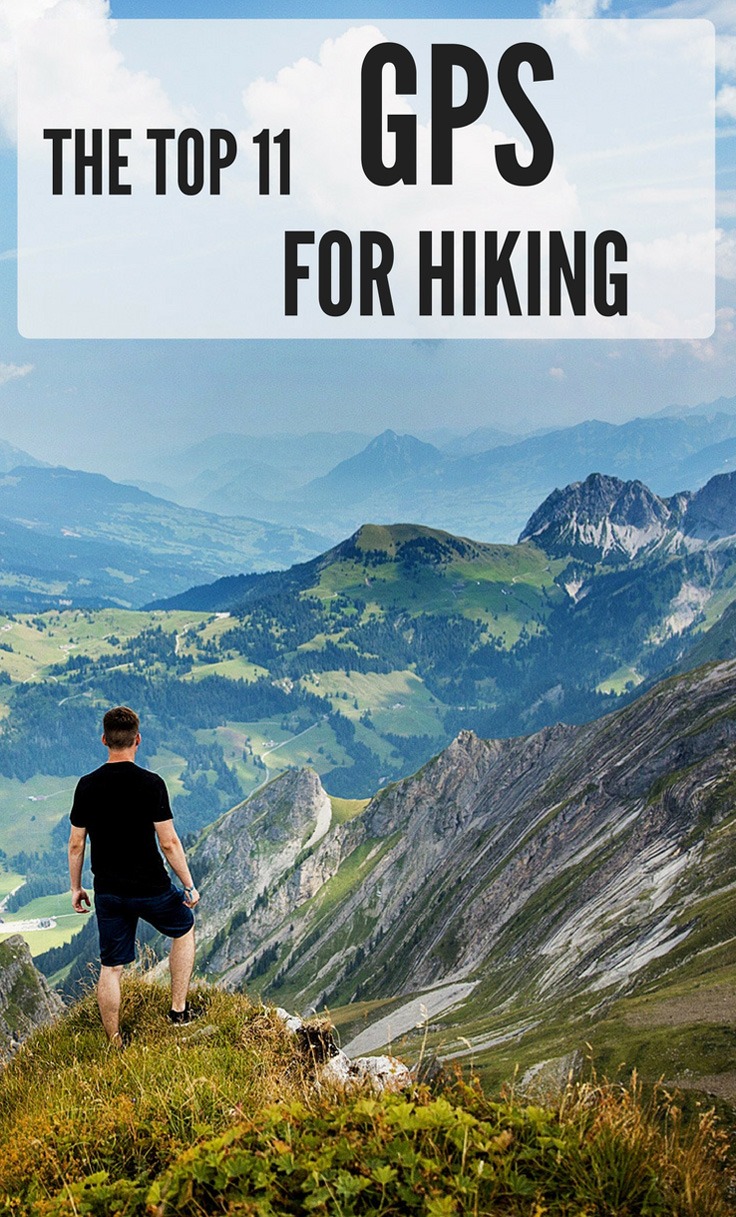 ---
Other hikers also liked:
---
National Geographic article about GPS
---
Did you like the Top 11 Best GPS for Hiking, Review? Please, leave a comment!
Hi, I'm Miguel; Adventure traveler, scuba diver and hiking lover. I have been traveling the world for the last 12 years and I hope my experiences, photos and hiking routes inspire you to travel the world too.