Hiking shirts have become essential gear for most hikers and outdoor lovers. Among their main advantages, they help us stay cool and dry in warm climates, as well as keep us warm when the temperature starts to drop. The fabrics used in these shirts are designed to remove excess moisture, dry quickly, and let the skin breath. Hiking shirts should be comfortable to wear and flexible, especially on demanding or long mountain trails. Also, many hiking shirts have attractive designs, which makes them good options for casual everyday clothes.
Thousands of options are available on the market, so deciding among them isn't easy. However, don't worry. Here, I offer a complete buying guide to the best trekking shirts of the year. Compare models and features and find the one that best fits your needs.
Check out other hiking guides about solar chargers, hiking poles, headlamps, down jackets, and binoculars.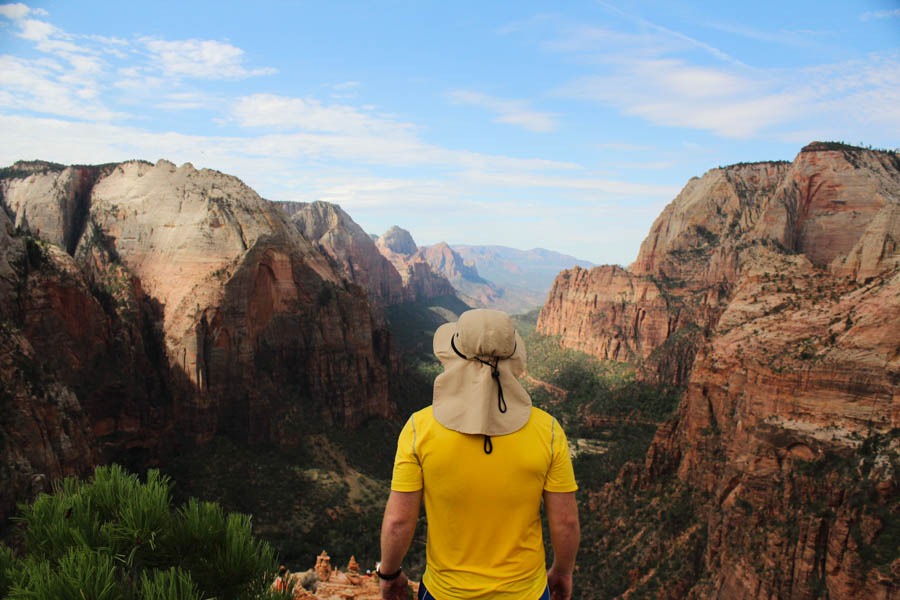 THE BEST HIKING SHIRTS – SHORT SLEEVE
---
COLUMBIA MEEKER PEAK
Material: 100% polyester
Fit: Slim
Use: Hiking, climbing, running
Features: It includes an Omni-Wick system that facilitates evaporation. Though it's quite thin, it feels warm when combined with a thin sweater or jacket.
The material is resistant and durable, and is designed to withstand lots of outdoor adventures and washes. It's flexible, comfortable, and soft to the touch, and is perfect for demanding hikers and backpackers. It offers high breathability.
---
ARC'TERYX MEN'S MOTUS
Material: 100% polyester
Fit: Slim, long cut
Use: Multi-sport, running, trekking, climbing
Features: It has a slim design with an extended hip-length cut that works well with shorts and slim pants. It's lightweight, breathable, and quick-drying. It also has reduced odor retention.
The anatomical shape and elastic materials provide for great mobility. The design is quite resistant, including reinforced armpits and reduced seams to avoid rub. While it's not cheap, it performs well.
---
ICEBREAKER TECH LITE
Material: 87% merino wool, 13% nylon
Fit: Slim
Use: Trekking, backpacking, daily use
Features: Excellent breathability and moisture wicking. Merino wool works as good thermal insulation while nylon provides greater durability and strength.
Ideal for different climates; you can use it solo in hot weather or wear it with a down jacket if the temperature drops. It provides good protection against abrasion and UV rays. The fabric is somewhat porous. Like most merino clothing, it's a bit expensive.
---
OUTDOOR RESEARCH ECHO
Material: 100% polyester
Fit: Slim
Use: Running, hiking, mountaineering, casual
Features: The shirt is comfortable to wear and highly breathable. Built with an antimicrobial agent that reduces odors.
Flat seams provide comfort and resistance. The back of the neck has small, reflective logo letters. The shirt provides great moisture wicking and ultra-quick drying. It's probably the best value for the money.
---
UNDER ARMOUR TECH
Material: 100% polyester
Fit: Slightly tight
Use: Running, trekking, multi-sport
Features: The UA Tech polyester construction provides softness, comfort, and elasticity. In addition, it wicks away sweat and dries very quickly.
The anti-odor technology significantly reduces the formation of odors caused by microbes. It's lightweight, durable, and resistant. It's also one of the most popular models among hikers and outdoor lovers.
THE BEST SHIRTS FOR HIKING – LONG SLEEVE
---
COLUMBIA SILVER RIDGE
Material: 100% nylon
Fit: Slim, long cut
Use: Trekking, camping, casual
Features: The Omni-Wick system works really well; it wicks away moisture from the skin and helps with evaporation.
The construction is very good; it provides excellent protection from the sun and in adverse climates. The sleeves are slightly longer for extra protection. It has a pair of useful pockets. The design is very modern and casual. It can be worn outdoors and also casually, for every-day wear.
---
ICEBREAKER MERINO 200 OASIS
Material: 100% merino wool
Fit: Tight
Use: Base layer or hiking shirt
Features: Breathable wool shirt, ideal for different climates. It's a great base layer for cold weather; you can wear it with a down jacket.
In hot weather, you can wear it solo. The material is high-quality; it offers good durability, warmth, and comfort. It reduces bad odor. Several models, colors, and designs are available.
---
VAPOR APPAREL 50+
Material: Microfiber
Fit: Slim – regular
Use: Any outdoor activity
Features: UPF 50+ protection against the sun. Advanced technology for moisture wicking and odor reduction.
The design is quite simple but functional. It doesn't offer the same durability as other models on this list, but it's available at a very good price and provides decent performance. It's a good choice among budget shirts.
THE BEST TREKKING SHIRTS FOR WOMEN
---
COLUMBIA SILVER RIDGE WOMEN
Material: Elastane, polyester
Fit: Slim
Use: Trekking, outdoor activities
Features: Omni-wick system to improve breathability and moisture wicking. Good solar protection of UPF 40+.
The back of the shirt features a special design that increases ventilation, keeping you cool on hot days. It includes a zippered pocket. The design is perfect for both trekking and day-to-day life.
---
COLUMBIA BASELAYER
Material: 85% Polyester, 15% Elastane
Fit: Very tight
Use: Hiking, running, climbing
Features: Tight design – elastic and very comfortable to wear.
Built with ergonomic seams that adapt to the body shape and avoid chafing. Antimicrobial treatment. You can wear it solo or as a base layer in cold weather. It provides good warmth for the money.
---
HOW TO CHOOSE THE BEST SHIRTS FOR HIKING
Most sportswear manufacturers offer lots of designs, qualities, and materials depending on the use, temperature, and other preferences. The shirt review that you have just read focused on quality products only. The most important features to consider when choosing a good trekking shirt are: protection against the sun's UV rays, moisture wicking, antimicrobial treatment, and temperature control – i.e., preventing you from feeling too hot or too cold.
VERSATILITY
We all know that weather forecasts can be inaccurate. Sometimes, the weather will be colder, wetter, or hotter than expected. That's why it's a good idea to carry a versatile shirt and extra clothing.
WICKING
This is a very important feature when choosing a shirt. Wicking is the fabric's ability to control the humidity level. A good shirt wicks away moisture from the skin and helps with evaporation.
INSULATING
Depending on the activity in which you're going to engage, it's important that the shirt offers good insulation. This is especially important when you use it as a base layer (for instance, when you are hiking in a very cold climate).
WATER RESISTANCE AND WIND RESISTANCE
Most models are not water-resistant. However, you should check the material's ability to manipulate water flow over the surface and evaporate it. Most shirts will keep the rain out for a short period of time and then start to get wet. The idea is that the shirt can dry very quickly during those brief moments when it doesn't rain.
COLOR
In addition to contributing to aesthetic appearance, certain colors are more visible in the event of an emergency. That's why many hiking shirts have striking colors such as yellow, orange, and green.
MATERIALS
Polyester
This economical material is very popular among hikers. Polyester is a great material for mountain clothing because it wicks away moisture from the skin effectively. Also, if you go hiking and suddenly get caught in a rainstorm, you'll notice that polyester dries very quickly. In addition, it protects you from the sun's UV rays. Because it's built in a dense pattern, it blocks ultraviolet radiation.
Merino
Merino wool shirts are made with special fibers that improve perspiration and dry quickly. In addition, they have a natural antimicrobial function. Depending on the temperature, you can wear a wool shirt without extra clothes or as a base layer. Overall, it's an excellent material. However, keep in mind the climate of the region where you will be hiking. Sometimes, a merino shirt may be too warm. By the way, Merino wool shirts are completely different from traditional wool clothing. They are not coarse or itchy. They are lightweight, comfortable, and elastic.
Nylon
Nylon is another synthetic material widely used to make trekking shirts. It's a thin, flexible, soft, and durable material. It offers good sunlight protection, breathability, and moisture wicking. Nylon shirts can feel a bit abrasive on the shoulders when one is carrying a heavy backpack, but overall, they work quite well.
FABRIC WEIGHT
Heavy fabrics are designed to provide warmth. They are good for trekking in cold areas or mountaineering. Light fabrics are usually the best option for warm climates, including for hikes and walks in the spring and summer.
SEAM CONSTRUCTION
Poorly constructed seams can cause chafing. For this reason, many brands use flat-lock seams to avoid skin abrasion. Flat seams are considered the most comfortable.
ZIPPERS
Zippers and pockets are very useful for storing coins and other small items. It's important to consider the position of the zippers on your trekking shirt. Some pockets with side zippers are not very reliable.
DESIGN
T-shirts and button-front shirts are the most popular models among hikers. T-shirts are perfect for trail running, hiking, climbing, and other outdoor sports. They are comfortable to wear, and most of the time they don't have pockets. Button-front shirts are a good choice for both short and long trails. Before buying a trekking shirt, consider what kind of sleeve you need.
Long sleeves: These are suitable for different climates. They can be used to protect your arms from the sun's rays in the summer or to keep you warm in the winter. Shirts with buttoned long sleeves are quite versatile; they allow you to secure the sleeve once it's rolled up.
Short sleeves: These can be worn in both the summer and winter, especially when an extra layer is needed. In the summer, I recommend that you put sunscreen on your arms (and other exposed parts of your body such as your face and neck)
ANTIMICROBIAL ACTION
Shirts with an antimicrobial function offer a great advantage: They don't smell so bad after several days of use. Merino wool is naturally antimicrobial. Some synthetic materials are specially treated to achieve these characteristics.
UV PROTECTION
Another important factor to consider is the level of protection against UV radiation. Hiking involves extreme exposure to the elements, particularly to the sun. If you're hiking along very exposed areas, wear clothes with a 40+ or ​​50+ factor.
COMFORT
The comfort of the shirt is possibly the most important feature of all. No matter how nice the shirt is, if it's not comfortable to wear, you won't buy it.
Keep in mind that some trekking routes can be very long. It's important to ensure that your shirt feels comfortable (without compromising on other features).
DURABILITY
The materials used in the construction of the shirt must be resistant (while remaining flexible) and durable.
Do I need a hiking shirt? What if I wear a regular t-shirt?
Aren't hiking shirts like regular shirts? Well, the answer lies in their name. Regular shirts do not have the same technological features of hiking clothes. Of course, you can hike while wearing a regular cotton t-shirt. However, don't expect the same comfort and drying performance.
How to care for your shirt
Carefully read the manufacturer's instructions. Keep in mind that different fabrics require different types of washing. Polyester can react to excessive heat, modifying its structure at extreme temperatures. Wool must be washed gently. After washing your clothes, hang them in a ventilated place. If you wash them by hand, don't stretch or twist the material.
---
Other adventurers also liked:
---
Did you like the Best Hiking Shirts Review? Please, leave your comments!
Hi, I'm Miguel; Adventure traveler, scuba diver and hiking lover. I have been traveling the world for the last 12 years and I hope my experiences, photos and hiking routes inspire you to travel the world too.