If you have some doubts about what exactly you need to go diving, what gear is more essential and how much you will spend on it, you have come to the right place.
After testing and reviewing lots of products, I thought it would be a good idea to create a list of the best scuba diving equipment to help people make the right choice when buying.
The Best Scuba Diving Gear List
SCUBA MASK
The Atomic Aquatics Venom provides a comfortable face seal and wide panoramic view in a frameless single-less design.
Other models: Top 10 Scuba Masks
---
BCD
The Zeagle Ranger is one of the most popular BCDs among divers. The Ranger can adapt to warm and cold water, carrying single or twin cylinders. It's a great piece of gear for both recreational and tech divers.
Other models: Top 10 Best Scuba BCDs
---
REGULATOR
The Atomic T3 Titanium has an ultralight and durable titanium construction, as well as the best performance for technical dives and extreme depths.
Other models: Top 10 Diving Regulators
---
DIVE WETSUIT
The Bare Velocity is a comfortable, durable and resistant wetsuit. It's easy to put on and take off, and provides a good tight seal. There are different thicknesses available.
Other models: Top 10 Dive Wetsuits
---
SCUBA DIVING FINS
The Atomic Aquatics Split has a great water performance, providing great propulsion with less effort and helping you save energy and air.
Other models: Top 10 Best Scuba Fins
---
DIVE COMPUTER
The Suunto Eon Core is a fully-featured, reliable dive computer. It's easy to read, comes with an air integration system and provides biometrics data.
Other models: Top 10 Dive Computers
---
The Best Scuba Diving Gear List. Accessories
DIVE CAMERA
The Olympus OM-D-E-M5 Mark II takes stunning underwater photos. When it comes to cameras, there are some really expensive options, but I think the Olympus M5 has the best quality/price balance. Then you will need a good housing like the next model by Ikelite.
Other models: Top 10 Best Dive Cameras
---
DIVE KNIVES
The Atomic Aquatics Ti6 is an ultralight titanium knife with spectacular performance. It features both serrated and straight blades.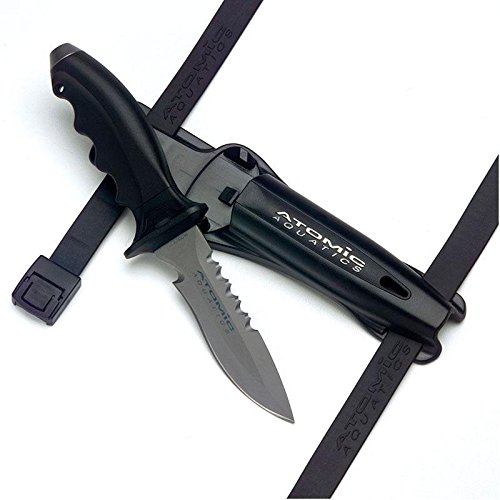 Other models: Top 10 Scuba Knives
---
DIVE LIGHTS
The Light & Motion Sola 1200 is a very versatile dive torch that provides two functions: wide and narrow beams, all in a super compact and ultralight design.
Other models: Top 10 Best Dive Lights
---
---
Check out this PADI article: Scuba Gear for Technical Diving
---
Would you pin it? Thanks
---
Did you like the Best Scuba Diving Gear List? Please, leave a comment!
Disclosure: As an Amazon Associate I earn from qualifying purchases. If you click on the link and purchase the item, I will earn advertising fees. There are other affiliate links to REI and Leisure Pro.
Hi, I'm Miguel; Adventure traveler, scuba diver and hiking lover. I have been traveling the world for the last 12 years and I hope my experiences, photos and hiking routes inspire you to travel the world too.