Whenever you are planning a ski trip, you must properly organize your winter gear, pack it, and carry it to your car. As you know, skis and snowboards can be quite large, which makes them difficult to fit inside most vehicles. That's why, whether you're traveling to Colorado, Alberta, or the French Alps, you should consider using a ski rack on your next adventure.
You will find hundreds of racks on the market. The most popular designs are roof bar racks, cargo boxes, and hitch ski racks, which, unlike most models, are not placed on the roof, but on the hitch receiver of the car. Don't worry! In this article, I am going to talk about the most important characteristics of snowboard racks. Plus, I'll review the best models of the year.
Take a look at other articles to find the best snowshoes, snowboard backpacks, bags, cameras, beanies, and gloves.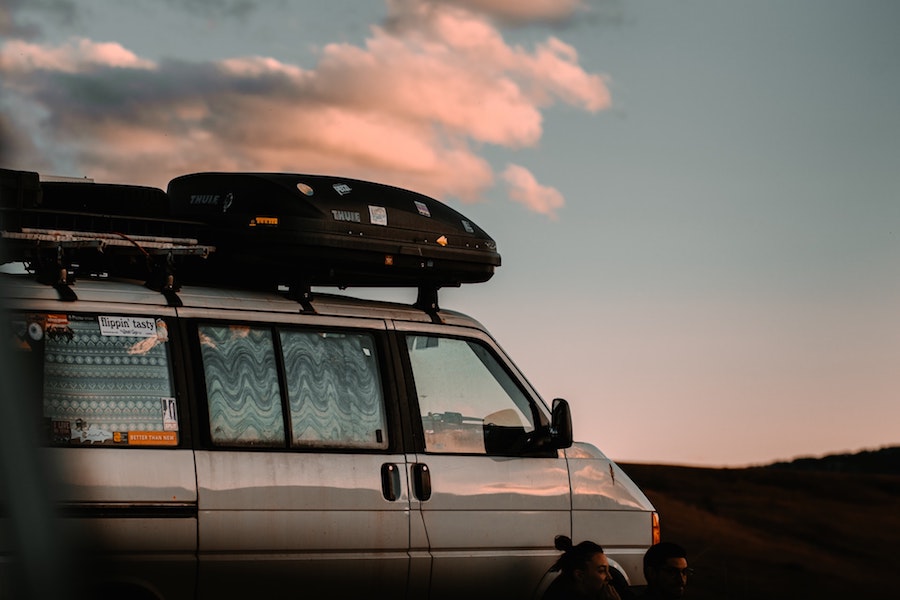 THE BEST SKI RACKS
---
THULE FORCE XT
View price at: EVO • Amazon
"Great capacity"
TYPE: Cargo box
CAPACITY: 22 cu ft
DIMENSIONS: 75 x 25 x 17 in
WEIGHT: 32 lb
LOCKING SYSTEM: Key
The Thule Force XT cargo box has room for several sets of skis, snowboards, boots, backpacks, etc. The mount system is simple, fast, and secure. Access to your equipment can be obtained comfortably from both sides of the box, which, of course, features an anti-theft locking system. If you are looking for a large box for transporting virtually all your winter gear, this is one of the best models of the year.
---
THULE SNOWPACK
"For a family trip"
TYPE: Roof bars
CAPACITY: 6 pairs / 4 boards
DIMENSIONS: 4 x 2.7 x 3.9 in
WEIGHT: 11.2 lbs
LOCKING SYSTEM: Key
The Thule Snowpack allows you to transport the whole family's skis comfortably and safely. This model features ultra-soft rubber arms that secure your gear without scratching any surfaces. It includes extension feet that raise the carrier to make it compatible with tall bindings, and an oversized push-button for easy opening and closing, even while you're wearing gloves.
---
THULE SNOWPACK EXTENDER
"Easy loading and unloading"
TYPE: Roof bars
CAPACITY: 6 pairs / 4 boards
DIMENSIONS: 34 x 2.8 x 5.5 in
WEIGHT: 16 lbs
LOCKING SYSTEM: Key
The Thule Snowpack Extender has a design similar to that of the previous model but is improved with a slide-out system for easy loading and unloading. The rack extends from the side of the vehicle, which allows you to comfortably access your equipment without having to "climb" your car roof. It features a simple and secure mounting system that is easy to install (without the need for tools). It's built with high-quality aluminum and it has an aerodynamic design that hardly affects the car's performance.
---
YAKIMA FRESHTRACK 6 PACK
"Universal mounting system"
TYPE: Roof bars
CAPACITY: 6 pairs / 4 boards
DIMENSIONS: 40 x 6.2 x 5.5 in
WEIGHT: 1.5 lbs
LOCKING SYSTEM: SKS key
The Yakima Freshtrack is a high-capacity ski carrier that stands out for its quality, resistance, and durability. In case you didn't know, Yakima is the market leader in roof rack manufacturing, and although its products are definitely not cheap, they are highly appreciated for their exceptional quality.
This model has a universal mounting system that is compatible with most roof racks on the market. It includes a SkiLift accessory that provides clearance for tall bindings, as well as SKS security locks that protect your gear from theft.
---
YAKIMA FATCAT
"Aerodynamic design"
TYPE: Roof bars
CAPACITY: 6 pairs / 4 boards
DIMENSIONS: 36.5 x 3.7 x 5.5 in
WEIGHT: 12 lbs
LOCKING SYSTEM: SKS key
The Yakima Fatcat has a more aerodynamic design that allows you to transport up to six pairs of skis (or four snowboards) without affecting your car's performance. It also includes a universal mounting system, SKS locks, and oversized push buttons like other Yakima models. The mounting system works perfectly with most roof racks on the market. It's also available in a smaller size with a capacity for four sets of skis. This model can be a bit expensive, but it's worth every cent.
---
YAKIMA HITCHSKI
"Perfect for SUVs"
TYPE: Hitch rack
CAPACITY: 6 pairs / 4 boards
DIMENSIONS: 24 x 17.2 x 31 in
WEIGHT: 21 lbs
LOCKING SYSTEM: SKS key
The Yakima Hitchski rack is attached to the rear of the car (it requires a preinstalled bike rack). It uses two-position upper arms and adjustable lower arms to accommodate multiple snowboards and skis. These arms feature supersoft rubber to prevent scratches. Note that it doesn't include a bike rack, which is sold separately.
---
APEX SKI 4
"Reasonable price"
TYPE: Roof bars
CAPACITY: 4 pairs / 2 boards
DIMENSIONS: 26 x 6.4 x 4.2 in
WEIGHT: 14.9 lbs
LOCKING SYSTEM: Key
This model allows you to transport four pairs of skis or two boards without spending a fortune. It has a simpler and less durable construction than higher-end models, but overall it does the job. Thanks to its universal mounting system, you'll be able to attach it to most roof crossbars. If in doubt, you can purchase the crossbars from the same brand to ensure they are compatible.
---
THULE WINGBAR EVO
"Quality crossbars"
TYPE: Roof crossbars
CAPACITY: N / A
DIMENSIONS: Depends on the model
WEIGHT: Depends on the model
LOCKING SYSTEM: No
This model is not a ski rack per se but, rather, the crossbars on which ski racks are mounted. If your car doesn't have a roof rack, take a look at the Thule Wingbar EVO, which enjoys great popularity thanks to its aerodynamic design, rugged construction, and light weight. Keep in mind that it doesn't include side mounting pieces, although they can be purchased separately to complete the kit.
---
MENABO ACONCAGUA 3.0
"Magnetic ski rack"
TYPE: Magnetic
CAPACITY: 3 pairs / 2 boards
DIMENSIONS: 15 x 11 x 22 in
WEIGHT: 11.9 lbs
LOCKING SYSTEM: Key
The Menabo Aconcagua 3.0 uses a magnetic system that is compatible with all types of vehicles. It's relatively light and easy to install, without the use of tools. Although many magnetic models have low speed limitations, the Menabo Aconcagua allows you to go up to 80 mph. It features a security system that prevents the device and the skis from being stolen. Make sure the car roof surface is completely clean and dry before installing.
WHY SHOULD I USE A SKI CARRIER?
Using a ski rack is not always essential. Some people manage to fit all their ski equipment inside the car and travel that way. However, as you will see below, placing your skis on the car roof has many advantages:
The first thing is safety while driving. It's difficult to secure your skis inside the car while guaranteeing that they won't move in the event of braking, which could cause serious damage to the occupants and/or car.
Second, it allows you to optimize your vehicle's interior space. Skis and snowboards can take up a lot of space. If you place them on the roof of your car, you'll have more space to store luggage, ski boot bags, and other accessories.
Third, it reduces the risk of bumps and scratches. When you carry your skis inside the car, it's more likely that they will hit each other and your gear.
Fourth, they allow for easy loading and unloading.
SKI RACKS vs SNOWBOARD RACKS
Virtually all models on the market can carry both skis and snowboards. This is because skis and snowboards have a similar thickness, which fits most ski rack designs.
The main difference is carrier capacity. For instance, models designed for six pairs of skis could carry four snowboards instead.
TYPES OF SKI CARRIERS
Roof ski rack
Roof racks are the most popular option because they are easy to install and use. They have other advantages, too: they don't obstruct the driver's visibility; due to their elevated position, they prevent road salt from splashing onto the skis; and they include anti-theft locking mechanisms. Also, some models have affordable prices.
Keep in mind that to mount a ski rack on the roof of your vehicle, you'll first need to install a roof rack. A roof rack consists of two crossbars that are installed on the car roof, so you can mount luggage racks, bike racks, and other elements.
Some car brands recommend specific roof racks for their vehicles, but in general, many roof racks are compatible with tons of vehicles. This is because they use a universal mounting system.
Hitch ski rack
As its name suggests, these models are installed on the car's tow ball. This design allows for easy and quick loading and unloading of the skis (the skis are loaded at a practical, comfortable height). Unlike other models, you won't need to lift your skis to the roof.
Hitch ski racks have other advantages: They usually can hold several sets of skis and snowboards, they can be adapted to transport other types of equipment, and they can be locked to the car.
These types of racks are generally easy to mount on most trailers (they are compatible with most 4x4s and SUVs). However, many cars don't have a tow ball. If that is your case, you would need to install a tow ball, so this would no longer be a very practical option.
Hitch racks have disadvantages, too. They can block part of the driver's visibility, they reduce maneuverability when parking, and they leave skis more exposed to dirt and road salt.
Cargo boxes
Roof boxes, also known as cargo boxes, can be used to carry not only your skis and snowboards but also other material and equipment. Due to the boxes' great capacity, many people manage to fit a large part of their winter equipment inside.
One of the main advantages is that these boxes fully protect your gear from the elements, so everything arrives clean and dry.
Other advantages: Roof boxes don't obstruct visibility, they can be locked to protect your gear from theft, and they don't affect maneuverability when parking.
As compared to roof bars, the box shape significantly improves the aerodynamic performance of the car. However, as happens with other models, cargo boxes can produce noises and vibrations when you're driving fast.
HOW MANY SKIS OR SNOWBOARDS DO YOU WANT TO CARRY?
This is the first question you should ask before making a choice. As you'll see, compact models can typically accommodate two, three, or four pairs of skis, while larger models can carry up to six sets or more.
If you have doubts, I recommend that you choose a model with capacity for at least four pairs of skis. This way, you'll have extra room if you want to travel with family or friends.
VEHICLE SIZE AND COMPATIBILITY
Some ski racks are not compatible with certain cars. What kind of car do you have? What is the car roof like? Does it have side rails? Does it have preinstalled crossbars?
If your car doesn't have a preinstalled rack, you'll need to find out which type of roof rack can be installed on that car. For instance, SUVs often have raised side rails that can be helpful for installing roof bars.
This seems obvious, but you must ensure that the ski rack you want to buy is compatible with the crossbars that you have installed or that you want to install on your car.
WEIGHT
A good ski rack must have a solid, sturdy structure and be able to bear the weight of your equipment without bending. At the same time, the rack shouldn't be too heavy, as this might negatively affect the vehicle's performance and maneuverability.
Aluminum racks are a good choice because they are strong enough to withstand heavy loads while keeping an ultralight weight.
HOW TO ATTACH A SKI CARRIER TO YOUR CAR
The installation system may vary from model to model, but generally, no special knowledge is required. Most racks are quick and easy to install.
First, you'll need to install two crossbars on the roof of your vehicle. As I mentioned before, you must ensure that the roof rack you want to install is compatible with your car model.
Once the crossbars are in place, you can install your snowboard carrier. Before mounting it, think about where you want to place it. You can install it in the middle or on one of the sides for easy access.
Once you've decided where to place it, start with the mounts. Then you can connect the ski carrier to the mounts, matching the holes on both sides. Use the screws to tighten the carrier, not too soft or too hard. On universal-mount models, you'll just need to tighten the clamp, and you're done!
Now that everything is successfully installed, I recommend that you measure your car's height with the snowboard rack installed and loaded, so you avoid unpleasant surprises in case you access a low-clearance parking lot.
MAGNETIC SKI RACKS
Although fixed models are the most commonly used option, magnetic ski carriers are starting to gain in popularity. Magnetic carriers are easy to fix onto your car roof and are very reasonably priced.
However, there are several points to consider:
1- Be careful to not scratch the paint when you fix them on and off. 2- Make sure they feature a strong, reliable magnetic system. 3- Make sure the car roof surface is totally dry and clean before fixing them. 4- Don't exceed the maximum speed indicated by the manufacturer, which in many cases is around 65 km / h. 5- Keep in mind that they are easier to steal.
WIND RESISTANCE
Most hitch racks perform well while you're driving (although they can obstruct visibility). However, the wind will inevitably affect roof bars and cargo boxes. Therefore, it's normal to hear some noises.
FUEL CONSUMPTION
It will depend on the model you have installed, the rack size, the number of skis you're carrying, the type of box, etc., but unfortunately, all ski racks will have some impact on fuel consumption.
I recommend that you uninstall your snowboard rack when you are not using it, so you can reduce your car's gas consumption.
OTHER USES
Although ski racks are designed primarily for transporting skis and snowboards, some models can be used for carrying other equipment. For instance, most cargo boxes have room for lots of extra gear.
SECURITY
If you are going to be making intermediate stopovers during your trip, make sure that your model features a reliable security system. Today, most models can be locked, so this shouldn't be a problem.
Also, to avoid accidents, make sure to not exceed the maximum speed recommended by the manufacturer.
Hi, I'm Miguel; Adventure traveler, scuba diver and hiking lover. I have been traveling the world for the last 10 years and I hope my experiences, photos and hiking routes inspire you to travel the world too.