Are you looking for a pair of reliable snowboard gloves? If so, you are in the right place! Before making a choice, you must think about your needs. Are you sensitive to cold? Do you need dexterity in your hands? Are you going to snowboard in adverse weather conditions? Are you a wild freerider? The answers to these questions will help you understand the main features you should look for in your model.
Hundreds of designs are on the market, and it can be difficult to make a choice. But, don't worry! In this article, I am going to talk about water resistance, thermal insulation, flexibility, and other important factors to consider when choosing your gloves. Also, I'll review the best models of the year, so that you can see their most significant differences.
Take a look at other articles to find the best snowboards for beginners and intermediate riders, intermediate skis, cameras, ski jackets, backpacks, ski boot bags, ski hats, and beanies.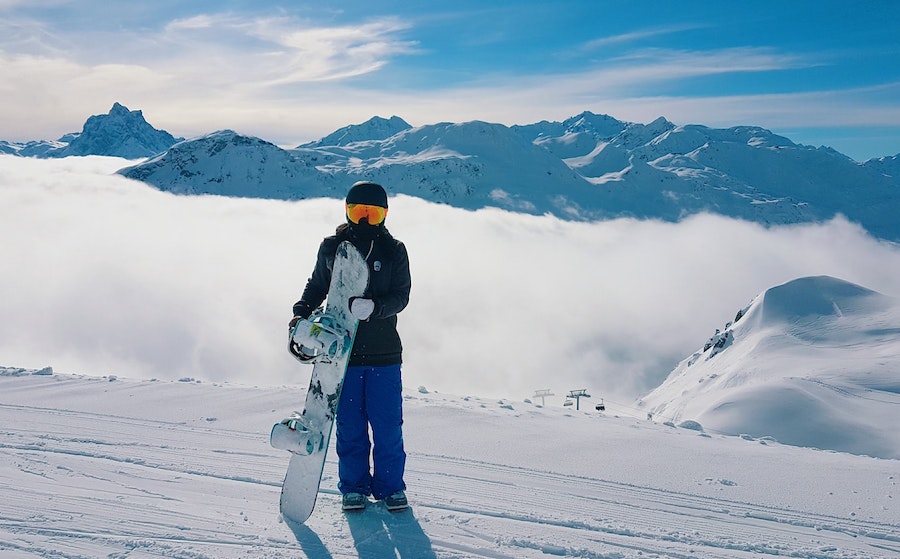 THE BEST SNOWBOARD GLOVES
---
OUTDOOR RESEARCH ALTI
"Maximum weather protection"
TYPE: Mitten
SHELL: Nylon and leather
THERMAL PROTECTION: Primaloft
WATER RESISTANCE: Gore-Tex
LINER: Removable
The Outdoor Research Alti mitten is specially designed to withstand adverse weather conditions. Built from highly waterproof materials and top-quality thermal insulating, this model is perfect for the hardest months of the year. The main disadvantage is that it doesn't offer as much flexibility and dexterity as other premium models (don't worry, it's very comfortable to wear). However, if you are sensitive to cold or you are going to practice in extreme climate, this may be your best option.
---
HESTRA ARMY
"Best mitten of the year"
TYPE: Mitten
SHELL: Leather and synthetic
THERMAL PROTECTION: Polyester
WATER RESISTANCE: Gore-Tex
LINER: Non-removable
The Hestra Army is another premium mitten designed for riders seeking excellent weather performance, comfort, and durability. The inner liner is removable, which provides greater versatility; you can remove it when you get too warm or exchange it for a warmer liner in very cold weather. The palm is built with flexible goat leather that allows for a nice range of movement and precision. In addition, thanks to the Gore-Tex membrane and polyester fillers, it provides outstanding weather protection.
---
BLACK DIAMOND GUIDE FINGER
"Practical design"
TYPE: Hybrid
SHELL: Leather
THERMAL PROTECTION: Primaloft
WATER RESISTANCE: Gore-Tex
LINER: Removable
The Black Diamond Guide Finger offers the advantages of both gloves and mitts in a practical and efficient design. At first sight, it looks like a mitten, but it has a separate sheath for the index finger, which allows for greater dexterity, while keeping the extra warmth characteristic of mittens. In addition, it features the most advanced materials and systems on the market: a Gore-Tex membrane that makes it highly waterproof, Primaloft insulation that provides excellent thermal protection, a fleece liner that is soft to the touch, and a premium leather shell that improves grip, resistance, and durability.
---
BURTON GORE-TEX
"Really popular glove"
TYPE: Glove
SHELL: Polyamide
THERMAL PROTECTION: Thermex
WATER RESISTANCE: DryRide
LINER: Removable
It's not uncommon for Burton products to dominate the snowboard equipment market, and this glove is no exception. This model is popular among all types of riders because it offers great weather performance at a reasonable price: two-layer DryRide construction that keeps your hands dry, a GoreWarm membrane for increased water resistance, a removable Thermex liner that provides plenty of heat, and a palm that is compatible with a touchscreen. Also, it's available in a bunch of colors.
---
HESTRA LEATHER MITTEN
"Elegant design"
SHELL: Mitten
FABRIC: Leather
THERMAL PROTECTION: Polyester
WATER RESISTANCE: Not waterproof
LINER: Non-removable
The Hestra Leather Mitten is the most stylish mitten on the list. This model provides great dexterity and range of movement, which makes it comfortable to wear. The short neoprene cuffs with Velcro closures efficiently prevent wind and snow from sneaking into your hands. The leather construction makes it abrasion-resistant and highly durable, but it's not the best option for long exposure to water. Overall, it's a high-performing model as long as the weather conditions are not extreme.
---
BLACK DIAMOND GLISSADE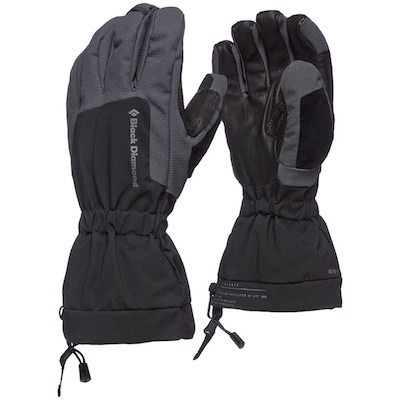 View price at: EVO
"Good value for the money"
TYPE: Long cuff
SHELL: Nylon, spandex, and leather
THERMAL PROTECTION: Polyester
WATER RESISTANCE: Totally waterproof
LINER: Non-removable
The Black Diamond Glissade is perfect for riders seeking great weather protection at an affordable price. This model features a lightweight, abrasion-resistant, and fairly stretchy shell, efficient Thinsulate insulation made with polyester fibers, and a waterproof DryInsert membrane that guarantees great performance on cold, humid days.
---
BLACK DIAMOND MERCURY
"Great mid-range mitts"
TYPE: Mitten
SHELL: Nylon, elastane, and leather
THERMAL PROTECTION: Primaloft
WATER RESISTANCE: DryInsert
LINER: Removable
The Black Diamond Mercury is similar to the previous model, but features a mitten design that keeps your hands even warmer. Thanks to the Primaloft insulating system, it provides a significant amount of heat without increasing weight, while the removable liner offers great versatility and dexterity.
---
DAKINE TITAN
"Best budget option"
TYPE: Glove
SHELL: Polyester
THERMAL PROTECTION: Polyester
WATER RESISTANCE: Gore-Tex
LINER: Removable
The Dakine Titan proves that you don't need to spend a lot of money to get a great product. This model performs well in adverse weather, as it features a waterproof Gore-Tex membrane, highly effective polyester insulation, and an abrasion-resistant shell. The liner is removable and compatible with a touchscreen, so you can communicate with other riders and take photos without freezing your hands.
---
BURTON TOUCHSCREEN
"Fantastic price"
TYPE: Short cuff
SHELL: Nylon and polyurethane
THERMAL PROTECTION: Thermacore
WATER RESISTANCE: DryRide
LINER: Non-removable
The Burton Touchscreen is the cheapest option on the list. However, this model has excellent features: The DryRide membrane and Thermacore insulation system guarantee excellent thermal performance. The pre-curved finger design and polyester liner increase comfort, while the Toughgrip palm improves grip and is compatible with your phone's touchscreen. In addition, it's available in various colors. Overall, it's one of the best deals of the year.
THINGS TO KEEP IN MIND:
MITTS OR GLOVES?
Do you have a preference for any of these models? Many snowboarders prefer mitts because they provide greater thermal protection, as they keep the fingers together and retain more heat. The main drawback of mittens is that they don't allow for much mobility in the fingers, so they are practically useless for tasks like taking something out of your backpack or using your phone.
On the other hand, traditional snowboard gloves offer greater dexterity, which makes them the favorite choice of riders who need more freedom of movement. This type of glove is helpful for several tasks, such as taking photos, looking at your GPS, and strapping your boots. The downside is that they don't retain as much heat as mitts do. However, some models have high-quality thermal insulators that will keep your hands warm in any season of the year.
WARMTH AND WATER RESISTANCE
Depending on the type of activity and the weather conditions, you may not need a fully waterproof model. However, make sure that your model is at least water-resistant. When you're snowboarding, your hands will inevitably be in contact with the snow. If your gloves get wet, they will lose thermal protection, and your hands will get cold.
Most of today's models provide excellent breathability. They feature waterproof membranes equipped with tiny pores that keep your hands dry, while allowing sweat vapor to escape to the outside. If you choose a model that is both breathable and waterproof, you can use it for other winter sports.
To choose the right thermal protection, you must think about your resistance to cold and the outside weather conditions. If you're going to snowboard in a ski resort in the middle of winter, you should look for a well-insulated model. It won't matter if it's a bit bulky because you won't need much dexterity. On the other hand, if you are freerider, I recommend that you get a model that allows for greater freedom of movement, and above all, that is highly breathable.
SHELL MATERIALS
Synthetic gloves are quite popular among all types of riders, especially those seeking high performance in wet weather. This type of glove is generally made from nylon or polyester: two materials that are highly water-resistant, breathable, and stretchy. Also, many synthetic models are available at affordable prices.
Leather gloves are more exclusive, as they are generally quite expensive. These models are more resistant and durable. Also, they are usually thinner and flexible, so they better fit the shape of the hand. Leather gloves offer good dexterity, which allows you to grip things with greater precision. The main disadvantage is that they are not as waterproof as synthetic models. However, they usually feature water-repellent treatments that perform fairly well as long as the weather conditions are not extreme.
Many models are made primarily from synthetic materials but include leather reinforcements—usually on the fingers and palms—to improve grip and dexterity.
LINERS
Most models have an outside shell, which is responsible for protecting your hands from the elements, and an inner liner, which is responsible for providing warmth and comfort. This liner also wicks away sweat, which helps keep your hands dry.
Many models have fleece liners because they are really warm and soft to the touch. In addition, they add polyester fibers and other fillers to increase thermal protection without adding much weight. Some liners are removable for greater versatility. This feature comes in handy on warmer days, as you can take off the liner and keep your hands cooler.
DEXTERITY
Most snowboarders don't need as much dexterity as skiers do because they don't have to hold ski poles. For this reason, many riders wear mittens or thick gloves. Riders are concerned only about protecting their hands from the cold, which is the main reason why they wear snowboarding gloves.
However, there are times when a rider may need more freedom of movement and dexterity in his fingers—for instance, if you want to take a photo, if you need to check your GPS, if you want to access your backpack's zippers, if you need to use certain gear such as ropes, etc.
Keep in mind that highly insulated gloves rarely provide great dexterity. On the other hand, thin models made from leather are usually highly responsive.
CUFF LENGTH
Some models feature short cuffs that allow for a greater range of movement. Generally, they don't offer the best thermal protection, but they perform well in moderate weather.
Long-cuff gloves retain more heat while preventing snow and wind from entering through the cuffs. These models are quite popular among all types of skiers, as they perform well in all seasons.
Regardless of the cuff length, many models have an elastic band that creates a windproof seal between the wrist and glove.
TOUCHSCREEN COMPATIBILITY
Considering that many people use their phones several times a day, manufacturers have adapted some models so that you can check your messages or take photos without having to take off your gloves. This feature is commonly found in thin models, as they offer greater precision for typing on a touchscreen.
CLOSURES
Most long-cuff models have closures that tighten at the wrist so that no cold or snow can sneak into your hands. This closure can be a Velcro strap, an elastic cinch, or a drawcord, depending on the model. Make sure the closure is easy to open and close with your gloves on.
STRAPS
Some models include a leash or strap that connects the glove to your wrist. This safety system prevents you from losing your glove if you fall and your glove flies off. It's quite helpful on the chair lift, too. If you need to remove one of the gloves to access a pocket, the strap will keep it connected to your wrist.
NOSE PATCH
When you engage in sports in a cold environment, it's common to have a runny nose. The traditional way to clean your nose would be to pick up a tissue and blow. However, this task can be complicated when you are wearing gloves.
For this reason, some models include a small patch (usually around ​​the thumb or index finger) that is made of soft cloth, so you can clean your nose without taking off your gloves.
Hi, I'm Miguel; Adventure traveler, scuba diver and hiking lover. I have been traveling the world for the last 12 years and I hope my experiences, photos and hiking routes inspire you to travel the world too.