Rugged and durable, military watches offer the best features for those who have to face the most extreme conditions.
They are used mainly by hikers, hunters, mountaineers and soldiers, but thanks to their modern and elegant designs they can be anyone's everyday watch.
Let's review the best tactical watches, so that you can compare features, designs, qualities and prices.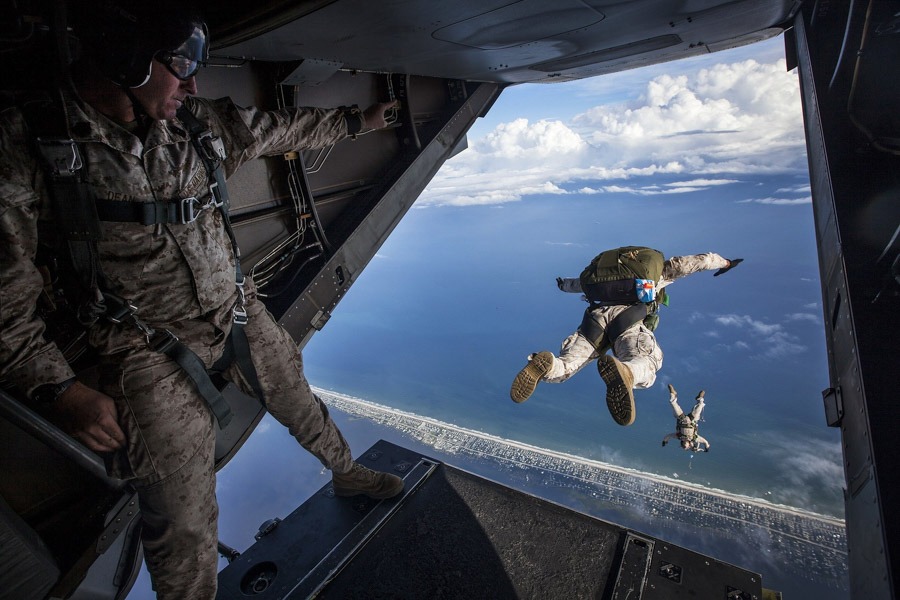 Top 10 Tactical Watches Review
TOP END
---
Garmin Tactix Delta Solar
Based on the Garmin Fenix, this excellent watch comes with some extra military features.
This multifunction watch combines tactical functionality with smart multi-sport features, all in a beautiful design. It features an all-black, non-reflective and resistant construction for extreme environments.
Its dual-mode operation optimizes the sunlight-readable display for daily use or night vision goggle compatibility.
It's equipped with all the key features like an altimeter, barometer, compass, GPS, solar charging lens, Wi-Fi, sunlight-readable color Chroma display, super resistant sapphire lens and more.
Pros: Great features, nice design, solar battery.
Cons: Expensive.
GREAT PERFORMANCE
---
Suunto Core Black Military
Nice design, quality, high resistance and great features in just one watch!
This is also a good option for hikers, adventurers or soldiers, as it features depth measurement, an altimeter, a digital compass and a pressure barometer which alerts you when a storm is coming.
Functional, super resistant and easy to use even in the dark.
Pros: Great features and design, best value for money.
Cons: Big size, no GPS.
---
Garmin Fenix 7X Solar
The Garmin Fenix 7X is an awesome watch equipped with features like thermometer, barometer, altimeter, advanced GPS, preloaded maps, solar battery, heart rate monitor, Wi-Fi, Chroma display, calorie and step counter, 100-meter water resistance, etc.
It's one of the most featured watches on the list.
Pros: Resistant, great design, many features.
Cons: Expensive.
---
Garmin Instinct 2
The Garmin Instinct 2 is one of the best-selling multi-sport watches of the year. It features a military construction, designed to withstand harsh environments, shock, and extreme weather, and a chemically reinforced screen for strength and durability.
It's equipped with GPS technology, an altimeter, a barometer and a compass, preloaded profiles, Bluetooth, point-to-point navigation, Trackback function (it takes you back to the starting point of the trail), heart rate monitor, and other advanced functions.
The navigation system is a bit simple if you compare it with previous models, but it works great, and it's easy to follow. The biggest advantage of this model is that it has a fantastic price!
Pros: Great features and design, good value for the money.
Cons: Simple navigation system
SUPER RESISTANT MODELS
---
Casio G-Shock Rangeman GW9400
This a tough watch designed to withstand the worst conditions and be practically indestructible!
It's fully equipped with a barometer, altimeter, thermometer, digital compass and most resitant G-Shock system.
It's extremely solid and durable!
Pros: Extremely resistant.
Cons: Less elegant than others.
---
Casio G-Shock GA100
This is a tactical watch designed to be tough, durable and resistant. It's made of resin, is 200 M water resistant and is ready to withstand any extreme situation, never to break!
The batteries are designed to last for more than two years. It also has a stopwatch, anti-magnetic structure, auto LED light with afterflow, full auto-calendar and world time.
It's not that good as a hiking watch because it doesn't feature an altimeter, barometer or compass, but it's the perfect watch for hunters, soldiers or anyone looking for a watch that can really take a beating.
Pros: Great price, impact resistant, 200M water resistant, stopwatch.
Cons: Pretty big if you have a small wrist.
---
Casio G-Shock G100-1BV
Designed for marine activities, water sports, military and outdoor activities, this is another great and resistant watch with a more elegant and stylish design than the Casio G-Shock Rangeman.
It features anti-magnetic resistance, dual time, an alarm, a stopwatch, an auto calendar and 200M water resistance. Unfortunately, this model is not equipped with a barometer, altimeter or compass, so keep that in mind if you want to use it on your hiking routes.
Pros: Good price, nice design, high resistance.
Cons: No features like a barometer, altimeter or compass.
---
Casio G-Shock GD-120 CM Camo
Designed for professional military and marine activities, this great watch will hold up under all the hardest conditions.
It's pretty "unbreakable" as are all G-Shock watches, and it's equipped with world time, 200M water resistance, an illuminator, a stopwatch and battery life of 10 years!
This is a beautiful camouflage watch with great resistance and a good price.
Pros: Good price, high resistance, long life batteries.
Cons: No features like a barometer, altimeter or compass.
STYLISH DESIGN
---
Casio Pro-trek PRG 270
The Casio PRG-270 is a fantastic watch with a beautiful design and very reasonable price.
It comes with all the key Casio features like low temperature resistance, an altimeter, barometer, thermometer, digital compass, 100M water resistance, daily alarms and world time.
It has a round stainless steel case, making it a beautiful and resistant watch for any kind of outdoor activity, especially hiking and mountaineering.
Pros: Great features, good value for the money.
Cons: Alarm is not that loud.
---
Luminox Bear Grylss
This is a very elegant watch, featuring a black carbon reinforced case with an orange silicon strap and a uni-directional rotating carbon bezel.
It's an analogical watch with luminescent hands and markers, data display, scratch-resistant sapphire crystal and 200M water resistance.
The old-fashioned compass attached to the strap is great! If you are not much into digital stuff and are looking for a stylish resistant watch, this might be your best option.
Pros: Real compass, elegant design.
Cons: Not many features.
---
Luminox Navy 3581
This is a very elegant and stylish watch with features including a date window, chronograph subdials and 200M water resistance.
It's a very popular watch; most people choose it for its cool design, but on the downside it's not equipped with a barometer, altimeter or compass. Still, it is a very resistant and robust watch designed to withstand impacts and hard conditions.
Pros: Stylish design, good value for money.
Cons: No features like barometer, altimeter or compass.
---
Considerations to take into account when choosing the a military watch:
NIGHT VISION
Many models include a backlight to illuminate the screen. Military watches should also feature legible luminescent dials. This way, you can read all the information in the dark without using a hand to activate the backlight.
BATTERIES
When you are outdoors, the last thing you want to do is worry about batteries or think about the battery backups you must carry. Get a model with long-lasting batteries and good performance. Over the years, the watch shouldn't lose accuracy due to poor batteries.
Many people opt for solar-powered batteries because they perform well and don't require continual replacement. However, keep in mind that if you must replace this type of battery, depending on your location, you might have trouble finding the right replacement.
FEATURES
Some models are equipped with modern features like a barometer, thermometer, altimeter, compass, GPS and more.
The altimeter tells you the height at which you are, the barometer and thermometer tell you what weather is coming and the digital compass and GPS will help you locate your position.
DESIGN
Being designed for tactical and military activities, hunting, hiking and outdoor sports, these watches are usually dark, non-reflective and robust.
The watch's design and size will affect your comfort. Some watches can be quite large and heavy, so keep this in mind. Regardless of the number of features you need, a good watch should be comfortable to wear, easy to read, and easy to use.
Also, the design shouldn't interfere with your clothes or other accessories you may wear.
WATER RESISTANT
These watches are designed for a variety of outdoor activities, so water resistance is important. The watch must be totally waterproof to ensure the best performance. You don't want to spend your money on a watch that breaks down because you've taken it a few meters underwater. All of them must be water-resistant, with 100 meters being the typical depth they can resist.
DURABILITY
Tactical watches are designed to withstand the most extreme conditions, so they are highly resistant. Many of them are made of titanium or resin with nylon bezels.
THE BAND
In addition to looking for a watch with a solid construction, we must look for a band that resists hits and scratches. Many people opt for silicone straps (or other plastic components) because they are comfortable to wear and offer great durability. Try to avoid metal or leather straps because, although they may have an elegant design, they are not really scratch-resistant.
CONCLUSION:
If you are looking for a full-featured watch, the Garmin Fenix 5X might be your best choice. It provides the best features and design. The body of the watch is resistant and durable, so this watch will last for many years.
If you are looking for a really tough watch (almost indestructible), I'd go for the Casio G-Shock GD 120 Camo. It's a very popular watch for military purposes.
---
Other adventurers also liked:
---
Do you have any question about The Best Tactical Watches? Please, contact me!
---
Disclosure: As an Amazon Associate I earn from qualifying purchases. If you click on the link and purchase the item, I will earn advertising fees. There are other affiliate links to REI and Leisure Pro.
Hi, I'm Miguel; Adventure traveler, scuba diver and hiking lover. I have been traveling the world for the last 12 years and I hope my experiences, photos and hiking routes inspire you to travel the world too.