We all know that finding the right gear and packing wisely and lightly is essential for a challenging hike. Whether you are planning an Appalachian expedition, a short two-day hike or a backpacking trip, a lightweight backpack is key to fully enjoying all your adventures.
Thanks to the most advanced technologies, these lightweight backpacks are also comfortable, durable, adaptable and even waterproof in some cases.
Check out other gear reviews to find the best outdoor watches, hiking pants, and backpacking hammocks!
THE BEST LIGHTWEIGHT BACKPACKS:
Gossamear Gear Gorilla 40
Osprey Exos 48
HMG 2400 Windrider 40
Granite Gear Crown 2 60
Mammut Creon Light 45
Osprey Stratos 36
Osprey Aether
Osprey Atmos
After more than five years of hiking around the world, I've tested lots of backpacks to create this complete list with the best ultralight backpacks.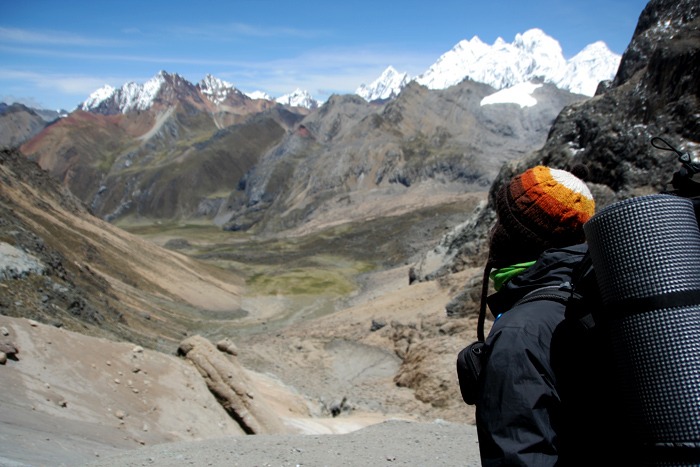 If you have always used regular hiking backpacks for most of your treks or travels, and you're not sure whether to choose a lightweight backpack, take a look at the pros and cons of both options.
The Best Ultralight Backpacks for Hiking
GOSSAMER GEAR GORILLA 40
Volume: 40 L
Weight: 29.4 oz
Pros: Comfortable, durable, good feature set.
Cons: It's not cheap.
Recommended for: Multi-day hikes
The Gossamer Gear Gorilla is one of the best lightweight hiking backpacks on the market. It's perfect for multi-day routes for which you need a comfortable backpack with a good set of features.
---
OSPREY EXOS 48
Volume: 48 L
Weight: 37.6 oz
Pros: Best ultralight backpack for the price, much storage.
Cons: A bit heavier.
Recommended for: Multi-day hikes, backpacking.
The Osprey Exos 48 is the best value for the money. It has lots of external storage and a very complete set of features.
---
HYPERLITE MOUNTAIN GEAR 2400 WINDRIDER 40
Volume: 40 L
Weight: 32 oz
Pros: Waterproof
Cons: It's not comfortable with heavy loads.
Recommended for: Multi-day hikes.
The Hyperlite Mountain Gear Windrider is another great option. It's practically waterproof and comes with lots of external storage and a very good suspension.
---
GRANITE GEAR CROWN 2 60
Volume: 60 L
Weight: 33.8 oz
Pros: It's super light and has a bigger capacity.
Cons: It's not comfortable with heavy loads.
Recommended for: Long hikes, backpacking trips.
The Granite Gear Crown has more capacity than the previous backpacks. It has a vapor current suspension system that keeps your back cool during hot hikes.
---
MAMMUT TRION SPINE
Volume: 50 L
Weight: 77 oz
Pros: Very comfortable with medium loads.
Cons: A bit heavy.
Recommended for: Multi-day hikes with heavier loads.
The Mammut Trion Spine has a great suspension system that allows heat and moisture to escape upwards. The front and sides of the pack are well-equipped with lots of useful pockets.
---
OSPREY STRATOS 36
Volume: 36 L
Weight: 46 oz
Pros: Super compact
Cons: Too small for multi-day hikes
Recommended for: Short hikes
The Osprey Stratos 36 is a great option for those who pack small. Even though it's small, this backpack has plenty of extra pockets and straps, including the Stow-on-the-Go system that allows you to tuck away hiking poles quickly without the hassle of removing your backpack. It's one of the best options for short hikes.
---
If you need a hiking backpack with a bigger capacity while still having a great performance and being fairly lightweight for its size, I recommend that you take a look at the next models:
OSPREY AETHER 65
Volume: 65 L
Weight: 4.5 lbs
Pros: Great performance
Cons: Heavier
Recommended for: Long-term travelers, through hikes
The Osprey Aether 65 is meant to be a versatile backpack with great storage. We aren't talking about a lightweight backpack anymore. On the other hand, you get great features like a dual-access side pocket, ice axe loops, external hydration compatibility, a front stretch mesh pocket, a hip-belt pocket, inside-out compression, J-panel access, a sleeping bag compartment and more.
---
OSPREY ATMOS 65
Volume: 65 L
Weight: 70 oz
Pros: Great features
Cons: Heavier
Recommended for: Backpacking trips, through hikes
Another great option for long expeditions or travels. The Osprey Atmos 65 features an adjustable harness to fit your torso, fit-on-the-fly hip belt pads, dual zippered front panel pockets, side compression straps, anti-gravity suspension and more.
---
THINGS TO KEEP IN MIND:
CAPACITY
When you buy a backpack, the most important thing to consider is how you are going to use it. This will determine the capacity you need. As you know, hundreds of models with different designs and sizes are available. This means making the right choice can be a bit difficult.
Many backpackers opt for 60- or 70-liter backpacks that can be used for backpacking and hiking. Your choice also depends on the type of route you will be hiking. For multi-day trails in cold areas, at high altitudes, etc., you may need a large-capacity backpack, as you may be bringing a sleeping bag, a pad, a tent, a stove, warm clothes, etc. In that case, you'll need a 60-liter backpack at a minimum.
On the other hand, if you are planning a short hike with mild temperatures, a 40-liter backpack may be enough. You can go light and comfortable without worrying too much about weight.
SUSPENSION AND COMFORT
Keep in mind that because you will be carrying your backpack for many hours a day, you'll need a model with a good suspension system that guarantees maximum comfort. In addition, you should check the quality of the straps.
The straps should be well-padded to avoid pain over your shoulders. All backpacks on the list include a hip strap, which is another essential element for distributing the weight correctly.
ADJUSTABILITY
Now that you know how important it is to get a comfortable backpack, you should choose a backpack with adjustable straps to ensure the best fit. Some models incorporate modern systems in which you can adjust the height at which the straps are placed depending on your preferences.
FRAME
Quality backpacks include an interior frame that distributes the load and provides some rigidity – an important factor when the backpack is fully loaded. In addition, the frame transfers the backpack's weight to the hip strap, boosting comfort.
POCKETS AND ACCESS
When you are hiking, you need a backpack with several easily accessible pockets. Some models have a front zipper that allows for quick access to your gear.
DURABILITY
Although hundreds of cheap brands are available on the market, keep in mind that you get what you pay for. Quality backpacks are usually more expensive, but they provide better performance. I recommend that you look for a good brand with great durability.
HYDRATION SYSTEM
Many models include a hydration bag or the ability to place one in a special compartment. This can be very useful once you are on your route. You won't have to take off your backpack, find your water bottle, and then put the backpack on again. Hydration bags include a tube so you can drink at any time and refill them when necessary.
MATERIALS
Sometimes, up in the mountains, you'll face hard conditions such as cold, heat, rain, and who knows what else. It's important that your backpack is made from good-quality materials that offer great resistance. Nylon is one of the most common materials because it performs very well.
Some backpacks, such as the Hyperlite Mountain Gear 2400, are made of Dyneema, a high-quality, water-resistant material.
Would you pin it? Thanks
---
---
Did you like the Top 8 Best Ultralight Backpacks? Please, leave your comments!
---
Disclosure: As an Amazon Associate I earn from qualifying purchases. If you click on the link and purchase the item, I will earn advertising fees. There are other affiliate links to REI and Leisure Pro.
Hi, I'm Miguel; Adventure traveler, scuba diver and hiking lover. I have been traveling the world for the last 10 years and I hope my experiences, photos and hiking routes inspire you to travel the world too.