Are you looking for a good pair of mountain bike gloves? If so, you are in the right place! MTB gloves will protect your hands in the event of a fall, while keeping your fingers warm in cold weather and improving your grip on the handlebars. In addition, they will reduce stress on your hands during long, bumpy rides.
Lots of models are on the market, and making a choice isn't easy. You have to consider characteristics like breathability, padding, type of closure, whether you are riding in the winter or the summer, the MTB discipline you practice, etc.
However, don't worry! In this article, I'll talk about the most important features of mountain bike gloves. In addition, I'll review the best models of the year, so that you can choose the one that best suits your needs.
Take a look at other articles to find the best mountain bike shorts, mountain bike action cams, mountain bike shoes, mountain bike jackets, mountain bike knee pads, mountain bike packs, mountain bike computers, and mountain bike helmets.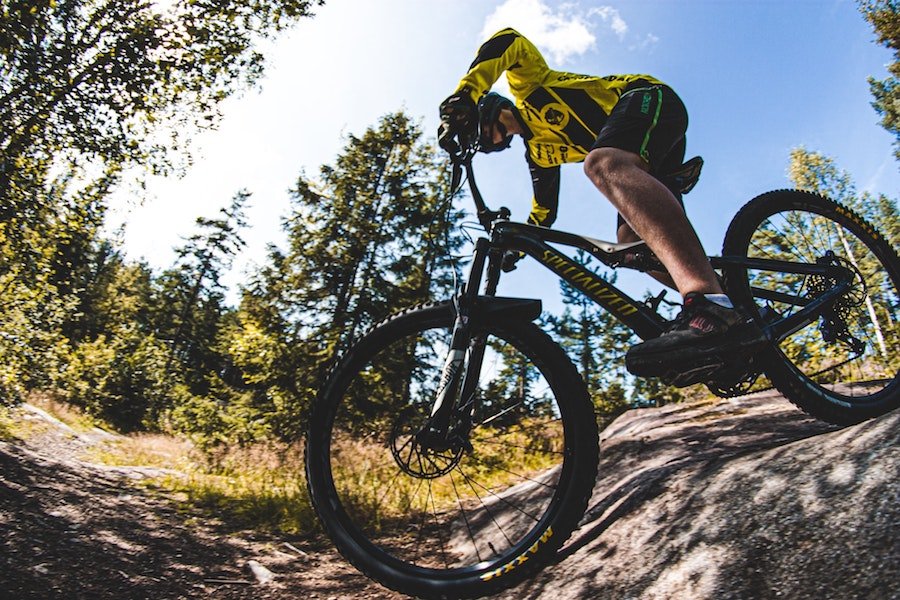 THE BEST MOUNTAIN BIKE GLOVES
---
100% COGNITO D30
"Excellent protection"
MATERIAL: Polyamide, polyurethane, elastane, polyester
PADDING: Yes
CLOSURE: Elastic
PROS: Stretchy, breathable, great protection
CONS: Doesn't have a nose wipe on the thumb
The 100% Cognito D30 is one of the most protective gloves on the list. Perfect for aggressive downhill and rough trails, this model stands out for the D30 knuckle protectors, silicone fingertip patches, smart padding, and abrasion-resistant materials. One of the main advantages is that it provides excellent protection without being bulky.
Despite its high level of protection, it feels comfortable, soft to the touch, and stretchy, which allows for as much freedom of movement as a non-padded glove. Thanks to the ventilation system and breathable materials, it's comfortable to wear all year long, even on hot days or when riding steep climbs.
It's touchscreen-compatible, but unfortunately, it doesn't include a nose wipe. If you are seeking high protection for your most extreme trails, this model could be your best option.
---
FOX DIRTPAW
"Good protection at a reasonable price"
MATERIAL: Polyamide, polyurethane, neoprene, polyester
PADDING: Yes
CLOSURE: Velcro
PROS: Comfortable, excellent grip, good price
CONS: Ventilation could be better
The Fox DirtPaw is a popular model with knuckle pads that absorb impacts from branches and bushes, padded palms that protect you in a fall while reducing handlebar vibrations, and a stretchy construction for maximum comfort. This model has all the main features of a great mountain bike glove, but at a reasonable price.
All seams are between layers, so it feels comfortable against the skin. The palm padding is perfectly distributed. This model features high-quality materials, which make it quite durable, even for riders who use it almost daily. On the downside, it can make your hands sweat quite a bit on hot days. It's a great choice for spring and fall riding.
---
DAKINE CROSS-X
"Downhill gloves"
MATERIAL: Polyester, nylon, neoprene, spandex
PADDING: Yes
CLOSURE: Velcro
PROS: Great protection, has a nose wipe, ideal for winter
CONS: Fit could be better, a bit bulky
The Dakine Cross-X is a versatile model, ideal for downhill and extreme rides, as well as XC and trail MTB in cool weather. With a sturdy (and slightly bulky) construction and resistant stitching, this model is built to be durable. It features protective neoprene pads on the knuckles, as well as padded palms that absorb impacts and vibrations while preventing chafing and blisters.
This model has soft-touch fabric on the thumb, which is great for wiping your nose and wiping sweat from your forehead. Also, it includes silicone patterns on the palm, index finger, middle finger, and thumb for an improved grip on the handlebars, brake levers, and shifters. It's touchscreen-compatible. Overall, it's really comfortable, although it's not as stretchy as other models.
---
GIRO DND
"Popular model"
MATERIAL: Synthetic leather, silicone, vinyl
PADDING: No
CLOSURE: Elastic
PROS: Functional, comfortable, cool design
CONS: Doesn't offer much protection
The Giro DND is popular due to its versatility, comfort, and rugged construction. This model is built with high-quality materials (stretchy, breathable mesh on the back of the hand along with super-resistant synthetic leather on the palm) that provide some protection on all types of trails, almost all year long.
Obviously, its minimalist design makes it less protective in the event of a heavy fall. Also, it's not the best option for the coldest days of the year.
Overall, however, it's a great glove for entry-level and intermediate riders. If you are looking for a lightweight model that will protect your hands from blisters, scratches, and minor falls, the Giro DND is a great option.
---
DAKINE COVERT
"Basic protection, maximum comfort"
MATERIAL: Nylon, spandex, polyester, neoprene
PADDING: No
CLOSURE: Elastic
PROS: Comfortable fit, breathable, good price
CONS: Doesn't provide much protection
The Dakine Covert is another minimalist model, ideal for mixed terrain, XC, trail, and other non-extreme MTB disciplines. The stretchy, breathable materials on the back of the hand keep you cool, while the slightly thicker materials on the palm provide some insulation and protection. I don't recommend it for extreme climates, but it performs well in moderate weather.
It provides a comfortable fit that adjusts to most types of hands and also offers basic protection against blisters and falls. The thumb and index fingertips include silicone stripes that improve grip on the brake levers and shifters. In addition, they are compatible with a touchscreen, so you can check your GPS navigation map, take photos, etc.
---
100% BRISKER
"The best winter glove"
MATERIAL: Polyester, nylon, polyurethane, elastane
PADDING: No
CLOSURE: Elastic
PROS: Warm but breathable, comfortable
CONS: Not totally waterproof
The 100% Brisker is designed to keep you on the bike during the coldest months. Considered by many riders to be the best winter MTB glove, the Brisker keeps your hands warm and comfortable while protecting them from blisters and impacts. One of the main advantages is that it's highly breathable, so it doesn't make your hands sweat when the temperature rises or when you're climbing.
The back of the hand is insulated and features an inner microfleece that wicks away moisture. The palm is made with synthetic leather for improved grip on the handlebars, as well as basic protection in the event of a fall. Although these materials are water-resistant, they are not 100% waterproof.
---
FOX DEFEND FIRE
"For cool, slightly rainy weather"
MATERIAL: AX Suede, polyester
PADDING: D30
CLOSURE: Velcro
PROS: D30 knuckle protection, great performance, nose wipe
CONS: Touchscreen compatibility could be better
The Fox Defend Fire features high-quality materials that provide great abrasion resistance, warmth, breathability, water resistance, and comfort. It's one of the few models with knuckle pads that allows for good freedom of movement. Oddly enough, the D30 padding doesn't reduce comfort.
This model performs well in moderate, cool, rainy weather, but not in extreme conditions. Keep in mind that it's not the warmest model on the list. If you are looking for an insulated winter glove, you should go for the 100% Brisker.
---
GIRO XEN
"Cross-country glove"
MATERIAL: Synthetic leather, polyurethane
PADDING: No
CLOSURE: Velcro
PROS: Perfect fit, good price
CONS: Not the most durable
The Giro Xen features a perfect fit, a lightweight, ventilated design, decent palm and finger protection, and touchscreen compatibility, all at a good price. Note that it's not designed for harsh weather or extreme activities such as downhill. However, it's ideal for XC, trail, and all-around MTB in mild weather.
On the downside, the Velcro closure and some seams can wear out earlier than desired after intense use. Otherwise, it's a great option for beginners and intermediate riders.
---
FOX RACING RANGER FIRE
"For technical MTB in autumn"
MATERIAL: Ax Suede, fleece, polyester
PADDING: No
CLOSURE: Elastic
PROS: Water-resistant, great dexterity, not bulky
CONS: Doesn't have the best insulation, ventilation could be better
The Fox Racing Ranger Fire offers decent thermal protection without reducing freedom of movement. This model keeps your hands warm on cool days, like in autumn or early spring. One of the main advantages is that it's not especially bulky, which makes it perfect for technical rides, when you'll need greater dexterity in your hands. Keep in mind that it doesn't perform well in very low temperatures.
This model features a water-resistant AX Suede palm, as well as silicone patterns on the thumb and index fingertips for an excellent grip. The inner fleece improves thermal insulation and comfort, but it can make you sweat on steep climbs. The elastic wrist closure is quite long, offering more protection from the cold and rain, but also making donning and doffing quite cumbersome.
---
100% CELIUM
"Like not wearing gloves"
MATERIAL: Ultralight polyester
PADDING: No
CLOSURE: Elastic
PROS: Breathable, perfect fit, minimalist design
CONS: Little protection
The 100% Celium is designed for riders who don't like wearing gloves. It's so minimalist and lightweight that you'll forget you're wearing it. It provides enough protection to avoid chafing and blisters, while absorbing vibrations from the handlebar. If you suffer a heavy fall, it won't safeguard you like a padded glove, but it will provide basic protection.
The perforated panel on the back of the hand is highly breathable and ventilated, while stretchy materials provide for a super comfortable fit. In addition, the fingers are compatible with a touchscreen.
THINGS TO KEEP IN MIND BEFORE CHOOSING YOUR MTB GLOVES
MATERIALS AND DESIGN
Mountain bike gloves are made with different materials, depending on the intended use, weather conditions, etc. Generally, I recommend going for resistant but flexible materials, which will increase the feeling of comfort in your hands.
For riding in a warm climate, you'll need thin, well-ventilated materials. These materials must efficiently wick away moisture. Many models include perforations on the palms and on the backs of the hands to improve airflow and sweat evaporation.
For the coldest days of the year, you'll need thicker gloves, made from materials that can retain heat. Some models include insulation layers to protect you from the cold wind, while an inner microfleece wicks away sweat.
Leather gloves are comfortable and pleasant to the touch. Plus, they provide excellent grip, even when your hands are sweaty. In addition, leather is highly durable and abrasion-resistant. Unfortunately, it's often much more expensive than most synthetic materials.
Regarding design, you have probably noticed that there are different types: full-finger gloves and half-finger gloves. Generally, half-fingers are more popular among road cyclists.
Some MTB riders like half-finger gloves because they are lighter and cooler. However, full-finger designs are more protective in the event of a fall. Generally, full-finger gloves are better suited for MTB riding.
PADDING AND PROTECTION
MTB gloves have different types of padding, which are suited for different MTB disciplines and styles. Most padding is placed on the palm, the fingers, and sometimes the knuckles.
In the event of an accident, the palm is usually the part of the hand that is hit hardest. Thus, it must be the most-padded part of the glove.
In addition, padding not only prevents injuries, but also cushions and absorbs constant vibrations from the handlebar. Therefore, the more rugged the terrain, the greater the padding should be.
What MTB discipline do you prefer? What's the weather like? Ultra-thin gloves are comfortable and breathable, but they will provide little protection if you fall. Models with highly-padded palms, knuckles, and fingers won't be very comfortable when you're riding on technical terrain, but they will protect your hands better.
PALM DESIGN
Many gloves have leather or synthetic leather palms because this material provides a great grip, efficiently wicks away sweat vapor, and can withstand hard falls.
Some models include silicone patterns or stripes on the palms and fingertips to improve grip on the handlebars and brake levers.
FIT AND COMFORT
Fit is one of the most important things to consider when choosing a model. First, you must find the right size. Then, you must ensure that the gloves provide a comfortable fit. We all have different hands and different preferences.
Many factors can affect fit, such as the shape of the glove, the type of closure, the length of the fingers, the elasticity of the materials, the thickness of the padding, etc.
Your glove should feel a little snug, but never too tight. Your hands must feel comfortable, with freedom of movement, and without pressure points on your fingers, wrists, or palms.
ELASTIC WRIST vs VELCRO
The most popular wrist closures are elastic and Velcro. Both systems have their advantages and disadvantages.
Velcro closures can better adjust to your wrist, providing a firmer, more comfortable fit. However, they can become less effective over time.
Gloves with elastic closures are lightweight and inexpensive, but they can be more difficult to put on and take off. Sometimes, they can feel too tight on the wrist, and unfortunately, they are not adjustable.
NOSE WIPE
I recommend getting a model with a nose wipe, especially if you like riding in winter. Nose wipes are typically placed on the thumb and, as the name suggests, they are really useful when you have a runny nose. Generally, they are made from microfleece or soft cloth, so they won't irritate your nose.
TOUCHSCREEN COMPATIBILITY
Most models include seams, silicone patterns, or patches on the fingertips (typically on the index and thumb) that make them touchscreen-compatible. This is helpful when you want to use your smartphone without taking off your gloves, when you want to navigate to a route on your GPS, etc.
If the touchscreen doesn't work while you're wearing your gloves, try licking your gloved finger. It's kind of gross, but it usually works.
DURABILITY
Gloves aren't the most expensive part of your mountain bike gear, but that doesn't mean they aren't important. I recommend buying a model made with high-quality, resistant, and durable materials.
Before storing your gloves, let them dry in a ventilated place, out of direct sunlight, as moisture can damage some materials.
Hi, I'm Miguel; Adventure traveler, scuba diver and hiking lover. I have been traveling the world for the last 10 years and I hope my experiences, photos and hiking routes inspire you to travel the world too.