Filled with history, culture, delicious tapas, and vibrant activities, Madrid is the quintessential cosmopolitan metropolis and a destination known to never disappoint its many visitors. Parque del Retiro, Plaza del Sol, Puerta de Alcalá, and the Cibeles Palace are just a few of the must-see places to visit in your 3-day stay in Madrid. However, there are many more!
Despite being a huge city, Madrid has a downtown area that is relatively easy to get around in on foot or by public transport. It would take a lifetime to get to know the city and all its neighborhoods in all their depth. That said, you can visit the most iconic spots in only 2 or 3 days. This makes Madrid a perfect visit over a long weekend.
When you have lived in Barcelona for many years, as I have, you always hear the typical comments: that Barcelona is more beautiful or that the beach makes it better, and all that – which is true! The beach is an undisputed attraction. However, I honestly believe that Madrid has nothing to envy when it comes to Barcelona. Both cities are absolutely beautiful.
If you are considering a visit to Madrid and don't know where to start, I recommend that you follow this mega guide, which includes all the tourist places to visit, cultural plans, restaurant and bar recommendations, alternative locations, and more. I hope these recommendations will help you discover the special magic of the Spanish capital.
Check out our other articles: Madrid in four days, Madrid in one day, Barcelona in two days, Barcelona in one day, What to see in Valencia, Valencia in two days, and Valencia in 0ne day.
THINGS TO DO IN MADRID IN 3 DAYS
1. PUERTA DEL SOL
Located in the heart of Madrid—literally at the very center, as it is the "kilometer zero" of all Spanish roads—the Puerta del Sol is a bustling and lively square through which thousands of locals and tourists pass every day.
Surrounded by trendy stores, tapas restaurants, and all kinds of retail businesses, Puerta del Sol is home to some of the most emblematic places in Madrid:
1. The "Oso y el Madroño"—the Statue of the Bear and the Strawberry Tree, symbols of the city. 2. The building featuring the Tío Pepe billboard (Tío Pepe is a famous brand of sherry wine and brandy). 3. The Casa de Correos clock tower (the Spanish Post) is famous for striking twelve chimes on New Year's Eve. By the way, the square is always crowded on the night of December 31, when many people go there to celebrate the New Year.
2. PUERTA DE ALCALÁ
There it is, there it is, watching time go by… the Puerta de Alcalá. As Ana Belén and Víctor Manuel sang, Puerta de Alcalá has witnessed the passing of time and the city's transformation for over two centuries (since 1778, to be exact).
This neoclassical gate was once the main access for travelers entering the city from France and northern Spain.
Located in the Plaza de la Independencia (Independence Square), this iconic monument connects several important streets of Madrid and offers access to the beautiful Parque del Retiro, or Retirement Park. Puerta de Alcalá is imposing both during the day and at night, when its lighting lends it an even more majestic touch.
3. PARQUE DEL RETIRO
Since its inauguration in 1868, Parque del Retiro has been the perfect getaway from busy city life. This site is very popular with locals and tourists who come to walk, exercise, ride on boats, enjoy an ice cream or soda, sit down and chat under the shade of a tree, read a book, or simply watch life go by.
The park was built in the 17th century for the enjoyment of King Philip IV but nowadays, none of the royals are seen strolling around. It has become a favorite spot for the common citizen.
Among the most popular spots inside the park (which, by the way, is huge) are the Estanque—the Pond—where you can rent a boat and row for a while, Paseo de las Estatuas, featuring statues of various Spanish kings, and the Palacio de Cristal—the Crystal Palace—which is used for temporary exhibitions.
4. PALACIO REAL
Did you know that the Royal Palace of Madrid is one of the largest in the world? With over 135,000 square meters and more than 3,000 rooms, this landmark is a must-see on any visit to Madrid. Imagine the impression that such a tremendous building makes. Although this palace is one of the official residences of the kings of Spain, they usually reside in the Zarzuela Palace, located on the outskirts of the city.
Visiting hours are Monday to Friday from 10:00 to 18:00 (entrance until 17:00) and Sunday from 10:00 to 16:00. During the summer, the palace is open until 20:00. There is free access from Monday to Thursday from 16:00 to 18:00. You can check opening hours and buy tickets at this link.
5. THE ALMUDENA CATHEDRAL
The Santa Iglesia Catedral Metropolitana de Santa María de la Real Almudena—also known as the Almudena Cathedral—is located in front of the Royal Palace. That means you can visit two of the most iconic locations in Madrid without hardly moving!
The cathedral was built very close to an ancient church, which, in turn, was built over an ancient mosque. It is dedicated to the Virgin of Almudena, the patron saint of Madrid. By the way, Almudena comes from the Arabic word al-mudanya, which means "citadel."
It took about a hundred years to build this cathedral, which features a variety of architectural styles, including neo-Romanesque, neo-Gothic, and neoclassical. While it truly is a beautiful cathedral, I think that there are much more beautiful cathedrals in Spain.
6. ENJOY THE SUNSET AT THE TEMPLE OF DEBOD
If, like me, you love to see the sunset at a special place, I recommend that you visit the Temple of Debod and feel the energy of this Egyptian temple in the last lights of day. Yes, you read correctly… an Egyptian temple.
What is an Egyptian monument doing in the center of Madrid? Well, it was a gift that Egypt gave to Spain in 1968 as a thank-you for helping to save the temple of Abu Simbel, endangered by the construction of the Aswan dam.
This archaeological site is on a hill overlooking the city and is surrounded by pools reflecting the temples. It is undoubtedly one of the most unique places you can see in your visit to Madrid in 3 days.
7. THE MYTHICAL PLAZA MAYOR
If you are strolling through the center of Madrid, you must stop by Plaza Mayor. Although it is a very touristy place, it has a ton of charm. The most significant building in the square is the Casa de la Panadería—Bakery House—a cultural building built in 1619 that has had various important uses, including as the Royal Academy of Fine Arts and the Royal Academy of History.
Surrounded by distinctive earth-colored buildings, porticoes, stores, and terraces, Plaza Mayor is the perfect setting to indulge in a few whimsical treats. Treat number 1: A nougat store. Treat number 2: Bocata de calamares (a Spanish-style baguette sandwich stuffed with fresh and crunchy fried calamari rings). Treat number 3: A beer to go with the calamari sandwich—a killer combination.
8. PLAZA ESPAÑA
Near the Temple of Debod and connecting with the busy Gran Vía is Plaza España. The central area of the square features an imposing statue of Don Quixote and Sancho Panza.
The square is also surrounded by some of the city's tallest and most imposing buildings: Edificio España and Torre Madrid.
On a corner of Plaza España is Casa Gallardo, one of Madrid's best works of Modernist architecture. On the opposite corner is the beautiful Real Compañía Asturiana de Minas building—the Royal Asturian Mines Company. Made of brick and stone, this French-style building now serves as the headquarters of the Ministry of Culture.
9. WALK ALONG THE GRAN VÍA
On leaving Plaza España, you can walk along Gran Vía toward Plaza Callao. Gran Vía is possibly the most famous street you can visit in Madrid.
As one of the city's main arteries, it connects several important neighborhoods and is lined with retail stores, international fashion brands, shopping malls, and landmark buildings.
Known as "Madrid's Broadway" and always full of people, the Gran Vía boasts some of the most famous buildings in the city. You cannot miss the Edificio Metrópolis, Edificio Carrión (famous for its huge Schweppes billboard), and Edificio Telefónica.
10. ARCO DE CUCHILLEROS (CUCHILLEROS ARCH)
Arco de Cuchilleros is among the most beautiful entrances to Plaza Mayor. I love the view of the arch from Calle Cuchilleros, one of the many attractive streets you must see in Madrid.
I like to go down the particularly charming Cava de San Miguel street. When you get to Cuchilleros street, you will find a very nice view of Arco de Cuchilleros.
11. CALLE DE LATONEROS
If you walk down Calle de los Cuchilleros just before crossing Calle de los Tintoreros, you will come across Calle de los Latoneros. This little street is short and quite charming, with two and three-story houses painted in pastel tones.
As you can see, all these streets—Cuchilleros, Tintoreros, Latoneros—are named after trades (in these cases, knife-makers, dyers, and tin platers). In the old days, streets were named after the artisans guild that settled there. Calle de Latoneros is another example of the beautiful little streets you can see during your three-day visit to Madrid.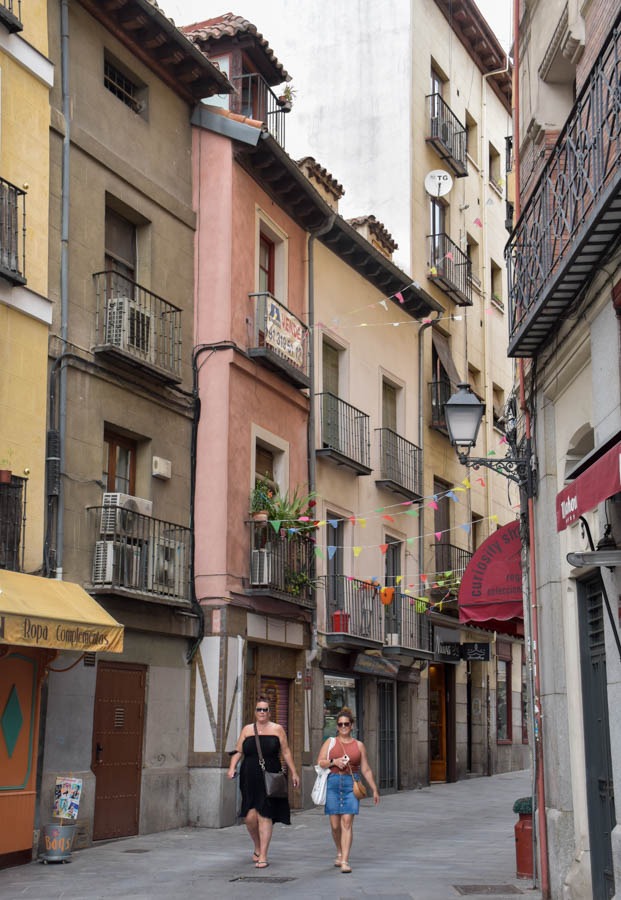 12. PALACIO CIBELES AND FUENTE CIBELES
Located at an intersection marked by non-stop traffic, Palacio Cibeles is one of the first buildings of Modernist architecture in Madrid. It was built in an eclectic and neo-Plateresque style.
Originally, it served as the Central Post Office. Today, it is the main headquarters of the Madrid City Hall and also houses an auditorium and exhibition space.
Cibeles Fountain, located in the middle of the intersection, is another of Madrid's icons. This is where Real Madrid fans celebrate their victories.
13. FUENTE NEPTUNO
While Real Madrid football fans celebrate their victories at Cibeles Fountain, Atlético Madrid fans gather at this neoclassical fountain to celebrate theirs. In Spain, every celebration must be big—hence, cheering around a monumental 18th-century fountain.
Located near Congreso de los Diputados—the Congress of Deputies—Neptune Fountain was built under the mandate of Charles III in his eagerness to elevate Madrid to the heights of other major European capitals such as Paris and St. Petersburg.
14. PLAZA DE LA VILLA
Okay, I confess: I am head-over-heels about Plaza de la Villa. It was only by chance that I found this square on one of my visits to Madrid, and at the time, I didn't know what it was. But I was amazed.
Plaza de la Villa is one of those places where you can sense the city's medieval origins as you take in the small palaces, the narrow streets surrounding the square, and the beautiful arched entrance that gives way from Calle del Cordón.
Some of the main houses in the square are from the 16th and 17th centuries. Can you even fathom how much time has passed since then? Casa de la Villa, a baroque-style building, is now one of the headquarters of the Madrid City Hall.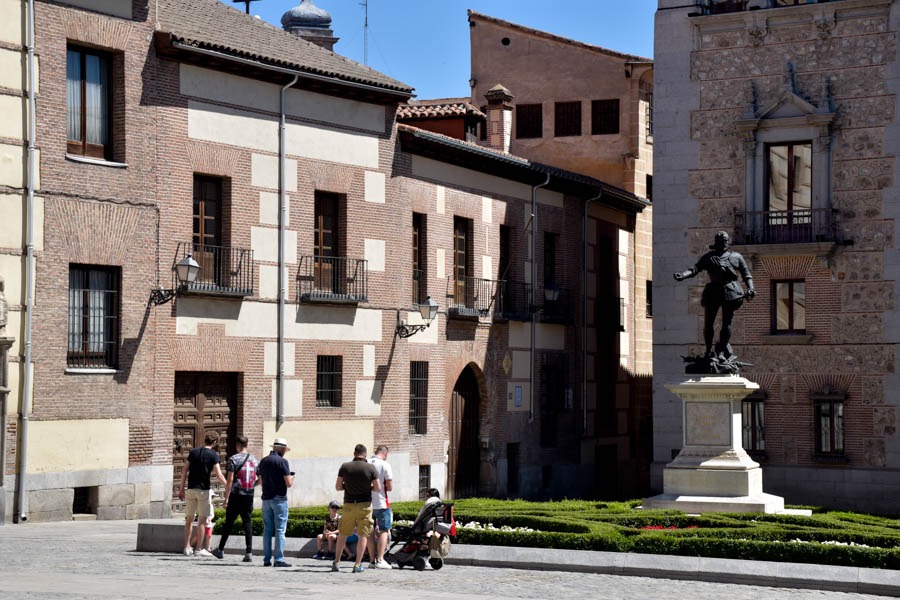 15. MERCADO DE SAN MIGUEL
Oh, my! Everything at Mercado de San Miguel is so delicious! Let me start painting a picture by telling you about the building, which retains its original 1916 steel structure in mint condition. With a surface area of 1,200 square meters, and being a mere stone's throw away from Plaza Mayor, this iconic market is an obligatory stop for connoisseurs.
The only question is: What would you like to eat? Ham? Cheese? Seafood? Rice dishes? Pinchos (skewers)? Sweets? Wines? At Mercado de San Miguel, you will find examples of every type of classic and contemporary cuisine from all over Spain. However, be warned! Prepare your wallet because these delicacies don't come cheap.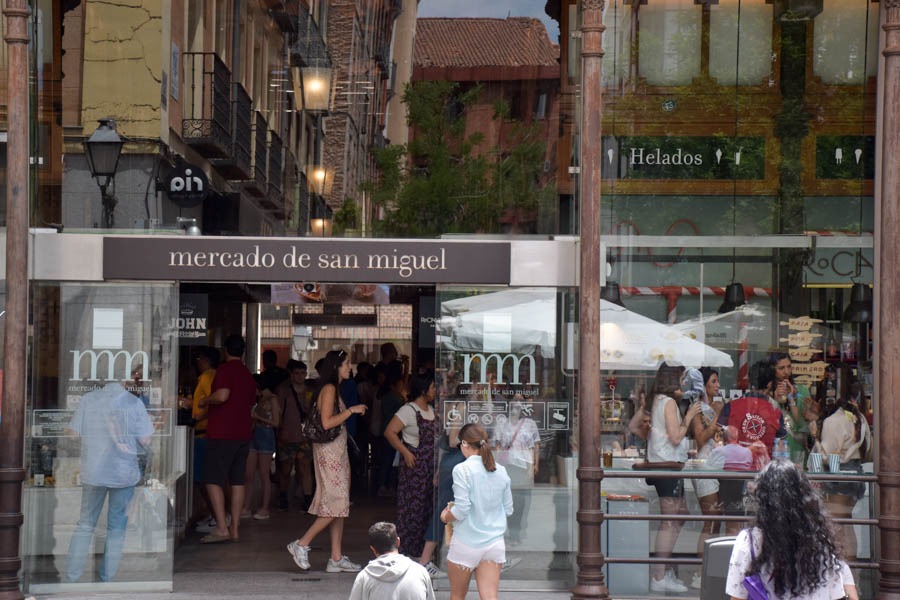 16. GO SHOPPING ON CALLE PRECIADOS AND OTHER SHOPPING STREETS
If your mind is telling you, "Today, I'm going shopping, baby!", I recommend that you head to the area of Calle Preciados, Calle del Carmen, and Gran Vía. Calle Preciados is one of the most popular shopping streets in Madrid. Here, you will find all the main fashion stores: Zara, Pull & Bear, Fnac, Hard Rock Café, Levi's, El Corte Inglés, and more.
If you haven't found what you were looking for, you can walk along Fuencarral street. It's a little less commercial but features smaller stores, signature designs, and alternative brands.
17. MUSEO DEL PRADO
The last time I went to the Prado Museum, I was with my father. He had never been there before and, naturally, he was thrilled. To be honest, he had good reason to be. The Prado Museum has an absurd level of "qualité."
Among the most outstanding works featured here are Goya's The Naked Maja, Bosch's The Garden of Earthly Delights, Goya's Saturn Devouring His Son, Rubens' The Three Graces, and, of course, Velazquez's Las Meninas.
In the Prado Museum, you will find these masterpieces and many, many more. Plan your trip well because it is easy to lose hours admiring its art collection. My favorite pieces are in Goya's black paintings section. Tell me in the comments which part of the museum you like the most. Here is the official website of the Prado Museum.
18. MUSEO REINA SOFÍA
If you prefer 20th-century, surrealist, and contemporary art, the museum you are looking for is the Museo Reina Sofia—Queen Sofia National Museum Art Center. Here, you will find works by some of the greats: Salvador Dalí, Joan Miró, and Pablo Picasso. Without a doubt, Picasso's Guernica is the museum's most famous piece.
19. CONGRESO DE LOS DIPUTADOS (THE CONGRESS OF DEPUTIES)
Where do Spanish politicians meet to insult each other and pretend they are doing something for the country? Guess! They go to Congress.
Regardless of what goes on inside, this building features a spectacular neoclassical façade. The main entrance stands out for its portico, flanked by six Corinthian-style columns, an imposing triangular pediment, and two bronze lions guarding it. This is the perfect spot for the souvenir photo that says, "I spent this weekend in Madrid."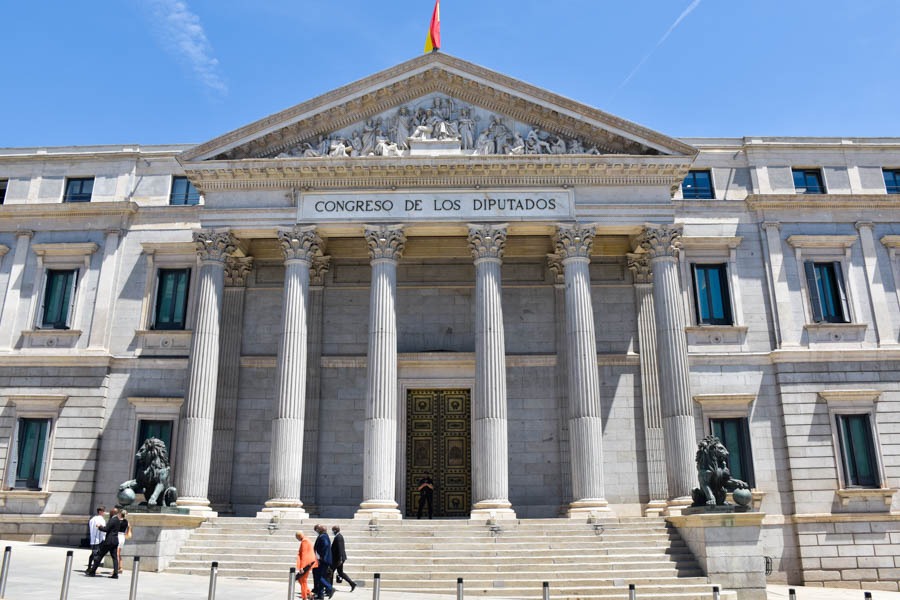 20. ATOCHA STATION AND ITS BOTANICAL GARDEN
A station like this makes it a pleasure to take the train in Madrid. Atocha station is a very pleasant place, in no small part due to its impressive botanical garden.
Built in 1992, this garden never fails to impress and delight visitors with its more than 250 species of tropical plants from Asia, America, and even Australia.
21. WATCH THE SUNSET FROM THE VIEWPOINT OF CÍRCULO DE BELLAS ARTES
Would you like to enjoy a beautiful sunset over Madrid's rooftops? If so, the Círculo de Bellas Artes terrace is the place to go.
Its central location, at Gran Vía, enables you to see iconic city landmarks from above. The Metrópolis building, the Kio Towers, and the rooftops of Chueca are just a few examples of the sights you can take in from this terrace. Admission is 5 euros, and you can purchase your ticket at the entrance.
22. VISIT THE SANTIAGO BERNABÉU STADIUM
Located on the Paseo de la Castellana, Santiago Bernabeu Stadium is the temple of Madridismo. If you are a Real Madrid fan, you cannot miss the guided tour, which lets you see the inside of the stadium, access the locker rooms, and even walk on the field.
23. SEE CUATRO TORRES, THE FUTURISTIC MADRID
Also located on the Paseo de la Castellana, a little farther north of Kio Towers, the Cuatro Torres Business Area is the most modern and futuristic place in town. Given how fashionable it is for a big metropolis to have skyscrapers, Madrid could not afford to stay behind.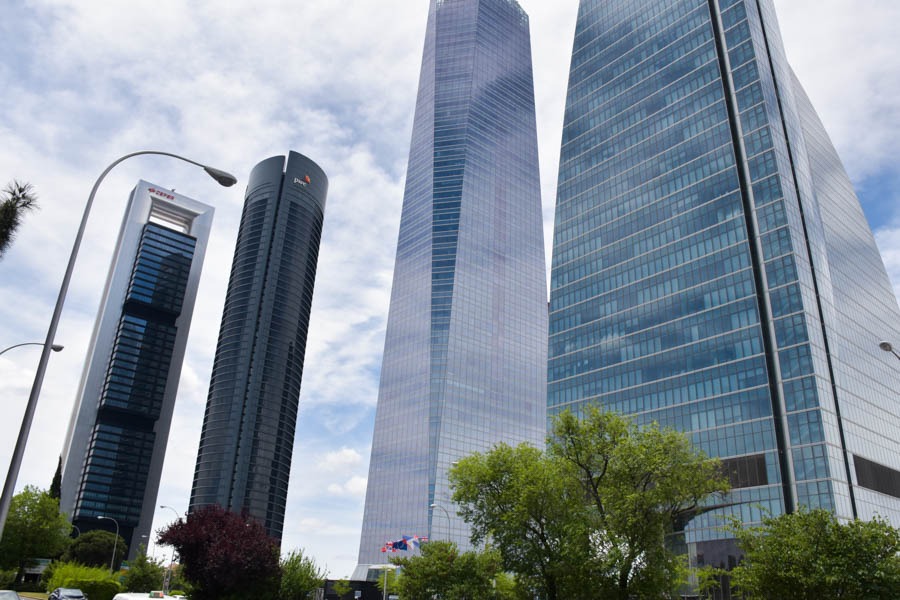 24. GO OUT FOR BEERS IN LA LATINA
Is there anything better than going out for tapas and beers in La Latina? It's hard to find a plan as simple and great as this. While any day is good for a visit to La Latina, Sunday is the most popular day.
With its dozens of crowded bars and terraces, finding delicious tapas in the neighborhood is an easy task. Here's a special recommendation: Try the tortilla de patata from the restaurant Juana la Loca and the huevos rotos from Casa Lucio (which are quite expensive, by the way, but totally worth it).
25. GET LOST IN BARRIO DE LAS LETRAS
Barrio de las Letras is one of Madrid's most interesting and beautiful neighborhoods. It is full of history and art. Some of the most famous writers from Spanish classical literature, including Cervantes, Góngora, and Quevedo, walked its streets and published their works while living there.
Don't miss Plaza de Santa Ana, Las Huertas street, or the Lope de Vega's House Museum. This neighborhood also has some excellent tapas bars. For example, the tavern La Fragua de Volcano serves very tasty vermouth and generous tapas.
26. LAVAPIÉS, THE MULTICULTURAL NEIGHBORHOOD
Why not go beyond the tourist areas and explore the most multicultural neighborhood in the city? While there are no grand palaces or monumental squares here, you will find original tapas bars, art galleries, Turkish food restaurants, street graffiti, and all kinds of stores.
Stroll through the steep streets of this popular neighborhood filled with history, exoticism, and cultural diversity.
27. EAT SUPER CHEAP AT SIDRERÍA EL TIGRE
Feeling hungry? If you crave quantity over quality, go to the cider house Sidrería El Tigre. To this day, how this business makes a profit is beyond my comprehension. For the price of a beer, you get a plate of tortilla de patatas, cheese, ham, and croquettes—basically, a full meal.
28. ATTEND A FLAMENCO SHOW
Although the selection of flamenco shows in Madrid is not as big as it is in Seville, Cadiz, Cordoba, or Granada, you will find flamenco shows of outstanding quality here.
The musical genre was born in Andalusia but many renowned artists settled in the nation's capital, elevating Madrid to the top of the flamenco scene.
Madrid has many "tablaos" where you can see flamenco. Some of the most renowned are El Corral de la Morería, El Cardamomo, and El Tablao Flamenco 1911.
29. MADRID'S NIGHTLIFE
After touring several areas of Madrid, do you feel like clubbing? Don't worry! Madrid is one of the most vibrant and party-loving cities in Europe… maybe in the world!
We could dedicate a whole article to the city's nightlife. Madrid has options for all tastes.
To name just a few, Malasaña is home to many bars with youthful atmospheres playing rock, punk, and electronic music. The Calle Huertas area contains hipster restaurants, bars, and nightclubs popular with locals and foreigners. In Chueca, you will find the most liberal and gay-friendly nightlife in the capital.
30. VISIT EL ESCORIAL
El Escorial is an expansive complex that includes a monastery, a royal palace, a library, and a basilica. It is one of the most unique works of Spanish Renaissance architecture. The place is massive, so leave plenty of time for your visit.
Note that El Escorial is outside Madrid, so I recommend that you come here only if your visit extends to several days. You can go on your own, by train or bus. If you want something more comfortable, you can hire this tour, which includes transportation and guides in Spanish and English.
31. VISIT TOLEDO, ÁVILA, OR SEGOVIA
One of the many advantages of Madrid is that it is located in the center of the country, which makes it easily accessible from almost anywhere in Spain. Likewise, many cities are easy to reach from Madrid.
So, how about a visit to Toledo, Spain's ancient capital? Or would you rather see the spectacular city walls of Avila or the imposing Roman Aqueduct of Segovia? Check out these one-day tours to visit these incredible cities: Toledo / Avila and Segovia.
32. TAKE A FREE TOUR
One of the best—and cheapest—ways to get to know the city and learn about its history is to take a free tour with a local guide.
Although these tours are marketed as free, they always ask for a tip at the end. But that's okay! If they've done a good job, I think it's great for them to earn a little extra money.
MAP OF TOURIST PLACES TO SEE IN MADRID IN 3 DAYS
THE WEATHER, OR WHEN TO VISIT MADRID
Madrid is a very clear example of continental climate. This means the winter is very cold and the summer is really hot. People say that Madrid has nine months of winter and three months of hell. While the reality is not quite like that, it tends to reach both ends of the spectrum.
July and August are the high season but heat during those months can be quite hot. From December to February, it is quite cold. However, the city looks stunning around Christmas, with its seasonal lights and decorations. The rainiest months are April, May, November, and December.
Generally, the best months to travel to Madrid are from March to June and from September to November. The temperature during those months is moderate, which allows for a more pleasant visit. That said, you can visit Madrid at any time of the year. If it's cold, just put on a good coat. If it's hot, do as the locals do and enjoy a cold beer.
WHERE TO STAY IN MADRID FOR THREE DAYS. WHICH ARE MADRID'S BEST NEIGHBORHOODS?
For tourists, I would say that the central district is the best area to stay in. Most of Madrid's tourist sites are in this area, so not straying too far off makes sense. Each neighborhood has a personality and style that set it apart from the rest.
One of Madrid's advantages is its great public transport system. Wherever you stay, you can get around the city without any fuss.
The area around Puerta del Sol and the Austrias neighborhood is perfect for staying in because it's close to practically all of Madrid's tourist spots.
However, La Latina is also an excellent place to stay. It's very close to Plaza Mayor but quieter than the Puerta del Sol area. This neighborhood is perfect for strolling and going out for tapas.
If you plan to go out a lot at night, you could stay in Malasaña or Chueca. This way, you will be within walking distance of plenty of restaurants, bars, and clubs. One great example of this is the Fuencarral street area.
Plaza España's strategic location also makes it a very good choice, as it is close to Gran Vía, the Royal Palace, Madrid de los Austrias, and Malasaña. Here you will find many high-end hotels.
Following are a few recommendations of the best-rated hotels and hostels in Madrid: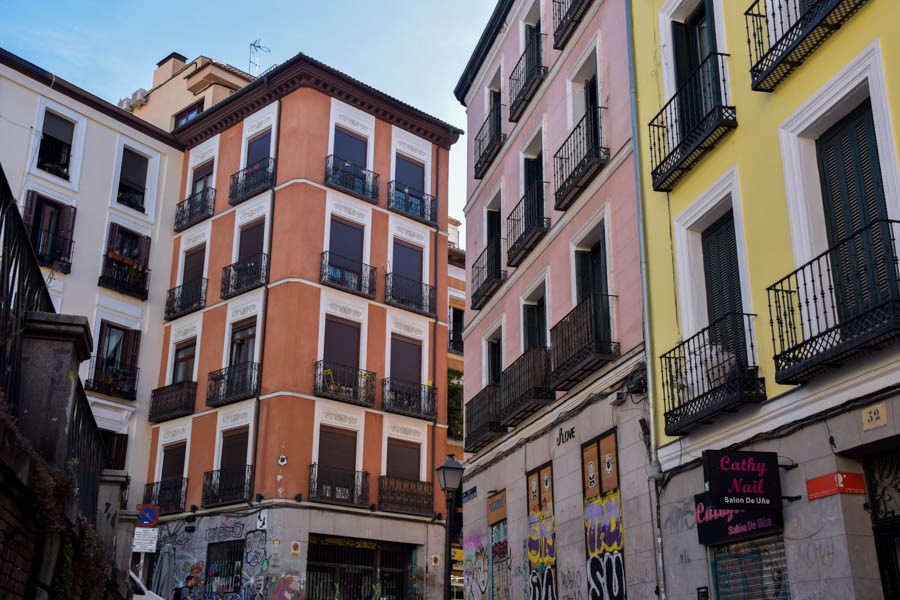 FLIGHTS TO MADRID
If you travel by plane, you will find that many airlines connect Madrid with other Spanish and international cities. Some of the cheapest airlines for traveling within Spain and Europe are Vueling, Ryanair, EasyJet, Iberia Express, Norwegian, and WizzAir.
To find the cheapest flights, I recommend that you use Skyscanner. Here is a post on how to find super cheap flights with Skyscanner.
HOW TO GET FROM THE AIRPORT TO THE CITY CENTER
There are several ways to get from Barajas International Airport to the center of Madrid. The most popular are:
By taxi:
Undoubtedly the most comfortable and fastest option to get to your hotel. The ride from the airport to downtown Madrid has a fixed cost of 30 euros.
By bus:
Bus line 200 runs through all the airport terminals and ends its route at the Avenida América bus station. Bus line 101 goes to Canillejas but does not stop at terminal T4. The Autobús Express Aeropuerto runs through all the airport terminals and arrives at Atocha station.
By metro:
Metro line 8 connects Barajas airport with the center of Madrid. Although this is a good option, it takes a little longer.
By train + metro:
This is my favorite option. You can take the train from T4 at the airport and get to Chamartin, Nuevos Ministerios, Atocha, and other stations. From there, take the metro to where you will be staying.
HOW TO MOVE AROUND MADRID
By metro:
In my opinion, the metro is the best way to move around the center of Madrid. Fast, cheap, and comfortable, the metro connects all the city's main areas and runs every day of the year from 6 am to 11:30 pm. Here, you can download Madrid's metro map.
By train:
The train is a practical choice if you want to take specific trips—for example, to travel between Atocha and Chamartín or between Puerta del Sol and Pitis. On many routes, the train is faster than the metro, as it makes fewer stops. At this link, you can review the Renfe train lines.
By bike:
You will find several spots to rent a bike for exploring the city streets in Madrid. If you prefer a guide, you can hire a guided bike tour in a group.
By taxi:
Although this is very comfortable and efficient transportation, taking a cab in Madrid can be quite expensive. If you are on a tight budget, I recommend that you avoid it. After all, the metro works well.
USEFUL APPS
Here are a few apps I frequently use in my travels and that can be useful in your trip to Madrid:
---
Did you enjoy "What to see and do in Madrid in 3 days"? Leave a comment!
Hi, I'm Miguel; Adventure traveler, scuba diver and hiking lover. I have been traveling the world for the last 12 years and I hope my experiences, photos and hiking routes inspire you to travel the world too.