South America is a wild, unique and surprising destination. However, after a few years wandering around the continent, I noticed that some countries are especially popular among tourists while others get barely a few visitors. Venezuela is one of them. This has its pros and cons, of course.
The transport infrastructure is very basic and there are almost no hostels in the country. But try to imagine a place like Angel Falls in Peru. It would be a crazy spot full of tourists, agencies, and gift shops (like Cusco, Machu Picchu, etc.).
Angel Falls has absolutely nothing to do with that. It must be one of the most spectacular places on earth, and you can enjoy it almost on your own. Seriously, I think there were, like, seven people total when I was there. I recommend that you visit this amazing place right now, while it is not touristy. Who knows? Maybe in a few years it will be as crowded as Iguazú or Perito Moreno.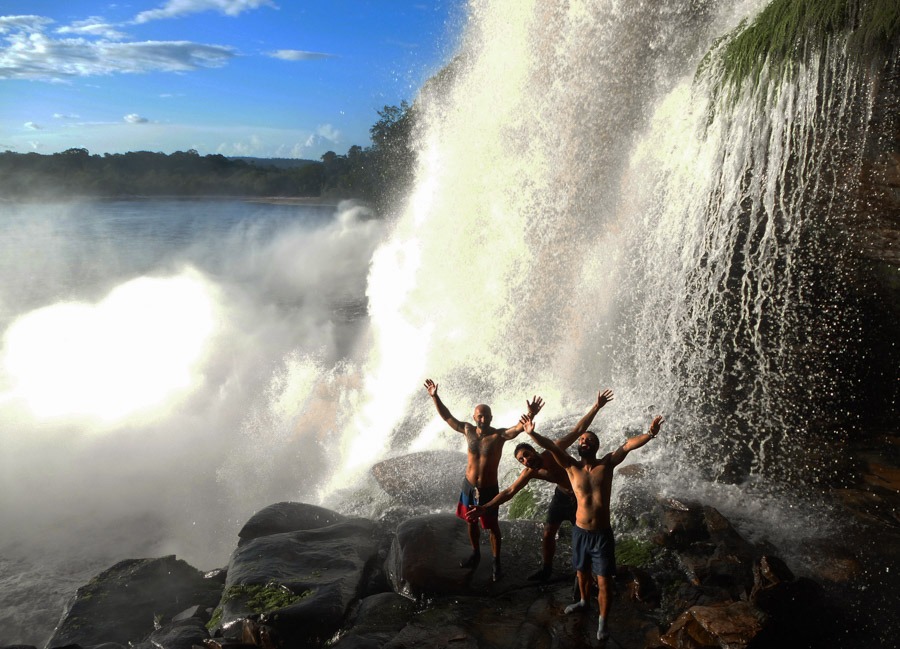 Where are the highest waterfalls in the world?
Salto Angel is in Canaima National Park, in the state of Bolivar in the Bolivarian Republic of Venezuela. The region is also known as Gran Sabana and borders Brazil and Guyana. It is a really beautiful place full of tepuys and rivers. Tepuys are table-shaped mountains that create surreal landscapes of endless waterfalls cascading from the rock cliffs.
If you want to experience what it feels like to hike one of those tepuys, do not miss the hike to Mount Roraima. It's an unforgettable experience!
Is it safe to travel to Venezuela right now?
IMPORTANT UPDATE: The situation is getting worse year after year. While Angel Falls are very safe to visit, other places in the country can be potentially dangerous. Please check the current situation before you travel to Venezuela.
That's a difficult question, but it's the first thing everybody asks me when we talk about Venezuela, so I'm gonna get my feet wet and answer it.
For the question of whether it is safe, the answer is: "not too safe". But I'd say it's not as bad as it's portrayed to be. I think that by using a little common sense and taking precautions, it should be all right.
Anyway, Rio de Janeiro is not a safe city, either. It's the only place in the world where I have been robbed, and there are assaults and murders there every day. However, it must be one of the most touristy destinations in all of South America. And why is that? Well, they really know how to sell their image. So, you see this T.V. commercial of Rio, where guys are playing football on Ipanema beach, the statue of Christ is in the background and hot girls are dancing the samba and it looks like everything is just fine.
What I mean is that you must be a little careful everywhere you go, but do not get paranoid. If you have already visited Brazil or Colombia, I think you are ready to travel to Venezuela. If you live there for 30 years, you might have some problems (though not necessarily), but if you are on a two- or three-week visit, everything should be OK.
How can I get to Angel Falls?
There is a little town within the huge Canaima Park that is also called Canaima. This town is the starting point of all tours to Angel Falls and other nearby attractions.
There are no roads to Canaima, so you must fly. The cheapest way to get there is by flying from Puerto Ordaz or Ciudad Bolivar. (Again, is it me or is that another place named after Bolivar?)
The flight is quite an adventure. They use very small aeroplanes (three to five seats) and they move a lot. The price used to be about $45 one way, but they updated price recently – It's way more expensive now. Anyway, it doesn't make much sense to talk about prices in Venezuela because its currency devalues at lightning speed.
Flying to Venezuela can be quite expensive depending on the airline. I recommend that you check out Skyscanner which shows you a calendar with the cheapest flights in each month.
Can I visit Angel Falls on my own?
No. You must go by boat upriver for more than three hours to get to Angel Falls, and only the guides know the way. It is also part of a protected reserve. The easiest, most logical, most comfortable and most economical way to get there is by taking a tour.
How much does it cost to visit Angel Falls? How do I prepare for the trip?
It's difficult to know how much it would cost today. I paid about $80 for the tour, which typically lasts three days. This includes accommodation, food, guide and transportation (not including the flight P.Ordaz – Canaima). However, I've been told they changed the price, and it's way more expensive now.
UPDATE: Prices change all the time in Venezuela, and I heard that doing this tour now can be very expensive.
It's always cheaper to book the tour at the airport agencies in Ciudad Bolivar or Puerto Ordaz, and not in city agencies. You can also book it in the town of Canaima for the same price.
I know people who had booked it in Caracas, including flights, etc., and they paid more than $500. That is way too much. My advice is that you get to the Puerto Ordaz airport early, ask for prices from a few agencies, bargain a bit and book it there. This way, you'll get to Canaima in the morning and can start the tour that day.
What do I see on the tour?
Although there are several options, most people go for the three-day, two-night tour. During that time you'll visit Angel Falls (obviously), the lagoon of Canaima and several waterfalls like Hacha, Sapo and Sapito. One of the nights you'll sleep in the camp near Angel Falls and the other you might sleep in Canaima or some other camp.
The three-day tour is well worth it. Everyone comes here with an obsession to see Angel Falls, but I promise there is much more. The whole region is incredibly beautiful. In addition to Auyantepuy, which is the mountain where Angel Falls is located, there are hundreds of similar mountains all around. The place is full of tepuys, waterfalls, rivers and lagoons.
What is the best time of year to visit this paradise?
This is an important factor to keep in mind when planning a visit to Angel Falls. The place is spectacular at any time, but the waterfall looks more exuberant with a great water flow.
The rainy season is usually between June and November. During this time, the water flow is usually greater, but you have more chances to experience a cloudy sky.
After November, it is very likely that the Carrao River will not be navigable anymore. The only way to see Angel Falls then would be by overflying the place.
We went there in July and although it had not rained much that year, we were able to go up the river and get to the base of Salto Angel. I admit that watching it from below is really impressive. Remember, it is a 979-meter fall. Almost a kilometer!
Is it worth taking the overflight?
Definitely. You can't miss the overflight. If you can, tell the pilot to fly over the mountain, getting close to the top and passing just above the waterfall. Ufff … My hair stands on end just remembering it!
We paid about $25 for the flight, which lasts about 30 to 40 minutes. Seriously, it was one of the best investments I ever made. It must be more expensive now.
Should I bring dollars, pesos, bolivars, euros?
Above all, do not take money from the ATM. That's because you'll get the official exchange rate, and that would ruin you. Bring dollars or euros and change them in the black market.
When I say black market, please don't imagine guys in an alley in Albania, dealing with AK-47s, bodily organs or opium, or trafficking in women. Almost everybody changes dollars in Venezuela. Ask in your hostel, hotel or any jewelry store and you will have your money changed in five minutes.
TRAVEL INSURANCE
I highly recommend that you get a good insurance policy before you visit Venezuela. Trusted by thousand of adventurers, World Nomads is one of the best and more reliable options (without breaking your bank).
I hope this article has helped you. The Bolivar, the official currency (Bolivar, of course), devalues amazingly fast. If you have just visited Salto Angel or if you live in Venezuela and you think that some of the prices are not correct, I would appreciate it if you would leave a comment.
---
Did you enjoy "All you need to know before you visit Angel Falls, Venezuela"? Please, leave a comment!
Some of the links in this post are affiliate links. This means that if you book or buy a service, I'll earn a small commission at no extra cost to you. I only link to stuff I love.
Hi, I'm Miguel; Adventure traveler, scuba diver and hiking lover. I have been traveling the world for the last 12 years and I hope my experiences, photos and hiking routes inspire you to travel the world too.