Mountain lovers can understand what reaching the Himalayas means. It's a long, tough journey to get there and admire the highest mountains in the world. A new challenge, another dream come true.
You wake up and it's cold. You put on some warm clothes and sit on the edge of a cliff with a cup of tea warming your hands. The wind gently moves the clouds that cover the mountains. Gradually, great snowy peaks emerge, the sun rises, the mist descends and the show overwhelms you. Now you are in a magical place. Take a deep breath and watch. Enjoy your tea and feel the peace surrounding this place that you will never forget.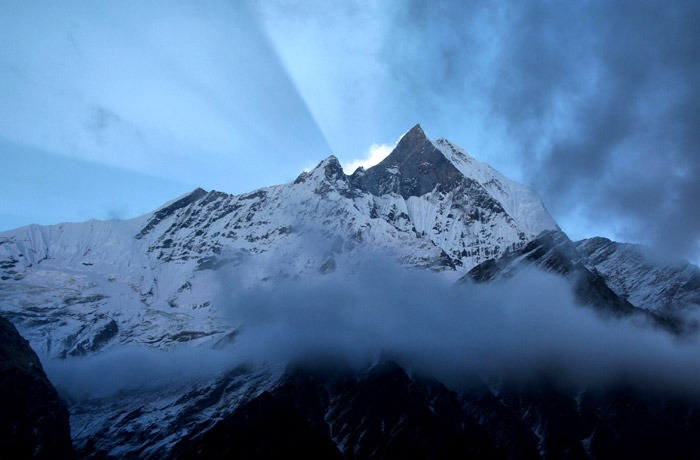 The Annapurna base camp trek (also known as Annapurna Sanctuary trek) can be completed in about 7-8 days, and although you must be physically fit, the difficulty is not that high. With good acclimatization, you can enjoy this wonderful route gracefully, going on your own, without guides.
TRAIL DETAILS
Total distance: 110 km
Time: 7-8 days
Difficulty: Moderate
Maximum elevation: 4,130 meters
Annapurna base camp trek, Itinerary for eight days
Day 1: Nayapul – Ulleri
Day 2: Ulleri – Ghorepani
Day 3: Ghorepani -Poonhill -Tadapani
Day 4: Tadapani – Chomrong
Day 5: Chomrong – Doban
Day 6: Doban – MBC
Day 7: MBC – Annapurna Sanctuary – Chomrong
Day 8: Chomrong – Nayapul
MAP
DAY 1: Nayapul – Ulleri
The adventure begins. After leaving the village of Nayapul, we started our trek into the mountains. The route this day was mainly uphill, with lots of stairs.
The hike to the Annapurna base camp is one of the most popular in the world, so the trails are well preserved. It's not exactly a wild path; there are a lot of stairs, some paving stones, bridges and signs in many places to make your experience easier.
When we got to Ulleri, we found a nice celebration that brightened the evening with dances, songs and performances of the local culture. It was an excellent welcome.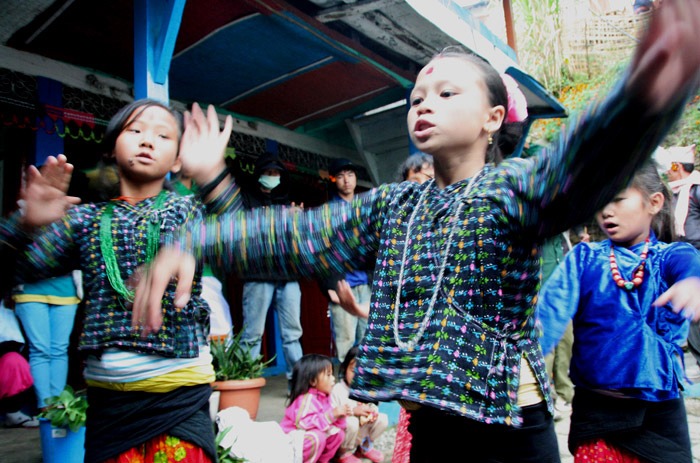 DAY 2: Ulleri – Ghorepani
We continued our journey uphill. Another day with lots of stairs to reach the small village of Ghorepani. This part of the trek passes through beautiful green areas and rice paddies.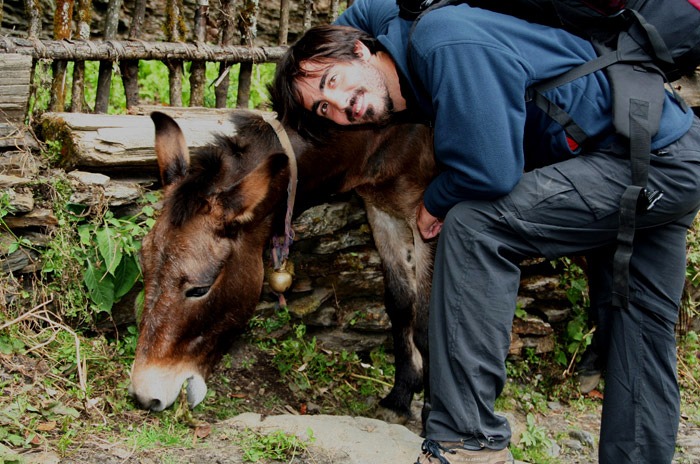 DAY 3: Ghorepani -Poon Hill -Tadapani
The plan for the third day was to wake very early and walk up to Poon Hill, watch the sun rise over the mountains and keep on the route. The sunrise itself was quite cloudy, so we couldn't enjoy the show from this viewpoint, which is said to be very spectacular. On the way back to Ghorepani, the sky began to clear up so we could partially see the big mountains for the first time.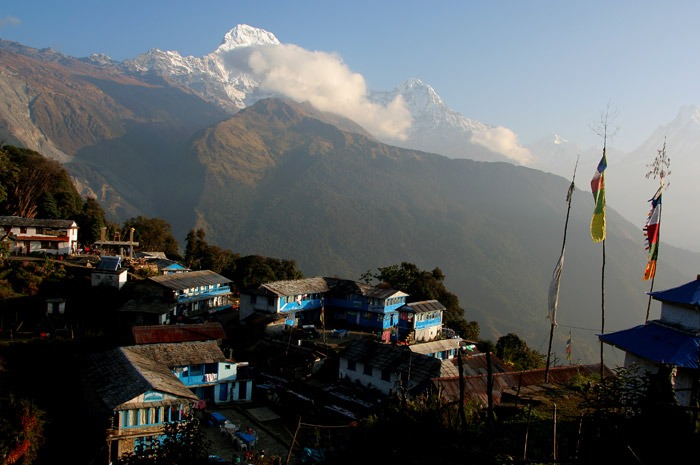 DAY 4: Tadapani – Chomrong
We kept our hike going uphill and downhill before getting to the village of Chomrong, situated in the valley that leads directly to the Annapurna Sanctuary. Chomrong is quite loved by hikers because of the really good bakery there. I remember how we enjoyed a cinnamon roll and a chocolate cake, with the excuse that we needed to recharge our batteries before the final stage.
DAY 5: Chomrong – Doban
It was a mild hike this day. Lush cliffs and rivers around us, and a valley ahead constantly calling us. We knew that we were close to the end.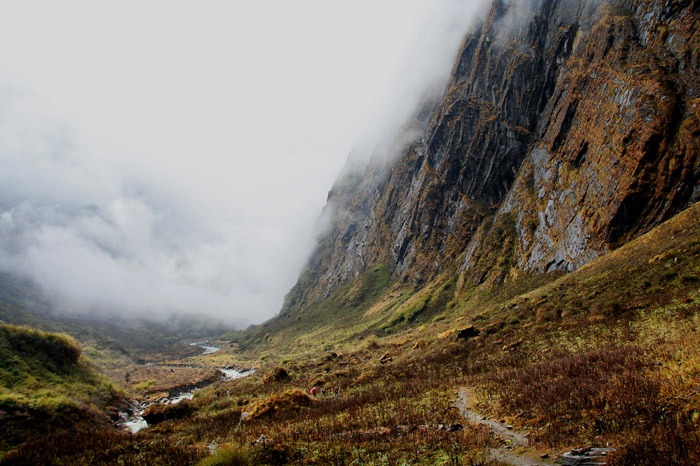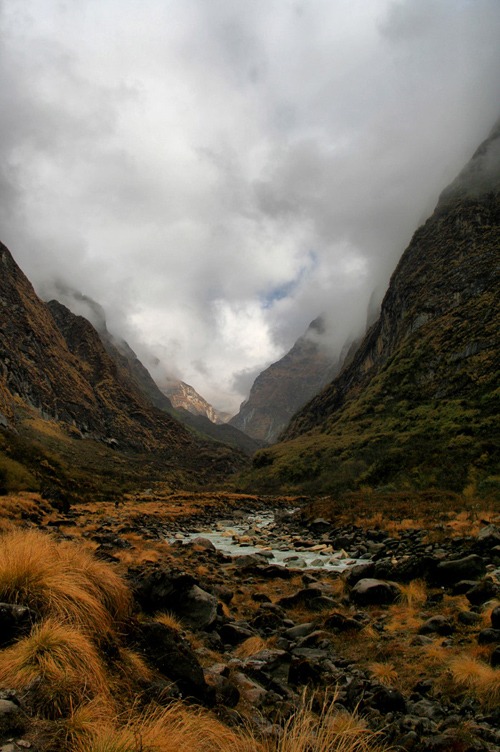 DAY 6: Doban – MBC
The valley became narrower, or at least that's the feeling watching the mountains rise around you, making you feel like you're walking through a terrible gorge.
Finally, we arrived at the Machapuchare base camp, at 3,700 meters. That was the night we slept at the highest altitude, but we didn't have any problems with altitude sickness. All we felt was the excitement of being so close to Annapurna. We were almost there!
DAY 7: MBC – ABC – Chomrong
We woke up at 4:00 am to get to the Annapurna base camp at dawn. It was less than two hours away.
Just before sunrise, there we were, enjoying the Annapurna Sanctuary, situated at 4,130 meters high, deep in the heart of the frozen mountains.
The Annapurna base camp is located on a high plateau surrounded by huge peaks in all directions.
Gently, the sun rose, coloring the crests of the mountains. The sky opened and the show began. Definitely, one of the most beautiful places I've seen in my life.
After having a hot ginger tea and realizing what we had just seen, we were ready to return. We walked on and on until we got back to Chomrong.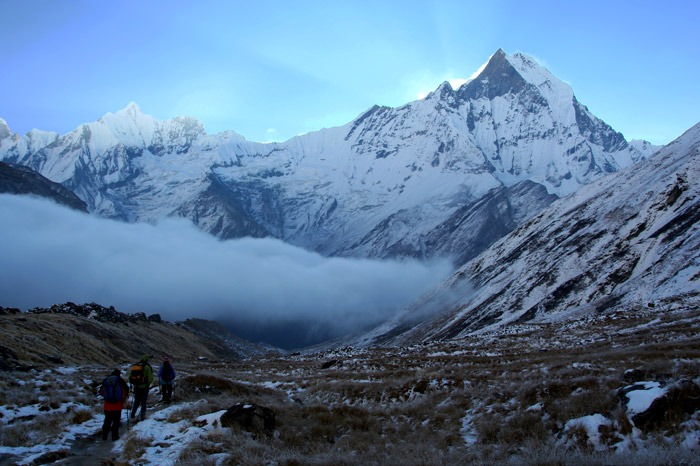 DAY 8: Chomrong – Nayapul
The last day was quite tiring because our bodies needed a break but it was a long day of walking before getting back to Nayapul and taking a bus to Pokhara. At the end, we left the mountains with our legs destroyed but big smiles on our faces.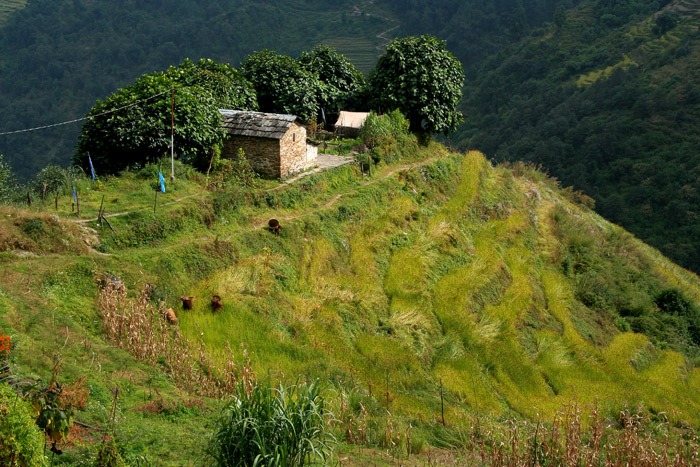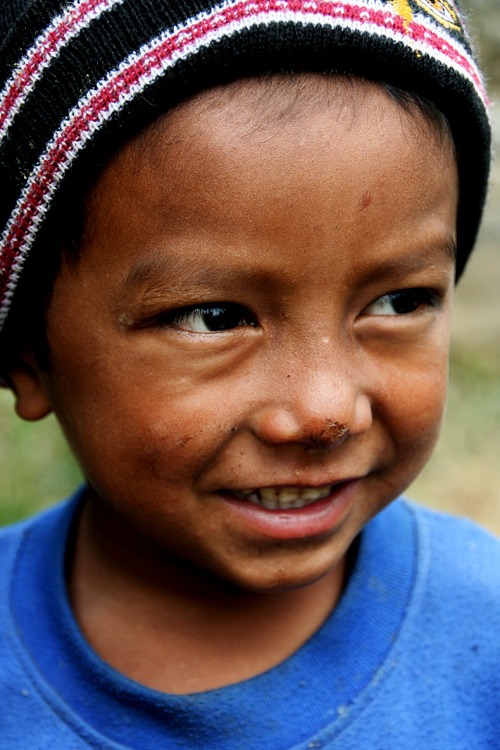 TRAVEL BUDGET FOR HIKING THE ANNAPURNA BASE CAMP
The average budget for accommodation and food was about $ 12 US / day, not including the entrance fee.
Annapurna Conservation Area Project entrance fee / Permits
Foreigners: $ 20 US
Accommodation during the trek
We didn't pay anything in most of the lodges. You can negotiate to get free accommodation in exchange for purchasing snacks, dinner and breakfast at their restaurant.
In the lodges of Doban and Machapuchare base camp, it's harder to negotiate. The price for a simple bed is about $ 3- $ 4 US, depending on the season.
They usually charge extra for hot showers, heaters, etc.
Accommodation in Pokhara
When visiting Pokhara, I recommend that you stay in Pushkar Backpackers. It's a good place with nice atmosphere, friendly travelers, and cheap food and beers.
Food
Food prices increase the higher you go. Annapurna base camp is obviously where you will pay the most for food because everything is transported manually. A bowl of rice with vegetables or some noodles costs about $ 3- $ 5 US.
Transport
The bus from Pokhara to Nayapul costs around $ 2 US.
You can also share a taxi with fellow travelers for about $8 – $10 US.
WEATHER. WHEN TO COMPLETE THE ANNAPURNA BASE CAMP TREK.
The two best seasons for this route are autumn (September to November) and spring (March to May). From December to February there is too much snow and from June to August too much rain.
I was there in October and the weather was pretty good. I was told that it's worth it to go during the spring, because the landscape is more colorful.
Flying to Nepal during the high season can be more expensive. I recommend that you download the free Skyscanner app which shows you a comparison chart with the cheapest flights in each month.
TIPS FOR TREKKING THE ANNAPURNA BASE CAMP
Poon Hill route
The Poon Hill Trek can easily be completed in about 7-8 days. Therefore, I recommend that you take the regular trail going through Ghorepani – Poon Hill -Chomrong to visit different landscapes.
However, if you do not have many days, you can take the shortcut by going through Nayapul – Ghangruk – Chomrong and save one or two days of hiking.
Jhinudanda Hot Springs
Near Chomrong, there is a small village called Jhinudanda, which has some amazing hot springs. The pools are built right next to a wild river surrounded by spectacular views.
Acclimatization and altitude sickness
Although this is not an extremely high trek, it's very important to ensure good acclimatization; drink plenty of water and if you are not feeling ok, descend.
Should I take a guide?
The trail is well marked and you will always find people to ask if you are in doubt, so although optional, it is not really necessary to get a guide.
Travel Insurance
Whether you hire a guide or not, I highly recommend that you get a travel insurance before you visit Nepal. Trusted by thousand of adventurers, World Nomads is one of the best and more reliable options.
---
Traveling to Nepal? Check out on Amazon: Lonely Planet Nepal and Lonely Planet Himalaya
---
---
Do you have any doubts about the Annapurna Base Camp trek? Leave a comment!
Disclosure: As an Amazon Associate I earn from qualifying purchases. Some other links in this post are affiliate links too.
Hi, I'm Miguel; Adventure traveler, scuba diver and hiking lover. I have been traveling the world for the last 12 years and I hope my experiences, photos and hiking routes inspire you to travel the world too.