Brazil is a country of contrasts and cultural diversity. This nation takes up such a large area that each region has a unique character. If you travel around Brazil, you will notice that there are different countries within the same country—and each place offers something magical! You can visit the Amazon forest from Manaus, walk the "trendy" streets of São Paulo, learn about Afro-Brazilian culture in Bahia or hike impressive mountains around Rio de Janeiro.
Forget about the old clichés. Samba, football and caipirinha are real, but I promise, there are more things to discover in this beautiful country. Besides samba, Brazilians dance maracatú and forró, besides football, there is capoeira, and besides the famous caipirinha, you'll find açai and other tropical delights.
I've been in love with Brazil my entire life. One day I decided to spend a few months in Rio. I loved the city and ended up staying for two years! After that time traveling around Brazil and living in Rio, I learned some things that I'd like to share with you. If you're planning a backpacking trip to Brazil, this article is for you.
THE BEST PLACES TO VISIT IN BRAZIL
Backpacking in Southern Brazil
1 – Rio de Janeiro
This is the most famous and most-visited city in Brazil, and there's a simple reason why: Rio de Janeiro is a terrific place! It represents the very essence of Brazil: nice people, beautiful beaches, lush mountains, music, party, culture, carnival … Rio has it all. This is where I spent most of my time in Brazil and I'll always keep this "cidade maravilhosa" (marvelous city) in my heart.
The main highlights are Cristo Redentor, Pão de Açucar and Copacabana beach. If you're looking for alternative activities, you should hike up to Morro Dois Irmãos, have a beer in Rua dos Guimarães (Santa Teresa), get a tan in Praia Vermelha and visit a local community. Check out this tour: Christ the Redeemer, Sugarloaf and Selaron.
2 – São Paulo
The most populated city in the country is an interesting place to spend a couple of days. When you watch the city from above, you see large concrete avenues and thousands of tall buildings. São Paulo doesn't have the natural environment of Rio de Janeiro or the colonial heritage of Salvador. However, you'll find great restaurants, interesting markets and a lively nightlife.
3 – Ilha Grande
Ilha Grande is located off the coast of Angra dos Reis, about three hours from Rio. I recommend that you don't miss this little paradise. The island has a rugged orography which has created dozens of small beaches surrounded by huge mountains. Most villages have maintained their enchantment, with sandy streets and no cars.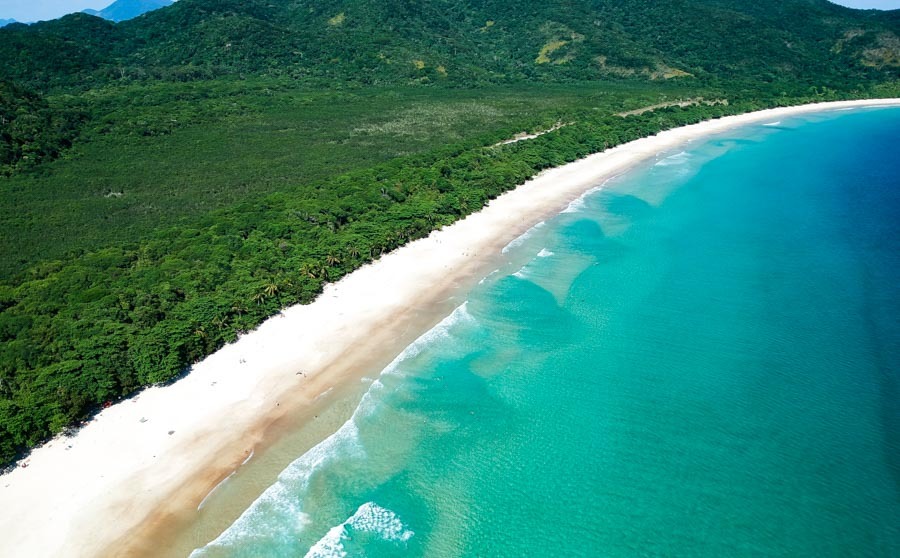 4 – Paraty
A couple of hours' drive south of Angra dos Reis, you'll find the colonial town of Paraty—one of the best-preserved colonial enclaves in Brazil. It's a really quiet, small place, so you won't need much time to visit it. I would stay a day or two at the most.
5 – Trindade
Only 10 kilometers from Paraty, Trindade boasts more than 50 beautiful beaches that range from virtually untouched to very touristy. Praia do Sono is probably the most beautiful beach in the region. Praia do Rancho is the most popular option because it has lots of hostels, bars and restaurants. Also, it's the most lively place at night. Beware of the waves and currents, which can be quite strong.
6 – Iguaçu Falls
Located on the triple border of Argentina, Brazil and Paraguay, the Iguaçu Falls are a real treat for the eye. Many recommend visiting the falls from the Argentine side, which offers access to the Garganta del Diablo—at 80 meters, the highest fall. However, the Brazilian side offers a great panoramic view. Both sides are worthwhile.
7 – Florianopolis
Florianopolis, commonly called "Floripa", is the capital of the southern province of Santa Catarina. This clean, modern city is located on an island connected to the continent by a large bridge. Impressive beaches surround the entire island.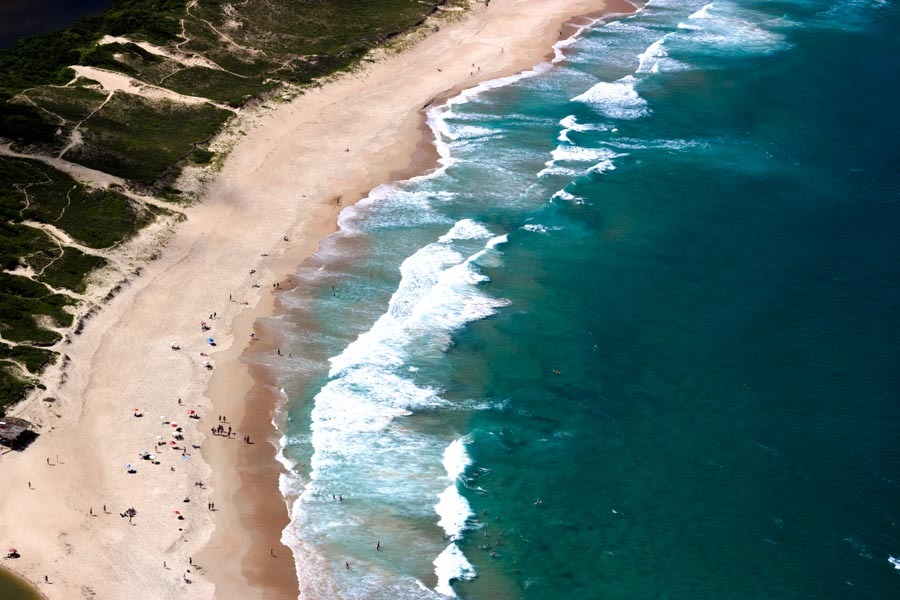 Backpacking in Northeast Brazil:
8 – Salvador de Bahia
Salvador was the first capital of the Portuguese Empire, the main port of entry for slaves and one of the most important cities in the Americas. This city offers a mix of colonial legacy, Afro-Brazilian traditions and tropical flavor.
Don't miss the Pelourinho neighborhood; stroll through its cobbled streets and visit beautiful colonial churches painted in pastel colors. Rio Vermelho has great nightlife, and Barra is where the beaches are. Check out this Salvador City Tour.
9 – Morro de São Paulo
Morro is a super-touristy destination that stands out for its beautiful beaches and crazy nightlife. There are no roads in town, creating a paradisiacal atmosphere. This place is so popular among Argentines, you'll hear more Spanish than Portuguese in the streets. Loud music, caipirinhas and fun are guaranteed.
10 – Chapada Diamantina
Chapada Diamantina, with its valleys, ravines, rivers and waterfalls, is the perfect place for hikers and adventure lovers. You'll have lots of options, from one-day hikes to multi-day expeditions. The Vale do Pati Trek, which can be completed in three to five days, is considered the best hike in Brazil. Check out my guide to hiking in Chapada Diamantina.
11 – Itacaré
Thanks to its wild coastline and cool atmosphere, Itacaré has become a popular destination for surfers and backpackers. Some beaches are not easily accessible, which has helped preserve them. The most beautiful beaches are Itacarezinho, Engenhoca and Jeribucaçu. These beaches are perfect for surfing.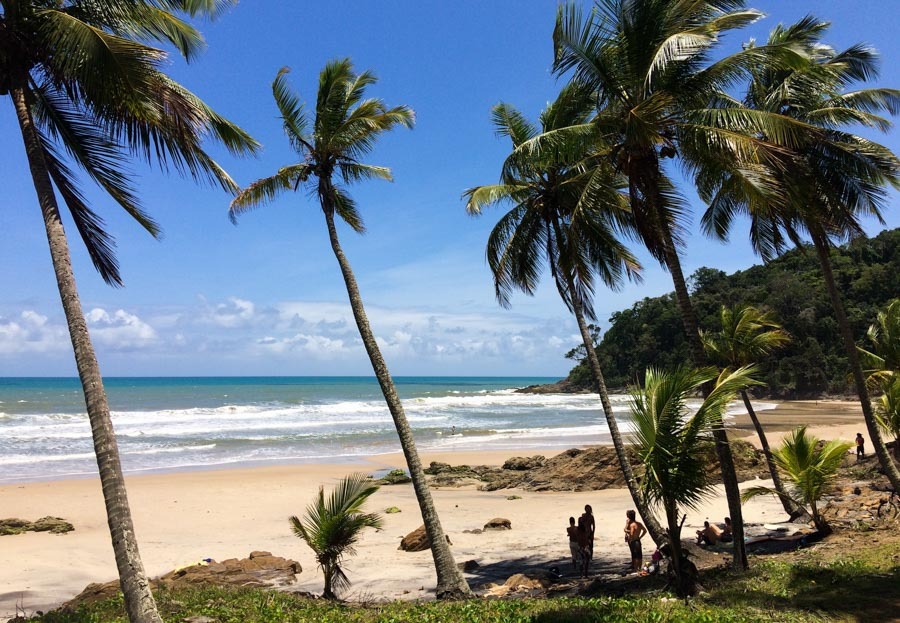 12 – Recife and Olinda
These neighboring cities of the Pernambuco state share history and traditions. Also, both places are famous for their animated carnival. Recife, the capital, is the most modern of the two, and it's decorated with many skyscrapers. Olinda, on the other hand, has a colonial and artistic style. They are great starting points for exploring the nearby beaches. Don't miss Porto de Galinhas!
13 – Pipa
Located 80 km from Natal, Pipa has lots of beaches for surfing, walking or romancing. This small town has been experiencing strong tourist growth during the last few years. However, it's still a lovely place to spend a few days of leisure. The most beautiful beaches are Praia de Madeiro, Praia do Amor, Praia de Cacimbinha and Bahia dos Golfinhos.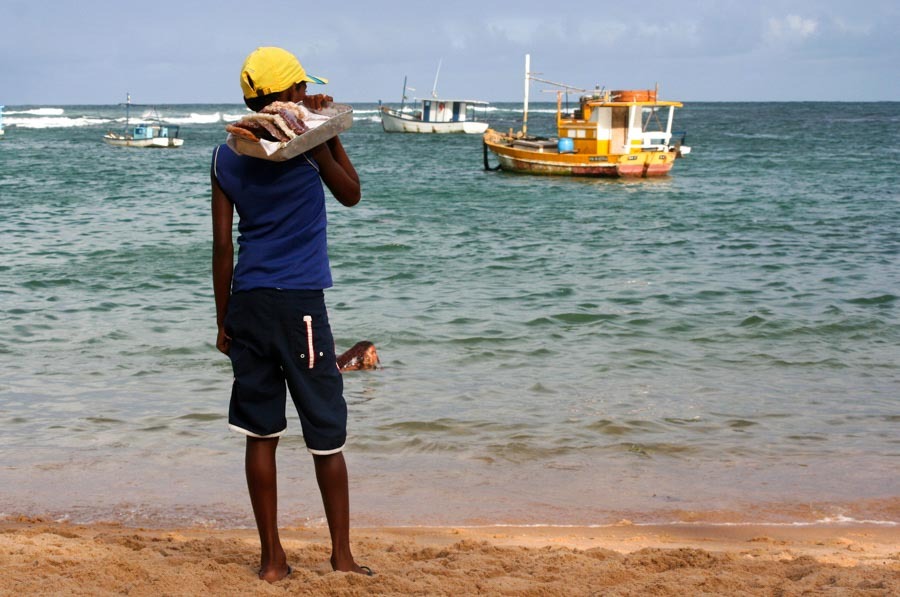 14 – Fortaleza
The capital of the state of Ceará is a well-known tourist hub and a classic stop on the backpacking route along northern Brazil. Here you'll find friendly people, beautiful beaches and good nightlife. Fortaleza is the main access point for popular destinations such as Jericoacoara, Canoa Quebrada and Cumcubo Beach. The region is especially popular among surfers, kite surfers and adventure lovers.
15 – Jericoacoara
The small town of Jericoacoara, also called "Jeri", is an idyllic destination nestled in a sea of ​​dunes and turquoise lagoons. Jeri is considered the most beautiful beach in Brazil (although I've heard this statement said about 50 other beaches). The truth is that it's very beautiful. Due to its remote location, the village isn't very crowded. Also, there are no cars. The buildings are basic but quite charming.
Backpacking in the Central Region:
16 – Brasilia
The Brazilian capital isn't a popular destination among travelers, as it's quite far from the well-visited coast. However, this city has a contemporary architecture that makes it a must-see for architects and modern art lovers.
17 – Minas Gerais
Belo Horizonte, the capital of Minas, is where you'd go to try the best of Brazilian cuisine. Tiradentes and Ouro Preto are two beautiful towns with well-preserved colonial architecture. If you're into trekking, the region has lots of hiking trails running along canyons and waterfalls.
18 – Amazon Jungle
Brazil is one of the best countries to go for a jungle expedition. Manaus and Belem are the main starting points, but you can visit the Amazon forest from many cities. I visited the jungle starting from Rio Branco, a small city in the heart of the Amazon. There weren't many options, but no tourists either.
If you go to Manaus, you'll find hundreds of tours, agencies and guides. Keep in mind that most short jungle tours won't take you too far from the city, and you'll end up visiting well-trodden areas. If you want to explore the real jungle, get ready for a long multi-day expedition.
TRAVELING OFF THE BEATEN TRACK IN BRAZIL
19 – São Luis de Maranhão
São Luis is a very beautiful city with a well-preserved historic center and dozens of dream beaches. Why, then, do so few people visit São Luis? Because it's far from everything! Unless you go by plane, it will take you a long time to get to this northern city. On the other hand, the city is really worth it, so if you have time, take a tour around Maranhão.
20 – Lençois Maranhenses
The National Park of the Lençois Maranhenses is one of the most idyllic destinations in Brazil. This large marine ecosystem is formed by hundreds of dunes molded by the wind, as well as by rainwater-fed lagoons.
21 – Mount Roraima
The state of Roraima is completely off the beaten track. This region, which borders Venezuela, boasts amazing landscapes: a mixture of Amazon rainforest and tropical savannah, adorned with table-shaped mountains and steep hills. Here is the impressive Monte Roraima, which is one of my favorite hikes in South America. Keep in mind that the starting point for this trek is on the Venezuelan side.
22 – Chapada dos Veadeiros
The Chapada dos Veadeiros is located in the northeast region of Goiás, in the interior of Brazil. It's one of the most beautiful regions in the country. Although most Brazilians have heard of it, only a few have visited the place. The most striking features of this national park are the huge waterfalls that adorn the valleys. The best way to explore the region is by taking a multi-day hike.
23 – Chapada dos Guimarães
The National Park of Chapada dos Guimarães is located in Mato Grosso. Like the rest of Brazil's "chapadas," it's characterized by wild landscapes, large ravines and high "cachoeiras" (waterfalls). The park's main highlight is the Cachoeira Veu da Noiva, an 86-meter-high waterfall.
24 – Fernando de Noronha
This archipelago of volcanic origin is one of the most expensive destinations in the country, which makes it a rarely-visited place. Although they belong to the state of Pernambuco, the islands of Fernando de Noronha are located 360 km off the coast of Natal. In addition to pristine beaches and steep hills, Fernando de Noronha has a well-preserved marine ecosystem. Here is where you'll find the best diving spots in all of Brazil.
WHAT TO DO WHILE BACKPACKING IN BRAZIL
25 – Let your hair down at the Carnival
The Carnival of Brazil is the world's most famous festival, with lots of music, dancing, costumes and fun. However, it has some downsides. The streets of some cities can get so crowded, you can't even walk.
If I could give only one piece of advice, I'd say that the best part of the Carnival is the Pre-Carnival. The Brazilians spend months working on their street shows; before the Carnival, they must practice to see how the parade will turn out. Literally, each rehearsal is a party. In most cities, a couple of weeks before the Carnival, dozens of parades take place along the streets. Everything looks the same as it does at the Carnival; the people in the "parade" wear disguises, bands play live music, people dance and drink, etc. It's like the Carnival but with half the people.
26 – Is it worth going to the Carnival of Rio de Janeiro?
The Carnival in Rio de Janeiro is the most popular one among foreigners. Thanks to the famous Sambadrome and its impressive parades, it's a mass media festival, too. I like the Carnival in Rio, but keep in mind that it's overcrowded and most hotels will cost a fortune during those days.
Also, the colorful parades that you see on TV take place in the Sambadrome, which means if you want to see them, you'll have to pay for a rather expensive ticket (and book ahead). The "blocos" (small parades) that you find in the streets are cool and fun, but they can get really crowded. I recommend that you go to the not-so-popular "blocos", where you can dance with some space and have a great time.
The Carnival in Salvador is a bit less-visited, although they say it's becoming very touristy. I heard that the Carnival in Olinda is one of the best and most authentic in the country. I've never been, but it looks good.
27 – Enjoy the beaches
With over 8,000 km of coastline, Brazil has more beaches than you could visit in your lifetime. From wild beaches to pristine bays surrounded by mountains, you'll find plenty of beaches where you can surf, party and relax.
Some beaches can be very animated; at these, it's common to see people playing beach tennis, playing football or surfing. If you want drinks or food, just talk to one of the many sellers who walk along the beach offering beer, water, caipirinha, snacks, etc. Enjoy the beach without lifting a finger!
28 – Listen to live music
Music is an important part of Brazilian culture, and you'll find it everywhere. Hundreds of music shows flood the streets of most localities at the slightest opportunity—maybe because there's a local celebration, because the Carnival is close or because the daughter of someone's neighbor is getting married.
The streets of Salvador dance to the rhythm of the drums every Tuesday evening starting at 7:00 p.m. In São Paulo, you'll see some virtuous artists in the subway, and in Rio de Janeiro, music is played virtually everywhere. You'll see street musicians, rehearsals for the Carnival and other music shows at any time throughout the year. Enjoy this musical spirit, dance, sing and laugh!
29 – Talk to the people
Brazilians are very friendly, easy-going people. In addition, they love to talk about anything, including politics, current affairs and social issues. If you're not too fluent in Portuguese, take the opportunity to chat with the hostel owner or someone who speaks a bit of English.
30 – Visit a community
Visiting a Brazilian favela can be a true experience. Although some are very dangerous, others are relatively safe. If you decide to visit a community, don't do it on your own. I recommend that, to avoid dangerous situations, you go accompanied by someone who lives there. Do you want to hear about my experience living in a favela in Rio?
31 – Try the ginger cachaça
Cachaça, which is a distilled beverage made from sugarcane, is a real institution in Brazil. There are many types of cachaças, but please don't miss the "cachaça de gengibre," which is made from ginger. It's delicious! Moreover, ginger has a lot of healing properties, so there's another excuse to have a little drink.
32 – Learn Portuguese
Brazil is the perfect place to learn a beautiful language like Portuguese, so seize the opportunity! You'll find a lot of language schools in most touristy cities, and they offer both intensive courses and long-term courses. Most of the time, you'll pay about 400 reais a week (20 hours).
SAFETY
33 – Is Brazil safe for traveling?
This is one of the first questions people ask me when I talk about my time in Brazil. Is it safe to visit Brazil? Well, to be honest, it's not the safest country in the world. There are robberies, shootings, assaults and petty thefts on a daily basis. However, most of that violence takes place in dangerous neighborhoods. If you're careful, take cabs at night and don't walk around dangerous streets, everything should be all right.
For instance, I was assaulted only once in two years, and it was because I went to a neighborhood where robberies were common at night. I wasn't careful enough and I paid the consequences. The rest of my stay was totally safe. I traveled around the country, visited all kinds of neighborhoods, lived in a favela and partied many times … and nothing happened to me.
Thieves like to target tourists and that's not an exception in Brazil. I've heard many stories about tourists being robbed in Brazil, but I've heard more stories about people who didn't have any problem. You must be careful, that's for sure, but don't let anxiety or paranoia ruin your trip.
Common sense tips: Keep a low profile, don't walk drunk at night, don't walk on empty streets, watch your belongings on the beach and don't get into bad neighborhoods. Follow these tips and your trip to Brazil should be trouble-free.
MONEY AND BUDGET
34 – Currency
The Brazilian Real is the official currency in Brazil. Its value in 2019 is: 1 dollar = 3.8 reals. However, this currency has been undergoing great fluctuations for some time due to the country's economic and political instability.
Brazilian cities have very extensive ATM networks. In rural areas, ATMS can be scarce. However, you won't need to travel far to find one. For instance, if you're in Chapada Diamantina, you'll notice that while there's no ATM in Capão, there is one in Lençois.
If you decide to exchange cash, I recommend that you bring dollars (new bills) or euros. In any case, in cities like São Paulo, Curitiba, Rio, Fortaleza, Natal or Salvador, many international currencies are exchanged.
In Rio de Janeiro, Copacabana is the best place for changing your money. There are several exchange houses, but I always found the best exchange rate in Rio Damasco Tour.
In Salvador, you'll find several exchange houses in Pelourinho. In São Paulo, you'll find them on Paulista Avenue.
Credit cards are accepted in most supermarkets, shops, bars and even small stores.
35 – Budget for backpacking in Brazil
After the real's last depreciation in 2018-2019, traveling to Brazil has become slightly more affordable. I'm saying this because a few years ago, it was one of the most expensive countries in South America.
If you want to travel in comfort, stay in nice hostels, eat in restaurants, move around and party, you may spend about 40 dollars a day. You can reduce this budget by cooking your own meals, finding cheaper hostels and not partying like an animal.
PERMITS
36 – Visa to travel to Brazil
The visa policy has undergone some changes lately. Here you can check on what kind of visa you'll need to visit Brazil.
In summary:
Citizens of all South American countries (except for the Guyanas) need only their ID to visit the country.
Citizens of Europe, Central America, Mexico, the Caribbean, the Guyanas and certain countries in Africa and Asia must bring a valid passport, but they don't need a visa. The maximum stay is 90 days. For some of these countries, citizens may request a visa extension of 90 additional days. Residents of other countries, such as Spain, can't apply for the extension.
Citizens of the United States, Canada, Japan and Australia must apply for a visa before they travel to Brazil. The good news is that this process can be completed online.
37 – What happens if I overstay my visa?
If you're wondering how I stayed in Brazil for two years when Spaniards can get only 90-day visas, here's the explanation: I ignored the immigration laws. It's not such a big deal. I wasn't illegal, as people can't be illegal. I was in an irregular situation, which sounds better.
Until 2018, administrative sanctions for overstaying your Brazilian visa weren't too bad. The fine was 8 reals per day, up to a maximum of 100 days. In other words, it didn't matter if you spent 100 days or 25 years in the country; you'd get the same fine: 800 reals, which is about 250 dollars.
Unfortunately, these laws have recently changed and the new fine is 100 reals a day, which is outrageous. If you overstay your visa for two or three days, it's okay. However, if you overstay it for over 100 days, you'll have to pay 10,000 reals, which is about 3,000 dollars.
TRANSPORTATION
38 – How to get to Brazil
By plane:
São Paulo, Salvador and Rio de Janeiro are the airports with more international flights. Also, you can find good deals on flights to Natal and Fortaleza, which are famous beach destinations.
Check out Skyscanner to find the best flight deals.
By boat:
Ferry services connect several European, Argentinean and Caribbean cities with Brazil. Most ferries departing from Argentina head to Rio de Janeiro, while those departing from Europe land in Recife, Fortaleza or Salvador.
Also, river transport is available through the Amazon region. The classic "Iquitos – Leticia – Belem" route connects Peru, Colombia and Brazil along the majestic Amazon River.
By land:
Brazil borders Argentina, Uruguay, Paraguay, Bolivia, Peru, Colombia, Venezuela and the Guyanas.
Bus services connect Brazil with Paraguay, Argentina, Uruguay and Bolivia. There are train lines, too: Rio de Janeiro – Buenos Aires, Rio – Santiago, Rio – Montevideo and São Paulo – La Paz.
If you're traveling overland from Peru, you should travel from Puerto Maldonado to Iñapari, then cross the border to Assis Brasil by mototaxi.
To enter the country from Venezuela, take a shared taxi from Santa Elena to the border, then take another shared taxi from Pacaraima to Boa Vista.
39 – Transportation within the country
By plane:
Brasilia, Rio de Janeiro and São Paulo are the country's main airports. However, all major cities are connected, with several flights a day. Gol and Azul are the two airlines with the best prices and promos. Latam is a good airline too, but its flights tend to be more expensive.
By train:
Several train services cover great distances day and night (with a sleeper car): Rio – São Paulo and Curitiba – Foz de Iguaçú, among others. However, only a few travelers choose the train over the bus.
By bus:
Hundreds of bus routes cover the country, with options for all budgets. Most companies offer great service.
By boat:
Brazil's most popular route connects Manaus to Belem in about four days. Also, many villages in the Amazon region are accessible only by river.
Subway:
The following Brazilian cities have a metro system: São Paulo, Rio de Janeiro, Brasilia, Porto Alegre, Recife and Belo Horizonte.
Uber:
Uber works very well in Brazil. In addition, it's cheaper and safer than traditional taxis.
ACCOMMODATION
40 – Where to stay?
Brazil's accommodation offerings are virtually endless. If you travel on a budget, you'll find backpacker hostels in most cities and towns. Prices vary depending on the region, but they should be around 7-15 dollars for a dorm bed and 20-60 dollars for a double room. These prices can multiply by four or five during the Carnival and on New Year's Eve.
Some cool hostels that I recommend:
Rio de Janeiro: Mambembe Hostel. A charming place located in the lower part of ​​Santa Teresa, with quick access to Lapa.
São Paulo: Hostel Casa Azul. Good atmosphere, perfect for meeting other travelers.
Salvador: Açai Hostel. This is my favorite hostel in Brazil. Friendly atmosphere, free shots every evening and a great terrace (and occasional parties on the terrace).
Lençois: Pousada Natureza. A cozy place owned by a very cool guy.
41 – FOOD AND DRINK
I'd never say that Brazil has some of the finest cuisine in the world. However, as a result of the European, African and indigenous influence, there are some delicious dishes you should try. Most workaday dishes are prepared with rice, beans and meat—either chicken, cow or pork.
Feijoada, which is also prepared with beans and pork, is Brazil's most popular dish. It's served with rice and a bit of farofa on top. Farofa is a rehashed cassava flour.
Belo Horizonte is famous for its gastronomy. It's the place to visit if you want to try Brazil's best dishes. They make the best cachaça and the best pão de queijo (a small bread filled with cheese) in the country.
Salvador is the place where you'll experience the best of African-Brazilian food. Don't miss tasty dishes such as moqueca and acarajé, both prepared with seafood, fish and dendê oil.
Rio de Janeiro and São Paulo have a wide variety of avant-garde restaurants that fuse Brazilian and international cuisine.
As for drinks, certainly there's caipirinha: a delicious cocktail made with cachaça, lemon, ice and lots of sugar. Be careful; it tastes like lemonade, but it hits very hard.
Out of Brazil, cachaça is famous for being the main ingredient in caipirinhas. However, in Brazil many people drink it straight. There's a great variety of delicious cachaças. I recommend that you try one called Gabriela, which is made with cloves and cinnamon. Also, make sure to try the ginger cachaça (my favorite). The best place to drink cachaça in Rio de Janeiro is Bar da Cachaça, in Lapa.
Açai is another gastronomic delight you can't miss. It's a kind of frozen fruit served as ice cream with granola and banana on top. It's really addictive!
WEATHER
42 – When to travel to Brazil?
With such a huge extension, Brazil has several types of climates: continental, subtropical, tropical and even desert. Keep this in mind if you plan to visit several regions. You may be experiencing a lot of heat in Recife, while the next day you'll need a jacket in Porto Alegre.
In Brazil, summer lasts from December to March, autumn from March to June, winter from June to September, and spring from September to December.
Southern Brazil
The four seasons are well-marked. Winter is cold, autumn is cool, spring is warm and summer is very hot. Rainfall is common throughout the year without great differences in terms of season.
Southeast Brazil
Rio de Janeiro, Minas Gerais and São Paulo are located here. It's very hot in the summer and pleasant in the winter, especially on the coast. However, São Paulo can be quite cold in the winter because it's located at a higher altitude. Winter is usually drier than summer, but rainfall is frequent at any time of the year.
Northeast Brazil
The northeast region is warm all year round. If you're visiting the coast, you should pay extra attention to the weather. The rainy season lasts from April to September, when rainfall is abundant. In Chapada Diamantina, the rainy season lasts from November to April.
Northern Brazil
The northern region is very hot throughout the year. In Lençois and Jericoacoara, the rainy season lasts from January to May. In the Amazon region, the heaviest rain falls from December to May while August is the driest month.
Important: Keep in mind that the peak season (December to April) coincides with special dates like New Year's Eve and the Carnival; accommodation prices can skyrocket on those dates. If you're traveling on a budget, avoid those months.
43 – HEALTH IN BRAZIL
For a while now, the Brazilian government has increased the installation of UPAs (Unidade de pronto atendimento) throughout the country. These units work like outpatient clinics in which they treat various illnesses, especially mild emergencies. These clinics are public and free for both Brazilians and tourists, which is great.
If you have a mild sprain or maybe bronchitis, you can go to one of these units and be treated. Depending on the severity, you could be sent to a public hospital, which is also free of charge. The only problem is that Brazilian public health isn't as fast as you would like; depending on your ailment, you may prefer to go to a private clinic.
If you need travel insurance, I always recommend World Nomads.
44 – HITCHHIKING IN BRAZIL
Hitchhiking isn't common in Brazil. Brazilians rarely do it and they'll probably think you're crazy if you do. This doesn't mean that hitchhiking doesn't work in Brazil, but getting a lift will take longer than it does in other countries such as Argentina or Chile. Never do it around big cities, as it can be dangerous.
In rural areas, you're likely to get a lift within minutes. When you talk to the driver, tell him you're asking for "carona," which means "hitchhiking" in Portuguese. You could say something like: "Me da carona até (city name) por favor?"
45 – INTERNET
You'll find Wi-Fi in pretty much every corner of the country, including the Amazon jungle. The internet connection is quite fast, and most hostels and restaurants offer free Wi-Fi.
46 – LANGUAGES IN BRAZIL
Although more than 150 languages and dialects ​​are spoken in Brazil, Portuguese is the only official language. Portuguese is spoken throughout the country, while indigenous languages ​​are spoken only in quite remote areas.
Spanish speakers may think they will understand Portuguese because it's close to Spanish, but that's not quite true. Portuguese pronunciation is really different and it takes some time to get used to it.
Useful phrases to start interacting with people:
Oi, tudo bem?: Hi, how are you?
Beleza: Good, fine, alright
Valeu: Okay, thanks, goodbye
Quanto é que é?: How much is it?
Me da uma cerveja favor?: Can I have a beer please?
Camisinha: Condom (make sure to learn this one; avoid venereal diseases)
47 – CULTURE AND RELIGION
Today's Brazilian society is a mixture of cultures and races. Southerners are of European descent (most of them) and have a completely Western culture. Rio has a strong African influence mixed with an important Portuguese legacy. Bahia is the greatest exponent of the Afro-Brazilian tradition. The people from northern and central Brazil are mixtures of European, indigenous, African and some minorities.
There are hundreds of Brazilian musical styles such as forró, maracatú, samba and sertanejo. There are also hundreds of cultural expressions such as candomblé and capoeira.
Many Brazilians are into spirituality, astrology and forces of nature. Some believe in sacred spirits, orixás and other supernatural forces.
In addition, a large part of the population is quite religious. The Evangelical Church, which is characterized by its ultraconservative values, has a great presence in Brazil. On the other hand, many people have a liberal view of sex, morality, etc. These are the contrasts of Brazil. Conservative coexists with liberal, poverty with wealth and mystical with rational.
HIKING IN BRAZIL
Brazil is one of the few countries in South America that doesn't include a piece of the Andes. However, the country has a lot of spectacular geographical features, including sharp peaks, huge canyons and vertigo ravines.
48 – Vale do Pati, Bahia
Located in the heart of Chapada Diamantina, this three-to-five-day trail is considered the best hike in Brazil. It's one of my favorite treks in the world; I promise you, it's really worth it. The Vale do Pati Trek will take you along huge valleys, table-shaped mountains and beautiful waterfalls. Also, you won't need to bring any camping gear because you can stay in the local homestays scattered along the valleys.
49 – Hikes around Rio de Janeiro
Rio is located in one of the most beautiful natural enclaves in Brazil, and perhaps the world. The city landscape is formed by sharp mountains and dense forests that draw the shape of Rio. Take a look at the best hiking routes in Rio de Janeiro.
50 – Chapada dos Veadeiros
Unfortunately, I didn't have time to visit this place, but I've heard great things about it. Chapada dos Veadeiros is located in Goiás, a central region which is rarely visited. Its beautiful landscapes and rich biodiversity make Veadeiros a great place for either short or long hiking trips.
A FEW EXTRA TIPS FOR BACKPACKING BRAZIL:
Learn some Portuguese.
The pre-Carnival is as good as (if not better than) the Carnival.
Control your expenses, as some cities are expensive.
Explore some off-the-beaten-path destinations.
Keep a low profile; don't wear expensive jewelry or watches.
TRAVEL GEAR FOR VISITING BRAZIL:
---
Did you like Travel Guide to Backpacking Brazil on a Budget? Leave a comment!
Disclosure: As an Amazon Associate I earn from qualifying purchases. If you click on the link and purchase the item, I will earn advertising fees. There are other affiliate links to other websites.
Hi, I'm Miguel; Adventure traveler, scuba diver and hiking lover. I have been traveling the world for the last 12 years and I hope my experiences, photos and hiking routes inspire you to travel the world too.