The largest of the Caribbean islands (and, in my opinion, the most interesting one in terms of history, culture and music), Cuba is the perfect destination for backpackers seeking adventure and fun. Although many visitors don't go farther than Varadero's all-inclusive resorts, the country offers much more than daiquiris and white-sand beaches.
You can hike tropical mountains in Turquino National Park, walk through tobacco plantations in Viñales, listen to salsa in Old Havana or dive on incredible coral reefs in Cayo Largo.
When you set foot in Cuba for the first time, you'll feel like you're on another planet. Cuba is a unique country. More than traveling to another destination, it's like you're traveling in time. All those colonial streets, those Chevrolets from the 1950s, those street markets … there's nothing like it in the world.
After visiting the country twice, first in 2013 and then in 2018, I've learned a few tricks that I want to share with you. If you are planning a backpacking trip to Cuba, staying in homes, taking public transport and living with local people, this article is for you.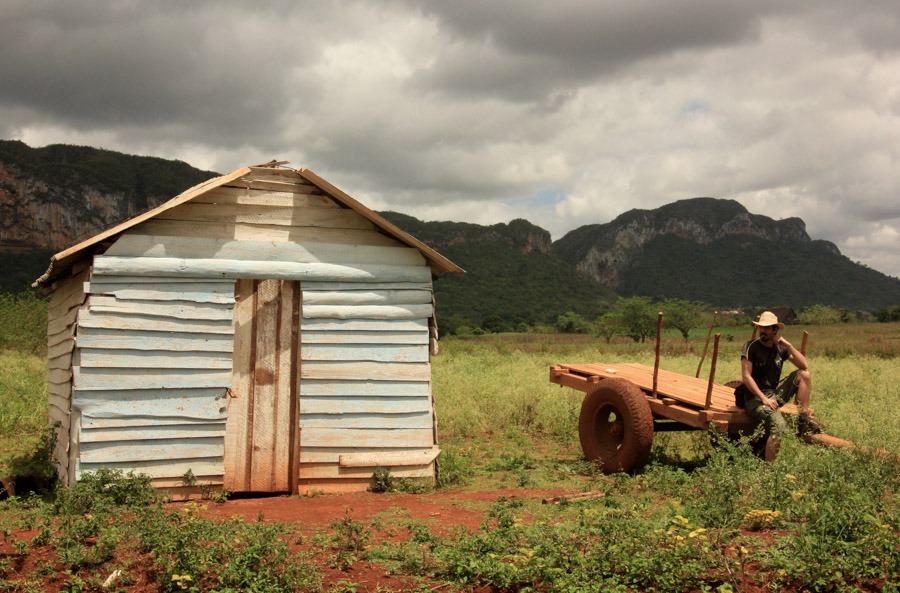 IS IT EASY TO TRAVEL AS A BACKPACKER IN CUBA?
As Cubans usually say: "Mate, life is not easy here." And traveling isn't easy, either. The point is, the tourist infrastructure is designed so that tourists end up spending a fortune. If you want to travel as a backpacker, things get more complicated.
The good news is that there are some tricks that allow you to travel the country without spending too much money and while still having a great time. You'll see that backpacking in Cuba always means adventure. Later, I'll explain how to get cheap transportation and accommodation, plus offer some useful tips.
THE BEST PLACES TO VISIT IN CUBA
1 -HAVANA
Havana rocks! Despite the decadent atmosphere, it's easy to feel the greatness of the Cuban capital. In its heyday, Havana must have been the most beautiful city in the world. Nowadays it's a vibrant, lively and colorful city offering a wide variety of activities for the visitor.
It's also the cultural capital of the country, and a good place to learn about the history of the revolution, enjoy a live show or do some salsa dancing. One thing is certain: In Havana, it's impossible to get bored!
Most tourists stay in Old Havana, which was the first Spanish settlement. Here, you'll find hundreds of colonial buildings, churches, museums and squares. This is a must-visit place in Cuba. However, I'm not a big fan of it due to the heavy concentration of "jineteros." (We'll talk about this later.)
"Centro Habana," "el malecón" and the bohemian neighborhood of "Vedado" are other emblematic places that you can't miss. Take a look at this article about the best places to visit in Havana; it has lots of tips you won't find anywhere else.
2- VIÑALES
If you are short on time and can visit only two places in Cuba, I'd say: Go to Havana and Viñales. If the Cuban capital is famous for its bustle, Viñales offers quite the opposite: pure peace and contact with nature.
This touristy town is the perfect place to rest, wander around the tobacco plantations and chat with the friendly locals. The Viñales region is one of the most beautiful parts on the island thanks to the limestone cliffs that rise along the valley, creating a surreal landscape.
Among the most popular activities you'll find are horseback riding, cave tours and rock climbing. You can take a nice walk (on your own) through the plantations and get a close-up look at how the friendly "guajiros" ("peasants" in Cuban slang) live and work.
If you want to buy Cuban cigars, this is one of the best places to get them at a good price. You can go to the tobacco factories and negotiate the price directly with the farmers.
3- CAYO JUTÍAS AND CAYO LEVISA
Nor far from Viñales, Jutías and Levisa keys will blow your mind with the white sand and perfect blue water of their beaches. To visit any of these places without going bankrupt, don't spend the night there. Accommodation in the keys is quite expensive. However, you can get there very early and return to Viñales in the evening.
There are several options to get to the keys: organized tours, shared taxis or renting a motorbike in Viñales and traveling on your own.
Although both places are spectacular, Cayo Jutías is easier, cheaper and more convenient to visit because it's connected by road. If you want to visit Levisa, you'll have to take a ferry, which makes the visit difficult and expensive.
4- VARADERO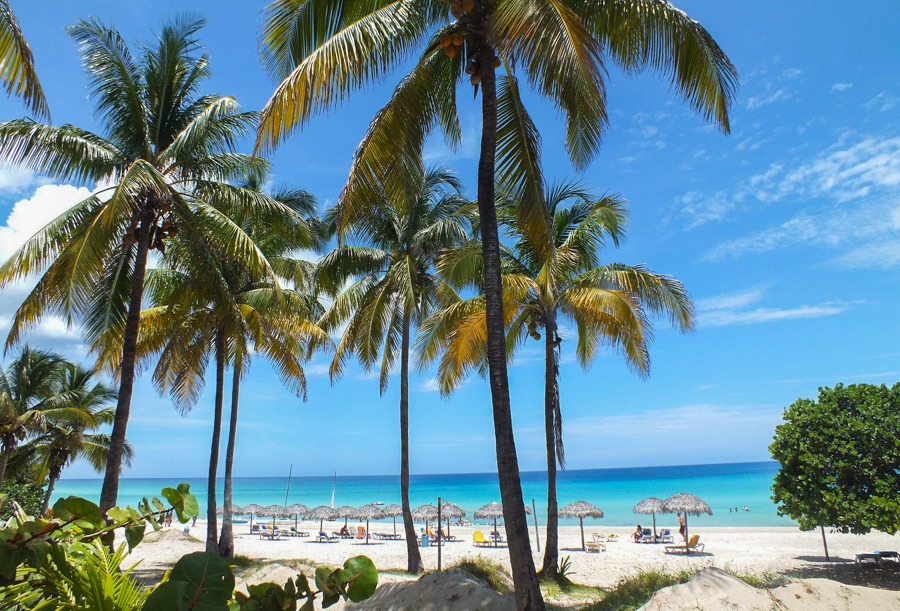 Varadero wasn't exactly on my itinerary, but I found a really cheap flight from Brussels to Varadero, so I couldn't resist. Since I was there, I decided to stay a couple of days to enjoy the beach and try to get a tan on my pale skin.
The place is famous for its variety of hotels and all-inclusive resorts. However, few people know that there is a small "local" town at the beginning of this long peninsula. You can stay in "casas particulares" at an affordable price and chill out on the beach for a few days.
Varadero beach is pretty impressive. However, I'm not entirely enthralled with its holiday atmosphere and I personally don't recommend it. The island offers other beautiful beaches without the hassle of the resorts.
5- SANTA CLARA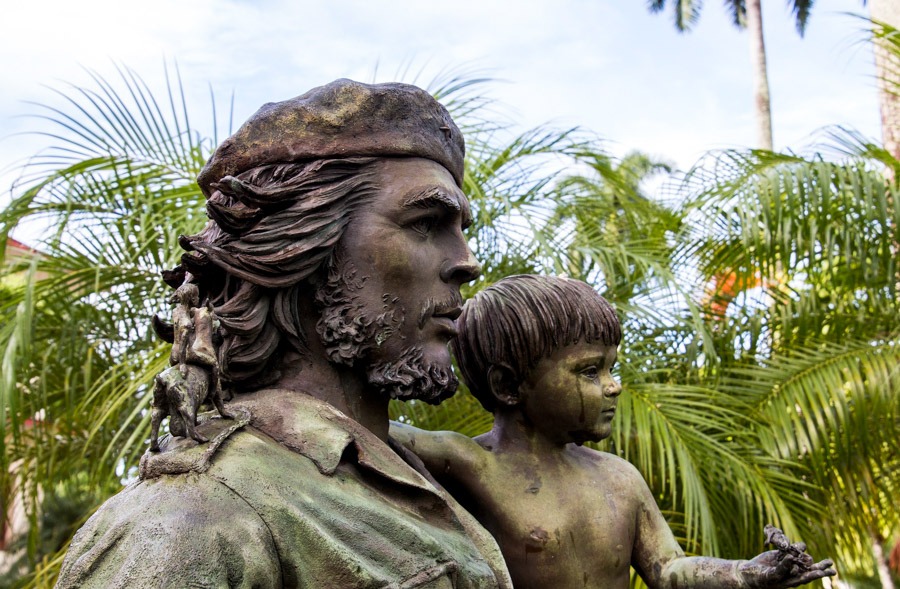 Santa Clara is a place of great importance in Cuban history. The revolutionary forces took this city during the Battle of Santa Clara in December 1958, thus ending Batista's regime.
If you are interested in the Cuban revolution, you should definitely visit this city. Here you'll find several monuments, including the Che Guevara mausoleum (in which his mortal remains rest), a monument that memorializes the taking of an armored train, and the historical museum, among others.
I didn't have time to visit Santa Clara during my travels, but I talked to other travelers who told me that it's a very interesting place. They also told me that once you've visited the mausoleum and the museums, there isn't much to do. Most travelers recommend a one- or two-day visit.
6- CIENFUEGOS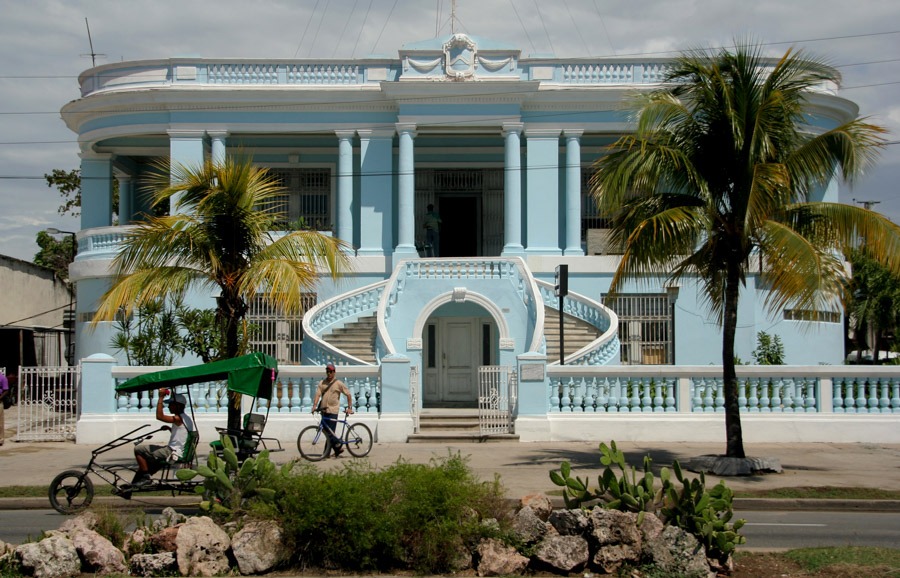 Located in the bay of Cienfuegos, this city is famous for its fusion of colonial architecture, French style and tropical flavor. The so-called "Pearl of the South" is a nice place to spend a day or two. However, if you're short on time and don't visit Cienfuegos, don't worry too much.
Some recommended activities are taking a stroll along the waterfront, enjoying the beautiful bay with the mountains in the background and watching life go by.
7- TRINIDAD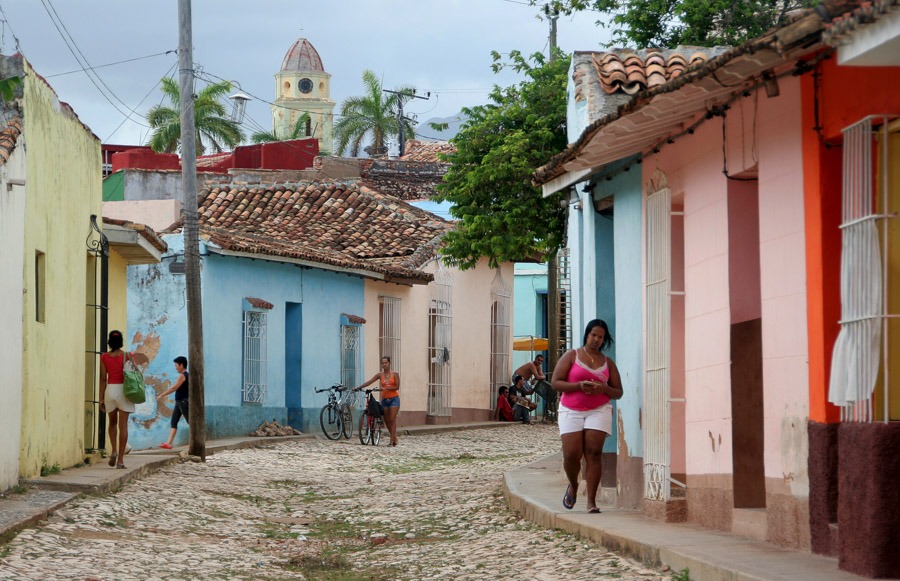 Trinidad has become one of the most-visited places in Cuba, and I understand why. Inscribed on UNESCO's world heritage list since 1988, Trinidad boasts colorful colonial streets, a neo-baroque-style square and an impressive cathedral.
In addition to being one of the most beautiful villages in Cuba, it has a great location that allows you to practice several activities. The most popular ones are the tour to Ancon Beach (only 15 or 20 minutes by taxi), the visit to the fishing village of Casilda and horseback riding through the nearby Valle de los Ingenios.
Another thing you can't miss in Trinidad is partying at the famous cave club. As its name suggests, it's a nightclub inside a huge cave, where everybody dances to the rhythm of reggaetón and other Latin sounds.
Note: Trinidad has become extremely touristy, so it's very likely that they'll try to overcharge you when you buy things. Be aware of the classic scams (which I'll talk about later).
8- CAMAGÜEY
If you're on your way to Santiago, Camagüey and its historic center are worth a visit. Camagüey is famous for its colorful streets, squares and churches. The most remarkable spots are San Juan de Dios Square, Carmen Square and Ignacio Agramonte Park. The truth is, after you visit several Cuban colonial cities, everything starts to look alike, but it's still beautiful.
What I liked most about Camagüey is that it's way less touristy than places like Havana or Trinidad, so it has a calm and relaxed atmosphere. There aren't many jineteros in the streets, and they won't try to cheat you (too much) with the prices.
9- SANTIAGO DE CUBA
After Havana, Santiago de Cuba is the most vibrant city on the island. Most people say that it has a more tropical, Caribbean atmosphere. The second largest city in the country has a great African influence, and you can feel that in its music and culture. This is the Cuban capital of the salsa and the carnival.
In addition to dancing and listening to great music, you can do several interesting things in Santiago. Located right in the city center, Cespedes Park is a good place to have a beer and watch the life of this Afro-Caribbean city. You can also visit the Cathedral of Nuestra Señora de la Asunción, the Tivoli neighborhood and Plaza de Marte.
Outside the city, you can travel to Castillo de San Pedro de la Roca del Morro, a spectacular fort that the Spanish built to contain foreign invasions. If you are in the area, I recommend that you also visit Cayo Granma, a tiny island with a relaxed atmosphere.
10- BARACOA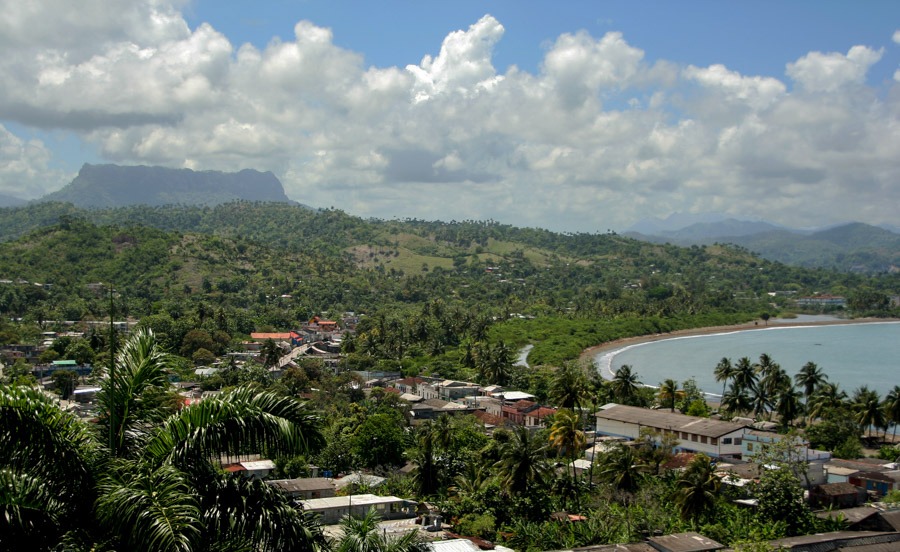 Baracoa is where you should go to experience the most "authentic" Cuba. Few travelers visit this remote part of the island, and therefore people are more laid back than they are in other, touristy cities. Baracoa beach is not one of those idyllic white-sand beaches, but it has a nice landscape surrounded by wild, green mountains.
I recommend that you take the hike to El Yunque, a nearby mount that offers good views of the region. Keep in mind that, to access the trail, a local guide must accompany you.
THE BEST THINGS TO DO IN CUBA
1- GO TO A LIVE SHOW
Cuba certainly doesn't lack for culture, music and rhythm. It's no surprise that some of the world's best musicians are Cubans. Many bars in Havana, Trinidad and Santiago offer live concerts of salsa, jazz and other musical styles.
"Las casas de la música" (music houses) are famous for their salsa shows, although they tend to be quite tourist-oriented.
2- DANCE SALSA
I am a salsa lover, and this was the main reason for my second visit: I wanted to take salsa classes and dance until my feet hurt! Although there are hundreds of dance schools, almost all of them offer private classes only. That is, there are no group classes. Private classes are a bit more expensive, but you also learn more and faster. If you get a 10-hour package, expect to pay around 100 – 120 CUC.
3- HAVE A GLASS OF RUM IN A LOCAL BAR
Buying a bottle of Havana Club for only 3.80 CUC is great. However, there's nothing like having a glass of cheap rum in a shabby bar. I'm talking about those crappy old bars where the prices are written on a blackboard and the place is full of half-drunk Cubans. Awesome bars!
This is a highly recommended experience. The glass of rum will cost you only 0.10 euros, while the good time spent talking to the locals will be free.
4- SMOKE A CUBAN CIGAR
This will depend on whether you smoke, but trying a good cigar is a classic pastime during a visit to Cuba.
5- GO OUT IN LA FÁBRICA DEL ARTE
No matter how old you are, if you are in Havana, you can't miss "La fábrica del arte." Imagine a former factory with several spaces and bars that serve drinks till late. Some rooms serve as art galleries, while others have dance performances, jazz shows, jam sessions, electronic music, etc.
It's like a museum, but in a let's-party-like-animals style! They've created something unique and cool. La fábrica is open from Thursday to Sunday … you have to go!
6- GO SCUBA DIVING
Did you know that Cuba boasts some of the most impressive coral reefs in the Caribbean sea? With over 5,000 kilometers of coastline, a 30-meter visibility and an average water temperature of 26 degrees, it's a real paradise for scuba divers.
The most famous dive sites are María la Gorda, Isla de la Juventud, Cayo Largo del Sur, Varadero and Santa Lucía. In addition, you'll find many other great sites along the coast.
7- CHILL OUT IN THE MALECON UNTIL LATE
Havana's malecon is a beautiful place to take a walk. However, because it's completely exposed to the sun, the heat can be unbearable during the day. I recommend that you visit the place at night, when many people go there to drink rum, play the guitar and chat.
8- TAKE SHARED TAXIS
Who wouldn't want to take a ride around the city in one of those Chevrolets from the 1950s? Although most tourists rent private cars to enjoy this experience, they usually don't know that a cheaper and more authentic option is available.
In Cuba, all those cars, also known as "maquinas" or "almendrones," work as shared taxis, driving within the city and connecting towns. In Havana, you can take one of those awesome taxis and move around the city for 10 CUP, which is less than 0.50 USD.
9- VISIT THE MUSEUMS
With such a fascinating and unique history, it's no wonder that Cuba has used part of its heritage to create impressive galleries and museums.
The Museum of the Revolution in Havana is probably the most famous of all. In addition, there are other highly recommended museums, such as the National Museum of Fine Arts, the Sugar Cane Museum, the Colonial Architecture Museum of Trinidad and many others.
10- GET TO KNOW THE PEOPLE
The best thing about traveling in Cuba is mingling with the local people – chatting with them, sharing a bottle of rum and having a good time. Cuban people are super friendly, and no … not all of them are "jineteros." In fact, 99.99% of them are great people.
When you stay in a "casa particular," take the opportunity to talk to them. When you buy something in a store or restaurant, talk to the owners; you'll see that they are friendly and fun. The truth is, Cubans are unique characters.
CUBAN CURRENCY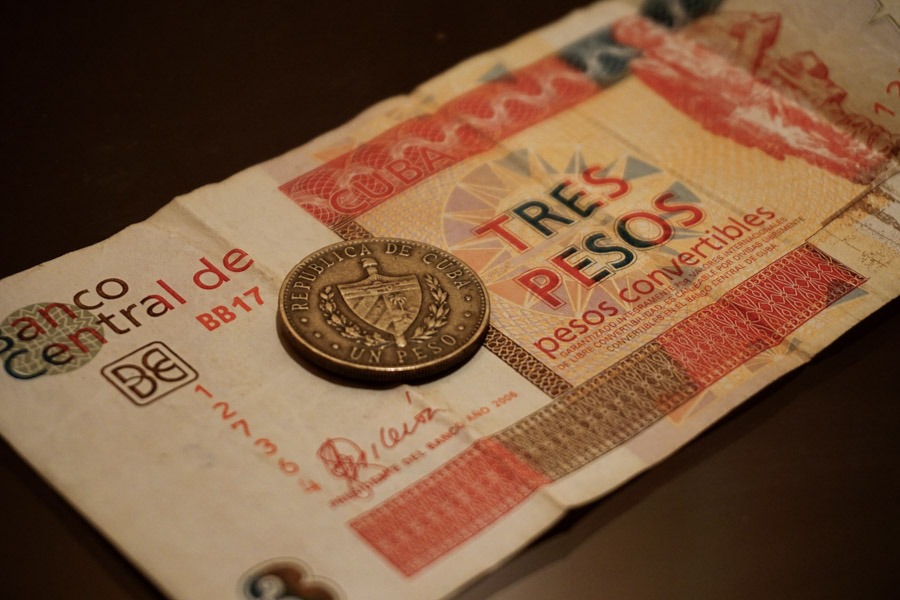 First, you must know that Cuba has two different currencies: CUC and CUP. The CUC has exactly the same market value as the USD, while 1 CUC is worth 25 CUP. At first, this may be a little confusing, but after a few days you'll manage your money easily. Keep in mind that the CUP, or Cuban peso, is also known as "peso nacional."
Accommodations, certain products and good buses (Viazul) are paid for in CUC, while food in local restaurants, shared taxis within the city, trucks, cheap rum, etc. are paid for in CUP.
Important note: Many visitors think that the CUC is only for tourists while the CUP is only for Cubans. This is not true. The CUC was introduced during a special period to prevent the free circulation of dollars. Cubans pay certain things in CUC and others in CUP. As a tourist, YOU CAN (AND MUST) USE BOTH CURRENCIES.
WHAT CURRENCY SHOULD I BRING?
I recommend that you bring euros and exchange them in a CADECA (casa de cambio: exchange house). You can also bring other strong currencies such as Canadian dollars, sterling pounds, etc.
Important: Do not bring US dollars because they will charge you a 10% tax when you exchange your money. Also, don't take money from an ATM because it will charge a 5% – 12% commission. In addition, if your credit card was issued in the USA, it won't work in the ATM.
When you are in a CADECA and have changed your euros to CUC, ask them to exchange some of those CUC into CUP. Then you'll have both currencies.
A CADECA is on the first floor of Havana's international airport. All exchange houses offer the same exchange rate, though I noticed that the airport's CADECA offers a slightly lower rate.
BUDGET FOR A BACKPACKING TRIP TO CUBA
Many people say that Cuba is a very expensive country. Not true at all! In fact, Cuba can be extremely cheap. The funny thing is, many of those who say it's an expensive destination don't even know they can pay in national currency.
In Cuba, most of the time, it works like this. If you go to a touristy place, it's going to be expensive. On the other hand, if you go to a place with a Cuban public and you pay in CUP, it's going to be very cheap.
Some examples of the prices you'll pay in CUP:
– A pizza in a local place = 0.5 USD
– A juice from a street window = 0.1 USD
– Rice with chicken in a local restaurant = 2 USD
– One liter of rum = 1 USD
– A ride in a shared taxi within the city = 0.4 USD
If you're traveling on a budget, taking the cheapest transportation (trucks) and eating in local restaurants, you'll spend between 15 and 30 USD per day. If you go diving or take tours, etc., you'll spend more.
VISA FOR TRAVELING TO CUBA
To enter Cuba, you'll need a tourist card, which is similar to a tourist visa. In most countries, you can buy this card at the airport during check-in. When the airline doesn't offer this service, you'll have to get it from the Embassy of Cuba or through a tourism agency. The price is about 25 USD and it's very easy to get for most nationalities.
Important: If you're flying from the USA or you're a US citizen, check out the current situation because some regulations have changed. Despite Obama's efforts to bring the two nations closer, President Trump has made travel between Cuba and the USA difficult once again.
Although it's no longer possible to travel under the category "People to people," there are still 11 categories to justify your trip, like "Support for the Cuban people" and others.
Read this article if you are from the USA.
Note: Since 2015, you don't have to pay a fee when leaving the country.
HOW TO GET TO CUBA
By air:
The country has several international airports. The main ones are Havana, Varadero, Santiago and Holguín.
I recommend that you consider the different options because the price differences can be huge. From Europe, cheap flights are sometimes available to Varadero, especially from Belgium and Germany.
From Latin America, flights from Cancun to Havana usually cost between 80-100 USD.
Official taxis charge 30 CUC from the Havana airport to downtown or Old Havana. If you take a non-official taxi, you can pay 20 CUC for the same ride. Don't worry, they're safe.
I recommend that you visit the Skyscanner website to find the best flight deals.
By sea:
There is no commercial boat service from any country to Cuba. However, I've heard stories from people who have traveled there on a sailing boat.
TRANSPORTATION WITHIN THE ISLAND
Train:
They have the most irregular schedules. Sometimes the trains simply don't depart. I don't recommend it.
Viazul:
A classic option among travelers. Viazul buses are comfortable and modern, traveling to most cities on the island. The problem is, they are quite expensive.
National buses:
They cover many routes at a cheap price. Unfortunately, to take these buses, you must be either Cuban or a foreigner with a student visa.
Camiones (trucks):
This is the best option for traveling the island on a budget. These vehicles are literally trucks that have been transformed into buses. Sometimes they have seats, sometimes they have metal bars to sit on. It's also a great opportunity to meet and chat with the locals.
Hitchhiking:
Keep in mind that if someone gives you a lift, they will always ask for money. Government vehicles are required to help people looking for transportation, so this a popular option among Cubans, too.
Shared taxis:
Not the cheapest method of transport, but still comfortable and fun. At the same time, it's a good opportunity to travel in a beautiful Chevrolet.
Airplane:
If you are in a rush, you should consider flying. The flights are not very expensive, and they connect all main cities within the country.
ACCOMMODATION WHILE BACKPACKING CUBA
The best way to enjoy the country is by staying in Cubans' homes (called "casas particulares"). This is also the cheapest option. There are hundreds of private homes in Cuba, so you'll never have a problem finding a place to sleep. The price varies depending on the city. In Havana, you can find houses with dorm rooms for 5-7 CUC per night. In other places, you can get a private room for two people for 15 or 20 CUC.
You can find a lot of "casas" on Booking.com or Airbnb, or ask other travelers for recommendations. In most cases, the family lives in the house, making the experience more authentic. You can also have your meals at the homestay. They usually offer breakfast and dinner for an additional price. Keep in mind that these meals tend to be expensive. If you eat in the street and pay in CUP, you will spend much less.
I recommend that, before you travel to the next city, you book your accommodation there. If you are wandering in the street looking for houses, some jineteros will show up offering you accommodation. Wherever they take you, they'll get a commission.
In Havana, I recommend that you stay at Mirella's house, which is like a backpacker hostel with a great atmosphere, friendly people and shared rooms at a good price. Also, you'll love Mirella. She's awesome!
Mirella's contact: [email protected]
FOOD AND DRINK
Cuban food is not the best in the world. However, there are some delicious dishes that deserve to be tasted. The most famous ones are ropa vieja, arroz moro con cerdo and grilled lobster.
As for drinks, there's the classic daiquiri, the mojito and the Cuba libre. All these drinks were invented in Cuba.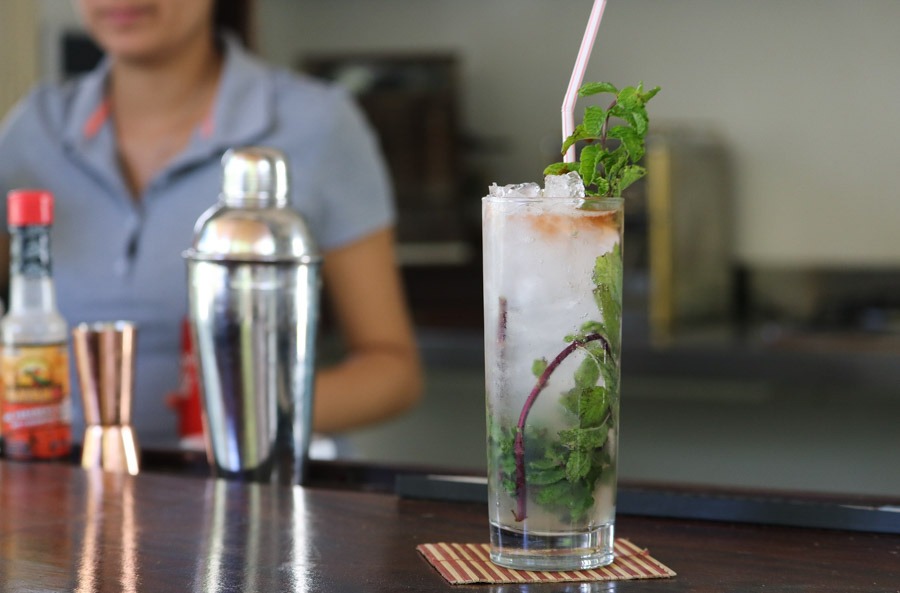 If you want cheap food, go to restaurants in which you pay in "peso nacional". It's a bit difficult to find them in Old Havana, but if you walk a couple streets away from the center, you'll find a lot of cheap restaurants.
To give you an idea, tourist restaurants charge 5 to 10 CUC for a main dish while local restaurants charge 40 or 50 CUP. (That's only 2 CUC.) The quality is not usually the same, but the price difference is huge.
WEATHER: WHEN TO GO TO CUBA
The high season lasts from December to February. This is when the temperatures are pleasant, the beaches are full of people and the hotels take advantage of the chance to raise the prices.
July and August constitute the medium-high season due to European holidays. If you travel during these months, keep in mind that the heat is unbearable. The rains can be abundant from May to November.
STAYING SAFE IN CUBA
Cuba is one of the safest countries in the world. Assaults on tourists are extremely rare. However, this doesn't mean that you should lower your guard. Petty thefts occur on a daily basis, for example, when you get distracted and leave your things unattended, etc.
Remember that scams are the order of the day. Surely you've heard about the famous jineteros, right?
The so-called jineteros are people focused on getting as much money as they can from tourists. Basically, it's their profession. You will easily recognize them when they approach you with phrases like: "Hello amigo, where are you from?" and that kind of bullshit.
They will offer you fake cigars, stolen bottles of rum, girls, boys … whatever you want. They could also invite you to a "super-cool" party with an expensive cover … and once you get there, the party is terrible. Don't trust them.
Besides the jineteros, the workers in some stores, supermarkets and restaurants may try to rip you off. Always ask for the price before you buy anything and count your change whenever you pay.
HEALTH IN CUBA
Cuba's health system is designed mainly for Cubans. Therefore, it's important that you get good health insurance that will cover you during your stay.
You can be asked for it at the airport because it's one of the requirements to enter the country. Theoretically, you could be denied entry if you don't have insurance, although I'm not sure how strict they are on this matter. Check out World Nomads and get a good price now.

INTERNET IN CUBA
I have good news: Getting internet access in Cuba is not as complicated as it was in the past. Today, in 2018, you can get Wi-Fi in many squares, as well as in most hotels.
To access the internet, you'll need to buy a Nauta card at one of the many ETECSA offices. You can also buy these cards in the street, but the vendors will ask you for more money. I recommend that you go to the nearest ETECSA office, wait in line like everyone else, and buy your card there.
A one-hour internet card costs 1 CUC. You can also buy a five-hour card for 5 CUC. The internet speed is not amazing, but it's OK. You can even make a video call.
LANGUAGE IN CUBA
As you know, Cubans speak Spanish. However, even if you speak Spanish, you'll have to pay attention to what they say. I mean, I'm from Spain and I had problems understanding them from time to time. They speak really fast and use a lot of slang.
A few words and expressions spoken only in Cuba:
– Acere, ¿que bola? = What's up, mate?
– Guagua = bus
– Guajiro = peasant
– Guarachar = to party
– Chamo = kid
– Frutabomba = papaya
– Fula = dollar or CUC
– Yuma = gringo
DANCE SALSA
As I said before, salsa dancing is one of the best activities you can participate in during your stay in Cuba.
Take a look at this article, where I explain the best days of the week to go dancing in Havana, and the trendiest clubs.
HIKING IN CUBA
Very few people travel to Cuba to explore its national parks. However, this country boasts mountainous landscapes, tropical jungles and peaks rising almost 2000 meters.
The best hiking trails are in the island's eastern part, which has the most rugged geography. The western region, on the other hand, is quite flat, except for Viñales.
The most famous and recommended routes are El Yunque, located in Baracoa, the trails around Viñales, and the Turquino peak, accessible from Santiago de Cuba. You'll have to hire a guide to hike most peaks.
TIPS FOR BACKPACKING CUBA
– Bring sunscreen, shampoo and mosquito repellent. You can buy them in Cuba, but they can be more expensive, especially the sunblock.
– You can get pesos nacionales in the airport. Go to the CADECA on the first floor.
– Be ready to wait in line every time you want to buy anything. Don't complain about things that don't work, especially not in front of Cubans.
– Be careful with the tap water. They say it's drinkable, but I don't recommend it. Many travelers who drink it end up with diarrhea.
– In Cuba, finding free city maps isn't easy. I recommend that you download Maps.me, which has super-detailed offline maps. It's important that you install the app before you travel because you may have problems accessing the app store in Cuba.
– Always negotiate the price of anything you buy (because they'll usually try to charge you more). However, also remember that they earn 15-30 USD per month. Don't push too much.
– Double-check that you have all the required documents before you travel: a valid passport, a round-trip ticket, a tourist card and travel insurance.
GEAR TO TRAVEL WITHIN CUBA
Check these items on Amazon:
– Lonely Planet Cuba: A must-have, detailed guide with lots of useful information.
– Secret belt: It's important that you keep your money in a safe place, especially if you stay in dorms. I wear this belt on all my travels.
– Filtered water bottle: As I said before, I don't recommend drinking tap water. Bring a filtered bottle and save a lot of money on water bottles.
– Adapter: Cuba uses plugs with two flat prongs. Check out whether you need an international adapter.
– And don't forget to get Travel Insurance.
---
Now you are ready for Backpacking Cuba. Have a good time!
Disclosure: As an Amazon Associate I earn from qualifying purchases. Some other links in this post are affiliate links too.
Hi, I'm Miguel; Adventure traveler, scuba diver and hiking lover. I have been traveling the world for the last 10 years and I hope my experiences, photos and hiking routes inspire you to travel the world too.