Are you planning a backpacking trip to Georgia? Great idea! This little country has so much to offer that you won't want to leave. I'd always wanted to travel to the Caucasus, and although my original itinerary included the neighboring countries of Armenia and Azerbaijan as well, I never managed to leave my beloved Georgia.
On the one hand, you'll find ancient cities, remote villages, and traditional churches. On the other, you'll learn about the country's fascinating history, witness its post-Soviet renaissance, and meet some of the most hospitable people in the world.
Georgia's culture is also noteworthy. Thanks to its strategic location between Europe, Asia, and the Middle East, the country has always been pursued by conquerors. It has been invaded by the Persians, the Turks, the Russians, and other civilizations. Today it retains the influences of all those cultures. This is particularly true with regard to music, food, religion, and the coexistence of several languages.
Ah, I forgot to mention something important: Georgia has some of the most impressive mountains in Europe. Yes, the Caucasus Mountains are higher than the Alps. In addition, you won't find hundreds of people like you will in the Swiss mountains. If you are into nature and adventure, you'll love hiking the Caucasus.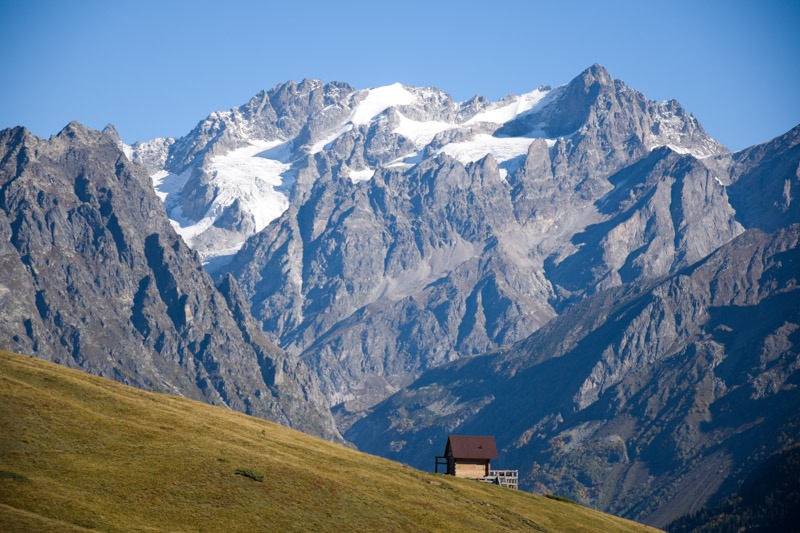 WHAT TO SEE AND VISIT IN GEORGIA
1- Tbilisi
The capital of Georgia is the perfect place to start your trip. Tbilisi is a picturesque and multifaceted city with a unique character. Its Soviet-era buildings are mixed with avant-garde structures, while traditional markets are mixed in with fast food restaurants. It's a trendy city, which you'll see in its many cafes, "cool" restaurants, and sophisticated bars.
You can't miss a visit to the city's old quarter. Walking along its cobbled streets, you'll find colorful buildings, Georgian (and Armenian) churches, and also some houses that are falling apart. The climb to Narikala Fort is another must-see, as it offers one of the best views of Tbilisi. If you are in the old city, you can walk up in less than 10 minutes. If you are on the other side of the river, around the modern Rike Park, you can take the cable car up to the fort.
Tbilisi is a relatively small city. For that reason, I recommend that you walk a lot, go into the little shops, visit a church, and, of course, drink a glass of wine in any of Tbilisi's many wine shops. If you are tired at the end of the day, visit a sulfur bath (similar to a Turkish bath) and chill.
2- Kazbegi
Kazbegi has all the ingredients to be a popular destination. It's relatively close to Tbilisi (3 hours by minibus), it offers a wide range of accommodations and restaurants, and, above all, it's one of the most beautiful places in the country! Many activities in the region involve hiking around or to the majestic Mount Kazbek.
The most popular hike takes you to the church of Tsminda Sameba, which offers beautiful views of the mountains (2 hours round trip). Those in good shape can continue up the trail until they reach the impressive Kazbek glacier (8 hours round trip). From there, only the most adventurous will complete the climb to the top of Mount Kazbek (about 3 or 4 days).
If you love mountains, I recommend that you travel to the nearby town of Juta and complete the trek over the Chaukhi Pass. It's one of the best one-day hikes in the country.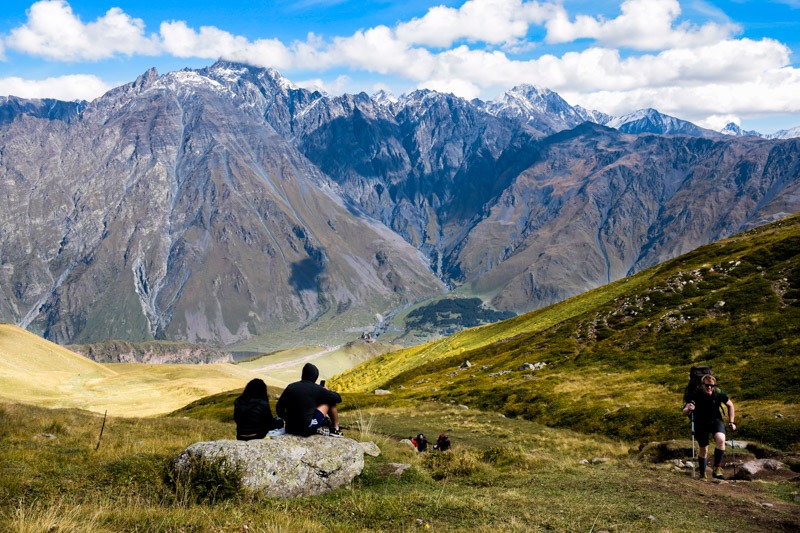 3- Kakheti
The Kakheti region is famous for its wine, its chacha, and its good food. It's the perfect place to chill for a couple of days and let your body rest after the last hike. Telavi, the region's most important city, is kind of big and not very beautiful. However, what I liked about Telavi is that because it's not a touristy destination, the local people are very friendly.
Sighnaghi, on the other hand, is a lovely town. Located on a hill and full of beautiful buildings from the 18th and 19th centuries, this city has become one of the most touristy destinations in Georgia. It's a good place to taste some wine, wander around the streets, and visit iconic places.
You can visit the famous Bodbe Monastery, where the mortal remains of Saint Nino are laid to rest. (It's only a 20 minute-walk from Sighnaghi.) In the evening, enjoy a good dinner accompanied by a glass of Georgian red wine. You can also visit a winery, learn about the types of grapes and the winemaking process, and, of course, do a wine tasting.
4- Vardzia
Located in a spectacular region full of canyons and ravines, the city-cave of Vardzia is a place with a unique energy. Queen Tamar transformed this city into a monastery that housed more than 2,000 monks, making it one of the most important religious sites in Georgia. The city was abandoned during the Ottoman occupation and was gradually covered by soil and dust. Later, around the 13th century, an earthquake shook the region, leaving part of the caves visible.
If you want to visit the city on your own, you can take a minibus from Akhaltsikhe to Vardizia at 10:30 a.m. The return trip is at 3:00 p.m. You can also visit Vardzia by hiring a tour from different cities, including Akhaltsikhe, Borjomi, and Tbilisi.
5- Uplistsikhe
Uplistsikhe was another place of great importance to Georgia's political and religious life. The remains of this city are located in a valley with beautiful views. However, I wasn't really impressed by the place itself. Uplistsikhe is basically a set of caves and huge rocks next to a small church, and it's usually extremely crowded with tourists. It's the kind of place that all organized groups visit.
I've included it in this list because I think it's an interesting alternative if you don't make it to Vardzia. However, if you are going to include Vardzia on your trip, you can definitely skip Uplistsikhe.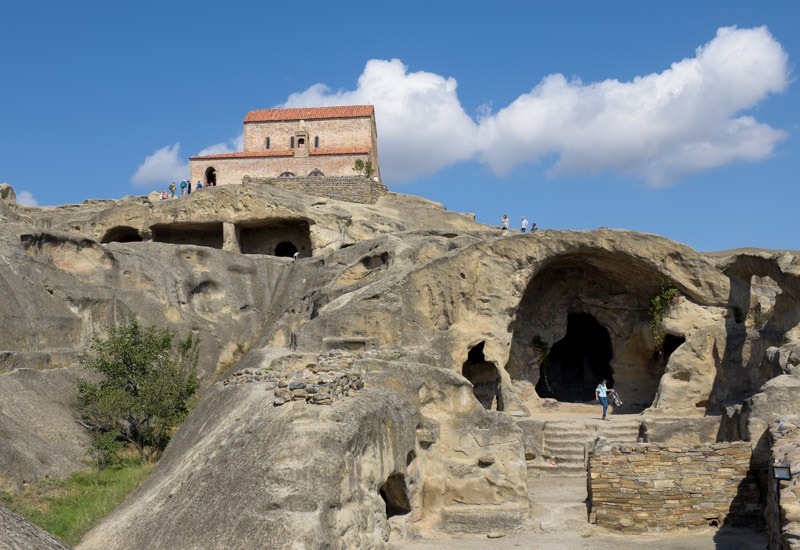 6- Svaneti
If you think that Georgia isn't a touristy destination, you'll change your mind when you arrive in Mestia. Svaneti is one of the most visited regions, and it's easy to see why. Spectacular mountains, crystal-clear lakes, multi-day hiking trails, ski slopes… Svaneti has almost everything. The only thing it lacks is friendly people. I don't know if it's because of the hard character of the mountain people or because tourism can ruin any place (probably the second reason), but this was the only location in the country where I was treated very badly on a daily basis. Even so, it's such a beautiful region that I still recommend it.
The most popular activity is the trek from Mestia to Ushguli, which can be completed in 3-4 days. If you don't want to take the regular crowded path, take the alternative route going through Tvirmi, in which you will encounter hardly any other hikers. This alternative trail merges with the original route at the end of the second day, then continues all the way to Ushguli.
7- Batumi
I have to admit that this city pleasantly surprised me. Batumi offers a mix of Georgian history, Soviet decadence, tacky modernity, and naughty nights. Famous for casinos, summer parties, and good weather, Batumi is especially popular among Russian visitors.
I wasn't entirely enthralled with the shabby vacation atmosphere. However, Batumi has elegant streets, beautiful buildings, a spectacular waterfront, and a great nightlife. Not bad for a couple of days.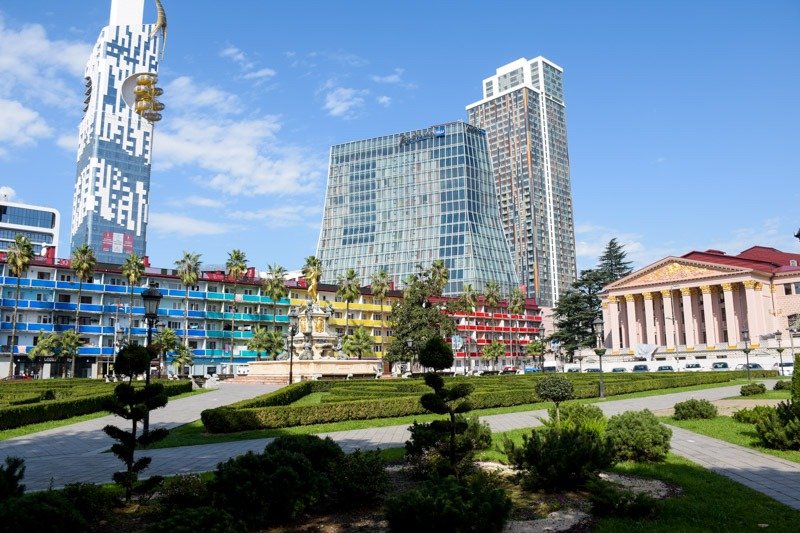 TRAVELING OFF THE BEATEN PATH IN GEORGIA
– Tusheti
If you seek adventure and off-the-beaten-path places, you can't miss Tusheti. This region stands out for its traditional villages and impressive medieval towers. The mountains in the region are very beautiful, although I have to say that they aren't as impressive as those in Svaneti or Kazbegi. The good thing about Tusheti is that because it's not touristy at all, it feels more authentic.
Traveling to Tusheti is a little complicated. Of course, there has to be a reason why such a wonderful place isn't visited very often. Take a look at this article, in which I talk about Tusheti: how to get to the region, hiking options, accommodations, etc.
– Abudelari Lakes
Due to its remote location, this little paradise is off the radar for most travelers. The easiest way to get to Abudelari Lakes is by traveling to the remote village of Roshka (to which there is no public transport), and then walking a couple of hours up to the lakes. If you are a hiker, I recommend that you take the trail from Juta to Roshka via the Chaukhi Pass. That's what I did, and I assure you, it's worth it.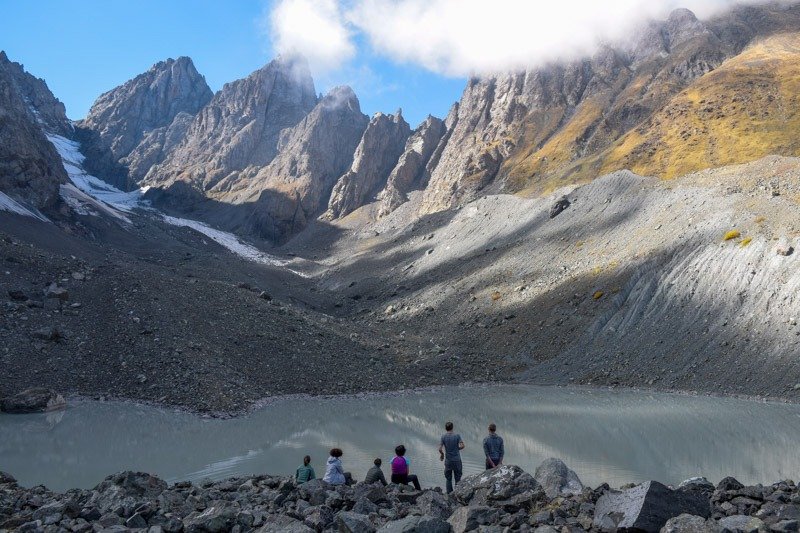 – Adjara
Few leave the bustle of Batumi and venture into the nearby Adjara Mountains. However, this region has many hidden surprises. There are no rocky peaks or glaciers like in the great Caucasus, but you'll find charming villages of the Muslim minority, beautiful waterfalls, and lush mountain ranges. The only problem is that it's a very rainy region, so don't forget to bring a raincoat with you.
– Abkhazia
Technically, Abkhazia isn't part of Georgia but is a self-proclaimed republic, recognized by only a few countries. According to most Georgians, Abkhazia is territory that the Russians stole, so you can imagine the political tension surrounding this matter. In any case, Abkhazia is a highly recommended place for those who love traveling off the beaten path.
WHAT TO DO IN GEORGIA
Georgia is a country to enjoy with five senses. It's not just about visiting places; it's about feeling the country, having great experiences, and letting oneself go.
I recommend that you don't miss any of the following activities:
Hike a lot
No trip to Georgia is complete without a proper hike! The Caucasus range boasts some of the most beautiful mountains in the world. In addition, many regions remain virtually untamed; there are short trails, long trails, easy treks, and difficult treks. There are even cable cars for those who don't want to walk (so you have no excuses). Travel to Kazbek, Svaneti, or Tusheti, and enjoy the Caucasus in its purest state.
Mix with the locals
Stay away from hotels. Instead, stay in local guest houses, go to couchsurfing events, and make some new friends! You'll see that Georgians are incredibly friendly people.
Experience Tbilisi's hipsterism
Despite the post-Soviet look of the capital, Tbilisi is becoming quite a modern city. Many streets have a hipster vibe in the form of vintage barbershops, minimalist cafes, and chic restaurants. And because everything is much cheaper than it is in Europe, it's the perfect place to indulge yourself.
Drink wine and chacha as if there were no tomorrow
Georgians usually drink a glass (or a bottle) of wine with their meals. In rural areas, where nearly everyone makes their own homemade wine, you'll be invited to drink wine all the time. Make a toast, drink, and enjoy. When you return home, you'll have time for a detox diet.
Party the night away
In summer, Batumi offers a lot of crazy parties for all tastes. Tbilisi, on the other hand, is positioning itself as one of the leading cities in the European electronic scene. The famous Bassiani club has become an institution worldwide, always hiring the best DJ's of the moment. Make the most of your stay and let your hair down, at least for one night.
CURRENCY
The official currency of Georgia is the Georgian lari. (You will often see it written as GEL.) Most payments must be made in the local currency, except for in some top hotels and similar places. You'll find a lot of ATMs as well as hundreds of exchange houses in the main cities. Also, you'll be able to pay by credit card in most bars, coffee shops, etc. (though only in large cities). In 2018, the exchange rate was approximately 1 euro = 2.90 lari. However, there are always fluctuations. Check out the current exchange rate before you travel to the country.
Note: In regions like Khevsureti or Tusheti, there are no ATMs, nor is there the possibility of paying by credit card. I recommend that you always take enough cash with you before visiting remote areas.
BUDGET FOR BACKPACKING GEORGIA
Traveling in Georgia is pretty inexpensive. By European standards, you can have a great life for a very reasonable price. In cities such as Tbilisi or Batumi, you can find hostels from 3 euros a night in a dormitory or 15 euros for a double room with breakfast. In the mountain regions, most guest houses offer half or full board. They usually charge around 15-20 dollars per person, including accommodation and 2 or 3 meals.
The prices in restaurants vary a lot depending on the city and, of course, the quality. To give you an idea, you can eat a Khachapuri (which makes you feel really full) for 2 dollars or a pork brochette with salad for 6 dollars. If you order a glass of wine along with your food, it will cost you between 0.5 and 1.5 dollars.
Transportation is also cheap. A marshrutka trip from Tbilisi to Batumi costs around 7 dollars and takes about 6 hours. Calculate that you will spend around 1 dollar for every hour on the minibus. Also, everything is relatively close in Georgia. In mountain areas, prices tend to double due to the poor condition of the roads.
If you sleep in hostels, take marshrutkas and eat in local restaurants. You'll manage to travel Georgia on a 25-dollar-per-day budget. If you cook your own meals and don't drink much wine, you can significantly reduce this budget (or double it, if you party like an animal).
VISA TO TRAVEL TO GEORGIA
Georgia has one of the friendliest visa requirements in the world. Citizens of Europe and most Western countries get an on-arrival stamp that allows them to stay in the country for 365 days. Yes, that's right: a full year. Check out the list of countries which can benefit from this on-arrival stamp.
Most, but not all, Latin American countries also enjoy this privilege. For instance, Chile and Paraguay get only 90 days, but hey … that's not bad either.
If your country is not among the lucky ones, you may need to apply for a visa. To carry out this procedure, go to this website and get an online visa. This will allow you to visit the country for 90 days.
Note: The regular Georgian stamp or visa doesn't allow you to visit the regions of Abkhazia and South Ossetia. These two regions are self-proclaimed independent. Therefore, you need a special visa to visit them. The Abkhazian visa can be obtained online and isn't hard to get. For South Ossetia, it's a bit trickier because you can't cross by entering from Georgia. If you want to visit that region, you should enter from Russia.
HOW TO GET TO GEORGIA
By plane:
With a great variety of cheap flights from Europe, Russia, and Israel, flying is the most popular option among travelers. The 3 international airports are Tbilisi, Kutaisi, and Batumi. Tbilisi is the busiest airport. However, I recommend that you also look at flights to other cities, as there are many promotions to Kutaisi and Batumi. Download the free Skyscanner app to find the cheapest days in each month.
How to get from the airport to the city:
Tbilisi:
Taxi: Finding a cab at the airport is easy and fast. The prices are negotiable, but in general expect to pay about 25-35 GEL depending on which part of Tbilisi you're visiting. If you take the taxi from the city to the airport, keep in mind that there's a minimum rate of 20 GEL.
Bus: City bus number 37 stops right at the airport gate, taking you to the city center. It costs 0.50 laris, and you'll pay on a ticket vending machine inside the bus. If you have big notes, you can ask someone in the exchange houses for change.
Train: You can also travel to the city by train. The problem is, there are only 2 trains a day: one in the morning and another in the afternoon. If you don't want to wait too long, take the bus.
Kutaisi:
Taxi: After some bargaining, expect to pay about 20-25 GEL for a ride to Kutaisi.
Bus: The city buses to Kutaisi cost 5 GEL. If you are interested in traveling to other cities, there are lines connecting the airport to Batumi and Tbilisi, too.
Batumi:
Taxi: The Batumi airport is only 2 km from the city. However, the price of a taxi ride won't be below 20 GEL.
Bus: City bus number 10 connects the airport to the city in less than half an hour. It costs 0.50 laris, and you can pay inside the bus.
By land:
If you are traveling to Georgia overland, you'll find open borders entering from Turkey, Armenia, Russia, and Azerbaijan. In general, all these borders are safe and easy to cross. Keep in mind that if you're traveling to these bordering countries from Georgia, you'll need to check on what kind of visa you'll need. For example, getting a visa for Turkey, Armenia, and Azerbaijan is relatively easy. However, the Russian visa is still somewhat difficult to get.
By sea:
Batumi has connections to Bulgaria, Ukraine and Russia. Schedules and routes may change, so try to contact the ferry company to confirm departures.
TRANSPORTATION WITHIN THE COUNTRY
Georgia is a pretty small country. Therefore, most trips are made by minibus or train. When I say minibus, I mean the marshrutkas, which are passenger vans that connect the main cities in the country. For "long" distances like Tbilisi-Zugdidi, you can take the night train which connects the two cities in 6 hours.
In addition to the marshrutkas, there are some "normal" buses connecting Tbilisi, Kutaisi, Batumi, and other major cities. These buses also travel to several bordering countries.
ACCOMMODATIONS – WHERE TO STAY
One of the best things you can experience in Georgia is being hosted by a local family. They really make you feel at home. They sit you at the table with them, they feed you like a duck, and they get you drunk enough that all the problems in the world go away. A good option for living this kind of experience is couchsurfing. Another option is staying in small guest houses, which are typically run by friendly local families. Back in the city, I recommend that you stay in hostels, where you can meet other travelers.
The places that I loved:
– Tbilisi: Hostel Budget Zodiac. Good atmosphere, many travelers from all over the world, and helpful staff.
– Sighnaghi: Angelina & Koko. One of my favorite places in Georgia. It's not that the house is beautiful; it's rather the opposite. However, Koko is a super friendly guy who will help you with whatever you need. You can cook together, drink wine, smoke shisha, have good conversations, etc. His grandma, Angelina, is the sweetest lady in the world. I just wanted to hug her all the time.
– Tusheti: Guest House Nazo. Awesome hosts! We had a great time having dinner with the family and drinking wine, chacha, and more wine … highly recommended.
– Batumi: Raskladushka. The owner of this small hostel is an extremely funny guy. He is a real character. In addition, the place is renovated and very clean.
– Mestia: Manoni Guest House. This hostel is a backpacker's haven in Svaneti. It's the perfect place to meet other travelers with whom to go hiking.
FOOD AND DRINK
Thanks to the influence of all the cultures that have crossed and invaded this country throughout the centuries, Georgian food is among the region's tastiest.
The Kachachapuri, which is prepared in an Indian-style tandoori oven, is a type of bread topped with cheese, eggs, beans, or vegetables. The Khinkali, which looks a lot like the Nepali momos, is a delicious dumpling filled with meat. By the way, the traditional way to eat Khinkalis is this: Grab the tip of the Khinkali with your hand, bite on one side, drink the liquid inside, and then eat it.
Another thing that Georgians really know how to cook is meat. Delicious pork and veal brochettes are served in every town. As side dishes, you'll find salads, eggplant dishes, and most of all, lots of cheese. You'll never miss cheese at a Georgian table.
As for drinks, Georgians take the production (and ingestion) of wine very seriously. In theory, they were the first in the world to start making wine, and they seem to be very proud of it. They use a traditional system which is different from the one we use in Europe. I admit, they have a pretty good wine. I recommend that you try the one made with the Saperavi grape.
Chacha is another classic Georgian drink that you'll probably try at some point. It's a strong-as-hell spirit made with the skin of the grape left over from the winemaking process. Because it's usually homemade, you'll never know its alcohol content for sure. Be careful, as it's usually 40 or 60%.
WEATHER: WHEN TO VISIT GEORGIA
You can visit the country at any time of the year, although the time you visit will depend on the type of trip you want to take. Summer can be very hot in some regions, while winter can be quite cold. For a classic trip including hiking routes, the best months are March to October: There is no snow on the roads and mountain passes are open. If you go in July or August, expect to encounter pretty hot days.
If you're planning to ski, winter is obviously the best time of the year to go. The Mestia area has many ski slopes as well as other facilities for winter sports.
SAFETY AND HEALTH IN GEORGIA
Despite the recent wars and territorial conflicts, Georgia is a very safe country to visit. The crime rate is very low. You can walk around the city, even at night, and you should be alright. I guess shit happens everywhere, but in general it's safe. In addition, most people are super friendly. They will try to help you if you have any problems.
Some taxi drivers and vendors may try to overcharge you, but this is not a big deal. Most Georgians are generous and honest.
Despite this, there are certain dangers you should consider:
– The drivers: I'll be clear about this. Georgians are terrible drivers! You'll experience pretty much the same danger you'd experience when driving in India, Nepal, or Indonesia. Georgians drive very fast, overtake cars on the right, and don't respect traffic lights. Sometimes, they won't let you cross even if you have a green light! If you take a minibus, don't be surprised if the driver is smoking, texting on WhatsApp, holding the wheel, and changing gears at the same time. I recommend that you always look both ways before crossing. Otherwise, you can use the local people as human shields. When you see a Georgian who is about to cross, stand at his side and cross with him. I always did this, and I'm still alive.
– Mountain trails: Going to Georgia and not visiting the mountains is almost a sin. However, keep in mind that the Caucasus Mountains are huge. Some peaks are over 5,000 meters high, and not all trails are well-marked or conditioned. Be careful and try to avoid hiking alone.
– Dogs: I'd been warned about Georgian dogs before I traveled there, and I admit that I was somewhat scared. Some mountain dogs, especially in Tusheti, can be quite aggressive. Moreover, these dogs are huge. I recommend that you don't get too close to the livestock. Walk away slowly and don't look them in the eyes. You can have a hard time, but they don't usually bite. My experience wasn't so bad after all. Stray dogs in the cities, on the other hand, are quite friendly.
HITCHHIKING IN GEORGIA
Transportation in Georgia is so cheap that hitchhiking isn't really worth it. However, public transport in certain regions can be limited or nonexistent. In Khevsureti, there is only one marshrutka 2 or 3 times a week.
Also, hitchhiking is an experience in itself, and for many it's the best way to travel around. If you're planning to hitchhike, I have good news: Georgia is an excellent place to do it. You won't wait long before someone gives you a lift. However, you'll need to know some basic Russian to communicate with the people.
LANGUAGE
Georgian is the official language in Georgia. Georgian has its own writing system which is completely different from ours. It also has some rather curious guttural sounds. It's said to be one of the oldest languages ​​in the world along with other Kartvelian languages such as Svan (in Svaneti) or Laz (on the border with Turkey). They're all part of the same linguistic family.
For us, understanding Georgian writing is completely impossible. Thankfully, most signs are written in Georgian and English. Learning to speak Georgian isn't easy, either. However, memorizing some basic words and expressions can be very helpful.
Here is a list of useful words:
Hello: gamarjoba
Goodbye: kargat
Good: kargi
Delicious: gemrielia
Thanks: madloba
Cheers: gaumarjos
How much is it?: ramdeni?
1, 2, 3, 4, 5: erti, ori, sami, otkhi, khuti
If you're not fluent in Georgian, there are other ways to communicate with people. Most people over 30 speak very good Russian (although they don't speak English). This makes sense, as Georgia was invaded by Russia and was part of the Soviet Union for decades. On the other hand, people under 30 living in big cities can speak pretty good English (although they don't speak Russian).
If you don't speak Russian, you will have trouble communicating with elderly people, but hey … one way or another, you'll understand each other. I recommend that you download the Google Translate app, as you can use it offline.
INTERNET IN GEORGIA
One of the things that surprised me most about Georgia was the quality of the Internet connection. I expected hostels to have good Internet, but I never thought that Wi-Fi would be available in very remote guest houses, where the water is heated using a wood-fired boiler. Obviously, the Wi-Fi connection in mountain areas is worse than it is in large cities, but it's still not too bad.
If you are staying for several weeks, you can buy a 3G simcard for your smartphone. The price for calls and data is incredibly cheap as compared to that in Europe or the USA.
CULTURE AND RELIGION
Religion plays an important role in the lives of most Georgians. Eighty-three percent of the population is Orthodox Christian, 10% is Muslim, 4% is Armenian Apostolic, and the rest is made up of minorities like Russian Orthodox.
Georgian culture is quite conservative and traditional. However, in cities like Tbilisi, a more liberal and modern movement is emerging. Young people like to wear trendy clothes, hang out in cool places, and party. It seems that the country is modernizing in every respect, although these things always take time.
TREKKING IN GEORGIA
Georgia is a true paradise for mountain lovers. Actually, my main reason for visiting the country was to hike the Caucasus Mountains, and I have to say that the experience exceeded my expectations.
If you need information about trails, options, duration, etc., I recommend that you take a look at the Caucasus Trekking site, which has excellent information about the best treks in Georgia.
The hikes that I liked the most and recommend are:
– The Kazbek glacier – 1 day.
A good hike to warm up your engines. This steep trail will take you from Stepantsminda to the foot of the huge Kazbek glacier. The difficulty is low-medium, but keep in mind that it's uphill all the way to Mount Kazbek. The journey can be completed in 6 to 8 hours round trip. Of course, the views of the region are impressive.
If you're planning to climb to the top of Mount Kazbek, you'll need mountaineering equipment and probably a guide. Renting the gear will cost you around 50 euros (all the equipment), and a guide would charge around 500 euros for a maximum of 4 people. It's relatively easy to get a 20-30% discount on these prices. The climb is not too technical, but you need to have hiking/climbing experience. If the weather is OK, it can be completed in 3 or 4 days.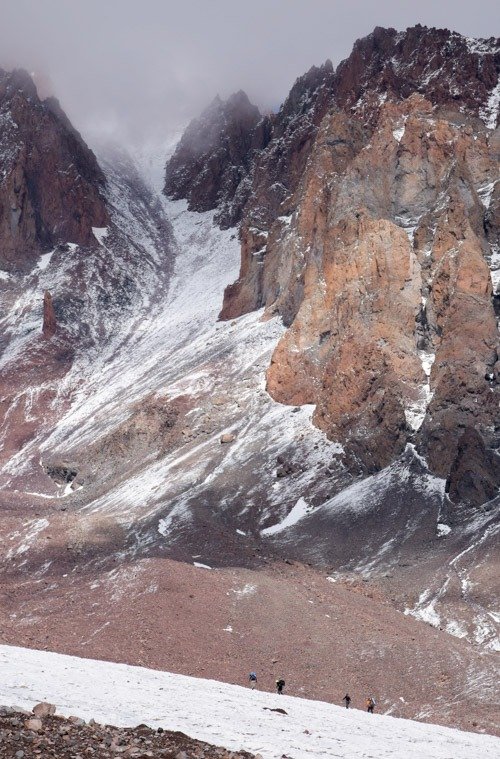 – Trekking from Juta to Roshka – 1-2 days.
This was my favorite trek in Georgia along with the Omalo Loop. It's a pretty off-the-beaten-path trek that offers amazing landscapes. First, you'll have to cross the Chaukhi massif, which is formed by spectacular rocky peaks. After crossing the Chaukhi pass at 3,431 meters, you must take a steep descent until you reach the Abudelari lakes before heading to Roshka. Read the post here!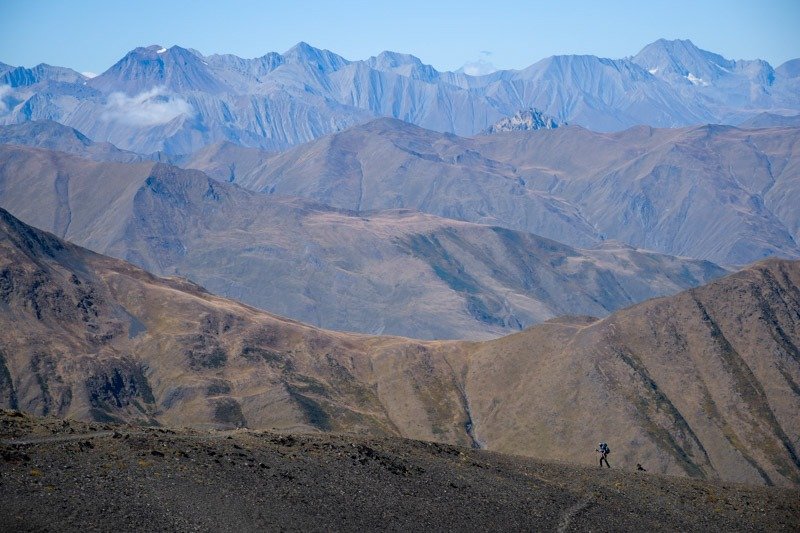 – Trekking from Mestia to Ushguli – 3-4 days.
The Mesia to Ushguli hike is by far the most popular trek in the country. I don't have clear feelings about this hike yet. On the one hand, Svaneti has some of the most spectacular landscapes in the country. On the other hand, it's such a crowded route that it's losing its original charm. Also, it's the only place in Georgia where I was treated badly in several guest houses.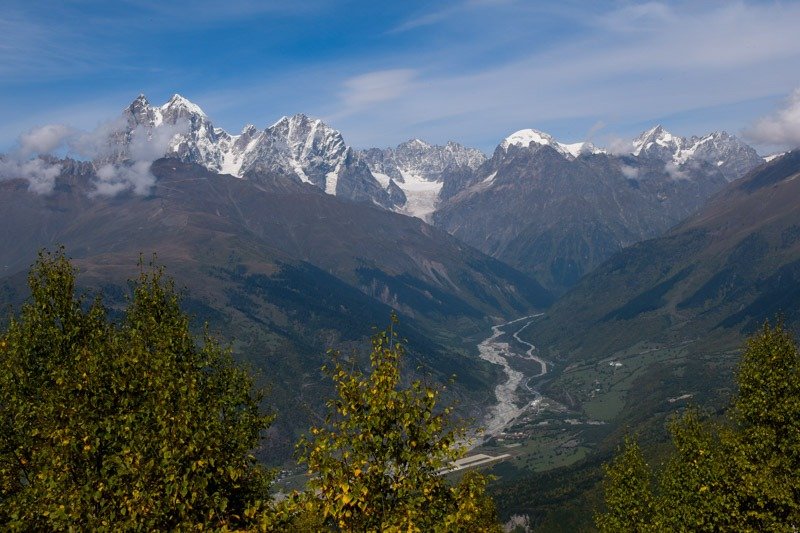 – The Omalo Loop – 3 days.
This is one of the most isolated treks you can complete in Georgia without camping. The Omalo Loop boasts traditional villages, colorful valleys, and rugged mountains. It isn't a very demanding route. The only slightly difficult section is the Nakle Pass, which rises up to 2,920 meters high. Although half of the trail goes along a dusty road, the landscapes and the hospitality of the people make this trek an unforgettable experience.
TRAVEL TIPS FOR BACKPACKING IN GEORGIA:
– Don't decline invitations. In such a hospitable country, you'll receive many invitations, maybe for a cup of tea, a glass of wine, some food, etc. Accept the invitations with a smile, as a refusal can be taken as an offence. If you don't want to (or can't) accept, reject the proposal as politely as you can.
-Download the following apps: Maps.me, essential for moving around the cities and saving your favorite locations. Wikiloc, one of the best GPS apps for hikers. Google Translate, very useful for communicating with locals who don't speak English.
– Bring enough money before traveling to mountain regions because there are usually no ATMs.
– Keep in mind the dress code if you are visiting religious places. In some churches, women are asked to wear a veil that covers their hair. Also, they don't allow men wearing shorts.
– Bring warm clothes. If you're planning to visit the mountains, keep in mind that some villages are located more than 2,000 meters high. Whether or not it's summer, it will be cold at night.
– Bring a filtered water bottle (here on Amazon) on your hiking routes. It's common to find cows near the streams, making the water unsafe to drink. I always bring my Lifestraw bottle, which is great.
– Get travel insurance. I recommend that you always travel with medical insurance.
---
Did you enjoy Backpacking in Georgia? Please leave a comment!
Disclosure: As an Amazon Associate I earn from qualifying purchases. Some other links in this post are affiliate links too.
Hi, I'm Miguel; Adventure traveler, scuba diver and hiking lover. I have been traveling the world for the last 12 years and I hope my experiences, photos and hiking routes inspire you to travel the world too.