Are you ready for an exciting ride? India is one of those places that every traveler wants to visit at some point in their life. A place of contrasts that won't leave you indifferent. With its stunning mountains, ancient cultures, dazzling temples, virgin forests, sacred rivers and great food, it's one of the most rewarding countries you can visit.
On the other hand, I recommend patience; the culture is very different and I assure you that it will test your limits again and again. Every time I went there, I felt like I couldn't stand it and I needed to leave. However, just a few days later, I had a terrible desire to return.
A trip to India is a drug that can overwhelm you, but undeniably creates a great addiction.
BACKPACKING INDIA ALONE
Must-see places:
1. DELHI
For most people, this is usually the first stop in the country, and although New Delhi can be quite shocking, in between all the chaos and dirt you can find some really nice places and mosques that are worth visiting. Don't miss the Jama Masjid mosque and the Red Fort.

2. THE TAJ MAHAL IN AGRA
The greatest icon of the country and one of the most magical places in the world is definitely a "must see" on your visit to India. The shapes of the Taj Mahal, ironically a mausoleum that was actually built for love, will leave you hypnotized as you watch the stones change color with the sun as it rises over the horizon. And if you are visiting the city, you definitely shouldn't miss the Agra Fort.

3. THE GOLDEN TEMPLE OF AMRITSAR
Created in 1577 by "Guru Ras Dam" on a lake that surrounds the temple, it's a sacred place of pilgrimage for Sikhs and one of those magical places that you just can't miss in India.
You must remove your shoes, with the rest of the pilgrims, and cross through a shallow foot bath, cleaning your feet before entering the temple grounds. You are also required to keep your head covered (they sell very cheap bandanas that are actually great souvenirs) and follow some basic other rules to visit it. Smoking is very much frowned upon within 1 kilometer of the temple. Definitely do not miss a free meal at the "langar."
4. THE PROVINCE OF LADAKH, LITTLE TIBET
This is a destination for the most adventurous, right in the heart of the Himalayas, Ladakh has the most amazing trekking routes in the region.
Imagine 7,000 meters mountains surrounded by rivers, impossible paths, local people with their yaks (they look like shaggy buffalos) and Buddhist temples decorating the landscape. I recommend exploring the Markha Valley.
5. RAJASTHAN
Even though it's one of the more touristy regions in India, travelling through Rajasthan gives you the chance to admire the local people in bright and colorful clothes, the world-famous gypsies and their magical dances, ancient cities with large fortifications and, of course, the endless desert.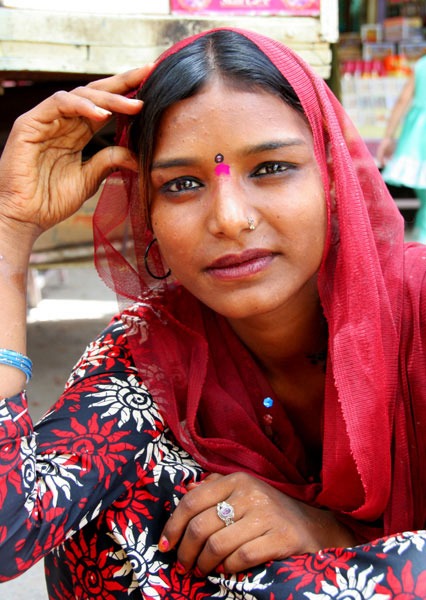 6. VARANASI
The most sacred city of India, a center of pilgrimage for millions of Hindus, from the most devoted Sadhus to even the more casual followers, this is pure India. It's everything you could have imagined about this country before your trip, but all put together in one place.
Strolling along the different ghats (the sets of stairs all along the Ganges river), you can see everything from farmers washing their buffalo, to boat owners yelling at each other over parking spaces, to local families doing their laundry, to goats stealing and eating the flowers that adorn the bodies being prepared for cremation. Loud, dirty, beautiful, magical, overwhelming, inspiring, exhausting, and unforgettable. Things to do in Varanasi!
7. AJANTA AND ELLORA
Amazing Buddhist caves full of history and hard work. Monks worked for decades carving into the mountainside, building large galleries and temples, full of ornate sculptures and beautiful stonework.
8. HAMPI
Located in a spectacular setting, the temples of Hampi will leave you amazed. I recommend renting a bike or scooter and touring around the temples and nearby towns.
9. THE BEACHES OF GOA
A good stop before you leave, the famous 60's destination of Goa still keeps that hippie/new-agey atmosphere that fascinates yoga and rave enthusiasts.
Another good place for lovers of yoga and meditation is the city of Rishikesh which, being in the lower Himalayas, has a much cooler climate.
Budget for Backpacking India:
You can usually travel in India for 15-20 dolars/day or so.
PLAN YOUR TRIP
---
ACCOMMODATION IN HOSTELS
Generally, you can get a bed in a dormitory or a super basic and usually pretty dirty room for about 3 dollars in most of the cities, Goa would be an exception where the dormitories go for about 5 or 6 dollars and the bungalows for about 8 -10 dollars.
These are some options that I loved:
Delhi: Amigos India.
Varanasi: Roadhouse Hostel.
Agra: Panda friends.
Hampi: Rambo Guest House.
Udaipur: Moustache Udaipur.
Jodhpur: BedPool Hostel.
ACCOMMODATION IN AIRBNB
A good option for couples and groups, with rooms and apartments at great prices. If you sign up through my link, you will get $35 of Airbnb credit!
TRAVEL INSURANCE
I highly recommend that you get a good insurance policy before you visit India. Trusted by thousand of adventurers, World Nomads is one of the best and more reliable options (without breaking your bank).
---
TRANSPORT
You'll have a hard time finding any place in India that isn't accessible with public transportation. The British left an extensive network of railways, and there is a bus to each and every tiny village in the country.
A ride of about 15 hours by bus from a place like Hampi to Goa costs about 10 dollars. However, the train is much cheaper. A 20 hour journey between Varanasi and Jalgaon goes for about 7 dollars in a bunk.
Riding in the "unreserved" cars on the train is so cheap it's almost free, but is extremely crowded and not for the faint of heart. For those willing to do it, packing like sardines into a train is a truly authentic Indian experience.
---
FOOD
A very important part of the trip is the food, and there are so many good things that one wouldn't even know where to start.
The classic "Thali" has rice, lentils, vegetables, different sauces, costs about one dollar, and is traditionally "all you can eat," but in the more tourist-oriented restaurants they often only serve a certain amount.
The "Panner Butter Masala", which is cheese in a spicy tomato sauce, accompanied by chapati (Indian bread) and rice costs about two dollars and the "Lassi", which is a type of fresh cow (or sometimes buffalo) yogurt drink, mixed with sugar and spices, costs half a dollar.
I recommend drinking a lot of tea (chai), which is prepared with ginger, pepper, cloves and milk and costs just a few cents.
Prices vary from one restaurant to another and also from the city, but cheap stuff can be found at the street stalls. If you want the cheap food that the locals eat, ask where to find a "dhaba."
WHEN TO TRAVEL TO INDIA:
You'd be wise to avoid the monsoon season from June to October, as rains can be heavy, especially in the south. However, this is the best time to visit the Ladkah region since the rest of the year is too cold and the roads are completely covered with snow.
TIPS FOR BACKPACKING INDIA ALONE:
PATIENCE
A trip to India is not for everyone, and the most important things are patience and respect for the culture. Try not to get nervous when they stop you in the street to sell things, when they grab your arm, or when they come up to you and stare in silence, or throw trash on the ground by your feet, or when they push and shove you while trying to pack into the local trains.
If you spend some time to get to know them, you'll see that they are really sweet, nice, and easy going people and most of the time they have a big heart.
---
GET EVERYTHING READY
Weather conditions can change from the extreme heat of the desert to the freezing cold of the mountains, so bring enough of different kinds of clothes, sunscreen, first aid, etc. And remember to drink plenty of (clean) water!
---
PURCHASE TICKETS ONLINE
If you wanna travel by train but it seems that all the tickets are sold out when you check online, don't worry; places for foreigners often don't appear on the Official Railways website, so you have to buy it straight from an agency (for a small fee) or just go to the station.
---
DON'T BE PARANOID ABOUT FOOD
Personally, I eat the street food all the time, but some travelers tend to only go to restaurants. I can understand why they do, but in the end, almost everyone goes through an episode of diarrhea in India (it's a rite of passage), so don't worry too much about it and eat whatever you want, as long as it keeps "some" hygiene standards.
---
BE CAREFUL OF WHAT YOU BOOK
If you want to hire a tour, double check that everything you need is included and make sure that it's a respected company with references. There are a lot of self-proclaimed "tour agents" who would be happy to just take your money and disappear.
---
---
---
If you have any questions about Backpacking India Alone, feel free to contact me.
Some of the links in this post are affiliate links. This means that if you book or buy a service, I'll earn a small commission at no extra cost to you. I only link to stuff I love.
Hi, I'm Miguel; Adventure traveler, scuba diver and hiking lover. I have been traveling the world for the last 12 years and I hope my experiences, photos and hiking routes inspire you to travel the world too.