The French island of Martinique is a place of cultural fusion. It's a mix of European architecture and 100 percent African-flavor traditions, which makes this destination quite unique.
You will find plenty of activities to take part in while visiting this island: relaxing on the beautiful southern beaches, exploring mountains and volcanoes or admiring the colonial architecture of the populated Fort de France. Then you can delight yourself with delicious French-influenced cuisine, accompanied by Bordeaux wine and maybe later a glass of Caribbean rum to finish a perfect day.
Best things to do in Martinique
1- FORT DE FRANCE
Martinique's capital, Fort de France, is a vibrant and lively place with beautiful colonial architecture, boutique shops and amazing Creole markets. At night some areas seemed a little shady to me, but it's definitely worth a visit.
2- SAINT PIERRE
Formerly known as the "Paris of the Caribbean", the city was seriously damaged in 1902 by the eruption of Mount Pelée, which killed more than 20,000 residents. Built on the ruins of the old St. Pierre, the new city offers dramatic views of Mount Pelée.
The Volcano museum carefully describes those events and the current volcanic activity in the region.
3- MOUNT PELÉE
The more adventurous can complete the hike to Mount Pelée, an impressive volcano with stunning views of the northern part of the island. The trek can be completed in the same day and offers a variety of different sceneries, flora and fauna.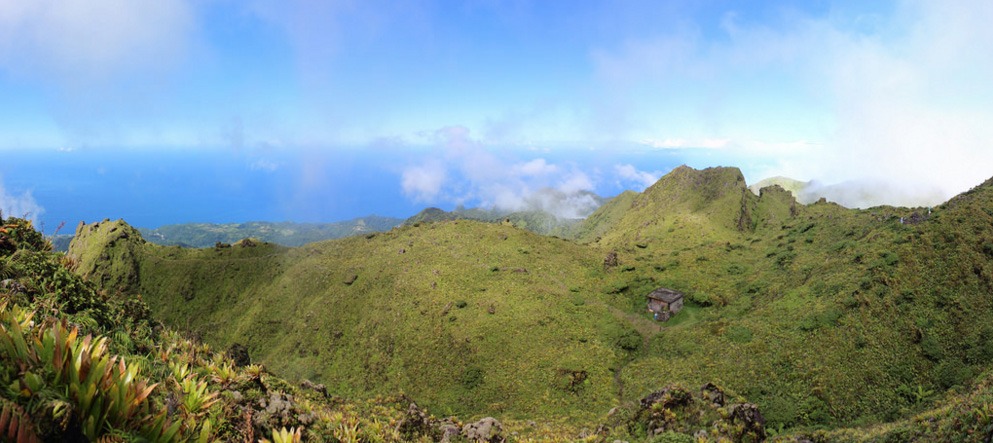 4- SAINTE ANNE
The small village of Sainte Anne is the perfect destination for those who want to spend a few days on an idyllic beach without spending a fortune. Sainte Anne's camping, located just behind the beach, offers options for all budgets.
Travel budget for backpacking in Martinique. $18 / day
If you stick with camping, taking a few vans or even hitchhiking sometimes, it is possible to travel around the island for about $18 a day, including some occasional luxuries, like a bottle of red wine.
ACCOMMODATION
Sainte Anne's camping: 12 euros to pitch your own tent for up to 3 people.
---
TRANSPORT
Within the island
Fort de France – Sainte Anne van: 8 euros
Van short rides: 4 euros
City bus in Fort de France: 1.80 euros
Ferry
The "Express des Iles" ferry covers the following route: Santa Lucia – Martinique – Dominica – Guadeloupe.
The price per ride is 80 euros, regardless of the distance.
You can book it online her, on the Express des IIes website.
---
FOOD AND DRINK
Supermarkets offer the same prices as in Europe. The difference with the neighboring islands is that here you can find good French cheese and wine.
WEATHER. WHEN TO GO
Keep in mind that the hurricane season runs from July to November, although you can travel any time.
Tips for backpacking in Martinique
HITCHHIKING
You can pretty much get around the whole island by hitchhiking. The local people are super friendly and will always help you.
---
HITHCHIKING SAILING BOATS
The marina of Le Marin is an excellent place to look for a sailing boat lift. It's one of the busiest ports in the area so it's always full of boats. Within the marina is a bulletin board where you can leave your own ad.
---
TRAVEL INSURANCE
I highly recommend that you get a good insurance policy before you visit Martinique. Trusted by thousand of adventurers, World Nomads is one of the best and more reliable options (without breaking your bank).
---
---
Do you have any question about Backpacking in Martinique? Leave a comment!
Some of the links in this post are affiliate links. This means that if you book or buy a service, I'll earn a small commission at no extra cost to you. I only link to stuff I love.
Hi, I'm Miguel; Adventure traveler, scuba diver and hiking lover. I have been traveling the world for the last 12 years and I hope my experiences, photos and hiking routes inspire you to travel the world too.