There are very few countries that truly represent the magic, taste and tradition of South America. Peru has virtually all of it; mountain hikes, waterfalls, rainforests bathed by the famous Amazon river, colonial cities, modern cities, deserts, volcanoes, lakes, ancient cultures, shamanism, mysticism, tradition and more. All of this, in just one country!!
On the other hand, you'll find corruption within the political classes and exploitation of the tourism sector which has created a system where the tourist feels more like an object than a person. Rarely in my travels have people cheated me or ripped me off so many times. And I am not even your typical blonde hair, blue eyed gringo!!
Yes, it is true, taxi drivers, van drivers and some "cholitas" in the markets are going to rip you off time and time again, but in the end, the wonderful people I met and the things I learned from this charismatic country outweigh the scammers. Long live Peru, damn it!
THE BEST PLACES TO VISIT WHILE BACKPACKING IN PERU
1. Lima
Chaotic and messy, Lima is not exactly my favorite city in Latin America. However it is still a nice place to spend a few days to see the modern part of the country. As the locals of Lima say; Peru is not only highlands and jungle, it definitely has more to offer. The lovely "Barranco" neighborhood is worth a visit.
2. Cajamarca and Sala del Rescate
Cajamarca is a beautiful colonial town, famous for the tragic event where the Spanish conquerer Francisco Pizarro killed Atahualpa, the last Inca Emperor. Atahualpa was captured and sentenced to death, but bribed his way out of it with an entire room of gold and silver.
The Incas joined forces and brought all the gold and silver (mainly from the current Bolivia) and filled the room as ransom. In the end, the Spanish didn't stick to their word and murdered Atahualpa regardless. It was then I began to really understand the resentment that Peruvians have against the Spanish.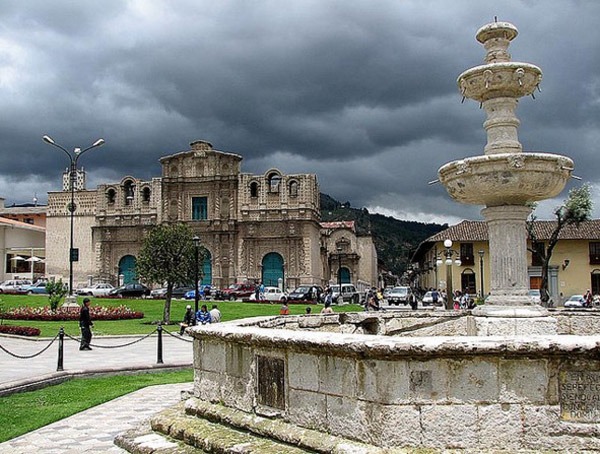 3. The Gocta Falls
Considered the third highest falls in the world, after the Angel Falls in Venezuela and Tugela Falls in South Africa, the Gocta Falls will certainly impress you, at 771 meters high. The environment is part of the charm. It is located in a beautiful area of jungle, canyons and rivers of rough water.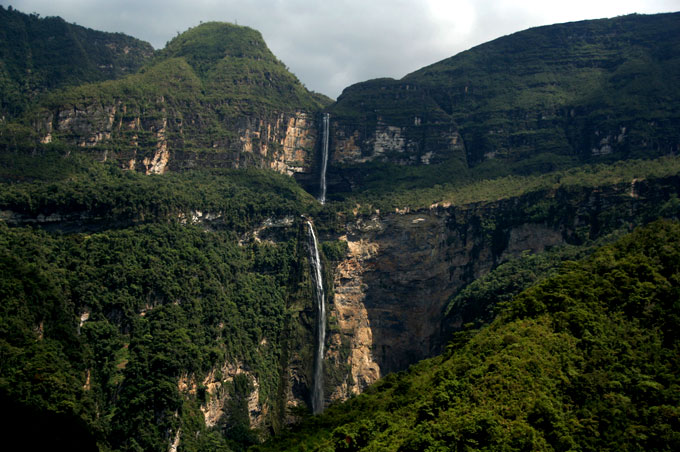 4. Iquitos by boat
Prepare your backpack and your camera, buy a hammock and get to Yurimaguas to embark on a 3 day trip down the Amazon. Arriving in Iquitos, you'll see that it's like another world. It is completely different from the rest of the country. We are now in the Amazon and if the heat hasn´t already, the humidity and mosquitoes will confirm that.
Find a good guide and visit the jungle, lagoons and the nearby villages. You will not regret it!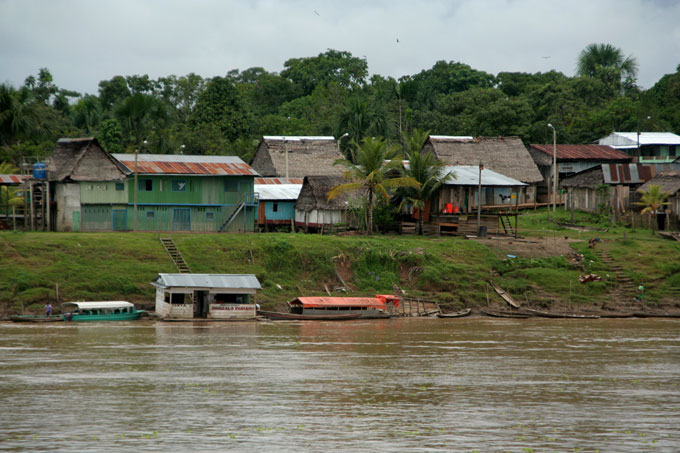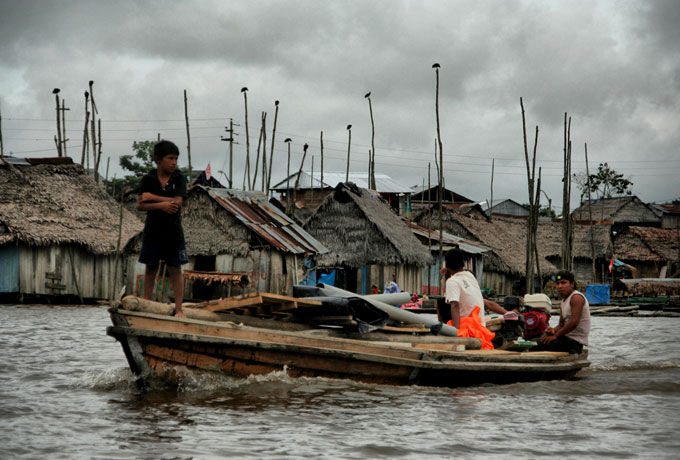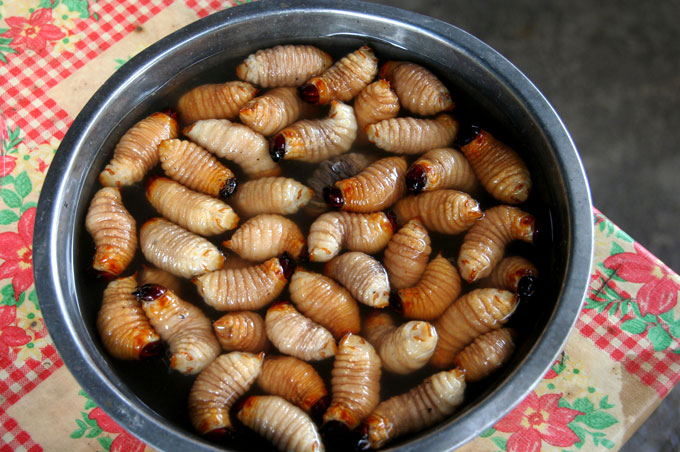 5. HUARAZ
As the mountain lover that I am, for me this is one of the most incredible areas throughout South America. It can only be compared with places like El Chalten in Argentina, Torres del Paine in Chile or Mount Roraima in Venezuela.
This small town is the access point to the mythical Cordillera Blanca and the neighboring Cordillera de Huayhuash. Both mountain ranges offer great hiking routes of different duration and difficulty. For those who don't have much time, there are many lagoons with unforgettable landscapes which can be visited in a day.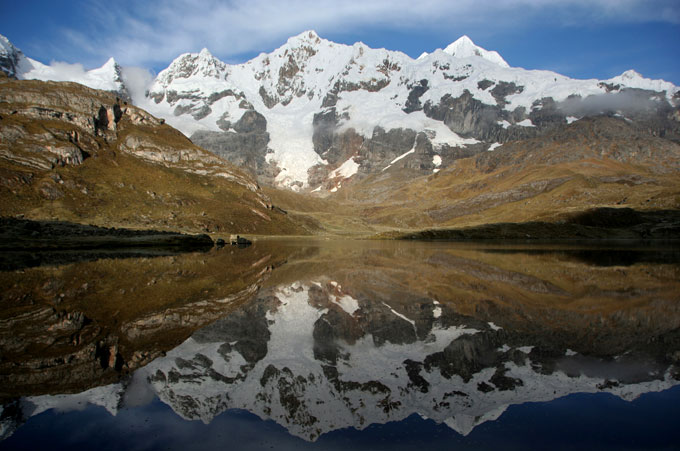 6. Paracas and the Ballestas Islands
Make your way to this arid coast to visit the Paracas National Park. Huge cliffs meet the sea and draw a beautiful landscape, where the ocher colors form a large desert.
Near the coast, the Ballestas Islands are home to a wildlife sanctuary. Cormorants, sea lions, seals and penguins inhabit these small islands that you can easily visit on a boat tour.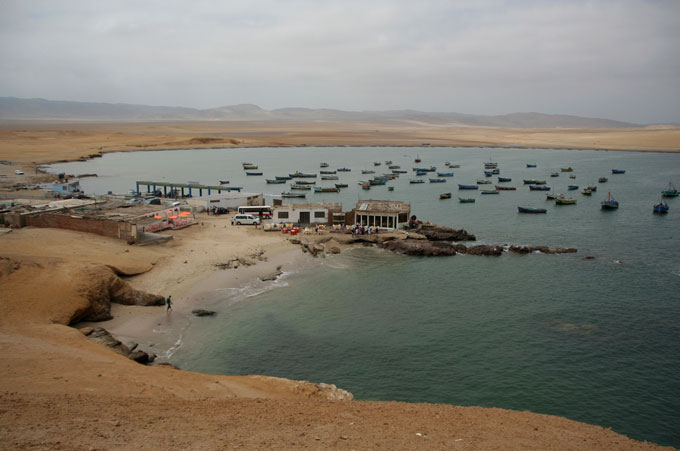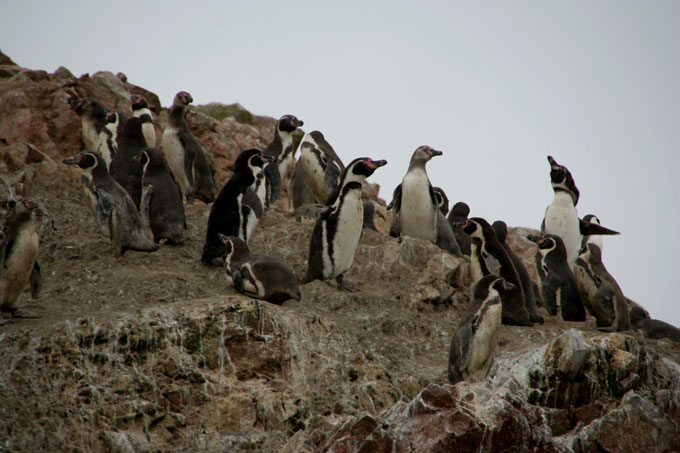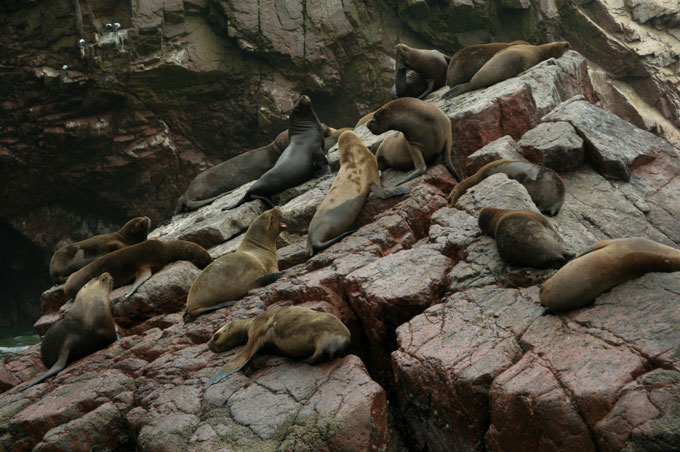 7. The Oasis of Huacachina
Located in the middle of a vast desert, the Oasis of Huacachina is a nice place to spend a few days. They are known for their famous Boogie trips, which will put your adrenaline to its limit. The drivers of these racing cars are really crazy and will take you at full speed through the dunes of the great desert.
8. The city of Cusco
Cusco is a city with a special charm. The streets, churches and squares are amazing, and the fusion of Spanish architecture with strong Indigenous tradition creates a truly magical place. What´s more, it's the gateway to the Sacred Valley and city of Machu Picchu, so you will not be short of things to do around here.
9. The Sacred Valley
Visit the different villages which make up the Sacred Valley, located in the Peruvian Andes and full of archaeological monuments and Indigenous tradition.
I recommend visiting the towns of Ollantaytambo, Pisac and Urubamba to visit the craft fairs and take a walk around the mountains.
10. The mythical Machu Picchu
What can I say about Machu Picchu? Every traveler's mecca, it is a place that certainly will not disappoint you. The magic of the place is overwhelming. The ruins are located on the top of a mountain which is surrounded by supernatural beauty.
11. Lake Titicaca
Another scenery with an extraordinary energy. Although I visited it from the Bolivian side, the lake is just beautiful in every corner of its waters. From Puno you can visit the floating islands and meet their inhabitants who still retain their traditions and their Aymara language.
12. Arequipa and the Colca Canyon
Arequipa, the second most populated city of Peru is a good place to base your visits to the nearby volcanoes and the Colca Canyon, famous for its huge ravines and Condors.

WHAT TO DO IN PERU
Hike the Andes
I never tire of saying that Peru has some of the best hiking trails in the world. From one-day routes visiting turquoise lagoons to 10-day expeditions along snowy peaks, the Peruvian Andes offer choices for everyone's tastes. Many visitors are obsessed with taking the Inca Trail that leads to Machu Picchu, but I assure you that other routes in the country are much more scenic (and less touristy). The best trails are located around ​​the Cordillera Blanca.
Surf the coast
The extensive Peruvian coast is a trendy destination among surfers (or surfer wannabes). The most popular surfing spots are Lobitos Beach, located 70 km south of Mancora; Cabo Blanco beach, located 3 km from the town of El Alto; and Playa Chicama, located in the department of La Libertad and famous for having a 2-km wave, which is said to be the longest in the world. One of the great advantages of Peru is that due to its good climate, you can surf and enjoy sunny days throughout most of the year.
Learn about the Incas
The Incas unified all the pre-Inca Andean cultures, creating one of the greatest empires of pre-Columbian America. In their heyday, they spread through several mountain areas of what today are Peru, Bolivia, Ecuador, Chile, Argentina and Colombia. Cusco was the capital of their empire, and it was where they synthesized all the artistic, scientific and technological knowledge of their predecessors.
Learn more about the pre-Columbian culture
Many people relate Peru only to the Incas, but the pre-Hispanic culture of this country is incredibly diverse. In addition to the famous Incas, other pre-Columbian groups included the Caral, the Paracas, the Chavin and the Kotosh. If these topics interest you, be sure to check into the hundreds of ruins, archaeological sites, museums, talks, etc. In addition to Egypt, Peru is one of the world's most interesting places for historians, anthropologists and archaeologists.
Get off the beaten path
Despite being a very touristy country, Peru has many off-the-beaten-path destinations. Most tourists follow the same itinerary: Lima, Mancora, Paracas, Cusco and Machu Picchu. However, Peru has many other beautiful regions to be explored, such as Kuelap, Puerto Maldonado, the Sonche Canyon, Tupe and other adventurous destinations.
Learn Spanish
If you are willing to improve your Spanish (or if you know someone who is interested in learning the language), consider a trip to Peru. The Spanish spoken in Peru is much easier to understand than the Spanish spoken in other countries, such as Cuba and Chile. You'll find hundreds of Spanish schools and courses available, especially in touristy destinations such as Cusco, Lima and Arequipa.
Explore the Amazon
The Peruvian Amazon offers many activities for the adventurous. Compared to the Brazilian Amazon, the Peruvian jungle is much more accessible by both plane and boat. Compared to the Colombian Amazon, I'd say that the Peruvian Amazon is wilder. (It feels more authentic.)
I'll admit that Iquitos has become quite a touristy place with many shows (only for gringos) that are not at all authentic. However, if you find a good guide and get into the jungle for a few days, you should have a very interesting and wild experience.
Beware: Wear mosquito repellent, even on your ass, because those bastards have no mercy.
Have a pisco sour
Pisco sour, mmm … so good! This cocktail is prepared with pisco (a spirit made from grapes), lemon juice, egg white and sugar syrup. The trick is to mix the ingredients with an American or normal blender until a white foam forms.
The origin of this cocktail causes controversy with neighboring Chile, as each country claims authorship. To be honest, I don't care where it was invented; I just know that it's delicious.
Find your shaman
The Peruvian people are very knowledgeable about medicinal plants. That's why this country has become a popular destination among those seeking healing therapies such as Ayahuasca or San Pedro. It's important to clarify that despite their strong psychedelic effect, these substances are not understood as drugs but as curative medicines. I recommend that, to take your inner journey, you find a good shaman because the shaman's experience can directly affect the results of the treatment.
Fly over the Nazca lines
The Nazca lines are ancient geoglyphs located in the desert plains of the department of Ica. Given the enormous size of many of these figures, the best way to observe them is by taking an overflight. Either way, you can also see many figures from the nearby hills.
Stay a while in Cusco
Cusco is such a special city, you won't want to leave. In fact, this happens to many travelers (including myself), who stay much longer than planned. I stayed in Cusco for about two months, and I had a great time. It's a small city but has great cultural, musical and artistic offerings. You'll always find something to do in Cusco.
Meet the Aymara
The Aymara are pre-Columbian people who continue to inhabit the region around the magical Lake Titicaca. They are found throughout the plateau near the lake, distributed between Peru, Bolivia and northern Chile. Their traditions, music, language and unique customs continue to this day. I suggest that you visit a traditional village and learn about these fascinating people.
CURRENCY
Peru's official currency is the Sol, which is divided into 100 cents of Sol. I suggest that you make all payments in the local currency, although some places (such as hotels, restaurants and travel agencies) will accept US dollars too. You'll find many ATMs and exchange houses in major cities. ATMs are scarce in small towns, especially in mountain regions. If you will be leaving an urban area, I recommend that you take enough cash to avoid problems.
VISA TO TRAVEL TO PERU
Most nationalities, including Americans and citizens of the European Community, don't need a visa to visit the country as tourists. The maximum length of stay is 183 days per year. When you enter the country, you are usually granted 90 days, which you can then extend to up to 183 days.
If you haven't extended and want to stay for a few more days, you'll have to pay a $1 fine for each day that you overstay. I overstayed my visa for 15 days, and I had to pay $15 before they would let me leave the country. It's just an administrative sanction and isn't a big deal. In any event, these regulations often change, so you'd better get well-informed before you overstay your visa.
BUDGET FOR BACKPACKING PERU
Peru is quite an affordable country for backpackers. Even so, keep in mind that prices might vary significantly depending on the region. Large cities are obviously more expensive, and sometimes products can be as expensive as they are in Chile or Argentina. On the other hand, if you travel around the rural areas, you'll find affordable prices. For instance, you can find a bed in a dorm for 4-5 dollars, and a basic meal for 1-2 dollars.
In general, you can travel the country for less than $ 15-20 / day, but if you dare to make a tour through the jungle or some hikes up the mountain, the budget can go up to 25-30 dollars per day.
I recommend that you visit Skyscanner to find the best flight deals.
TRANSPORT WITHIN THE COUNTRY
There are many ways to travel between cities, including vans, basic buses, luxury buses, boats and planes. Travel agencies in touristy places such as Huacachina, Mancora and Cusco offer transport packages that can include pick up at your hostel and connections to other cities.
Keep in mind that some basic transport companies don't have websites where you can check departure times and prices. However, you can always ask at your hostel, which should know where you can buy tickets. Most of the time, tickets are sold in a small transport terminal or through a local agency.
ACCOMMODATION IN PERU
Most hostels will cost you 15-25 soles for a single, double or dormitory. That's about 5-7 dolares.
These are some options that I loved:
Lima: Casa del Mochilero. Nice, economic and well located in Miraflores.
Iquitos: Flying Dog. Clean, good atmosphere and a good kitchen.
Huaraz: Casa de Ana B&B. Amazing terrace on the top.
Paracas: Backpackers House. Great atmosphere, easy to make friends.
Huacachina: Casa de Arena. Great swimming pool.
Cusco: Kokopelli. Without doubt, my favorite option in Cusco. Best vibes!
Aguas Calientes (Machu Picchu): Mama Simona. One of the best hostels in Aguas Calientes.
Arequipa: La puerta del Sol. Affordable, with a nice terrace.
AirBnb is another good option for couples and groups. You'll find many rooms and apartments at great prices. Sign up through my link now, and you will get $35 of Airbnb credit!
SAFETY AND HEALTH IN PERU
Peru is not particularly dangerous compared to other Latin American countries. However, you must take the regular precautions and remember that violent incidents such as robberies, kidnappings, etc. occur on a daily basis in most large cities. Take taxis when you go out at night, and don't go to dangerous neighborhoods. Besides the big cities, I'd say that Peru is a very peaceful country. In rural areas, it's very unlikely that you'll have any problems.
The recklessness of some bus drivers is another danger to keep in mind. The country has several dangerous roads, and some bus drivers tend to go faster than they should. Unfortunately, there's not much you can do about that. If you believe in something, pray to your god and think that everything will turn out well.
In case of accident or illness, you'll find good hospitals in some cities, and basic health posts in remote areas. Public and private hospitals are available, and both might charge you for their services if you don't have health insurance.
World Nomads is one of the best and more reliable options, offering good prices and great service.
FOOD AND DRINK
Peruvian food is one of South America´s most famous and even has worldwide prestige. As I was traveling as a backpacker I didn't go to any of the best restaurants. Rather, I ate in small markets and street stalls, but was still able to find some delicious dishes.
Do not miss the "fish ceviche" and "lomo saltado". Main dishes for about 2-5 dollars.
There are several drinks you shouldn't miss during your time in Peru. The national drink is the pisco sour, made with pisco, sugar syrup, lemon and egg white. The chicha, which is made with corn, is very popular in rural areas; it has antioxidant, anti-inflammatory and anti-cancer properties.
Coca tea is another classic of any visit to the Andean region. You can buy the leaves in a market and prepare it yourself or you can order it in a bar or restaurant. Another drink that you'll find everywhere is Inca Kola, which is a soft drink similar to Coca-Cola. (In fact, it's owned by the multinational.) This drink is consumed with lunch or dinner.
WEATHER. WHEN TO GO
The best season is from March to November, when there is not much rainfall.
July and August are the months with the best weather, but keep in mind that it is high season, so there are many tourists and everything gets more expensive.
From December to March the rains in the Amazon can be very strong.
HITCHHIKING IN PERU
With a little patience and organization, you'll be able to travel around the country by hitchhiking. Please don't do this on the outskirts of large cities because hitchhiking there can be dangerous. In mountain areas, where transportation can be limited, the local people use this system to travel between towns, so it should be safe. If you want to hitchhike, it will be relatively easy to find someone who will give you a lift. The only problem is that most of the time, they will want to charge you for it. It's a small contribution that even the locals pay. Think of it as a tip; if they try to charge you as though they'd driven you around in a luxury limousine, don't be fooled.
INTERNET
The quality of the Internet connection varies drastically depending on the location. There is a great difference in services between urban and rural areas. The Internet connection is pretty good in Lima, Arequipa, Cusco, etc. The connection can be quite bad or limited in the mountain areas (although it's slowly improving).
LANGUAGES
Spanish is the mother tongue of 85% of Peru's population, which is located mainly in urban areas. In addition to Spanish, 72 indigenous languages are ​​spoken in various areas of Peru.
Quechua is the second most spoken language, with 13% of the population using this tongue. Next comes Aymara (2%), Amazonian languages ​​and many other variants. Even in the regions where Quechua or Aymara are spoken as mother tongues, Spanish is spoken as the second language (or at the very least, it's understood there).
In a few very rural areas, I had trouble communicating with some ladies who spoke a very basic form of Spanish, but in the end we were able to understand each other.
The Spanish in Peru (spoken by whoever regards this language as their mother tongue) is soft and easy to understand. Some regions will have local expressions and slang, but you'll learn quickly.
Take a look at some funny expressions you'll hear in Peru:
– Sí, pe = Yes, sure
– Pata or causa = Friend
– Asu mare = Wow
– Bacán = Great
– Pucha = Oh my god
– Pachamama = Mother Earth
– Soroche = Altitude sickness
CULTURE AND RELIGION
With over 10,000 years of history, incredible archaeological sites and hundreds of indigenous traditions, Peru boasts one of the richest cultures in the world. Pre-Columbian ruins, masks, sacred objects, engraved stones, ceremonial plazas, colonial cities, cathedrals, spiritual rituals … the cultural variety in Peru has no limits!
Most of the population practices the Catholic religion, which was inherited from the colonization. Spanish traditions strongly influence most religious celebrations. However, they also incorporate local practices and traditions, creating a very interesting fusion – an expression of the coexistence of both cultures. In addition, many indigenous groups preserve their pre-Hispanic beliefs and continue to adore Mother Earth along with their ancestors. Spiritual ceremonies are very common throughout much of the country.
HIKING IN PERU
Inca Trail
The Inca Trail is the country's most famous trail, as well as one of the best-known hikes in the world. This trail connects the depths of the jungle with the main highlight of any visit to Peru: the ruins of Machu Picchu. There are two versions: a short route that can be completed in two days, and a longer route that can be completed in four days.
The two trails will take you along highland plateaus, cloud forests and high-altitude passes. Despite its popularity, you can find other, more scenic trails in the country, and those trails will have fewer tourists. This trek can be done only with an authorized agency, and it will cost you about $350.
Salkantay trekking
This is the option I took with my friend Jabi as an alternative to the beaten Inca Trail. Both hikes lead to Machu Picchu through beautiful mountain paths. The main difference is that the government doesn't regulate the Salkantay trek, so you can go on your own, without agencies. You'll have to pay an entrance fee at the beginning of the trek, but then you can hike independently and camp in the wild.
Laguna 69 and other lagoons
Laguna 69 is one of the 400 lagoons in Huascarán National Park. This lagoon is among the most visited because it is surrounded by spectacular mountains and has a beautiful turquoise color. The region has many beautiful lagoons, many of which can be visited in one day. You'll find several tours starting from Huaraz. Most tours include transport from your hostel, as well as a professional guide who will take you to the lagoon. Also, there are some lagoons that you can reach independently.
Santa Cruz
The Santa Cruz Trek will take you along a beautiful valley decorated with snowy peaks, huge glaciers and pristine lagoons. Many hikers complete this trek with a guide, but we did it on our own and we didn't have any problems.
Huayhuash
The Huayhuash circuit is one of the most beautiful, most demanding and longest routes you can complete in Peru. We also did it on our own, but it was pretty hard. The problem is that it's a 10-day route, which means you'll have to bring hiking clothes, camping gear and food for all those days. The place is really worth it, though. Huayhuash is the best example of the unparalleled beauty of the Peruvian Andes.
Amazon trek
Going on a trek through the Amazon forest is a great way to learn about this complex ecosystem. The best places to book a jungle trek are: Iquitos, which has a wide range of guides and many interesting places to visit; Lagunas, which is a good access point to the Pacaya Samiria Reserve; and Puerto Maldonado, a little town next to the Brazilian border which is less visited by tourists.
TIPS FOR BACKPACKING IN PERU
Patience
As I mentioned earlier, people attempting to rip you off and abuse by some bus drivers are quite common. Personally, I lost control several times and even got into heavy arguments. Please, I recommend staying calm and try to get your cheated money back peacefully.
Transport
Many Peruvian cities don't have just one bus terminal (including Lima), but several small terminals of different companies scattered throughout the city (which can be quite annoying). I recommend searching around for different prices before heading directly to one, because the difference can be enormous.
Sacred ceremonies, San Pedro and Ayahuasca
There is a great business around San Pedro ceremonies and the famous Ayahuasca in Peru. If you are interested in trying either of these natural medicines, I recommend you find a reputable Shaman on your own in order to have the most rewading experience. Don't make the mistake of booking it through a tour agency, like most tourists do!
Volunteering
Peru is a place with stunning volunteer opportunities. From local organizations to hostels, the possibilities are endless. I spent a month volunteering at the bar of a hostel called Kokopelli and it was one of the best experiences of my trip. Highly recommended! You can have a look at Workaway to find plenty of opportunities in hostels, farms or local NGOs.
Travel to Iquitos
The boat trip from Yurimaguas to Iquitos takes about 3 days. If you want to make it shorter, you can get off in the town of Nauta that it is connected to Iquitos by road to save a few hours.
Take at least two weeks
When you look at Peru on the map, it seems like a big country, right? Well, once you're there, it's going to look a lot bigger! Traveling around Peru takes a lot of time. Some bus services are limited, the roads are bad and the distances are long. I recommend that you take at least two or three weeks to make this trip.
Even then, plan your time effectively because transport logistics can be more complicated than you think. In addition, you might want to stay longer in places that capture your heart (which happened to me in Cusco).
---
Do you have any questions about Backpacking in Peru? Please Contact me!
Some of the links in this post are affiliate links. This means that if you book or buy a service, I'll earn a small commission at no extra cost to you. I only link to stuff I love.
Hi, I'm Miguel; Adventure traveler, scuba diver and hiking lover. I have been traveling the world for the last 12 years and I hope my experiences, photos and hiking routes inspire you to travel the world too.