Senegal is one of the easiest (and friendliest) places to visit in West Africa. The country has a fairly decent tourist infrastructure and, although transport leaves a little to be desired, moving around the region is relatively easy. Many say it's the perfect option for first-timers in Africa.
From the desert lands near Saint Louis to the thick mangroves around the Casamance River, Senegal offers a wide range of landscapes. In cultural terms, you'll visit French-style colonial cities, learn about African music and visit traditional villages. Most important, you'll have the chance to meet a lot of Senegalese, known for their kindness, hospitality and sense of humor.
After spending over two months traveling in Senegal, I've learned a few things that I'd like to share with you. If you are planning a backpacking trip to Senegal, this article is for you.
THE BEST PLACES TO VISIT IN SENEGAL
1- Dakar
To be honest, I don't like Dakar. However, it's the country's main port of entry and offers access to interesting places like Gorée Island and the Pink Lake. Thus, it's likely that you'll pass by the city at one point in your travels.
I recommend that you visit the African Renaissance Statue, the Sandaga market (which offers a bit of everything) and the Kermel market (food and flowers).
If you need to spend the night, I recommend that you stay in Yoff, which is a nice town outside Dakar. Yoff is really quiet and safe, and it's a stone's throw from the airport.
2- Île de Gorée
Gorée Island, located just 3 kilometers off the coast of Dakar, was one of the largest slave markets in West Africa. It's said that at least 20 million people were kidnapped on the continent and later sold in the dungeons on the island. Although emotionally intense, this trip to the heart of infamy will allow you to learn about the history of slavery in Africa and the Americas.
The House of the Slaves is one of the oldest buildings on the island, and it's a must-visit. The whole island exudes a colonial atmosphere, with colorful mansions and cobbled streets.
3- Pink Lake
Lake Retba, commonly known as the Pink Lake, is an unusual lake located about an hour's drive from Dakar. Its waters contain microscopic bacteria that create a pink pigment to resist the high salt content. Along with Gorée Island, it's one of the most-visited spots in the Dakar region.
4- Saint Louis
Saint Louis is known for its French-style colonial architecture. The historic center is on the island of N'Dar, located at the mouth of the Senegal River. This island, former capital of the French Empire in Africa, is linked to the continent by the Faidherbe Bridge, designed by Gustave Eiffel himself. The city is fairly well-preserved and offers a wide range of cultural and leisure activities. It's an interesting place to spend a couple of days.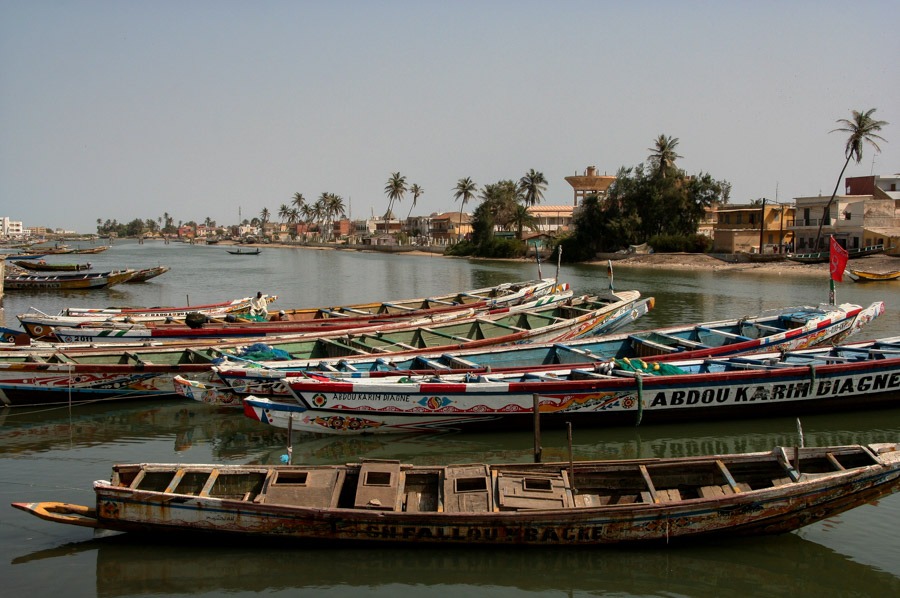 5 – Petite Côte
Petite Côte is a small coastal strip with good restaurants, clubs and hotels with spas. The resort area of ​​Saly is one of the main tourist destinations in West Africa. To me, these touristy resorts look the same all over the world, whether you're in the Dominican Republic, Thailand or Senegal. They don't represent the authenticity of the country. However, if you are looking for a few days of relaxation and sunbathing, you can give it a try.
6- Joal-Fadiouth
If you are around Petite Côte, don't miss Joal-Fadiouth. (In fact, they are two towns.) Joal is accessible by road while Fadiouth is an island connected by a bridge. This small island, formed by the accumulation of shells, is the best example of the coexistence of Senegal's different religions. Mosques rise next to churches, and even the cemetery is shared by Christians and Muslims.
7- Ziginchor
Ziginchor is the capital of La Casamance (my favorite region in Senegal). La Casamance is a beautiful place but I'll admit that Ziginchor is an ugly city. Either way, it's very likely that you'll pass by the city if you're visiting the southern part of the country or if you're on your way to Guinea Bissau.
I recommend that you visit the Alliance Franco-Sénnégalaise, which is the most beautiful building in town. Hotel Kadiandoumagne has a nice terrace by the river, perfect for enjoying a cold beer at sunset. You can go there without being a guest.
8 – Kafountine
Traveling to the fishing village of Kafountine means the beach, beautiful landscapes, music and dance. It's a great base to explore the region, walk to the neighboring village of Abene and visit Pelicans Island. I recommend that you rent a bicycle to visit these places at your own pace. At night, you'll find parties, dances and reggae music in several bars. The atmosphere is great; people dance and have a good time.
9 – Cap Skirring
Located in the south of the country, Cap Skirring is a very touristy destination with a wide range of bars, clubs and some prostitution (like in Saly). In addition to vice, Cap Skirring has beautiful beaches, with a bit of that genuine local life. If you're visiting the region, I recommend that you stay in Kabrousse, the next town, which feels more authentic and local.
10 – Carabane
Carabane is a fluvial island located in the estuary of the Casamance River. It's a really quiet place, without cars and roads – perfect for relaxing and walking on the sand. The main tourist activities are fishing trips by canoe or boat and birdwatching. It's a perfect place to forget about the rest of the world.
11 – Kedougou
Kedougou is one of the largest cities of East Senegal, and the starting point for exploring the nearby attractions. Don't miss Pays Bassari! There, you'll have the chance to visit traditional villages and learn about the tribal culture of the Bassari people. If you have time, visit the Dindéfelo Waterfall, which is one of the most beautiful places in the country. Also, be sure to take a safari in Niokolo Koba Park.
NATIONAL PARKS
12 – Niokolo Koba
This national park is probably the best place to go on a safari in Senegal. You'll see lions, leopards, hippos, antelopes, warthogs, baboons and many monkeys. During the rainy season, it's very difficult to spot animals apart from monkeys and deer. However, during the dry season, you should see more animals. Keep in mind that this park is not like the Masai Mara or the Serengeti, not by a long stretch.
13 – Siné-Saloum Delta
Siné-Saloum Delta is a real labyrinth of mangroves, canals, rivers and desert beaches. The best way to explore the region is by hiring a boat. The most-visited places are Iles aux Oiseaux, Mar Lodji, Foudiougne and Toubacouta.
WHAT TO DO WHILE BACKPACKING IN SENEGAL
14 – Learn African dances and play the djembe
Each African country has its own style (or styles) of original music. However, West Africa stands out in terms of dance and percussion. In fact, many Europeans visit the region solely to learn these arts.
I recommend that you take some dance classes, even (or especially) if you haven't done so before. It's a lot of fun and a great way to interact with the locals.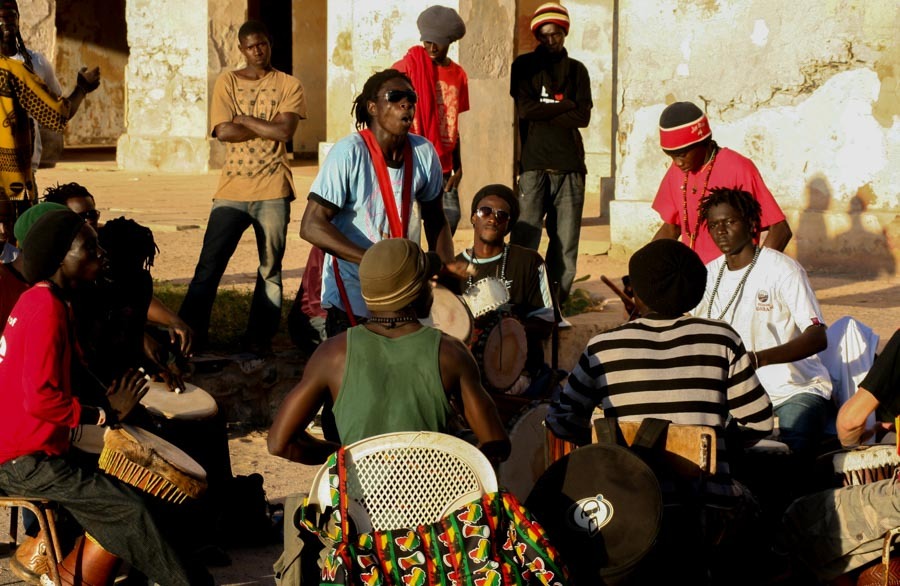 15 – Attend a festival
Senegal hosts several internationally renowned festivals every year. In April, the Jazz Festival of Saint Louis is held; this is the most famous jazz festival in Africa. In May, the streets of Dakar are decorated during the Dak'Art Biennale, while in September, there is traditional wrestling in Oussouye. In addition, local festivals with plenty of music and dance are held throughout the year.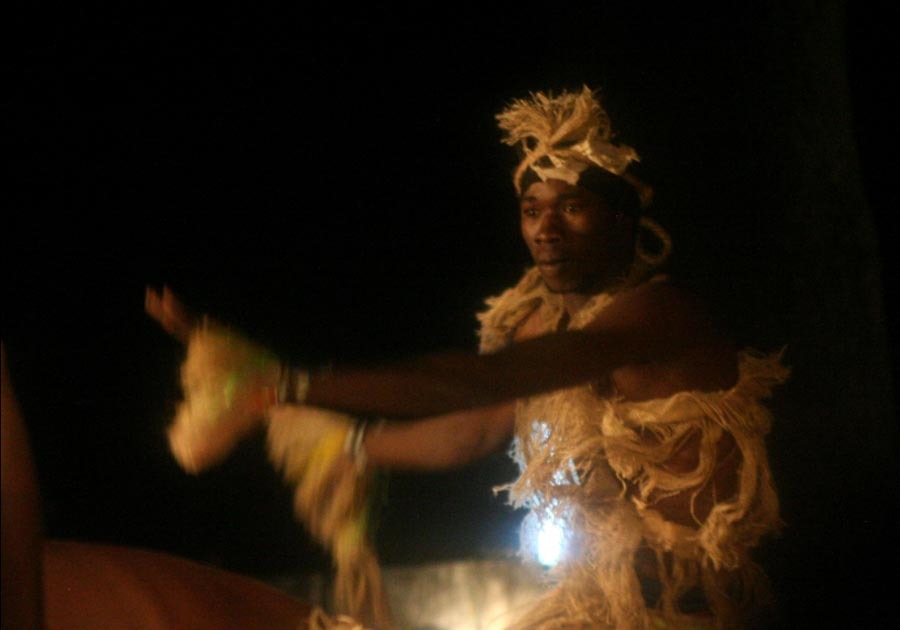 16 – Discover the world of ornithology
In case you're not well-versed in the subject, ornithology is the study of birds, and Senegal is a true paradise for bird lovers. In fact, this country has the third largest bird reserve in the world. The Djoudj park near Saint Louis is a great place for this activity.
17 – Take a Senegal River boat trip
A boat trip is a great way to enjoy the landscape, visit colonial towns and learn about the fisherman's way of life. From short trips around Saint Louis to several-day tours into the Sahel, choices are available for everyone's taste.
18 – Learn French
Make the most of your holidays and learn a new language. Many languages ​​are spoken in Senegal, but French is the official language; almost everyone speaks it. The Senegalese have a unique accent which I love! I took one month of classes in Kafountine and it was a great experience. Also, it was very cheap.
19 – Buy crafts for a good price
If you visit a crafts market, you'll find beautiful items such as pendants, bracelets, fabrics and African masks. I recommend that you bargain as much as you can because the sellers will try to overcharge you. Don't take it personally; bargaining is part of the culture.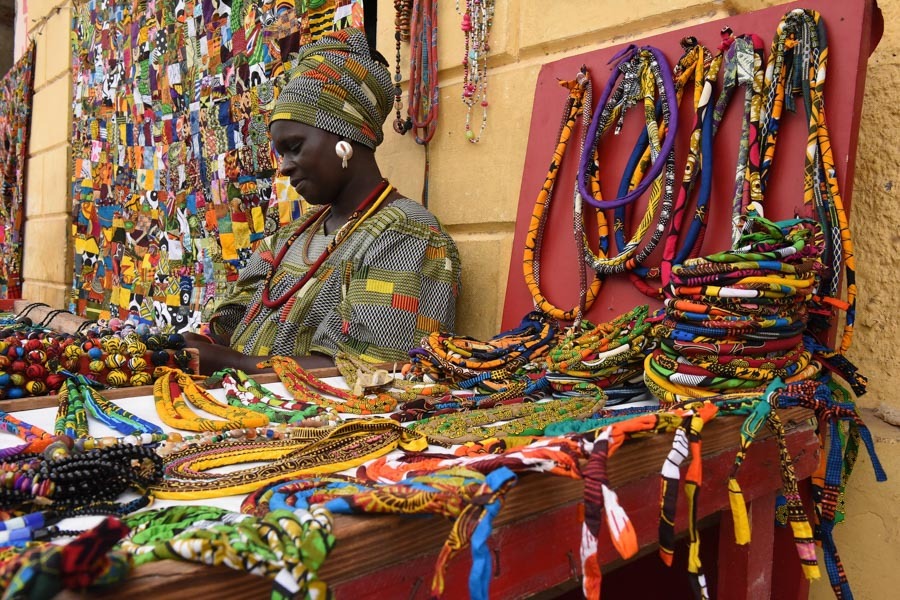 SECURITY
20 – Is Senegal safe for travelers?
Senegal is one of the safest countries in Africa. However, you should always take basic precautions.
Assaults aren't uncommon in Dakar, so don't get into lonely streets, especially at night. Pickpockets frequent some markets; therefore, watch your belongings and carry your backpack on your chest.
In La Casamance, there are sometimes car assaults, usually at night. If you travel by day, you should be fine. By the way, if you're driving your own car, never drive at night anywhere in the country.
Police controls are frequent. Some police officers are corrupt; they may ask you for money, claiming that you're missing documentation or some other bullshit. I recommend that you pay them so that they're happy, but always negotiate. For example, if they ask for 10,000 francs, you can say that you don't have much cash and instead give them 2,000 francs.
Otherwise, use common sense and everything should be okay.
EXPENSES FOR BACKPACKING IN SENEGAL
21 – Currency
The West African Franc (CFA) is the official currency of Senegal. The CFA is used in eight countries of the African Financial Community. This is helpful if you are traveling through West Africa because you won't need to change your money all the time. The countries that use the CFA are: Senegal, Benin, Burkina Faso, Mali, Cote d'Ivoire, Guinea-Bissau, Niger and Togo.
You can withdraw money at an ATM in the main cities, but I recommend that you always bring cash with you, just in case. Money can be exchanged at Dakar's airport (the exchange rate is quite good), at banks or even at hotels.
22 – Budget
Traveling in Africa is never cheap. Tourist services and nice restaurants are usually expensive. Private transport isn't cheap, either. Tours, boat trips, guides, etc. will take up a large part of your budget.
Expect to spend 50 dollars a day traveling around the country, taking tours and eating in decent restaurants.
On the other hand, if you take only public transport, visit local restaurants and stay in basic hostels, you can lower your budget to 20-30 dollars a day.
PERMITS
23 – Visa for visiting Senegal
Since 2015, citizens of the European Union, Canada, the United States and a long list of countries haven't needed a visa to visit Senegal. The maximum stay is 90 days.
TRANSPORT
24 – How to get to Senegal
By plane:
Senegal's main airport is located in Dakar, which is the main port of entrance for travelers. The airport has regular flights to Europe, the United States, Turkey, Brazil and many African countries. During the high season, direct flights are available from France to Cap Skirring.
By land:
Senegal shares borders with Mauritania, the Gambia, Mali, Guinea-Bissau and Guinea-Conakry.
Traveling by public transport from/to Gambia and Guinea-Bissau is very easy. Many buses and shared taxis depart every day.
Crossing from Mauritania through the Rosso border can be more complicated. However, it's doable with some patience, taking shared taxis, etc.
If you are traveling to / from Mali, you can take the bus that connects Tambacounda to Bamako. Some time ago, a train service connected these two cities, but it's no longer operational.
25 – Transportation within the country
By plane:
Regular flights are available between Dakar, Tambacounda, Ziguinchor and Cap Skirring, which are the main airports. There are also flights to Kedougou, Kaolack, Bakel and Saint Louis.
I recommend that you travel by land because it's a very rewarding experience. Using public transport in Africa is awesome!
By taxi or mototaxi:
Taxis and mototaxis are great for short trips in urban areas. Don't be surprised by the state of the vehicles. Some cars are literally falling apart. Remember: You should bargain over the price.
By sept-place:
Sept-places are old Peugeots (with two rows of seats) that cover short and long distances between cities. Theoretically, they have seven seats, but I've counted as many as 11 passengers sometimes. These cars work like minibuses and depart when they are full. Sept-places are among the most popular means of transport in the country; traveling by one is an experience in itself.
By bus:
Ndiaga Ndiayes are ramshackle buses that cover long distances. Keep in mind that they are usually old, slow and uncomfortable. I prefer sept-places.
During the last few years, new transport companies equipped with modern buses have emerged. Niokolo Transports travels from Dakar to Kedougou and offers good services.
By boat:
A regular ferry service connects Dakar to Ziginchor, in La Casamance. It can be a good alternative to the long overland journey, which involves crossing the Gambia, passing through immigration controls, changing means of transport, etc.
Ferries depart twice a week in each direction. There are three ferries: the Aline Sitoé Diatta, which has cabins, and the Diamonge and Aguene ferries, which have only seats.
Ferry Aline Sitoé Diatta – Schedule:
Dakar – Ziguinchor: Departures on Tuesdays and Thursdays at 20:00. Arrival 10:00 the next day.
Zinguinchor – Dakar: Departures Thursdays and Sundays at 13:00. Arrival 7:00 the next day.
Ferries Diamonge and Aguene – Schedule:
Dakar – Ziguinchor: Departures Thursday and Sunday at 20:00. Arrival 12:00 the next day.
Zinguinchor – Dakar: Departures Tuesdays and Fridays at 13:00. Arrival 7:00 the next day.
ACCOMMODATION
26 – Where to stay?
Luxurious hotels with pools, wooden huts in front of the sea, charming family houses or ugly rooms with damp walls – in Senegal, you'll find all kinds of accommodation. Keep in mind that good hostels and hotels tend to be quite expensive. Even so, the independent traveler has a few interesting options.
Some hostels that I can recommend:
Dakar: Via Via. Basic hostel with friendly staff in Yoff, which is a great location.
Saint Louis: Auberge Le Pelican. Nice place with rooms and cabins. It's a little far from the center, but the price is good.
Ziguinchor: Le Flamboyant. The perfect place to indulge yourself, eat well and enjoy the pool. This three-star hotel is an institution in the city.
Kafountine: Catalunya Casamance. One of my favorite places in Senegal. In fact, it's not a hostel but a small NGO which has been helping the local community for years. It rents well-equipped apartments and uses the money to invest in social projects.
27 – FOOD AND DRINK
Senegalese gastronomy, which is heavily influenced by French, Portuguese and Maghreb cuisine, is one of the most delicious in West Africa.
Most dishes include rice with chicken, beef, fish or vegetables. Because Senegal is a Muslim majority country, pork is rarely consumed.
Don't miss the following dishes:
Thieboudieune: One of the most popular dishes, it's prepared with marinated fish, rice, tomato and other vegetables.
Yassa Poulet: Delicious chicken served with a lot of onion and garlic, mustard, spices and lemon.
Maafe: This classic of Senegalese cuisine is prepared with chicken, veal or lamb, and vegetables, all served in a peanut sauce.
Typical drinks of Senegal:
Senegalese coffee: It's mixed with pepper and cloves, and often sweetened with condensed milk. It's quite strong, though.
Bissap: This is a tea made with hibiscus flowers, mint and sugar.
WEATHER
28 – When to visit Senegal?
You can visit the country at any time of the year. However, keep in mind that there are two main seasons: the dry season and the rainy season.
The dry season lasts from November to May. Rainfall is scarce and temperatures are pleasant. It's the perfect time to visit Senegal.
The rainy season lasts from June to October. It rains a lot, but usually in the evening. It can be very hot and muggy during September and October. Heavy rains can affect some roads. This is not a good time to visit national parks because it's difficult to spot animals.
In any event, it's possible to travel during the rainy season. Also, the landscapes are green and exuberant.
HEALTH IN SENEGAL
29 – Vaccines
The yellow fever vaccine is mandatory for people traveling from affected countries. Although it's not mandatory for many nationalities, it's recommended that you get the yellow fever vaccine.
In addition, you may need other vaccines, such as tetanus, meningococcal, hepatitis or cholera. Visit the nearest International Health Center for more information.
Malaria is endemic in the region, so be careful. Use mosquito repellent, make sure you've set the mosquito net correctly before going to bed, and wear long sleeves after sunset. If you decide to take malaria prophylaxis, I recommend Malarone, which has fewer contraindications than Lariam.
30 – Health centers
Dakar has several hospitals that offer most types of medicines. However, medical facilities in the countryside are usually in bad condition.
When you travel in Africa, it's very important to get travel insurance that covers hospitalization expenses and emergency evacuation. I always recommend World Nomads.
31 – HITCHHIKING IN SENEGAL
I never tried hitchhiking during my time in Senegal, but other travelers told me that it works pretty well. It's easy to get a lift on the main roads.
Always use common sense and don't hitchhike around big cities, especially in Dakar.
32 – INTERNET IN SENEGAL
The telecommunications network has improved in recent years. However, Wi-Fi continues to be somewhat limited. Many hotels have Internet service, but most hostels don't. You'll find Internet cafes in most cities and towns. The Internet speed is usually okay, even for a video call.
If you don't want to rely on Wi-Fi, you can buy a SIM card and use it on your phone. The signal is quite good throughout the country, including rural areas.
33 – LANGUAGES IN SENEGAL
The official language of Senegal is French, which is widely spoken by a large portion of the population, either as a first or second language. The use of French is an inheritance from colonialism; French is considered the language of business, administration and the upper-middle class. However, the national language is Wolof, spoken by 80% of the population. Other commonly used languages ​​are Jola, Mandinka and Soninke.
Important: Most Senegalese people don't speak a word of English. French is the language of tourism in Senegal. If you don't speak any French, I recommend that you learn some basics because you'll need it. Seriously, English won't help you at all.
34 – CULTURE AND RELIGION
The Senegalese culture is a mix of African tradition, Islamic influence and French style. Ninety-four percent of the population is Muslim, which has a direct impact on their way of life and customs. At the same time, Muslim and Christian beliefs are mixed with animism.
Some local traditions include storytelling (performed by griots), Senegalese wrestling, mask dances and percussion. Senegal is widely known throughout Africa for the quality of its musicians and dancers.
35 – EXTRA TIPS FOR BACKPACKING SENEGAL
Photos
Ask for permission before you take a photo. You'll find lovely people all the time, but remember that you have to show them respect.
Alms
You won't find as many beggars as you will in India or other countries, but you'll see some street kids from time to time. These children, called talibés, are under the care of religious leaders who often treat them badly. It's recommended that you don't give them any money so as to end this practice.
It's also better to not give alms because you contribute to the culture of begging. In some rural areas, children have learned that they can get more money from tourists than they would if they went to school and worked. This situation has bad consequences for the kids and for the future of the country.
Gifts in NGOs
If you want to help, you can make a donation or bring school material to an NGO. Unfortunately, not all NGOs in Senegal are trustworthy. Some misuse the money and collected assets. Look for references and make sure your donation goes to a good organization.
I know Catalunya Casamance NGO, located in Kafountine. I've lived with them, I know the owner personally and I can assure you that they do an exceptional job.
Respect their culture
Senegal is a Muslim majority country. Respect their religion, remove your shoes before entering a mosque, greet people by saying "Salam Aleikum" and shake hands. Women's dress code is more casual than in other Muslim countries, but be discreet and try not to attract attention.
TRAVEL GEAR FOR VISITING SENEGAL
---
Did you like Travel Guide to Backpacking Senegal like a Pro? Leave a comment!
Disclosure: As an Amazon Associate I earn from qualifying purchases. If you click on the link and purchase the item, I will earn advertising fees. There are other affiliate links to other websites.
Hi, I'm Miguel; Adventure traveler, scuba diver and hiking lover. I have been traveling the world for the last 12 years and I hope my experiences, photos and hiking routes inspire you to travel the world too.