Do you have five days to visit Barcelona? Excellent news! Brimming with color, avant-garde architecture, and Mediterranean flair, Barcelona is one of the most popular cities in Europe and the world. The truth is that Barcelona is in vogue. How to put it? Everyone seems to fall in love with this city and recommends it to their acquaintances because tourism in the city keeps growing non-stop.
Today I bring you an article featuring the best things to see and do in Barcelona in 5 days. I will recommend iconic places you should not miss, restaurants with finger-licking delicious food, bars to go out for drinks, and some alternative plans and ideas for a weekend getaway. Of course, these are just ideas and recommendations. After reading it, put together a plan that is just the way you like. Shall we get started?
Make sure to check other interesting articles: Barcelona in Two Days; Barcelona in One Day; Madrid in four days; Madrid in three days; Madrid in one day.
THINGS TO SEE IN BARCELONA IN 5 DAYS
ITINERARY FOR DAY 1
Let's begin the itinerary for your first day in Barcelona. I'm going to recommend you some of the most iconic spots in the city. The places you should not miss, no matter what. If you think you do not have time to see everything, you can leave some of these stops for the following day.
1. Sagrada Familia
What better way to start the day than by visiting Sagrada Familia? The quintessential opus of world-renowned Catalan architect Antoni Gaudí, this unfinished basilica is the second most visited church in the world, after St. Peter's Basilica in Vatican City.
Still under construction, Sagrada Familia perfectly embodies Gaudi's modernist style. This masterpiece is built around two fundamental themes: Christian scenes and the representation of nature. Gaudí created a work graced with a perfect structural design that tells a story.
Although the completion date of this project had originally been set for 2026, now there is talk that it will be postponed to 2030. The truth is that the completion date has been postponed many times over the years, so we cannot know when we will see it finished. Regardless, finished or not, this is a must-see on your visit to Barcelona.
Admission to the interior of the temple is not free. I recommend you purchase your ticket in advance to avoid long queues at the entrance. You can get your ticket online at this link. If you prefer, you can take a guided tour to learn about the history of the place and avoid queues.
2. Park Güell
Continuing with Antoni Gaudi's works, we arrive at the beautiful, original, and utterly unique Park Güell. Filled with sculptures, fountains, and tiny houses that look like something out of a fairy tale, this park is one of the most visited locations in Barcelona.
Note that the park is not in the city center. However, it is very easy to get here, for example, by taking the metro line 3 (green line), which leaves you at Lesseps station. From there, it's about a 15-minute walk to the park. If you walk up Avinguda del Santuari de Sant Josep de Muntanya, you can take the escalators.
In the past, entrance to the park was completely free. Nowadays, not only is there an admission fee but also a maximum quota of 400 visitors per day. You can purchase your ticket at the park's official website here. If you prefer a guided visit, you can take a Free Tour, where you will learn many things about this place's history. If you plan to visit several tourist sites about Gaudí, you might want to take the Gaudí tour.
3. Casa Batlló and La Casa Milá
As we continue exploring the amazing body of work of Antoni Gaudí—don't worry; I promise we will do other things besides this celebrated architect's works. Located in the middle of Passeig de Gracia, Casa Batlló and Casa Milá (La Pedrera) are two fantastic visits for you to continue learning about Catalan modernism. These two houses are very close, so you can kill two birds with one stone.
Casa Batlló is an example of Gaudi's naturalistic style, meaning that he took inspiration from the organic forms of natural elements to execute his creations. The great creative freedom and the uber-original ornaments that decorate the façade speak for themselves. This is a veritable masterpiece. If you want to avoid the long access queues, you can book your access with direct admission without waiting in line.
Of a less colorful design, Casa Mila is another fantastic work of Gaudi's naturalistic style that you can visit in Barcelona. Although it is true that the facade of this building is not as striking as that of Casa Batlló, it is worth going inside and visiting the interior for its beautiful courtyard and terrace. Here you can also book your ticket without queueing at the entrance. You can also book a night visit that includes a terrace show.
I think both places are spectacular. However, if you don't have time to see both, I would recommend you choose Casa Batlló without a doubt.
4. Las Ramblas and Plaza Cataluña
La Rambla, also known as Las Ramblas, is an iconic, tree-lined pedestrian street in the heart of Barcelona. At 1.2 km long, La Rambla connects Plaza Cataluña with Plaza de Colón and divides the old city into two parts, leaving the historic neighborhoods of El Gótico and Born on one side and Raval on the other.
If this was a very pleasant place to stroll back in the old days, today, it leaves a somewhat bittersweet taste. On the one hand, La Rambla is very beautiful and features many buildings of interest, such as Teatro Liceo—the Liceo Theater, the Virreina Palace, and Mercat de la Boqueria. On the other hand, it is full of tourists, restaurants that grossly overcharge, and, after night falls, prostitutes, and thugs.
In any case, this is an interesting location, and I'm one hundred percent certain that you will pass by this place at some point. I recommend you visit Mercat de la Boqueria, where you will find top-quality fresh products, from fruits to meats, from chocolates to coffee shops. At the back of the market, there are some bars where they prepare delicious tapas. Here are two excellent recommendations: Bar Pinotxo and Bar Clemen's.
However, here's a tip: don't eat or drink anything on the terraces of the restaurants on the Ramblas. They will charge you two or three times more than anywhere else, and their quality is generally mediocre.
5. Barrio Gótico
For most tourists, this is the most beautiful neighborhood in Barcelona. Here you will find narrow streets, passages, secret squares, and ancient churches and palaces with a medieval air. Do not miss the following spots: the Roman Wall of Barcelona, Plaza del Rey, Plaza Sant Jaume, Plaza de Santa Maria del Pi, Plaza de San Felipe Neri, Plaza Real, Puerta del Angel, and the Episcopal Palace of Barcelona.
As you can see, there are many places to visit in Barrio Gótico. You will make the most of your visit if you mark the locations I recommended above in a mobile app on your cell phone and walk around at your own pace. I also recommend you visit "El Call" also known as the Barrio Judío, the Jewish quarter of Barcelona. In this guided tour, they take you to the Main Synagogue and explain the history of the Jews in medieval Spain.
6. The Barcelona Cathedral
Located in the heart of the Gothic Quarter, the Cathedral of Santa Cruz and Santa Eulalia of Barcelona, also known as the Cathedral of Barcelona, is a beautiful Gothic cathedral built between 1298 and 1420. However, the spectacular neo-Gothic facade is much more modern, from the 20th century.
You should also take a walk through the surrounding streets, which are gorgeous. The truth is that getting lost in the streets of this neighborhood is a treat for your senses.
ITINERARY FOR DAY 2
On your second day in Barcelona, you can see other must-see locations at a more relaxed pace. As you may already know, the key here is to walk, get lost in the streets, and enjoy yourself.
7. The Arc de Triomf
Located on Passeig de Lluis Companys, right next to the Born neighborhood, the Arc de Triomf—Triumphal Arch—was built as the main entrance to the 1888 Barcelona Universal Expo. However, unlike many "triumphal arches" in other cities, it was not erected to celebrate a military victory.
This beautiful arch has a neo-Mudejar-inspired exposed brick structure consisting of two massive pilasters joined by an arch and an attic. Usually, visitors cannot climb to the top of the arch. However, you can take a walk around its very enjoyable surroundings. In Paseo de Lluis Companys, it is very typical to find some art exhibits and musical shows.
8. La Ciutadella
The Citadel Park—Parc de la Ciutadella, in Catalan— is the perfect place to take a walk, enjoy a picnic, or read a book. By the way, it is located right next to the Arc de Triomf. If you need to breathe some fresh air, you can come and take a walk here.
Designed in the image of Paris' Jardin du Luxembourg, this is the second largest urban park in the city (after Montjuic) and features several beautiful spots to visit, such as the Monumental Waterfall, the Lago Artificial—artificial lake—where you can rent a boat, the Palace of the Parliament of Catalonia, and the Castrense Church.
9. El Born and the Picasso Museum
Quite possibly, El Gótico—the Gothic Quarter—is the most beautiful neighborhood of all Barcelona. However, I think the Born is not very far behind. This neighborhood has a more sophisticated, bohemian, and even hipster feel to it. Here, you will find various boutique stores, expensive restaurants, and fashionable cocktail bars.
Despite its humble beginnings, the Born has become the trendiest neighborhood in Barcelona, and this is reflected in the number of hipster hangouts everywhere. The best thing to do here is to simply stroll through the streets and squares of the neighborhood. Don't miss the following streets: Els Mirallers, Banys Vells, and Carders, which are quite beautiful.
By the way, there are two locations within Born that you absolutely should not miss during your Barcelona stay: The Picasso Museum and the Cathedral of Santa Maria del Mar.
Opening hours at the Picasso Museum: Monday, closed. Open from Tuesday to Sunday from 10 am to 7 pm. On December 24 and 31, the museum closes at 2 pm.
10. El Raval
El Raval is the most multicultural neighborhood in the city. Although it still suffers a bit from the stigma of being a marginal neighborhood, El Raval is undeniably, one of the trendiest neighborhoods in Barcelona.
The truth is that it still has some rough areas. However, it is generally a quiet place to go for a walk or have a few beers. Actually, it depends a lot on the area you visit, and some areas are very quiet and safe.
I recommend you visit the area near the MACBA, Joaquín Costa street, Mercat de Boquería—the Boquería Market—, the Güell Palace and, of course, La Rambla del Raval, which features the famous cat statue by Colombian artist Fernando Botero.
If you are a seasoned tourist, discovering a neighborhood as authentic and stimulating as El Raval will be a pleasure. However, if you don't feel comfortable walking through places that are loud and a bit chaotic, perhaps this might not be the best place for you.
11. Plaza España and Montjuic
Built during the 1929 International Expo, right at the foot of the Montjuic mountain, Plaza España is the perfect place to end the afternoon of your second day in Barcelona.
However, the square is not particularly impressive in itself. I recommend climbing the stairs and reaching the Art Museum of Catalonia to enjoy an incredible city view. Oh! Also, don't miss the multi-colored light show at Fuente Mágica—the Magic Fountain. The show runs from Thursdays to Saturdays from 9 pm to 10 pm.
12. Palau de la Música
You have already enjoyed a beautiful sunset at Montjuic, and now… Would you like to attend a classical music concert? The Palau de la Música—The Music Palace—features high-level performances.
In fact, the palace itself is quite the spectacle. Did you know its concert hall was declared a UNESCO World Heritage Site? If you have the time, make sure you attend one of its concerts. You can also book a guided tour during the day.
ITINERARY FOR DAY 3
To continue with your 5-day tour of Barcelona, we will combine the modern skyscrapers of Diagonal Mar with "traditional" neighborhoods such as La Barceloneta, Poblenou, and Gracia.
13. La Barceloneta
Linked to the development and growth of the port of Barcelona, La Barceloneta was originally a humble fishing neighborhood. Its unbeatable location, right in front of the sea and very close to tourist sites such as the Born and El Gótico, has made it a highly popular tourist neighborhood.
Inevitably, the area's tourist development has triggered some serious gentrification, leading to many locals having to leave their neighborhood. Even so, La Barceloneta still features a very local atmosphere, with plenty of traditional bars and a lively market.
14. Puerto Olímpico and Torres Mapfre
Puerto Olímpico—the Olympic Port—is another highly-touristic and lively area in Barcelona. This area is très chic, and here the typical beers are replaced by gin tonics and margaritas. This area is definitely more posh, cool, or however you want to call it.
Regardless, this place is really nice. Especially the whole promenade next to the famous Mapfre Towers. This is also a very popular place for jogging and sports. With the port on one side, the sea in the background, and the towers dominating the landscape, where could you find a better place to go jogging?
15. Poblenou and Diagonal Mar
I love Poblenou. Not just because I lived here for a few years. I just love the rhythm of this neighborhood. If you want to escape tourist areas, you must visit Poblenou. While it is true that the neighborhood has changed and continues to change as the years go by, it still keeps its atmosphere of an everyday neighborhood.
In Poblenou, everybody knows everybody else. The greengrocer greets you by name, and the fishmonger lady knows which fish you like the best. Finding a neighborhood like this in a metropolis like Barcelona is not easy.
The Rambla de Poblenou is one of the liveliest spots in the neighborhood. I also recommend you visit Plaza Prim, a beautiful square surrounded by white-painted houses. At this square, the restaurant Els Pescadors—The Fishermen—features truly spectacular dishes.
Further north, near Badalona, you will find the area of Diagonal Mar and Parque del Forum—Forum Park—known for its skyscrapers, 5-star hotels, shopping malls, and convention centers. If you like modern architecture, you should take a walk here.
16. Barrio de Gracia and Casa Vicens
Barrio de Gracia is another everyday neighborhood. In fact, the inhabitants of this neighborhood don't say they are from Barcelona; they say they are from Gracia. In fact, until the 19th century, Gracia was an independent city.
Brimming with personality and charm, this neighborhood still feels like a town where you can find anything: bars, restaurants, clubs, theaters, fashion stores, alternative cinemas, etc. This is truly a fantastic place to visit.
Its squares are bustling, and you can always find a terrace to enjoy a drink. You should not miss the Deliziosa ice cream parlor. Its owners are two Italian ladies who make insanely delicious ice cream. Their dark chocolate ice cream is to die for.
You should also not miss Casa Vicens, on Carolinas street. You can book a guided tour and learn the intricacies of Gaudi's first major project.
DAYS 4 AND 5 IN BARCELONA
If you have additional time, that's a great opportunity to visit the following tourist locations in Barcelona. Visitors also enjoy these a lot! You can seize this opportunity to visit them and even take a trip near the city to places like Montserrat or Sitges.
17. The Parc del Laberint d'Horta
The Park of the Labyrinth of Horta features the oldest preserved garden in Barcelona. This is a very pleasant area to walk around and relax. Undoubtedly, the most popular part of the park is the amusing labyrinth made of cut cypress trees.
18. Poble Espanyol
In all my years in Barcelona, I only visited the Poble Espanyol once, but I remember it was a very nice experience.
Poble Espanyol is an open-air architectural museum. In this space, you will find streets depicting the various architectural styles found in Spain. You can find an Andalusian-style neighborhood, a Galician-style building, a Castilian square, and a Catalan monastery. Are you up for it?
19. Fundació Joan Miró and MACBA
How about some art exhibitions to liven up your visit? Don't miss the Museum of Contemporary Art of Barcelona (MACBA). You can check the museum's agenda and current exhibits here. How about some art exhibitions to liven up your visit? Don't miss the Museum of Contemporary Art of Barcelona (MACBA). You can check the museum's agenda and current exhibitions here.
Fundació Joan Miró—The Joan Miró Foundation—is another recommended place for lovers of twentieth and twenty-first-century art. This museum houses some of the most famous works of this renowned Catalan painter and other contemporary artists.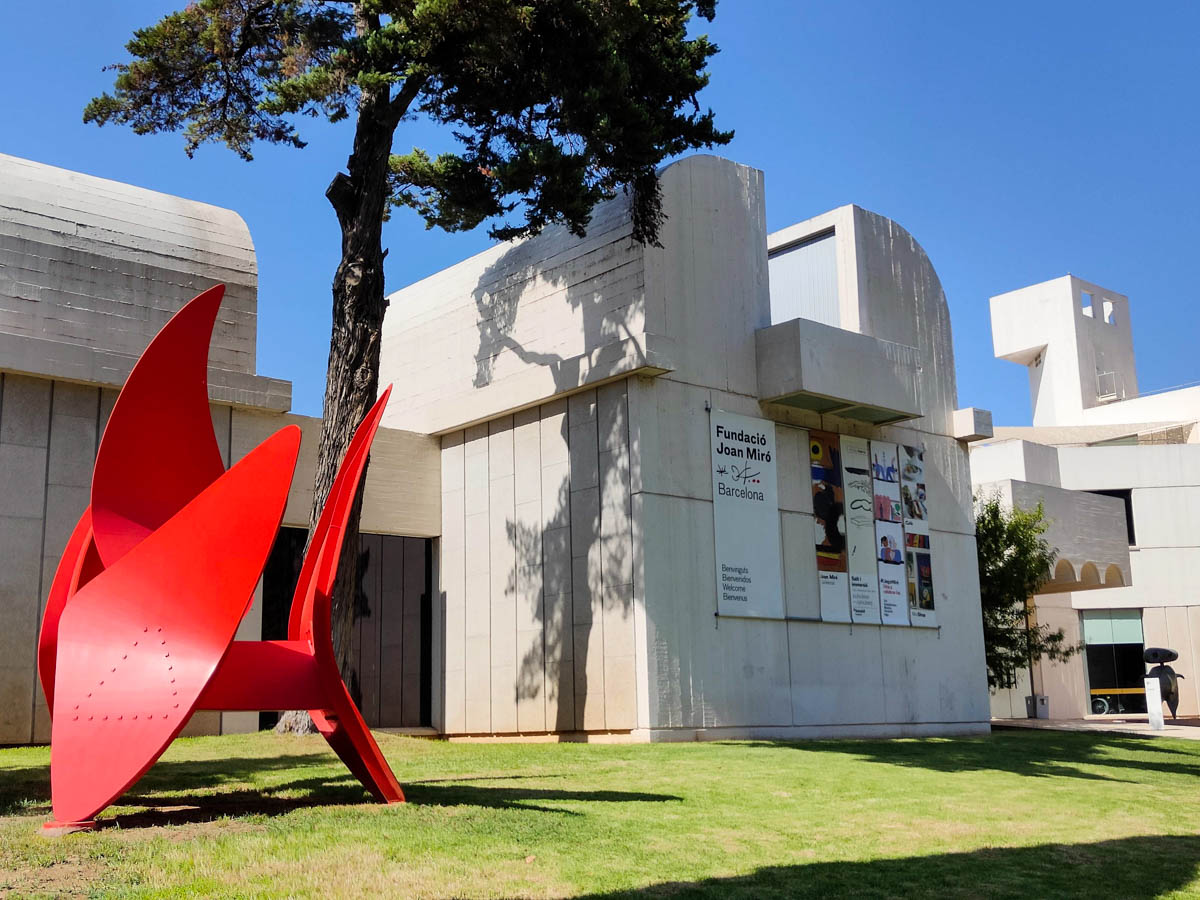 20. Torre Agbar
Torre Glòries, formerly known as Torre Agbar, has become one of the city's major icons. In fact, this city landmark is visible from many different points. You don't even need to go to the base of the building to enjoy its beauty! By the way, the tower is quite striking at night when it is illuminated. During the daytime, it is not much of a worthwhile visit.
21. Watching a game at Camp Nou
Are you a Barça fan? Then you will definitely want to include a visit to Camp Nou in your next trip to Barcelona. Undoubtedly, the best way to access the field is to watch a game. Even better if it's a Barça-Real Madrid or Barça-Valencia match.
If there are no exciting matches during your five days in Barcelona, you can book a guided tour to see the inside of the stadium without waiting in line.
22. Tibidabo
At 512 meters high, Tibidabo is the highest peak of Parque de Collserola—Collserola Park— and is the mountain right in front of Barcelona. At its peak, you will find several tourist spots, such as the Temple Expiatori del Sagrat Cor—the Expiatory Church of the Sacred Heart of Jesus—and the famous Collserola amusement park. While it may not be the best amusement park in the world, its views of the city are spectacular.
By the way, Collserola Park has plenty of trails for walking, jogging, dog walking, etc.
MAP OF TOURIST LOCATIONS TO VISIT IN BARCELONA IN 5 DAYS
WHAT FOOD SHOULD YOU TRY IN BARCELONA?
As you can imagine, Barcelona offers plenty of quality restaurants. Something you should definitely try is the calçots. This is a typical Catalan dish consisting of calçots (a kind of long spring onion) roasted on fire and spread with romesco sauce, made with tomatoes, red peppers, hazelnuts, and almonds.
What this local delicacy may lack in sophistication, it provides in flavor. Keep in mind that it is only eaten during the winter season. Restaurant Can Cortada prepares very good calçots. The restaurant is a farmhouse located on the outskirts of Barcelona.
In addition to calçots, you can try other typical Catalan dishes, such as Catalan artichokes, escalivada, butifarra with mongetes—beans—and torradas—toasted bread with sausage, cheese, or some other ingredient.
Here are some of the best restaurants serving Catalonian food in Barcelona: Ca L'Estevet, 7 Portes—they make a very good paella—Fonda Pepa, and Can Culleres.
WHERE TO GO OUT FOR A DRINK IN BARCELONA?
If you want to party, you are in the right place. In Barcelona, the party never stops day and night, Monday to Sunday. Every night, baby!
The priciest and most sophisticated clubs are in the Port Olimpic area. The trendiest and most underground atmosphere can be found in the Raval and some areas of the Born.
If you want to enjoy electronic music nights during the weekend, you must stop by the classic Sala Apolo on Avenida Paral-lel.
On Tuesdays, there are good parties at the Moog. The Jamboree is also very lively, especially on Wednesdays and weekends.
The Razzmatazz continues to be one of the most popular in Barcelona and is divided into five rooms with different music and environments … Techno, House, Indie, Rock… you name it.
Oh, and I forgot one of my favorite places for electronic dancing, open on Saturdays, Club Macarena. Did you want to party? Well, here's where the party is!
WHAT IS THE BEST SEASON TO VISIT BARCELONA?
Every time is always a good time to visit Barcelona. Just keep in mind that there are many tourists during the summer months, and accommodation prices increase considerably. Also, Barcelona's humid heat can be suffocating in July and August.
Despite being a city bathed by the Mediterranean Sea, winters in Barcelona can be cold, especially during January and February. However, it is not as cold as Madrid or other Spanish cities.
WHERE TO STAY IN BARCELONA?
If you want to stay in the liveliest part of the city, close to restaurants and bars, I recommend staying in the Gothic, Born, or even in Raval. I recommend the Kabul Party Hostel as a budget option, the Hesperia Gotic as an intermediate option and Barceló Raval as a premium option.
HOW TO TRAVEL FROM EL PRAT AIRPORT TO THE CENTER OF BARCELONA
There are three main ways to travel from El Prat Airport to downtown Barcelona:
By taxi: Quick and easy, the taxi takes about 25 minutes to get to the city center and has an average price of around 25 to 35 €, depending on where you are going. The minimum fare from the airport is 20 €, regardless of your destination.
By Aerobus: this is the best option to travel to and from the airport for any visitor who does not want any complications, as it is the easiest option. The Aerobus leaves every 5-10 minutes from both terminals, T1 and T2, and arrives downtown in about 30-40 minutes. You can check the price and timetables at this link.
By bus 46: this is the cheapest way to get to the city. The problem is that this bus makes more stops and does not reach as far as Plaza Cataluña. Actually, it goes all the way to Plaza España. If your hotel is around there, this could be a good option.
By train: an excellent option if you arrive at T2, as the Renfe Rodalies train connects Terminal 2 with the center of Barcelona. The train makes several stops, including Passeig de Gracia, the most central station. From there, you can take the metro to your hotel. It is a little cheaper than the Aerobus, and there is usually more room to sit comfortably. You can check the train schedules at this Renfe link.
By metro: L9 Sud connects terminals T1 and T2 with the city center. The metro has a special fare—more expensive—to and from the airport, and it takes about 30 minutes to reach Zona Universitaria station. You might be interested in this option if your hotel is around here. Otherwise, I think the train and Aerobus are better options.
These are the most popular options. By the way, if you need to go from T1 to T2 (or the other way around), remember that the two terminals are connected 24 hours a day through a shuttle bus service.
---
Did you enjoy "What to do in Barcelona in 5 days"? Leave a comment below!
Hi, I'm Miguel; Adventure traveler, scuba diver and hiking lover. I have been traveling the world for the last 12 years and I hope my experiences, photos and hiking routes inspire you to travel the world too.