Although formerly living in several forests around Southeast Asia, nowadays orangutans can only be found on the islands of Sumatra and Borneo, and sadly their existence continues under threat. These primates can live up to 35 years, measure 1.5 meters and weigh up to 90 kilos!
There are several rehabilitation centers, both in Sumatra and Borneo, which help the development of a healthy population of orangutans.
During my trip to Asia, I visited several centers and honestly, although the experience is always rewarding and the work they do is great, I felt a little disappointment as a spectator.
In Borneo, I visited the Sepilok rehabilitation center (in Sabah) and later the Semenggoh Rehabilitation Center (in Sarawak). In both, you can see the orangutans quite close and in quite large numbers. Sometimes they get very close, and can literally walk beside you. In my opinion, the only problem is that it gives the feeling of being in a zoo rather than in the wild. They are fed at certain times on a platform so all the tourists can take hundreds of photos.
I like people to come here since the money of the entrance helps the center, but if you really want to see orangutans in the wild, I recommend you to get to the village of Bukit Lawang for a unique experience. The best place to see orangutans!
The village is within the national park of Taman Gunung Leuser, northern Sumatra. It's a region of great beauty, full of mountains, rivers and volcanoes. In this park there is also a rehabilitation centre, where the orangutans are fed, but I decided to visit them in the jungle.
Almost all Bukit Lawang hostels or lodges have a guide service or can contact one. Obviously, the orangutans are not far from the area, so the guides know where to find them. But the experience of walking hours through the thick jungle, mud and humidity to find orangutans jumping from tree to tree, eating leaves on a branch or playing together is priceless.
Bukit Lawang: The best place to see Orangutans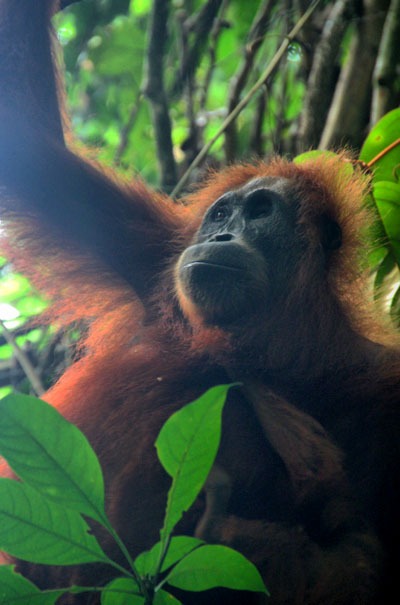 And it's not only orangutans that you will see! The flora and fauna here is plentiful and beautiful.

Personally, this experience is much more rewarding than watching them eating bananas on a wooden platform completely surrounded by tourists.
Another option is to visit the Kinabatangan River, in the region of Sabah in Borneo, but we were unlucky and did not find any orangutans. In any case, the banks of this river are full of many other species such as Probosquis monkeys, macaques, elephants, snakes, wild pigs, huge Hornbills and many others. It is 100% recommended.
If you want to know the orangutans, either in a rehabilitation center, in the jungle, in the Kinabatangan river, in Borneo or in Sumatra, I recommend you come to these beautiful islands and enjoy the experience.
---
Consider
Everyone likes to have nice pictures of the orangutans, but please respect their space, don't get too close, don't stress the animals and never feed them.
---
PLAN YOUR TRIP
ACCOMMODATION IN HOSTELS
I stayed in Bukit Lawang Indah. There are cheaper options, but I loved that place.
ACCOMMODATION IN AIRBNB
A good option for couples and groups, with rooms and apartments at great prices. If you sign up through my link, you will get $35 of Airbnb credit!
TRAVEL INSURANCE
I highly recommend that you get a good insurance policy before you visit the Sumatra. Trusted by thousand of adventurers, World Nomads is one of the best and more reliable options (without breaking your bank).
---
---
Did you like Bukit Lawang: the best place to see Orangutans in Sumatra? Leave a comment!
Some of the links in this post are affiliate links. This means that if you book or buy a service, I'll earn a small commission at no extra cost to you. I only link to stuff I love.
Hi, I'm Miguel; Adventure traveler, scuba diver and hiking lover. I have been traveling the world for the last 12 years and I hope my experiences, photos and hiking routes inspire you to travel the world too.