I have to admit that Kathmandu is one of the cities that surprised and delighted me like no other in all my travels. I arrived there after spending a few months in India, and I had seen a number of amazing things, but upon arriving in Kathmandu I fell in love with the city.
Here you will see how the Hindu essence mixes with Buddhism or other religions on every street. Temples, stupas, monuments, mosques and centuries-old cities create one of the most interesting cultural destinations in the world.
IMPORTANT NOTE:
This trip was made before the terrible
earthquake of 2015
that killed so many people. Many of these places were destroyed and some are still in reconstruction or are in ruins.
The best places to visit in Kathmandu
1. THAMEL NEIGHBORHOOD
The most popular district among backpackers and hikers is a lively place to meet people, buy maps and prepare your mountain route. Although strongly focused on tourism, the Thamel neighborhood retains a special charm amid the chaos of the city.
2. TEMPLE SETO MACHINDRANATH
This small temple of fine golden decoration attracts both Hindus and Buddhists for prayer. Located in the city center of Kathmandu, the temple of Seto Machindranath is surrounded by small stupas and statues, which create an area of great charm.
3. KATHMANDU DURBAN SQUARE
The most significant square in all Kathmandu is famous for its stunning Newari temples and palaces. Some of those buildings date from the 14th century and were originally built as part of a complex of royal ceremonies. Today the square is a lively spot where locals mix with curious tourists.
Although part of the square was destroyed during the earthquake some of these buildings are still in good condition. Entrance fee for tourists: 1000 Rupees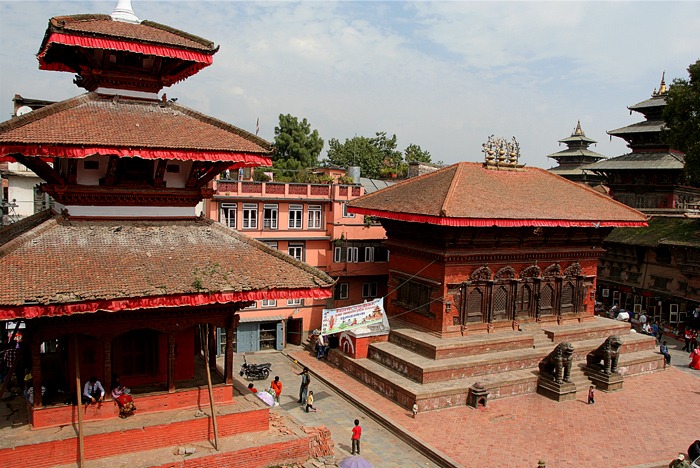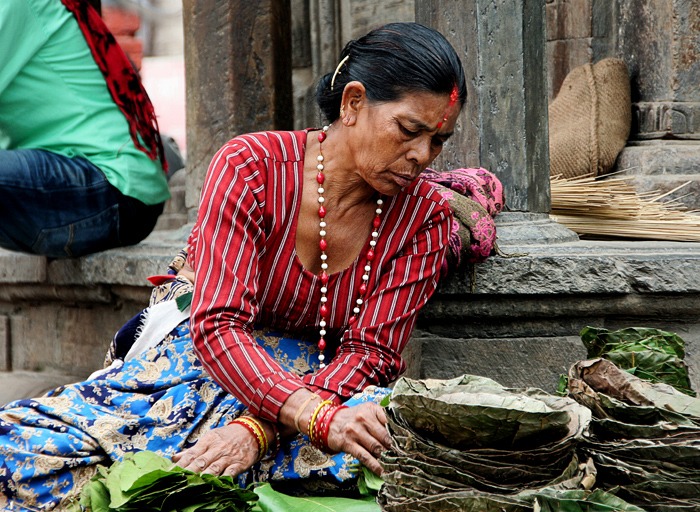 4. BHAKTAPUR
The old town of Bhaktapur, located just a few kilometers from Kathmandu, is famous for the variety and height of its impressive temples. The most famous is the five-story Nyatapola temple which reaches 30 meters high.
The temple, dedicated to Siddhi Lakshmi and built in 1702, remains one of the highest in the Kathmandu valley after surviving the earthquake of 2015. Very interesting city, one of the best places to visit in Kathmandu! Admission fee: 1,500 Rupees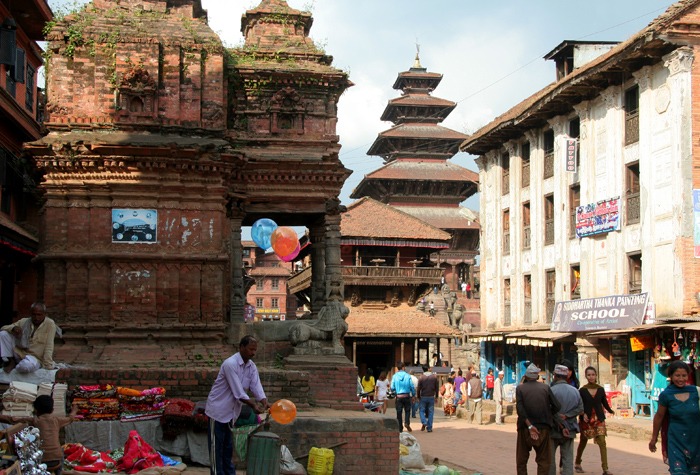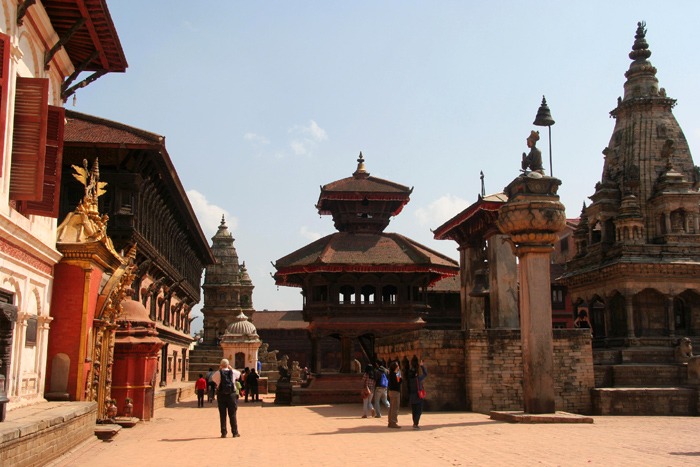 5. BOUDHANATH STUPA
With a diameter of 120 meters, Boudhanath Stupa is the largest temple in Nepal and a very important site of pilgrimage for hundreds of Buddhists. Located just 7 kilometers from Kathmandu, the stupa was assigned UNESCO World Heritage Site in 1979.
This place has a pure Himalayan culture with a strong presence of Tibetans, Sherpas and Buddhist monks and nuns. It is the most sacred place for Tibetans outside Tibet. The area is surrounded by other monasteries, shops and restaurants of Tibetan culture.
Although slightly damaged during the earthquake, it seems to have been rebuilt successfully. Admission fee: 1000 Rupees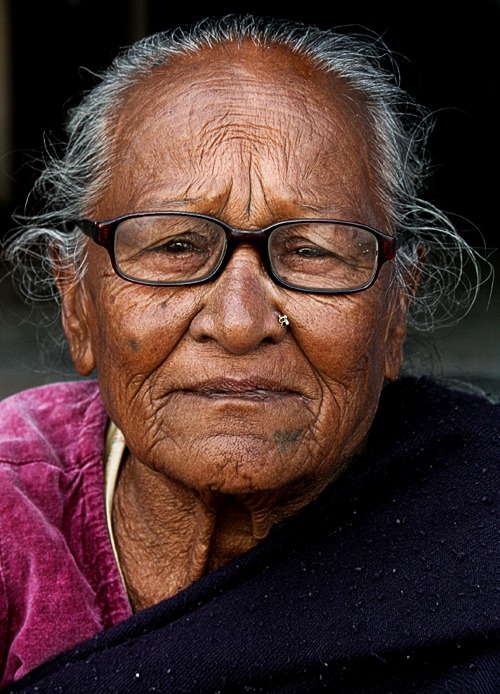 6. PATAN
Separated from Kathmandu by the Bagmati River, Patan is the second largest city in the valley. Patan Durbar Square is a spectacular place you cannot miss during your visit to Nepal. Even after the earthquake, the square boasts some of the finest palaces and temples around the country.
The most emblematic buildings are the Golden Temple (built around 1400), the octogonal Krishna temple (built in 1647) and the Shankar Narayan temple with two elephants at its entrance. One of the best places to visit in Kathmandu!
The famous Patan Museum exhibits bronze and copper statues of gods from both the Buddhist and Hindu traditions. Admission fee: 1000 Rupees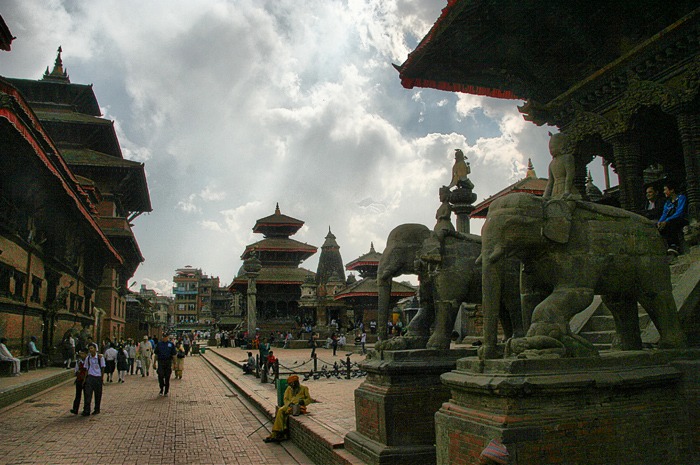 7. SWAYAMBHUNATH (Monkey Temple)
This complex originally consisted of a large stupa surrounded by several shrines and temples. Later, a Tibetan monastery, a museum and a library were added. Also a UNESCO World Heritage Site, Swayambhunath is the second-largest Stupa in Kathmandu after Boudhanath, as well as the perfect place to observe the amazing ceremonies and practices of the pilgrims.
The temple is built on the top of a hill and has a great view of Kathmandu. Beware of monkeys while climbing the access stairs because they can get really close if you are carrying food!
Although the complex was severely damaged during the earthquake of 2015, some of the buildings, including the main stupa, remain standing. I really liked this temple, definitely one of the best places to visit in Kathmandu! Admission fee: 1000 Rupees
8. BANDIPUR
If you are traveling to the city of Pokhara, why don't you stop halfway to explore the charming village of Bandipur? This small mountain village is a living museum of the Newari culture, with well-preserved streets and buildings.
The local people will greet you with a smile and make you feel welcome as you stroll through the nearby hills.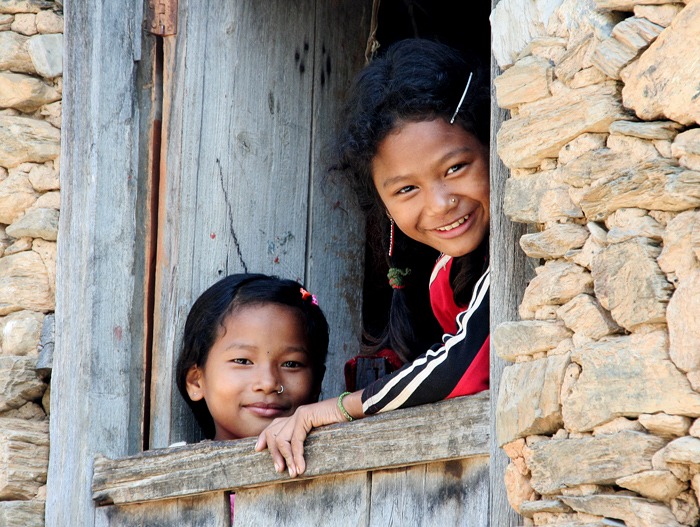 9. TREKKING IN THE EVEREST AND LANGTANG REGIONS
Mountaineering has always been – and will always be – one of the biggest tourist attractions in Nepal. If you like hiking, the options are limitless.
Kathmandu is the starting point for organizing expeditions to the Everest base camp or the Langtang region. Pokhara, however, is famous for its routes to the Annapurna Range.
10. TRY LOCAL FOOD
Nepalese food is delicious. Find a restaurant with local people and try some of the specialties, like "Chatamari;" a kind of rice pancake (like a roti) served with meat or vegetables, "Choyla;" buffalo meat served as a spicy barbecue or "Momos;" a dough filled with meat or vegetables and spices.
PLAN YOUR TRIP TO NEPAL
---
ACCOMMODATION
I loved this place in Kathmandu: Zen Bed and Breakfast.
TRAVEL INSURANCE
I highly recommend that you get a good insurance policy before you visit Nepal. Trusted by thousand of adventurers, World Nomads is one of the best and more reliable options (without breaking your bank).
Do you need a guidebook? Get the Lonely Planet Nepal (here on Amazon)
---
---
Do you have any question about Top 10 best places to visit in Kathmandu? Please, contact me!
Disclosure: As an Amazon Associate I earn from qualifying purchases. Some other links in this post are affiliate links too.
Hi, I'm Miguel; Adventure traveler, scuba diver and hiking lover. I have been traveling the world for the last 12 years and I hope my experiences, photos and hiking routes inspire you to travel the world too.