"I looked at the sky and saw the giants, I got to their bazaars and smelled the sweet aroma of spices, I walked through the streets and felt the sun on my shoulders. It was all skyscrapers and shops, cars and jewelry, gold and silver. And yes, I was backpacking in Dubai."
THE FUTURE IS NOW
Located on the southeast coast of the Persian Gulf, the city of Dubai has had one of the most rapid economic developments in the world. Its economy is not based on oil, as is commonly thought, but in tourism, Real Estate and finance. In any case, the current crisis has also left it seriously shaken.
Do you remember those futuristic movies where cars could fly and buildings had surreal shapes? Well, here they have come very close. It's the most modern city that I visited in my entire life (even more than Singapore). The subway is clean and fast, the skyscrapers are absolutely stunning and the shopping malls have all of the most expensive and prestigious brands so people can easily go bankrupt in a single visit.
EVOLUTION OF CULTURES
Tourism, foreign investment and the number of expats living in the city have contributed to the dramatically evolving society of this small emirate in recent years.
The culture is based on Islam, most of the women still use the burka and they are called to pray five times a day. However, being a cosmopolitan society, these practices are not followed by all of them and new ones have been introduced. Thus, it's very common to see a woman dressed in a burka alongside another dressed in a miniskirt and shorts. Alcohol is also legal and nightlife is animating. So, if you compare it with some of its neighbors, such as Saudi Arabia or Iran, it is a modern and liberal city.
XXI CENTURY SLAVERY
But who really built this city? Here comes the dark side of this accelerated economic growth. When walking down the street or taking the subway you'll notice that most of the people are not really Arabs; almost all are from India, Pakistan, Bangladesh, Indonesia and the Philippines. Cheap labor.
These workers make up 80% of the population, live in small apartments with dormitories for up to 10 beds and earning 250 dollars a month to build the hotels, drive the taxis and clean the streets. Almost the same system used by the Egyptians to build the pyramids, but in 2015.
Best things to do while Backpacking in Dubai
1. BURJ KHALIFA
828 meters high, is currently the highest building in the world. It is a must see with a lift that will have you believe you took a space rocket and some amazing views from the viewing platform. Here you can book your ticket to the Burj Khalifa observation deck.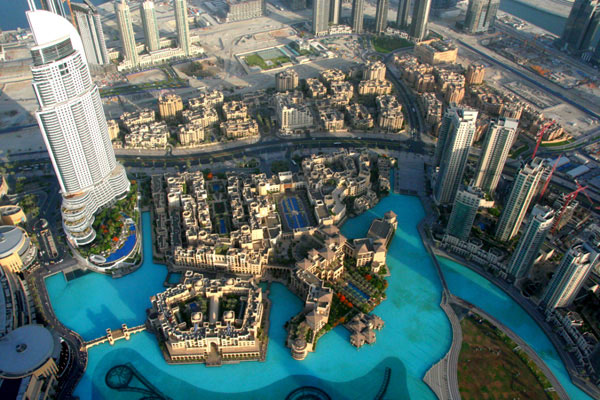 2. BURJ AL ARAB
The "7 stars "hotel is a claim for architecture lovers. With its sail-shaped design, the hotel rests on an artificial island and is still today one of the greatest icons of the city.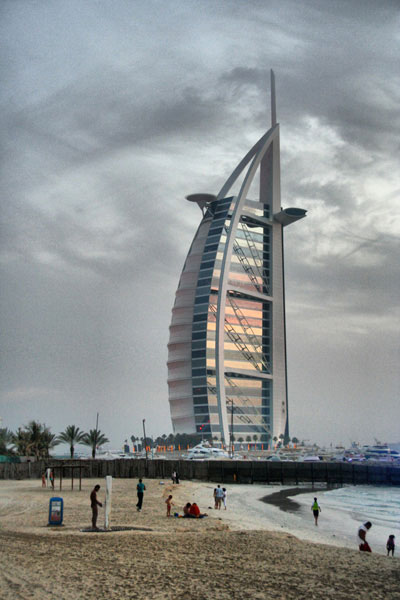 3. ATLANTIS, THE PALM HOTEL
Surely you've heard of the famous Palm Dubai. (Maybe, you've also heard that some parts are sinking 5mm per year). This Super luxury hotel is located at the end of the palm tree and is important to the understanding the madness and glitz of the city.
4. THE BAZAARS. MEENA BAZAAR AND GOLD SOUK
These are perfect to mingle and talk to the locals. You can find a variety of jewelry, gold, textiles and almost any article. Beware of "hustlers" trying to sell you watches and handbags because they are fake. There is a selection of Indian restaurants and other specialties at reasonable prices.
5. JUMEIRAH EMIRATES TOWERS
Another classic icon of the city. One of the towers is a famous luxury hotel and the other a business center. They are located on Sheikh Zayed Road next to other impressive skyscrapers.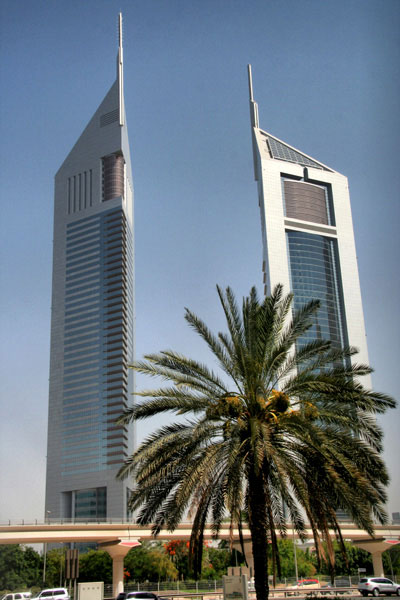 6. DUBAI MALL
Personally I hate malls, however, this one is worth a visit. If Palm Dubai is a good introduction to understand the madness of the city, the Dubai Mall confirms that there is no cure. You can imagine a ski slope in a city with an average temperature of 33 degrees? Indeed, "in the city where everything is possible" they have built one inside the Mall. Also, you can find Ferraris, Lamborghinis, etc. as "humble" everyday cars parked at the entrance, pure luxury and showing-off.
Tips for Backpacking in Dubai
I was traveling as a backpacker, and although it is not really a destination for backpackers, I will try to give some tips to make the visit as economical as possible.
---
HOSTELS
They are generally expensive. There are some reasonably priced hostels and even some good offers for a few hotels. I stayed in the Dubai Youth Hostel which costs between 20 and 30 dollars per night in a dormitory. If you are a Couchsurfing member, you'll notice there is a small active community, so it wouldn't be difficult to find a host for a few nights.
---
EAT AT LOCAL RESTAURANTS AND STREET STALLS
Near the bazaars there are many Indian restaurants where you can eat delicious dishes such as vegetable thali or shawarma lamb for just a few dollars.
---
USE PUBLIC TRANSPORT
Although taxis are cheap, costing about 5 dollars for short rides, using the subway will help you save some money. The price varies between 0.5 and 1.7 dollars depending on the area. The problem is that the lines are not very widespread in some parts, but you can always do a combination of metro + short journeys by taxi.
---
DON'T PARTY NOR DRINK ALCOHOL
It's pretty weird for a wine and gin and tonic lover like me to make this recommendation, but in Dubai, bars, restaurants and hotels need a special license to sell alcohol and this is always expensive. Best to drink water that helps with dehydration from the heat.
---
TRAVEL INSURANCE
I highly recommend that you get a good insurance policy before you visit the country. Trusted by thousand of adventurers, World Nomads is one of the best and more reliable options (without breaking your bank).
---
ITINERARIES
Do not miss the complete 5 days itinerary by While I'm Young and Skinny.
CONCLUSION
The city is worth a visit as it has unique architecture and unique urban planning. In addition, the airport has hundreds of connections between Africa, Asia and Europe, so it could be a cool stop on one of your trips. Two or three days is enough to see the most interesting that Dubai has to offer.
I hope you enjoy this crazy city!
---
---
Do you have any question about Best Things to Do while Backpacking Dubai on a Budget? Please, Contact me!
Some of the links in this post are affiliate links. This means that if you book or buy a service, I'll earn a small commission at no extra cost to you. I only link to stuff I love.
Hi, I'm Miguel; Adventure traveler, scuba diver and hiking lover. I have been traveling the world for the last 12 years and I hope my experiences, photos and hiking routes inspire you to travel the world too.