After traveling around some Caribbean islands such as Grenada, Saint Vincent and Dominica, getting to Martinique was a real godsend. It was like a small "break" amid all the adventures we had been having on the other islands. The lack of transport and the ridiculously high prices can make backpacking in the Caribbean pretty hard sometimes.
That's why we definitely took our visit to Sainte Anne beach as a holiday during our holidays. After our great experience living for more than a week on a pirate ship, we decided to step back onshore and camp for a while on Sainte Anne, in the southern part of the island.
The camping in Sainte Anne is very reasonable in terms of price and the nearby supermarkets are also quite affordable. The best of all was the high quality of the products, as most of them are imported from France. I could not believe that I was in a European supermarket after so many years. A piece of good Camembert cheese for 2 euros and a bottle of pretty decent red wine for 5 euros?
It was so good to be in the Caribbean with French flavor!!!
Sainte Anne Beach is a very popular holiday destination for both locals and French people who have decided to escape the cold European winter by visiting the Caribbean. There are dozens of restaurants and tourist bars along this beach, which boasts about being one of the most beautiful places on the island.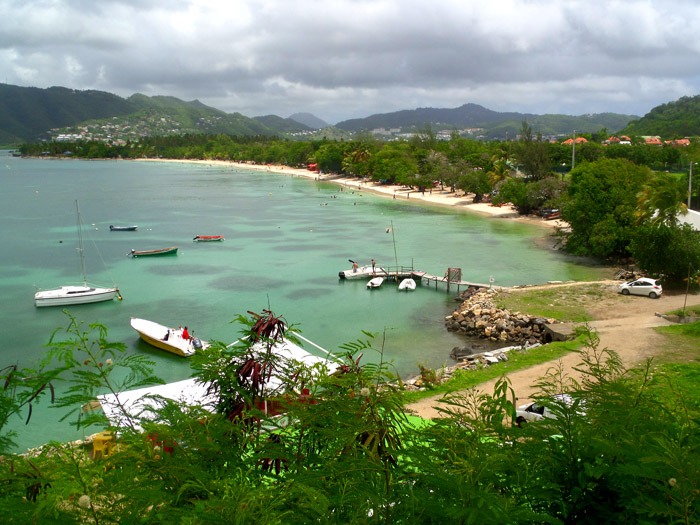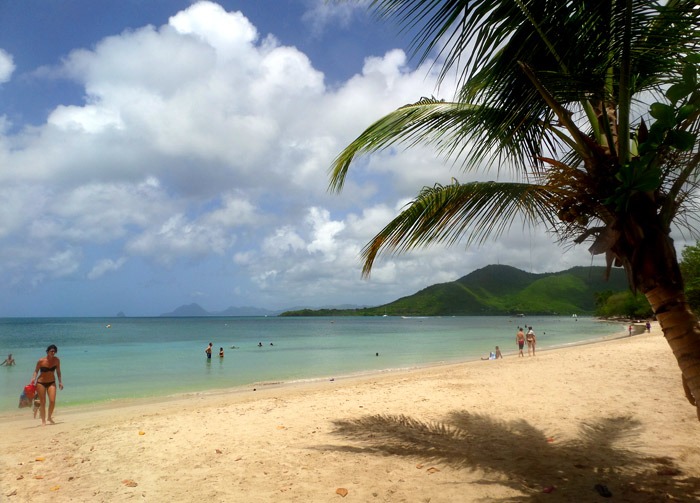 Just behind the beach is a huge camping site with different options: a campground where you can pitch your own tent, some permanent family-sized tents or even luxurious American-style caravans.
There are options for all budgets, so no more excuses for travelers who don't visit Martinique because they say it's an expensive island.
Where is the camping of Sainte Anne, Martinique?
Budget for camping in Martinique
ACCOMMODATION
If you have your own tent, the price is 12 euros (up to 3 people). We were two, so we spent only 6 euros each. It was a good price for staying in front of an idyllic Caribbean beach.
The family-sized tents (kitchen included) cost about 40-60 euros per day.
You can visit the Sainte Anne camping website here. There are also some phone numbers.
---
TRANSPORT
There are vans from Port de France to Sainte Anne for about 8 euros. You should take them in the morning because they don't leave as frequently after noon.
We always moved around the island by hitchhiking and it worked really well.
---
FOOD AND DRINK
In Le Marin (a 10-minute drive from Sainte Anne), there are several supermarkets, including Carrefour, where you can find almost everything at reasonable prices.
In Sainte Anne, there are a few minimarkets and a good bakery, although the prices are slightly higher.
---
TRAVEL INSURANCE
I highly recommend that you get a good insurance policy before you visit Martinique. Trusted by thousand of adventurers, World Nomads is one of the best and more reliable options (without breaking your bank).
---
---
Do you have any question about Camping in Martinique? Leave a comment!
Some of the links in this post are affiliate links. This means that if you book or buy a service, I'll earn a small commission at no extra cost to you. I only link to stuff I love.
Hi, I'm Miguel; Adventure traveler, scuba diver and hiking lover. I have been traveling the world for the last 12 years and I hope my experiences, photos and hiking routes inspire you to travel the world too.