Surely by now you've noticed my passion – an obsession with volcanoes. That uncontrollable attraction forces me to find them, climb their steep slopes and get down into their craters.
The little-visited country of Saint Vincent and the Grenadines, in the middle of the Caribbean islands, boasts one of those unforgettable volcanoes. La Soufrière is enormous, covered by a thick rainforest, and has an accessible crater which is still very active.
The walk starts in a very dense rainforest. The path is pretty easy to follow and even though it isn't steep, it can be a bit slippery in some places.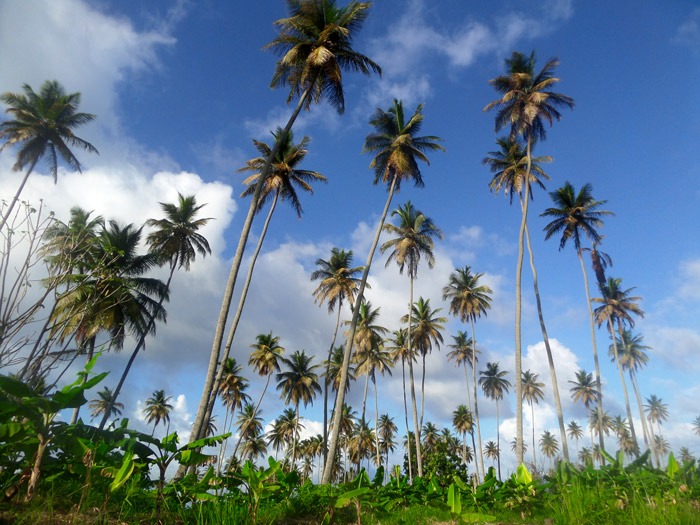 The trek to La Soufrière can be completed in about two and a half hours, from the starting point to the top of the volcano. After the first hour, you pass a small river in a rocky area and the landscape changes a lot. Trees become bushes and plants become grass. Here, you can tell you are getting higher. The wind is even much colder.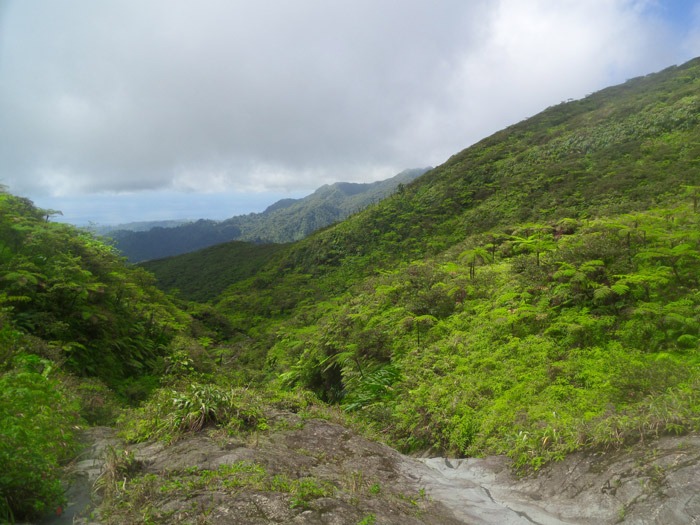 When you get to the top of La Soufrière, at 1,234 meters, the scenery is breathtaking. You cann't imagine the size of the crater. It's simply huge! Enormous cliffs painted in wild green rise from the sulfurous gate of hell.
The most adventurous can use a rope to access the crater. If you decide to do this, keep in mind two things: – 1) Getting down by rope, exploring the crater for a bit and then climbing back up can take about two hours. 2) The way down is…let's say safe, but very steep. There are a lot of loose stones and the ropes have been there since… who knows when.
Anyway, I recommend that you get down using the ropes, even though it's the kind of situation that would give your mother a heart attack if she were watching you clown around.
Just be careful and enjoy La Soufrière!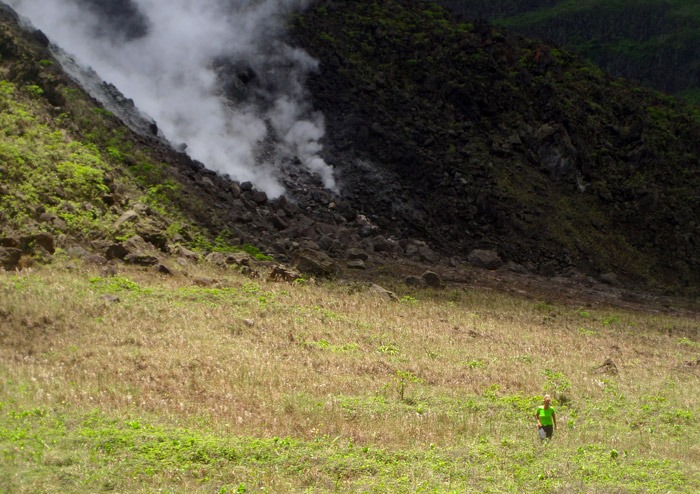 MAP
Budget for Hiking La Soufrière Volcano
ENTRANCE FEE
When I went there, the gatehouse was closed and empty. It seems that the park rangers don't work during the low season. In any event, I'm almost positive that you won't have to pay a fee.
---
ACCOMMODATION
The trek is completed in a few hours so it's not necessary to sleep there. However, it would be very interesting to spend a night in the crater, where you can camp.
---
TRANSPORT. HOW TO GET FROM KINGSTOWN TO LA SOUFRIÈRE
You can take a van from Kingstown to Georgetown for 5 EC. Then, when the driver stops in Georgetown, you can negotiate a ride to "Rabacca Dry River", which is the beginning of the trek. It's not far from Georgetown. We were three travelers and each paid 10 EC more, for the ride up to the entrance.
---
FOOD AND DRINK
Bring enough water because you will not find many places to fill your bottle during the hike.
WEATHER. WHEN TO GO
Theoretically, you should avoid the months from July to November since it's the rainy and hurricane season. However, we did it in exactly those months and it was all good.
Tips for Hiking La Soufrière Volcano
GOOD SHOES
There are some areas where the path has many loose stones and it can be easy to trip. Wear good trekking boots so you won't hurt your ankles.
---
ACCESS TO THE VOLCANO
There is another route to climb the volcano starting from the west coast of the island. A friend of mine who knows this path told me it's not recommended, since it's an area with a lot of marijuana plantations. I don't think the owners of the plantations would like to have some people wandering around, so you wouldn't want to get lost over there.
I only know the access starting from "Rabacca" so that's what I can recommend.
---
---
Do you have any questions about Hiking La Soufrière Volcano? Leave a comment!
Hi, I'm Miguel; Adventure traveler, scuba diver and hiking lover. I have been traveling the world for the last 12 years and I hope my experiences, photos and hiking routes inspire you to travel the world too.