Finally, the big day arrived and we were ready. My friend Jabi and I were about to face our biggest mountain challenge ever: climbing the Cotopaxi volcano, nearly 6,000 meters high.
After hiking Rucu Pichincha and North Iliniza as part of our acclimatization, we were full of energy and motivation. Actually, we had spent a few months between Colombia and Ecuador completing several hiking routes, so our bodies seemed ready.
Cotopaxi is an active stratovolcano with a perfect conical shape. It has become one of the biggest tourist attractions in the country. While most visitors don't climb beyond the shelter, a few venture into the frozen summit.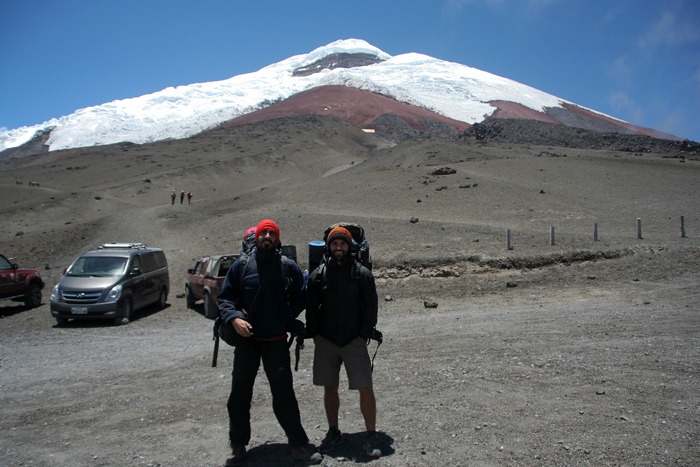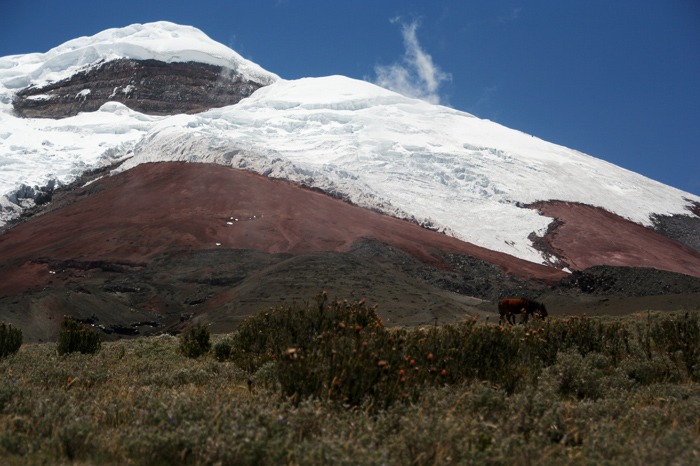 Trail details
Total distance: 3.8 km from the shelter to the top
Time: 2 days
Difficulty: Hard
Maximum Elevation: 5,897 meters
Map
Let's climb
Instead of booking this tour with an agency, we decided to go on our own. Obviously, we got a guide to come with us, we were a little stingy and didn't want to spend much money, but the two of us weren't crazy enough to do it alone, as though we were taking a walk in the park. The climb to the summit is a battle against the height, the darkness of the night and the freezing wind.
Despite what tourist agencies say in their eagerness to sell more tours to the mountain, the climb is not as easy as it sounds. I'm not saying it is technically difficult, but it's a six hour climb spent dodging cracks in the ice while the darkness of the night doesn't let you see the path ahead of you. You feel cold, fatigue and a lack of oxygen, and every step is harder than the previous one.
The first 3 hours of the climb were, let's say, easy. We still had lots of energy and motivation. From the fourth hour on, the freezing wind and lack of oxygen began to take their toll. Rest breaks lasted not minutes but seconds, but still helped us recover some energy. The final climb, the last hour, was pretty tough. The higher the sun rose, the more we felt the weight of the mountain on us. One step more, one step more, we're almost there!
Despite the exhaustion, we celebrated the conquest of the mountain with joy, excitement and stunning views. The few of us who managed to hit the summit (more than half of the people turned back due to fatigue or altitude sickness) congratulated each other with hugs, smiles and tears.
After a few photos on the top, Jabi and I (and our frosty mustaches) started the descent. We couldn't waste much time, as the morning sun had begun to open some cracks in the ice and it could be dangerous. The descent had to be quick.
Finally, we got back to the shelter, had a cup of tea and were ready to return to Quito. I have to admit that I had never been so tired in my life… but there we were, happy and proud!
Climbing Cotopaxi volcano program
This climb is done in two days. The first day you get up to the Jose Ribas shelter, located at 4,800 meters, and sleep there. Cars can drive only up to the Cotopaxi parking area; from there you walk one hour to the shelter.
You can have dinner at the shelter and sleep a few hours. You start climbing at 3:00 am, using your headlamps. The climb usually takes between 5 and 7 hours. In our case, it took us six hours to get to the top.
After hitting the summit, you take the same path down to the shelter; this lasts about 3 hours.
Budget for climbing Cotopaxi volcano in Ecuador. How much does it cost?
We managed to climb the volcano for $130 per person total. This included the guide ($65 per day divided between 2 people) + equipment rental ($30 for boots, crampons, an ice ax, and a helmet) + Jose Ribas shelter ($10 for camping) + transport (bus + $ 25 Jeep).
The agencies usually charge about $160 to $180 for this tour.
ACCOMMODATION
The Jose Ribas shelter offers the following options:
Overnight: $20 in a bunk bed
Dinner + overnight + breakfast: $30
Camping area: $10
Hostel in Quito: Discovery Quito. Nice, economic and well located.
TRANSPORT
Bus Quito – Cotopaxi Park: $1.50
From the park entrance you'll have to find a car to get you up to the parking area near the shelter. The price for this ride is around $10.
If you need to fly to Ecuador, check out Skyscanner to find the best flight deals.
FOOD
You better bring your own food from Quito. You can get meals, teas and snacks at the shelter but it is quite expensive.
INSURANCE
If you are traveling in Ecuador, even on a short trip, I highly recommend that you get a good travel insurance. Trusted by thousand of adventurers, World Nomads is one of the best and more reliable options.
WEATHER. WHEN TO CLIMB COTOPAXI
The best seasons for climbing the Cotopaxi volcano are from June to September and from November to February.
If you want to find the cheapest flights to Ecuador, I recommend that you download the free Skyscanner app. It shows a comparison calendar with the cheapest prices and airports in each month.
TIPS FOR HIKING THE COTOPAXI VOLCANO
PHYSICAL CONDITION
Although many agencies says it's a very easy climb that almost anyone can complete, this is not true. Half of the groups do not hit the summit. It is not technically difficult for someone with experience, but I don't think this is a tourist attraction. Think carefully about whether or not you are trained before attempting a climb like this.
If you think you are not ready to climb to the top, you can hire a day tour from Quito, and enjoy beautiful views from the shelter. I recommend the tour by Getyourguide, which has professional guides.
ACCLIMATIZATION
Prepare a good plan of acclimatization before climbing Cotopaxi. The most popular hikes you can start with are Rucu Pichincha, Quilotoa Lagoon, Pasochoa and Iliniza Norte. Some info about altitude sickness.
---
---
Do you have any question about Climbing Cotopaxi volcano, Trekking Ecuador? Please, contact me!
Some of the links in this post are affiliate links. This means that if you book or buy a service, I'll earn a small commission at no extra cost to you. I only link to stuff I love.
Hi, I'm Miguel; Adventure traveler, scuba diver and hiking lover. I have been traveling the world for the last 12 years and I hope my experiences, photos and hiking routes inspire you to travel the world too.