Climbing Iliniza Norte was a very important part of our acclimatization before our climb to the Cotopaxi volcano. The Iliniza Norte is one of the most popular treks in Ecuador since there is no glacier at the top and it can be completed without using ropes or technical gear.
The Ecological Reserve of the Ilinizas is located immediately in front of the Cotopaxi volcano, so there are exceptional views of the great colossus. It is a really beautiful place, particularly at dawn, when the sun rises and you begin to see all the volcanoes over the cloudy horizon.
Trail details
Total distance: 14 km
Time: 2 days
Difficulty: Moderate – Difficult
Maximum Elevation: 5,126 meters
Map
The Iliniza Norte is considered one of the best trekking routes in Ecuador!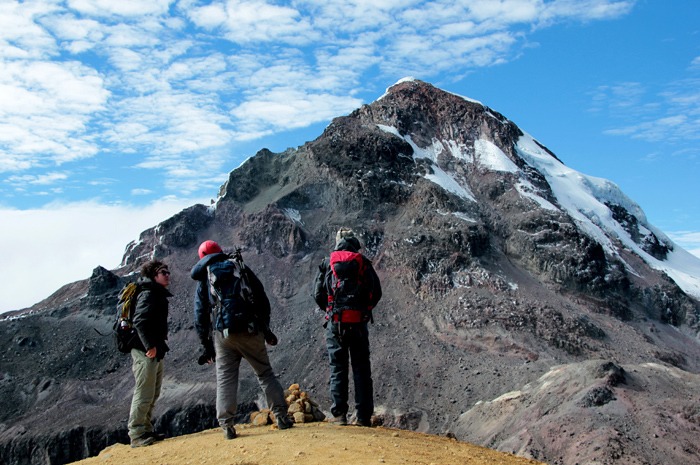 To access the Ecological Reserve of the Ilinizas, you must register at the office. Most of the tourists visiting the park are accompanied by a guide, although it's not mandatory to have one. The problem is that the rangers probably won't give you access if you are not bringing a guide because a few years ago there was a serious accident in which some people died. The rangers have become very strict since then.
I want to emphasize that this accident did not happen on the mountain we climbed, but in the Iliniza Sur, which is located in the same reserve but is much more technical.
There are two options for accessing the park without a guide:
The first one is to bring your mountain federation card, even if it's issued in your home country. In theory, this should be enough to prove that you are an experienced hiker. Unfortunately, I hadn't renewed my license in a long time.
The second option (the one we used, since we tend to be scoundrels), is telling the rangers that you just want to sleep in the shelter as part of your acclimatization for the Cotopaxi volcano and promising them that you won't climb. In our case, once at the shelter, of course we climbed to the summit. We felt that we had enough experience to do it this way, but I'm not encouraging inexperienced people to climb on their own, as a couple of climbing steps on this route can be dangerous.
From "Campo de la Virgen" – the beginning of the route – to the shelter, you'll walk about 3 hours along a dirt road (and, in our case, facing strong winds and thick fog).
Once at the shelter, we met a very nice Ecuadorian couple with whom we decided to climb the next day.
We woke up pretty early, about 5:00 am, and were ready for the climb. The weather was perfect; the sky was very clear above us, but a low mist was covering the mountainside, giving it a mysterious look.
The climb was very beautiful and exciting. First, you take a dirt path where the mountains seem to have different colors. Later you start climbing over the rocks, getting closer to the summit, all the time with stunning views of the Cotopaxi volcano and the Iliniza Sur. There was barely any snow on the summit, so we didn't have to use crampons or ice axes.
Once at the top, we felt great emotion and took a few minutes to relax and enjoy the beautiful views. We were ready for our next challenge: the climb to the great Cotopaxi, nearly 6,000 meters high.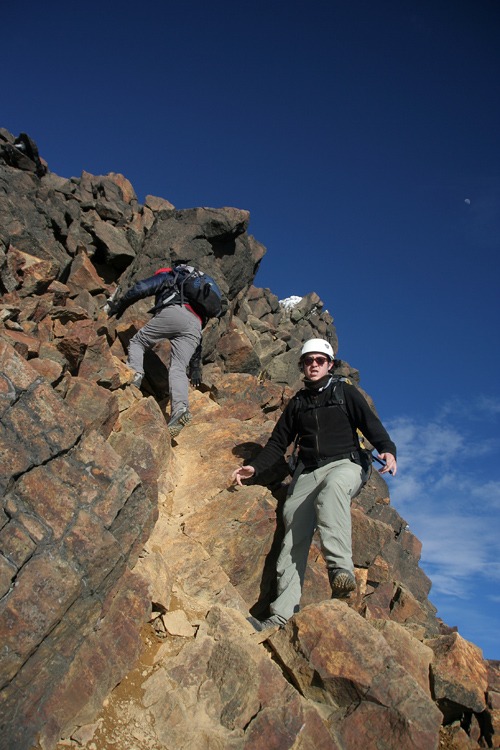 Budget for hiking Iliniza Norte
Including food, entrance fees and transportation we spent around $ 30 per person for the two days it took to complete the climb.
ACCOMMODATION
The "Nuevos Horizontes" shelter, at 4,700 meters, is where you'll spend the night before the climb. There you'll find a kitchen, running water and a bathroom.
The shelter has 25 beds, and is open year round. The price is $10 US per person. Don't forget to bring your own sleeping bag.
Hostel in Quito: Discovery Quito. Nice, economic and well located.
TRANSPORT. HOW TO GET TO THE ILINIZAS
To get to the Ilinizas by public transport:
First, take a bus from Quito to Machachi (1 hour). Then, in Machachi you will change busses and take the one going to El Chaupi (1 hour).
From El Chaupi you can take a Jeep to "Campo de la Virgen" where the trekking begins. The price is about $10 one way or $20 round trip. If you don't see any Jeeps, just ask anyone in town and they will get you something in a few minutes.
FOOD
I recommend that you buy all your food in Quito, where you'll find more options. There are a few stores in El Chaupi in case you need something.
WEATHER
The two best seasons for climbing Iliniza Norte are from June to September and from November to February.
TIPS FOR CLIMBING ILINIZA
GUIDES
If you don't have much experience on the mountain, I recommend that you hire a guide. Even though it's a simple climb, there are a few technical steps.
ACCLIMATIZATION
This is a considerably high trek. I recommend that you climb the Rucu Pichincha beforehand so that your body gradually acclimatizes. Some info about Altitude Sickness.
INSURANCE
If you are hiking in Ecuador, even on a short trip, I highly recommend that you get a good travel insurance. Trusted by thousand of adventurers, World Nomads is one of the best and more reliable options.
---
---
Did you like Hiking Iliniza Norte? Please, contact me!
Some of the links in this post are affiliate links. This means that if you book or buy a service, I'll earn a small commission at no extra cost to you. I only link to stuff I love.
Hi, I'm Miguel; Adventure traveler, scuba diver and hiking lover. I have been traveling the world for the last 12 years and I hope my experiences, photos and hiking routes inspire you to travel the world too.