Are you trying to get cheap flights for your next trip? If so, you are in the right place! Today, I'll explain how to find the best flight deals on Skyscanner: London, Dublin, Edinburgh, anywhere. This well-known search engine compares airfare deals from different websites, online travel agencies, and airlines, and it shows you the best prices on the market.
I always use it, and I've found real bargains! I once flew from London to Biarritz for one dollar, and many times I have bought tickets to several European cities or even to Morocco for less than 20 dollars.
After the pandemic, airline ticket prices have gone up quite a lot for certain routes, so you'd better use all the tricks you can. The first thing is to understand how a flight search engine works, check all available options, and make the most of these options to find the best flight deals.
As you can imagine, flexibility is the key to finding good offers. But you already knew that. Instead of writing a post just to tell you this, I'm going to give you some really useful tips (including a special trick that very few people know) that could help you save a lot of money. So, let's get to it. Pay attention and have a nice trip!
Take a look at other articles to find: the best hotel booking sites, great discounts on airbnb, and Revolut travel card: advantages and disadvantages.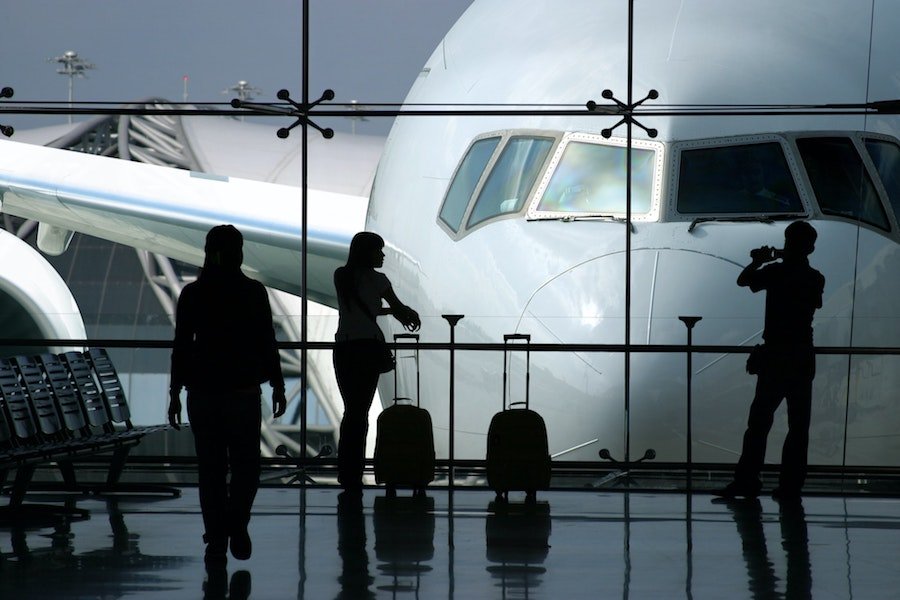 WHAT'S SKYSCANNER?
Skyscanner is a platform whose main function is to search for and compare flights. It's a search engine that shows you the best flight offers from other famous search engines, such as Travelgenio, eDreams, MyTrip, and Lastminute. This search engine has access to more than 1,000 airlines from all over the world, including low-cost airlines.
Skyscanner redirects to other search engines and airlines without an extra cost for you. You don't buy on Skyscanner, but on the website to which it redirects you.
In fact, buying on other websites through the Skyscanner link is often cheaper than accessing the airline directly. The airline pays Skyscanner a commission for bringing a customer to it, but that doesn't cost you any more money.
ADVANTAGES OF USING SKYSCANNER TO FIND CHEAP FLIGHTS
Skyscanner will show you ticket prices by day and by month. It shows comparisons with calendars and graphs, lets you search for non-stop flights, shows you the cheapest months of the year, allows you to create alerts, and offers other interesting options that you'll see in this article.
In addition, it's totally free and it works only with trustworthy websites (avoiding online scams). As you can see, it has a lot of advantages.
ALTERNATIVES TO SKYSCANNER
There are many alternatives to Skyscanner to find cheap flights. The most popular are Momondo, Google Flights, and Kayak, but there are others. In my experience, Skyscanner usually has the best flight offers. A few times I've found a better deal on Kayak or another search engine, but very rarely.
I usually use Skyscanner to find the flight that interests me the most; then I take a look at the search engines and at the airline website itself, so I can check if they have a better price for that specific flight. Like I say, in most cases, I can't find anything better.
THE SKYSCANNER APP
Skyscanner has its own app, so you can search for flights on your phone. It's nice to be able to use the platform while traveling, but personally, I don't really like the app settings.
The app allows you to search for cheap destinations, too. However, if you really want to find the best deals, the desktop version is easier to use. I don't know, maybe I'm just getting older, and that's why I like the traditional version better.
HOW THE SEARCH ENGINE WORKS
Well, enough with the introductions. Let's see what options the platform has and, most importantly, how to get the most out of all this.
If you already know how the platform works, you can skip this part and go straight to the tips section.
1. Search for flights with a specific date and destination
If you have a specific date and destination (and you don't have flexibility), then follow these steps:
Open the Skyscanner site and enter your departure and destination cities in the search boxes. Then choose the dates for your outbound and return flights. If you prefer, you can choose a one-way flight. You'll see a "Multi-City" box that you can check, too. This option is cool if you want to depart from one city and return from another. For example, you can fly New York – Madrid and return Paris – New York.
Once the necessary data has been entered, the platform will list the available options. On the right, you'll see a drop-down menu that lets you sort the results by price, flying time, and departure time. On the left is another menu that allows you to choose direct flights or those with stops, set departure time preferences, filter by airlines and airports, and do a few more things.
When you see an interesting flight, you can select it. The platform will take you to another window in which you can buy that flight from different online travel agencies (Lastminute, eDreams, Kiwi, etc.) or directly from the airline.
At that moment, you are leaving Skyscanner, and the purchase will be made on another platform. You must double-check that the price hasn't changed (which happens sometimes). If everything is ok, you can complete your purchase.
Unfortunately, this option doesn't let you save much money. If you have a bit of flexibility, though, you can do a lot of things to get the most out of this platform.
Important: As you'll see, booking a flight with a layover can sometimes be cheaper. If this is your case, make sure the connection is at the same airport. Layovers in which you have to change airports are really annoying; you'll have to take your checked backpack, change airports, and check in again, which can easily result in delays.
Also, make sure you don't need a visa for the country where you have the layover. For example, if you're not an American citizen, but your flight has a connection in the United States, you must have a U.S. visa. You won't even be leaving the airport, as it's just a connection, but they don't care. If you don't have a visa, you won't be allowed to take your flight.
2. Search for a specific destination but with flexible dates
If you already know where you want to travel, but this time you have more flexibility, I recommend that you go to the date search box and pick the "Whole month" option. You can choose any month of the year and compare flight prices throughout the month.
Price differences can be huge depending on the day of the week. If you don't care about dates, you can even select the "Cheapest month" option.
The calendar mode is really helpful for finding the cheapest days of the month. If you prefer, you can also switch to graphic mode. This is what the graph looks like:
3. Look for nearby airports
Most low-cost airlines fly to both primary and secondary airports. Smaller airports are often a bit farther from big cities, but they can be a great option. For example, Ryanair flies to Barcelona, ​​but it also flies to Girona and Reus, which are relatively close to Barcelona.
In fact, many people make the most out of their trips to Barcelona by also visiting Girona, Cap de Creus, and other beautiful destinations along the Costa Brava. In that case, flying to Girona instead of Barcelona wouldn't be a problem at all.
In addition, a bus service connects Barcelona with Girona airport, so that you can take this flight. This is just an example, but you'll find cheap flights to secondary airports all over Europe.
How to find these flights? Easy peasy. Just check the small box under "departure city" or "destination city," right where it says "add nearby airports."
4. Compare flights from/to different cities within the same country
Let's say you want to visit a country, but you don't care where you start. After all, you're just going to rent a car and drive around, or maybe you simply don't care which regions to visit. In that case, you'll love the option that lets you search for flights by country.
Just go to the search box and, instead of entering the name of a city, you'll enter the name of the country you want to visit.
For example, if you want to fly from London to Italy, the platform tells you that Milan is the cheapest destination, and you can fly for only 9 dollars. Then the prices go up depending on the city. The flight to Calabria would be the most expensive option, costing 103 dollars. Therefore, the difference is considerable.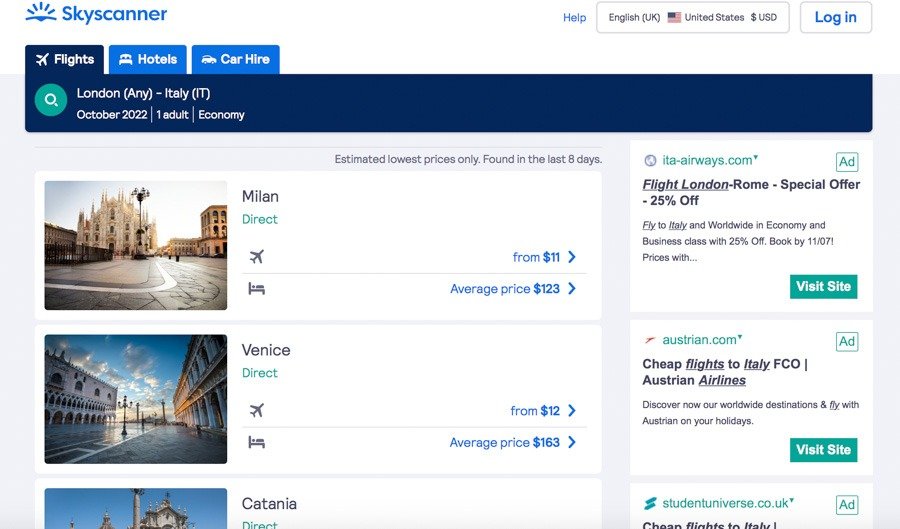 5. Find the cheapest destination!
If you have maximum flexibility, don't care where you travel, or just want to find a cheap flight ticket, Skyscanner has the perfect option for you.
Go to the search box and enter your city of preference. Then, go to the destination search box and enter "Everywhere." If you're flexible with flight dates, you can enter "Cheapest month" in the date search box, too. If you already have specific dates, then, of course, just enter those dates.
Skyscanner will show you a list of countries sorted from the cheapest to the most expensive. When you see an attractive destination, click on that country. The search engine will show you the cheapest cities you can fly to within that country.
If you click on those cities, you'll see a calendar with the cheapest dates. That's pretty cool, right? This option allows you to find the cheapest flights on the market.
These are the most important features you'll find on Skyscanner, but the post isn't over yet. Now that you're an expert on finding cheap flights with Skyscanner, take a look at the following "Pro Tips" to keep saving money.
12 TIPS FOR FINDING CHEAP FLIGHTS ON SKYSCANNER
1. Try different Skyscanner domains (Supertrick number 1)
Here comes a professional travel hack! This option is interesting if you don't know how, or don't want, to install a VPN, especially if you are in a foreign country. An example: Recently, I wanted to buy a flight, and at that time I was in Colombia.
When opening Skyscanner in my browser, I automatically went to Skyscanner.net. I did my research and looked at the prices. Then I went to Skyscanner.es and did the same search. The same flight was 60 euros cheaper. Then I tried Skyscanner.pt, and the same flight was 171 euros cheaper.
Depending on the country you are in, always verify the Skyscanner domain you are using. Price differences can reach 100 dollars each way. You can compare Skyscanner.com, Skyscanner.pt, Skyscanner.es, etc.; you'll see that most of the time, there are considerable price variations.
Take a look at the price difference between skyscanner.es and skyscanner.pt for exactly the same flight:
SKYSCANNER.ES
SKYSCANNER.PT
2. Open an incognito window
Have you ever looked at a flight over and over again when, suddenly, the price went up almost instantly? That's because the search engine knew that you really wanted that flight, and by the third or fourth time you looked at it, the price went up.
How did the search engine know that you were so interested in that ticket? Because it recognized the "cookies" from your previous visits.
Even if you have installed a VPN and tried different domains, the best way to avoid those price increases is to open your browser (Chrome, Safari, Firefox, etc.) in incognito mode. This way, you won't leave a trace on the internet.
3. Find the best days of the week to book your flight (and avoid the worst)
Several studies say that prices can vary depending on the day of the week. The time of day also affects the price. For example, if you book at lunchtime, you'll find lower prices than you would after dinner, when demand is higher. Studies say that 14:00 or 15:00 is a good time to book a flight.
As for the day of the week, the worst time to book a flight is during the weekend, when everyone has free time to go online, and demand rises. On the other hand, the best days to book cheap flights are usually Mondays and Tuesdays.
This information is based on a study, but it depends on many factors such as destination, flying dates, location, etc. Based on experience, I'm not 100% sure that Tuesday is the best day to book your flight.
However, you should definitely avoid booking flights during the weekend (especially on Saturday night) because, in this case, it's true that the platform usually raises prices then.
4. Book your plane tickets beforehand, but not too far in advance!
How many times have you heard that you should book your tickets well in advance? Generally, the best prices for short-haul flights pop up about eight weeks before the departure date. Afterward, they usually get more expensive, especially during the last six weeks or so.
Several studies say that, for long-haul flights, you should book six months in advance or longer, but in my experience, this is not always true. I've searched for flights eight months in advance dozens of times, and the prices were sky-high.
I usually book my long-haul flights three or four months in advance. I have discussed this with other travelers and we agree that we have found great prices most of the time.
5. Avoid traveling during the high season
This tip is so obvious that I didn't know whether or not to put it on the list. Unfortunately, most people can travel only during the summer, so there's not much they can do about it. If you have some flexibility, you should definitely avoid traveling during Thanksgiving, Christmas, and the summer, as prices are much higher.
By the way, February is a great month to find good deals on intercontinental flights. Sometimes, October and November are good, too. These deals can change depending on the destination, but it's worth taking a look at those months.
6. Travel during the week (and sometimes on Saturdays)
Just as traveling during the high season is more expensive, so is traveling on weekends. Let's say you're planning to spend a weekend in Miami. You'll probably want to leave on Friday and return on Sunday, but so does everybody else. Unfortunately, this demand drives up prices.
On the other hand, if you leave on a Monday and return on a Thursday, you'll notice that ticket prices change drastically. Sometimes, you can find good deals on Saturdays, too. Few people want to leave on a Friday and return on a Saturday, or leave on a Saturday and return on a Sunday. That's why demand tends to drop on Saturdays. However, this is not always true, so you'll need to check and compare.
7. Choose cheap destinations
Do you remember that Skyscanner option that lets you enter "Everywhere" in the search box? Well, that list of countries sorted by price is a perfect start for planning your next destination.
Generally, if you are traveling through Europe, you'll be able to find good deals to most European capitals. Cities like Barcelona, ​​Malaga, Perugia, Milan, Rome, Paris, Krakow, London, and Brussels often have offers. The key is to use low-cost airlines like Ryanair, EasyJet, Vueling, etc. Keep in mind that these cities can also be the most expensive in the high season.
If you are in Europe and want to travel a little farther, say, to the Middle East, you'll find good prices to Istanbul, Amman, and Cairo. In Asia, the cheapest destinations are usually Iran, India, and Thailand, and sometimes Vietnam, Malaysia, and Indonesia.
If you want to visit the U.S.A, New York is typically the cheapest destination. In the Caribbean, the best deals are usually to Cancun, Punta Cana, Havana, and Varadero, and sometimes Costa Rica.
Today, several low-cost companies travel to the American continent from Madrid and have lowered flight prices to some tourist destinations. Guatemala, Honduras, and Nicaragua are usually much more expensive.
In South America, finding good offers gets more complicated. Colombia, Argentina, Peru, and Brazil sometimes have good prices. However, flying to these countries from is usually more expensive than flying to other Latin American destinations such as Mexico or Cuba.
These are the cheapest destinations that I've found (departing from Madrid) after many years of travel, but obviously, they're not the only ones. Plus, deals change all the time. I recommend that you search for yourself and compare several destinations.
8. Check out two one-way tickets instead of a round ticket
Is buying a round-trip ticket always cheaper? The answer is no. This is one of the biggest myths about finding cheap flights.
Search engines tend to search for round-trip flights using the same airline for both trips, and this is not always the cheapest option. You can try searching for the two flights separately and see what works best for you. In the end, it doesn't really matter if you have to use a different airline each way.
9. Make sure your luggage is included
Will you need to check in some luggage? If so, be careful! As I mentioned at the beginning of the article, Skyscanner redirects you to other websites and airlines where you complete your booking.
If you go to the website of an airline, you'll be able to see what luggage is included, add extra luggage, select seats, etc. Everything goes smoothly.
However, if you are redirected to the website of a travel agency (eDreams, Kiwi, etc.), your luggage might not be included. Therefore, you should always confirm this information. For example, you could find a flight for 350 dollars on eDreams that does include luggage, while the same flight on Kiwi costs 340 dollars but does not include luggage.
You would think that Kiwi is a better option because it's 10 dollars cheaper. However, once you add luggage at the end of the purchase, it will be more expensive.
10. Create an alert
Ticket prices change all the time, but don't worry; Skyscanner will inform you of any change. You can create an alert that sends you a notification every time the price of the ticket you are interested in goes up or down. This way, you won't need to check the platform all the time.
Just click on the left button, where it says "Get Price Alerts." A window will open, so you can register through your Google, Facebook, or Apple account, and that's it. Of course, if you don't want to receive any more alerts, you can cancel the service at anytime.
11. Subscribe to the newsletter
Like virtually all flight search websites, Skyscanner allows you to subscribe to its newsletter. I'm not a big fan of constant advertising emails, so I understand people who don't want to do this. However, if you decide to subscribe, you will get lots of last-minute offers, and some are real bargains!
12. Think about your trip as a whole
As a final piece of advice, keep in mind that the cost of a trip is not just a flight ticket. It's great to save money on flights, but sometimes cheap comes out expensive.
Let's say you've found a cheap flight on Skyscanner, but you arrive at your destination at 02:00 a.m., so you have to take a taxi that will cost you more than the price of the ticket itself.
Perhaps it would be better to pay 10 dollars more and take the next flight, which arrives at 08:00 a.m. Then, you can take a local bus to your hotel. It's just an example, but these things happen all the time.
DON'T FORGET TO GET TRAVEL INSURANCE
If you are traveling abroad, I recommend that you get good travel insurance. You never know what could happen. I always recommend World Nomads, which has great coverage and excellent customer service.
---
Now you're ready to travel. Enjoy your holidays to the fullest!
Hi, I'm Miguel; Adventure traveler, scuba diver and hiking lover. I have been traveling the world for the last 12 years and I hope my experiences, photos and hiking routes inspire you to travel the world too.