Considered one of the 10 best hiking circuits in the world, the Walker's Haute Route trail is on the bucket list of every mountain lover. This beautiful route will take you into the heart of the wildest part of Switzerland. On the one hand, you'll enjoy hundreds of unforgettable landscapes: deep valleys, rocky peaks, infinite glaciers and lagoons of surreal colors. On the other hand, you will savour the Swiss hospitality, the friendly atmosphere of the hut and the pure mountain air.
For many, this is the most scenic route in the Alps, and I understand why they say that. The classic route starts in Chamonix, just in front of the famous Mont Blanc, which is the highest mountain in Europe. After two weeks, and upon crossing passes nearly 3,000 meters high, a traveler ends the circuit in the village of Zermatt, located at the foot of the iconic Matterhorn.
There are several ways to complete the Haute Route Circuit: hiking, cycling, walking over the glaciers, skiing or climbing over the peaks. Some people do it on their own, some hire the services of a guide and others hire an agency that organizes transport, accommodation, etc.
In this article, I'll explain how to complete the classic Walker's Haute Route on your own, without agencies, camping or staying in huts, and while on a budget. The classic circuit is completed in spring-summer by hiking along marked paths and without having to walk over glaciers. Therefore, you won't need crampons or mountaineering equipment.
Walker's Haute Route Trek – Details:
Difficulty: Medium-high
Distance: 180-200 km
Duration: 10-15 days
Highest point: 2,964 meters – 9,724 feet
Total elevation gain: 15,200 meters – 49,868 feet
Average day: 10-15 km over 6-8 hours with an elevation gain of 1,400 meters
Budget: 30 francs / day, camping and cooking your own food. 120 francs / day, sleeping and eating in huts.
Our Haute Route Hike itinerary from Chamonix to Zermatt:
Day 1: Chamonix – Argentière
Day 2: Argentière – La Forclaz (or Trient)
Day 3: La Forclaz – Champex
Day 4: Champex – Le Châble
Day 5: Le Châble – Cabane du Mont Fort
Day 6: Cabane du Mont Fort – Cabane Prafleuri
Day 7: Cabane Prafleuri – Arolla
Day 8: Arolla – Molignon
Day 9: Molignon – Cabane de Moiry
Day 10: Cabane de Moiry – Zinal
Day 11: Zinal – Gruben
Day 12: Gruben – Europahutte (we had to shorten our route due to a storm)
Day 13: Europahutte – Zermatt
How many days does it take to complete the route?
The classic itinerary can be completed in 14 days. However, it can take more or fewer days depending on your pace. If you are fast and skip some sections by taking the cable car or the train, you'll be able to complete it in less than 10 days.
We completed the route in 13 days. Our plan was to follow the classic 14-day itinerary. However, we wanted to avoid a storm that was approaching Zermatt, so we shortened our trip one day by taking the train. Yes, I know that's cheating. Please don't remind me because it makes me feel bad.
Is it safe to hike independently, without guides or agencies?
In general, it's safe. The paths are well marked, well cared for and delimited. Most of the circuit is marked with white and red bars, and sometimes with white and blue bars (which indicates an alpine trail of greater difficulty). Nevertheless, you must pay attention so that you don't take the wrong path. If you accidentally get off the route at some point, you'll quickly notice it.
This route is very popular among independent hikers. In the summer, you'll find other hikers who can help you in case of an accident.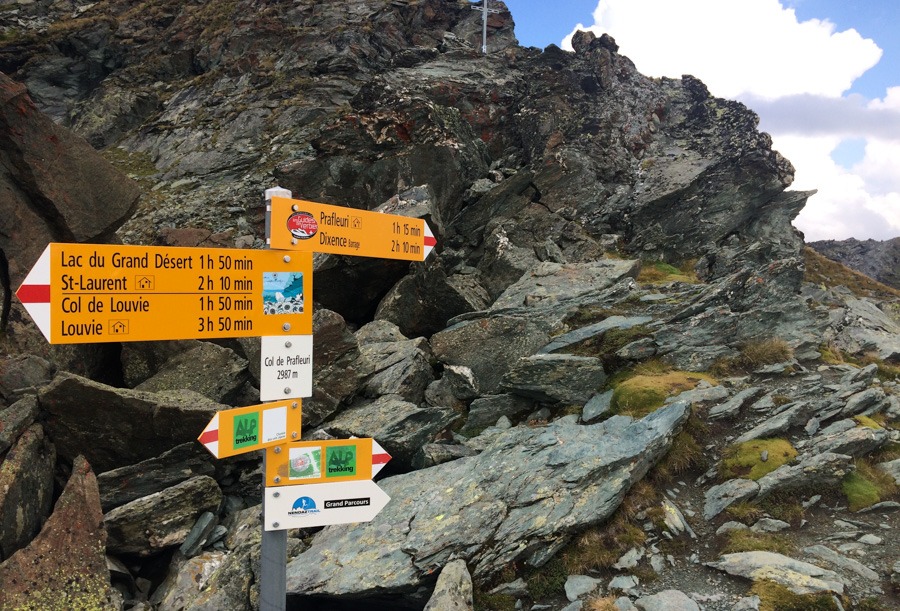 Maps, guidebooks
First, you should have some hiking experience to attempt this trail. Also, it's important that you have a map. The physical Swiss maps are quite expensive, so many people download digital maps. You can use an app like Wikiloc, a map for the phone, etc.
Either way, I highly recommend that you get Cicerone's guidebook, Trekking Chamonix to Zermatt (here on Amazon). It's like the bible of this circuit, and you'll notice that almost all independent hikers carry a copy.
Another good idea is to bring a GPS device. I used my GPS watch, which was very helpful though not really necessary.
Difficulty and danger: Who is a good candidate for this trek?
I have evaluated the circuit's difficulty as medium-high, although this is quite subjective. You'll be hiking 6-8 hours a day for two weeks, overcoming 1,500-meter-high passes, potentially walking on slippery areas or near ravines, etc. Therefore, I think this route is best suited for hikers with mountain experience.
However, you don't need to be a professional mountaineer. If you have some hiking experience and are relatively fit, you should be fine.
As for danger, there are some potentially hazardous parts. Some areas have warnings about possible rock falls or narrow paths next to high cliffs. There is also a pass (pas de chevre) which, although easy to complete, can potentially be lethal.
However, you don't have to be afraid. By taking basic precautions and using common sense, you shouldn't have any problems. Just keep this in mind.
Remember that up in the mountains, you are responsible for your own safety. These recommendations are based on my own experience. Travelsauro is not responsible for your safety.
Can you camp during the circuit?
Yes, you can. It's the cheapest way to complete the route, although it means that you have to carry a tent, a sleeping bag, a sleeping pad, etc.
There are well-equipped official campsites in Chamonix, Argentière, Le Peuty, Col de Forclaz, Champex Lac, Arolla, Zinal, Randa and Zermatt. Keep in mind that certain places do not have campgrounds. On those days, you can stay in the huts (which are not cheap) or wild camp in the forest.
Note: In France, wild camping is forbidden, but in Switzerland it's allowed so long as you camp away from populated areas. If you are going to wild camp, it's important that you be discreet. Do it in places where nobody will see you. Camp at nightfall, pick up your tent at dawn and, of course, don't leave behind any garbage.
I recommend that you use the official campsites because they are affordable (about 10 or 15 francs per person / night) and offer great services: hot-water showers, clean bathrooms, a kitchen, a living room, power to recharge your phone or GPS device, the Internet and sometimes even a pool!
Why are there so many people in some stages?
The first three stages of the Haute Route use the same trail as the famous Mont Blanc Tour, which is one of the most popular circuits in the world. Therefore, you'll find many hikers on the first stages and just a few beyond Champex.
On the last day, the Haute Route uses the same trail as the circuit of the Cervino, which is another super popular route in the Alps. Again, you'll find quite a lot of people in the final stage leading to Zermatt.
Budget for hiking the Walker's Haute Route
Your budget will depend on the type of accommodation you choose. If you decide to stay in hotels and huts for the entire hike, calculate about 100-150 francs a day for accommodation, food, beer, snacks, etc. That's about 1,200-1,800 euros for 13 or 14 days, not including transportation.
If you do what we did, combining camping and huts, think about 700-800 euros for 13 days, without transport. In the huts, we had dinner and breakfast. The other days, we cooked our own meals.
If you camp in the wild every night and always cook your own meals, you'll spend very little.
Accommodation and facilities during the hike
In certain stages of the trail, you'll have to sleep in huts (or either camp in the wild). Most of the time, when the stage ends in a village, you'll have different options such as hotels, B&Bs or campsites. Most villages have restaurants and a little grocery store or mini-market. Almost all campsites sell some food and drinks.
If you will be completing this route in the summer (July-August), I highly recommend that you book the huts in advance. Some towns have ATMs, but most don't. I also recommend that you bring all your money from Chamonix.
At the end of the article, you will find a detailed list of accommodations (with contacts, websites and phone numbers) to plan your route, stage by stage.
Food and drink
You'll have plenty of options for food along the circuit. In almost every town you'll find a grocery where you can buy bread, cheese, pasta, fruit, snacks, etc. You'll also find restaurants. The only town with no stores selling food is Gruben.
For dinner, you can cook your own food or eat in the hotel or hut. The huts offer dinner and breakfast, but this is optional.
As for water, you'll find dozens of streams in all the stages. However, keep in mind that higher areas have fewer water sources. Always fill your bottle before heading to high passes.
Sometimes there are many cows (and a lot of cow shit) near the streams, and some shelters don't have tap water available for drinking. Therefore, I recommend that you bring a filtered bottle to avoid the need for expensive bottled water (which costs 8 francs in the huts).
Transportation within the route
Almost every day, you'll pass through small towns connected by bus or train to the rest of the country. If you want to complete the route in fewer days, you can shorten it using public transport.
There is also the option of taking the cable car to avoid steep parts.
Weather and temperatures: When to hike the Walkers Haute Route Trek
The huts are open from mid-June to mid-September. In June, there might be some snow on the passes, although you should be able to cross them without using crampons. In September, you might also encounter some mild snowfall.
In July and August, the highest passes are easier to cross, although there are many more hikers than at other times. For this reason, it might be more difficult to find a bed in the huts, and hotels tend to raise their prices.
In summer, the temperatures are pleasant, although the days can be hot, especially in August. At night it gets quite cold depending on the elevation.
We hiked during the last week of August and the first week of September. The days were very pleasant and some nights were cold. In Arolla and Molignon, the temperature dropped to zero degrees Celsius at night. If you plan to camp, I recommend that you bring a bag for about -10 degrees C.
The highlights (what you can't miss)
The Walkers' Haute Route boasts many amazing landscapes that you can't miss. If you decide to shorten the circuit, I recommend that you DO NOT eliminate any of the following:
– The hike up to Fenetre d'Arpette, offering vertical views over the Arpette Valley.
– The Sentier de Chamois, with an incredible view of the Mont Blanc massif and the Grand Combin.
– The trail along Lake Moiry on the way to Zinal. Enjoy a lake with surreal colors!
Mountain gear: What should you bring?
I recommend that you bring good hiking clothes, half-boots or high boots, a headlamp, a knife, toilet paper, personal hygiene products, trail jacket, hiking headlamps, an emergency kit, etc.
If you are planning to camp, in addition to a good tent and sleeping pad, I recommend that you bring a sleeping bag (here on Amazon) for about -10 degrees Celsius. I had one for -18 degrees Celsius and while on some nights it was too hot, on other nights it was great.
Also, take into account that the water in many huts is not drinkable, I suggest that you bring a filtered water bottle. The Lifestraw bottle (here on Amazon) works like a charm.
As for navigation, I brought my Garmin Fenix ​​5 X (here on Amazon), which is a GPS watch with great performance. However, it's quite expensive and, although it's very helpful, it's not really indispensable for this trail. Nowadays, GPS devices like the Garmin eTrex 35 (here on Amazon) offer good performance at an affordable price.
Tips to successfully complete the Haute Route Trek
– If you are traveling in July or August, book the huts a few weeks or months ahead of time.
– If you want to shorten your trip, I recommend that you eliminate the stage from Chamonix to Argentière, the stage from Champex to Le Châble, and the stage from Arolla to La Sage. Let's just say they're the least impressive days in terms of landscapes.
– The best views of the Matterhorn are not from Zermatt, but from the viewpoint at Gornergrat Lake.
– Although it's a popular route where you will find other hikers, don't go alone! It's always a good idea to hike with buddies in case something happens.
– Try to pack as lightly as possible. You can wash your clothes in the campsites. Also, you'll find food in almost every town, so you won't have to carry many supplies.
– Walk at your own pace. Nothing is more uncomfortable than trying to keep up with others.
– You don't have to carry portable batteries or anything like that. You can charge your electronic devices every day.
– Remember that in Switzerland, grocery stores and supermarkets close at 18:00 (6:00 p.m.).
– Drink plenty of water. I know I sound like a grandma saying this, but it's important.
– Don't forget your earplugs. There is always someone who snores very loudly in the hut dorms. (In this case, it was me : P)
– If you think that part of the path is dangerous or if there is rockfall, etc., don't risk your life. Turn around. Safety is always first.
– Get travel insurance. This can come in handy if something happens to you, especially in a country as expensive as Switzerland. I always recommend World Nomads.
How to complete the Walker's Haute Route trekking on your own, step by step:
FIRST STAGE: GETTING TO CHAMONIX, FRANCE
First you must travel to Chamonix, in southern France. You have several options depending on your country of origin. If you are flying, the nearest city with international flights is Geneva, in Switzerland. Check out Skyscanner to find the cheapest flight combinations.
Once there, take the Flixbus and you'll be in Chamonix in about one-and-a-half hours.
If you are flying to Italy, the bus from Milan to Chamonix takes less than 4 hours.
SECOND STAGE: COMPLETE THE TREK FROM CHAMONIX TO ZERMATT
Day 1: Chamonix – Argentière
Chamonix is ​​a very touristy destination with a wide variety of hiking stores and supermarkets. It's a good place to buy some gear and other supplies.
We started our hike taking the trail of the Petit Balcon Sud for a couple of hours, and then following the path along the river leading to l'Argentière. Many people don't hike this stage; instead, they take the train or the bus directly to l'Argentière. Honestly, the landscape in this stage isn't spectacular, but the name of the trek is "Chamonix – Zermatt" and not "Argentière – Zermatt", right? I think the right thing to do is to start from Chamonix.
The campsite in l'Argentière is really good; it has a living room, a good atmosphere, a cafeteria, clean bathrooms, etc.
Day 2: Argentière – La Forclaz (or Trient)
We left l'Argentière and took the path towards Trient. First we traveled through a thick forest until we reached a river with a small wooden bridge. Farther on, we got to Le Tour, a small town from where the cable car ascends to Col de Balme. This pass is right on the border of France and Switzerland.
The hike to the top is quite steep. If you don't have much energy, you can take the cable car. From Col de Balme, just follow the steep descent until Trient. At the entrance of the town of Le Peuty, which is just before Trient, there is a public park where you can camp for 4 francs. There are public toilets, but no showers. However, there is a hostel right next door and the girl lets you use the shower if you have a drink at her bar.
We didn't stay in Le Peuty or Trient. We continued our way up to Col de Forclaz and stayed at the campsite of the Hotel Col de Forclaz. It's an excellent place with stunning views.
Day 3: La Forclaz – Champex
This was one of the hardest stages because we had to walk up to the pass of Fenetre d'Arpette. The trail goes through the Trient Valley, offering spectacular views of the glacier on the right. There are several places to get water along the way, but not near the pass (so don't forget to fill your bottle before you start the steepest part). From Fenetre d'Arpette, we hiked down to Champex-Lac following a steep valley full of big stones.
We stayed at the campsite Les Rocailles. It was a bit expensive compared to the previous ones, but hey, Champex is quite expensive and touristy. Keep in mind that in Switzerland, the grocery stores close at 6:00 p.m., so if you want to buy something in Champex (which has shops, supermarkets, etc.), you should do so as soon as you arrive. This stage took us almost 8 hours, including breaks.
Day 4: Champex – Le Châble
After buying fresh bread and cheese, we left Champex-Lac and hiked down through a big valley, where we watched the daily life of the most rural part of Switzerland. It was a gentle walk along meadows and forests, and it took us to the town of Le Châble. There was no official campsite, so we stayed at the B&B of a very nice lady. We paid 96 francs for a two-person room with breakfast. The backpackers' hostel costs 39 francs in the dorm and doesn't include breakfast, so the B&B is a better deal.
Just before reaching Le Châble, you will see a small lake that is perfect for a refreshing swim.
Day 5: Le Châble – Cabane du Mont Fort
Another though day, with a steep climb from Le Châble to Cabane de Mont Fort. However, it offers exceptional views of the Mont Blanc massif and the Combin massif. The path will take you through a forest that is sometimes thick and sometimes open, but always very steep.
You can complete this stage in about 6-7 hours. If you don't want to walk so much, you can take the cable car and walk for only one hour. We arrived at the hut with enough time to have a well-deserved beer and enjoy the gorgeous views.
This hut is really cool. Accommodation is 26 francs for alpine members and 37 francs for non-members. Dinner is 27 francs, breakfast is 11 francs and beer is 8 francs. There's good Wi-Fi. Hot showers work with a token, which costs 5 francs.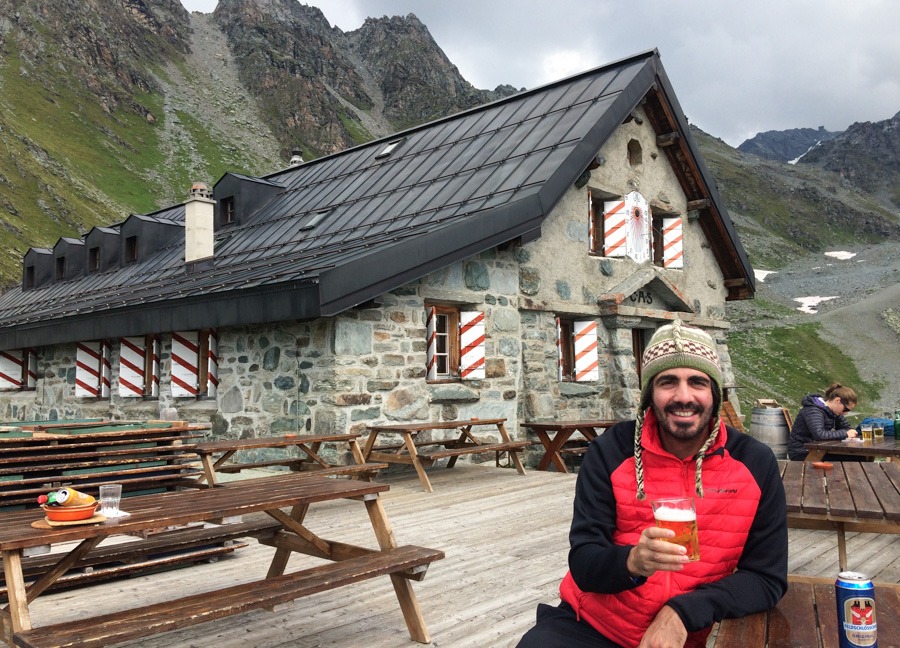 Day 6: Cabane du Mont Fort – Cabane Prafleuri
This stage has two options for getting to Prafleuri. We took the path called "sentier de chamois". Keep in mind that due to the high risk of rockfall, this path isn't recommended if it's raining. The road is narrow and the hillside very steep. However, it faces the Mont Blanc massif and the Grand Combin massif, offering some of the best views of the entire circuit.
The alternative to the sentier de chamois is the trail over the Col de Chaux, which also requires some experience, as it's very steep and rocky. This trail is safer in the event of rain, but it's much less scenic. Farther on, the two paths merge and continue to Col de Prafleuri.
The hut costs 70 francs per person. You must pay 5 francs for the hot shower and also to recharge your electronic devices. The tap water is not drinkable, but there is a fountain just a few meters out of the shelter.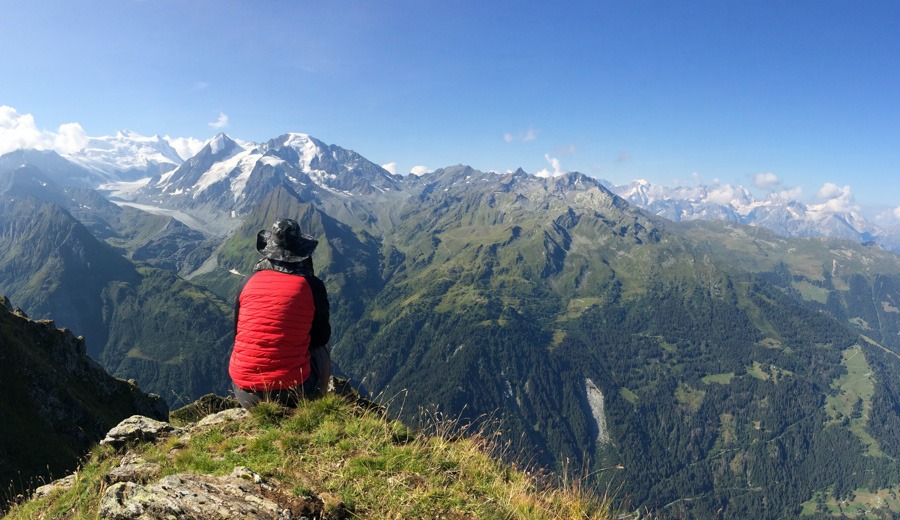 Day 7: Cabane Prafleuri – Arolla
We left Prafleuri in the fog and rain, and continued on the trail to the Lac de Dix. It was a smooth and pleasant walk with excellent views of the mountains over the lake. Later, we arrived at the famous "pas de chèvre", which is the most dangerous step of the route (although it's not technically difficult). You must climb several ladders and platforms next to a steep cliff. It really isn't difficult at all; you just have to climb the ladders…and please, don't look down!
After the pass, we started a long descent to Arolla, which is a charming little town. There is a supermarket and some restaurants and hotels. The campsite is farther down, next to the river. It costs 23 francs for 2 people.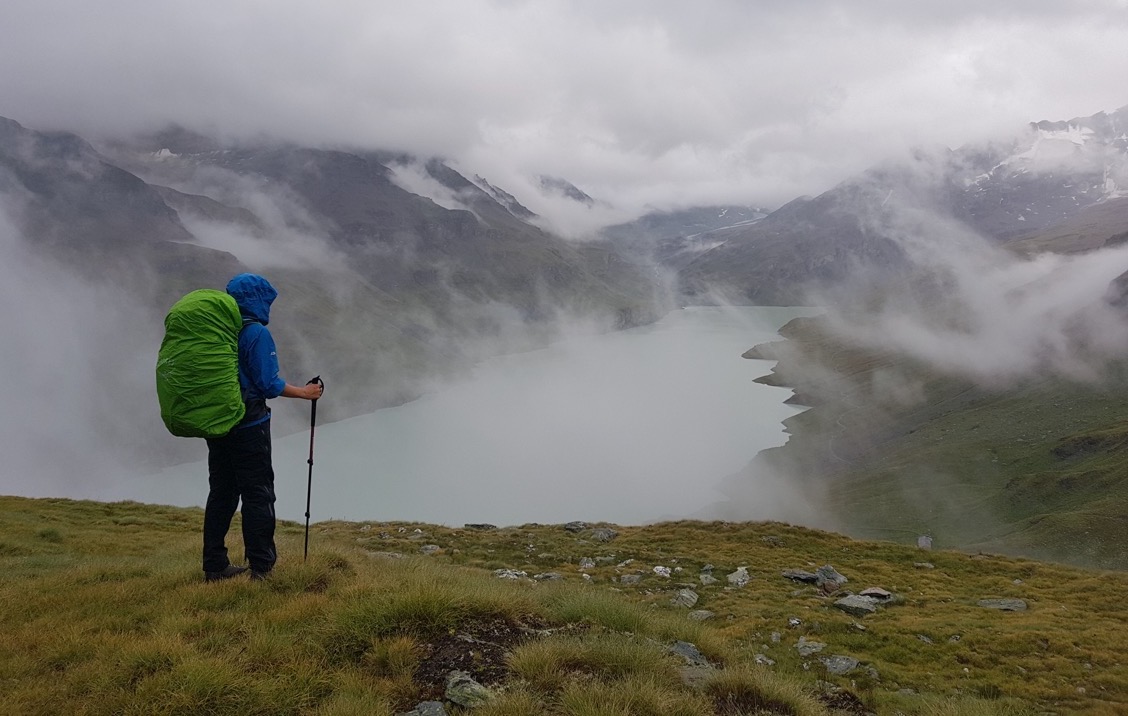 Day 8: Arolla – Molignon
This is an easy day without much trouble. We took the path up to Lac Bleu, which was the highlight of the day. The lake is beautiful, although the weather wasn't very nice that day. Later, we hiked down to the valley through a forest next to rocky cliffs, and finally arrived in Les Haudères.
I had to withdraw some money, so I went to the neighboring village of Evolène (by bus), which has an ATM. All those little towns were truly beautiful! We camped at the Molignon campsite, which is really cool. It costs 22 francs for two people.
Day 9: Molignon – Cabane de Moiry
This was the day when we gained more elevation, walking all the way from Molignon up to Cabane de Moiry. That's over 1,900 meters up! First, we walked up to La Forclaz through a steep forest, then continued uphill until we reached Col de Tsaté.
After the pass, we hiked down to the lakes, which are really beautiful. From there, we made one last effort and continued uphill again to Cabane of Moiry. The price is 85 francs for half-board for non-members, and 70 francs for members of the alpine club. A hot shower costs 5 francs. A 50cl beer costs 8 francs. A delicious cheesecake costs 8 francs, too. The tap water is not drinkable.
Day 10: Cabane de Moiry – Zinal
Another day with truly spectacular views. We left Cabane de Moiry and took the path going over (and to the right) of the lake. We were amazed by the turquoise color of the water. It was incredible! After walking up a pretty steep hill, we arrived at Corne de Sorbois, which is a viewpoint with probably the best views in the circuit. Later, we hiked down about 1,200 meters to Zinal. For those who feel destroyed, part of the descent can be done by cable car.
In Zinal, the restaurant Tzoucdanaz has a campground, showers and bathrooms. It costs 25 francs for 2 people.
Day 11: Zinal – Gruben
We started our day with a light but continuous climb that took us to the pass of La Forcletta. I have to admit that the last part became quite tiring. Then we kept on the path down to Gruben, which is a tiny town located in a fairly isolated valley. There is no campsite, and the only accommodation is the big hotel, which has an old but cozy atmosphere. Half-board costs 63 francs per person in the dormitory.
If you don't want to stay at the hotel, you can go into the forest and wild camp.
Day 12: Gruben – Europahutte
This was the day when we had to cheat a bit. 🙁 The problem was that a strong storm was approaching, and if we didn't shorten our trip by one day, the rain would have caught us on the way to Zermatt. Also, the trail we wanted to take from Grächen to Europahut was closed due to a landslide. We decided to change our route and complete two stages in one day. Thus, we would arrive in Zermatt one day before the storm.
We left Gruben and climbed to the Augstbord pass. After a long descent amongst large stones, we reached Jungen, then took the cable car to St. Niklaus. Next, we took the train to Randa and, finally, walked for 2 hours up to the Europahutte. The price of the hut is 70 francs per person, half-board.
To be honest, I feel a little guilty for having taken the cable car and the train, but hey…I guess it's better than walking in a cold storm!
Day 13: Europahutte – Zermatt
Our last day on the route. We left the Europahutte and crossed the new suspension bridge…which, by the way, is impressive! It's 85 meters high and a little scary when you cross, as it seems that you are flying. The day was very cloudy, so we couldn't enjoy much of the view. As we approached Zermatt, the sky cleared a little, and we were able to see the Matterhorn among the clouds. Finally, we descended to Zermatt, thus ending this intense and spectacular alpine route.
Once in Zermatt, there are plenty of things you can do. Check out these tours: Explore the Matterhorn Glacier by cable car or Take the train up to Gornergrat Bahn. Also, Tandem paragliding with Matterhorn views.
THIRD STAGE: LEAVE ZERMATT
No cars or buses are allowed to drive in the village, so the only way to get to and from Zermatt is by train. Take a look at the website of the train company so you can check connections and timetables. It's very easy to travel to the main Swiss cities, such as Bern, Geneva and Zurich, in a few hours. You can also take the train to Milan and other European destinations.
List of accommodations and services: Haute Route Hike
---
ARGENTIÈRE
Camping:
Camping du Glacier d'Argentière
161 Chemin Des Chosalets
74400 Argentiere
Tent 4 euros, 1 adult 6 euros = 10 euros / night
There is a restaurant, a bar and Internet.
Hotels:
Great choice of hotels in the town.
Services:
Yes, many stores, restaurants, ATM, etc.
---
TRIENT – LA FORCLAZ
Camping:
Camping le Peuty, Trient
Tent 3 francs, 1 adult 4 francs.
Located at the entrance of Trient
There are public toilets, but no showers.
Camping Hotel de la Forclaz
Tent 6 francs, 1 adult 8 francs = 14 francs / night
There is a restaurant, a bar and Internet.
Hotels:
Trient has several hotels and hostels. In La Forclaz, there is only the Hotel de la Forclaz. You can stay in the private rooms or you can camp in the designated area.
Services:
Trient has several restaurants and shops. La Forclaz has a couple of shops that sell fruit, chocolate, cheese, etc.
---
CHAMPEX
Camping:
Champing des Rocailles
Tel: +41 (0) 27 783 19 79
Tent 16 euros, 1 adult 8 euros = 24 euros / night
This can be paid in euros or francs. There is a restaurant, a bar and Internet.
Hotels:
A great accommodation option. It's a pretty touristy destination.
Services:
All kinds of services, restaurants, supermarkets, ATM.
---
LE CHÂBLE
Camping:
There is no campsite.
Hotels:
Great choice of hotels, B&Bs, etc.
Services:
Yes, there are many services, shops, ATM, etc.
---
CABANE DU MONT FORT
Camping:
You can't camp on the premises.
Refuge:
Cabane Mont Fort
Tel: +41 027 778 13 84
Alpine club members: Bed 26 francs / bed + half-board 66 francs
Alpine club non-members: Bed 37 francs / bed + half-board 75 francs
Hot-water shower: 5 francs
Services:
The hut has a restaurant, a bar and a good Wi-Fi connection.
---
CABANE PRAFLEURI
Camping:
You can't camp in the hut.
Refuge:
Cabane de Prafleurie
Tel: +41 027 281 17 80/027 207 30 67/079 628 46 32
Bed + half board: 70 francs
Hot-water shower: 5 francs
Services:
There is a restaurant. The water in the shelter is not potable. However, there is a fountain outside, about 10 meters away.
---
AROLLA
Camping:
Camping Arolla
Tel: +41 (0) 27 283 22 95
Tent 7 francs, 1 adult 7 francs = 14 francs / night
The campground has a small store and Wi-Fi.
Hotels:
The town has several hotels.
Services:
You will find several restaurants and a mini-market. There is no ATM.
---
MOLIGNON – LA SAGE
Camping:
Camping Molignon
Tel: +41 (0) 27 28312 40
Tent 7 francs, 1 adult 7 francs = 14 francs / night
The campground has a shop, a lounge, a restaurant, a pool and Wi-Fi.
Hotels or Refuges:
There are several hotels in the Evolène, Les Haudères and La Sage area.
Services:
You'll find many restaurants, bakeries, shops, etc. There is an ATM in Evolène.
---
CABANE DE MOIRY
Camping:
You are not allowed to camp.
Refuge:
Cabane de Moiry
Tel: +41 27 475 45 34
Alpine club members: Bed + half-board 70 francs.
Alpine club non-members: Bed + half-board 85 francs.
A hot-water shower is 5 francs.
Services:
Great restaurant. There is no Wi-Fi. The water is not drinkable (or so they say) and there is no fountain nearby. I recommend that you bring a good filtered bottle.
---
ZINAL:
Camping:
Relais de la Tzoucdana, Zinal
Tel: +41 27 475 12 19
Camping is 25 francs for 2 people.
Hotels:
Several hotels, B&B, etc.
Services:
There are bakeries, supermarkets, restaurants, etc.
---
GRUBEN
Camping:
There is no campground, though you can wild camp in the nearby forest.
Hotels:
There is only one hotel in town:
Mountain Inn
Tel: +41 (0) 27 932 14 14
Dormitory with half-board: 65 francs per person. Bed and breakfast: 45 francs
Services:
Gruben is a very small town with no shops or bars – only the hotel.
---
EUROPAHUTTE
Camping:
You can't camp near the hut.
Refuge:
Europahütte
Tel: +41 (0) 27/967 82 47Mobil: 079/291 33 22
email: [email protected]
Dorm + half-board: 70 francs
Services:
The refuge has a restaurant and a bar. The water is not drinkable and there is no Wi-Fi.
---
ZERMATT
Camping:
Camping Zermatt
16 francs per person, including tent
Hotels:
A variety of hotels are available, from backpacker hostels to luxury hotels. The following youth hostel is the cheapest option:
Jugendherberge Zermatt
Staldenweg 53920 ZermattSchweiz
Tel: +41 27 967 23 20
[email protected]
40 francs per person with breakfast
Services:
Zermatt is a very popular destination in Switzerland. You'll find all kinds of services, bars, supermarkets, shops, pharmacies, ATMs, etc.
Have you enjoyed the Walker's Haute Route Trek on your own? Please leave a comment!
---
Disclosure: As an Amazon Associate I earn from qualifying purchases. Some other links in this post are affiliate links too.
Hi, I'm Miguel; Adventure traveler, scuba diver and hiking lover. I have been traveling the world for the last 12 years and I hope my experiences, photos and hiking routes inspire you to travel the world too.