Cuba's capital is one of the most fascinating cities in the world. Famous for its revolution, good music, salsa dancing and colonial architecture, Havana won't disappoint you. With its old Chevrolets, buildings that literally tear apart and the smell of fine cigars, Havana embodies the most authentic essence of Cuba at every corner, in every bar and on every street.
On the downside, enjoying Havana without falling into tourist traps can be a big challenge. After spending a couple months in this beautiful city, I have found some pretty cool secrets and hidden gems I'd like to share with you.
Today, in addition to must-visit places, I'll offer unique recommendations that you won't find in a Lonely Planet guidebook.
The Best Things to Do in Havana in 3 days:
1- Get lost while strolling the streets of Old Havana. Admire its cobbled streets, majestic buildings, palaces, theaters, churches and squares. This part of the city was – and still is – one of the most impressive colonial enclaves in the Americas.
2- Visit the viewpoint at the top of La Guarida restaurant, Concordia St. nº 418. You don't have to eat at the restaurant; just tell them you're going to the terrace bar. When you get to the bar, ascend the narrow spiral staircases to a fantastic viewpoint. Enjoy a first-class view of Old Havana and the Capitol.
3- Take a walk along the Malecon during the day and see the beauty of a city bathed by the sea. Go back at night, when the boardwalk gets even better; it's a popular place for locals and tourists to chill out and socialize. There are always people drinking rum, selling things, playing the guitar and having fun.
4- Enjoy Havana's eastern beaches. Want to visit a beautiful beach? Don't go too far! Santa María del Mar Beach, just a few kilometers from Havana, is perfect for a day trip. You can get there by shared taxi, or even by bus, in less than an hour. I recommend that you avoid the weekends because it gets pretty crowded then.
5- Walk around the Capitol and Paseo del Prado, a busy street that separates Havana Vieja from Havana Centro.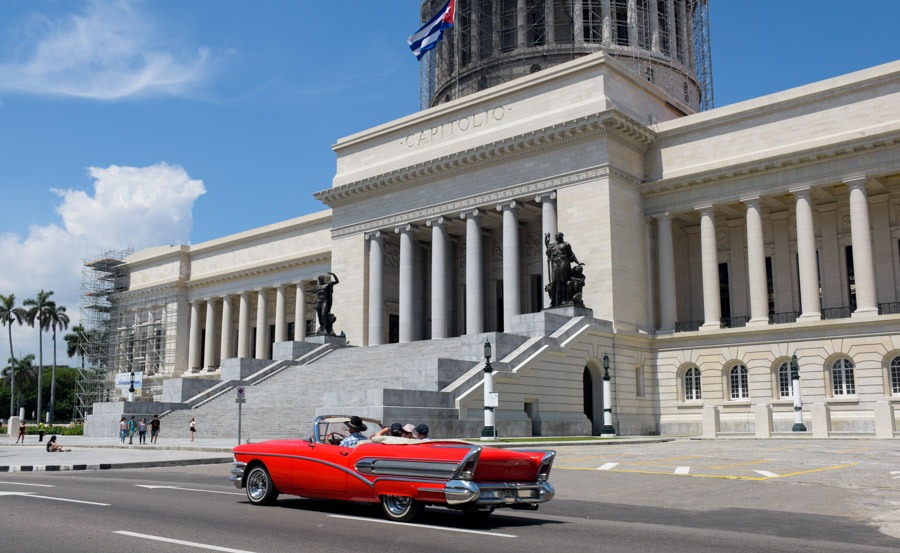 6- Enjoy the sublime architecture of the Gran Teatro de La Habana Alicia Alonso. If you're fond of classic dance, you'll want to know that the national ballet company and other artistic groups offer several shows a week.
7- Take a break and have an ice cream at the famous Coppelia – one of the most popular places in the city and an experience in itself. It's highly likely that you'll have to stand in line for a while, but it's worth the wait. An ice cream scoop costs only 1 peso nacional!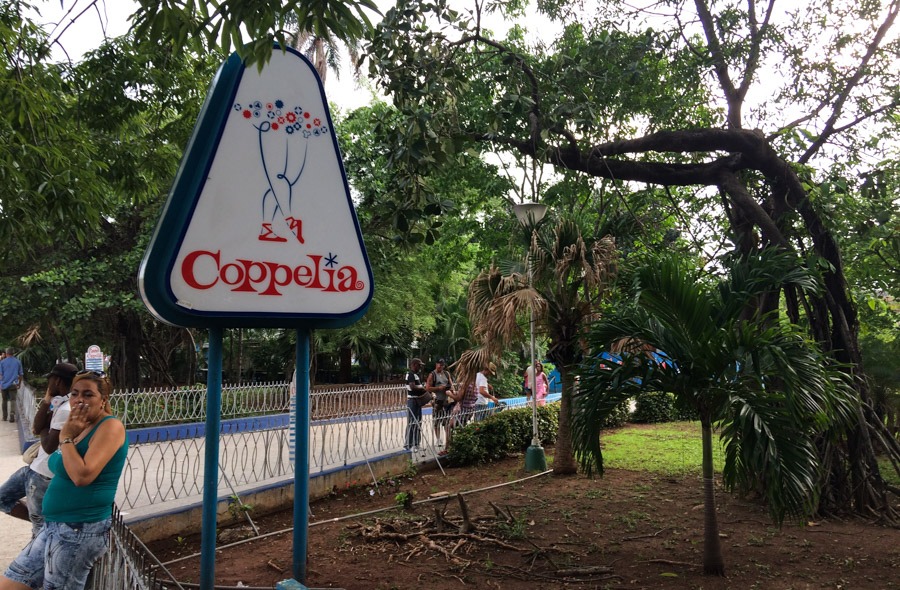 Attention: This ice cream shop has another access point only for tourists, where you don't have to line up and where you pay in CUC. If they see that you are a tourist, some worker will ask if you are going to pay in CUC or CUP. I recommend that you wait in line and pay in CUP because it will be much cheaper.
8- Try the best pizza in the city at Havana Pizzas, located on 23rd Avenue, between H and J Streets. The place is very popular amongst Cubans. One pizza costs only 15 CUP and it's delicious! It's just as good as the expensive pizza you'd get at any touristy restaurant.
9- Go on detox vacations. Despite the improvements, obtaining Internet access in Cuba is still more complicated and expensive than in the rest of the world. If you need to send a WhatsApp text saying you're alive, don't worry; you'll find Wi-Fi in most squares over the city.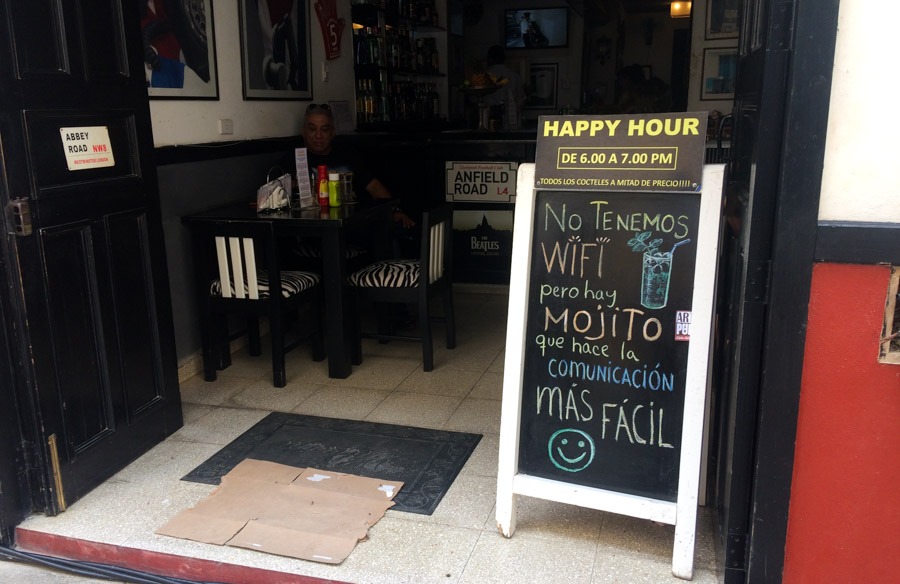 10- Take a ride in an "almendrón." One of the best ways to get around the city is by taking shared taxis – yes, one of those old and wonderful Fords, Chevrolets, Dodges, etc. Those cars ride fixed routes and pick up passengers they find on the way. The price for a ride is only 10 CUP!
11- Eat at the restaurants where the Cubans eat. Most of the time, they aren't even proper restaurants, but local houses with a few tables and a blaring television, or just windows where the owners sell rice with chicken, pizzas and sandwiches.
12- Take a walk around Plaza de la Catedral, the colorful heart of colonial Cuba. Beware of the hustlers and sellers in the area because they can be especially insistent.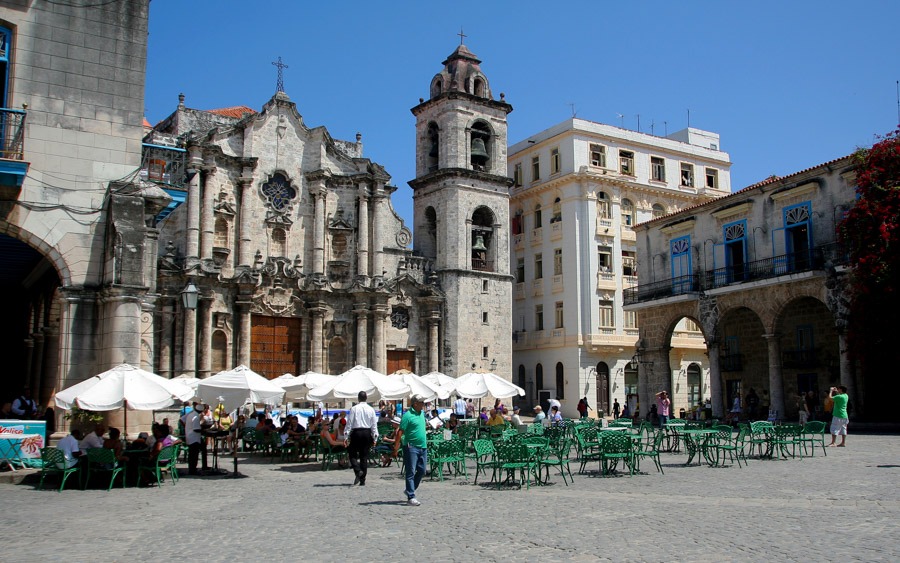 13- How about a drink? Most guides will tell you to have a mojito in La Bodeguita del Medio, which is a bar that Hemingway used to visit. The mojitos in La Bodeguita are expensive and not even particularly good. Hundreds of bars make better and cheaper mojitos.
Personally, I love the cocktails at the Van Van restaurant (San Juan de Dios Street, nº 58) and at the Brown Café (San Lázaro Street at Espada Street).
14- Visit the Museum of the Revolution. It's the perfect place to learn about the Cuban Revolution, the Castro brothers and the famous "Che" Guevara. You'll spend hours looking at photos, reading documents and observing interesting military weapons.
15- Marvel at the magnitude of Plaza de la Revolución and the monumental statue of José Martí's memorial. Famous for the portraits of revolutionaries hanging on the facades of several buildings, the square is also home to the country's Ministry of the Interior.
16- Enjoy the best salsa music at Casa de la Música de Miramar. There are live shows every day, evening and night, at 7 p.m. and 9 p.m. Beware of the price; don't let them trick you! If you pay in CUP, it's much cheaper.
17- Go to El Chanchullero and try some delicious Cuban food. If you are a bit tired of eating rice with pork and pizza every day, I recommend this restaurant. It serves original, succulent dishes at reasonable prices (especially considering that the restaurant is right in the middle of Old Havana). It's an alternative and cool place, with a sign at the entrance that says: "Hemingway was never here."
18- Watch life go by in Plaza Vieja. In addition to having impressive architecture, this square is one of the liveliest. It's common to see great musicians playing on the restaurant terraces, so you can sightsee to the rhythm of Caribbean salsa. What more can you ask for?
19- At night, visit Sia Kará Café, have a glass of rum and listen to good live music. Despite being in a very touristy area, this well-decorated bar offers drinks at a reasonable price.
20- Let your hair down at La Fábrica del Arte, a reformed factory that combines an art gallery, a concert hall, a theater and an electronic club! I can't explain it in words. You have to see it yourself!
21- Treat yourself to a spectacular breakfast at the Habana Libre Hotel. The buffet breakfast costs 10 CUC. Though this may seem to be a bit expensive compared to the prices at local restaurants, I promise that you'll be really happy after your feast.
22- Would you like to have a drink in a fancy place at an incredible price? Go to Polinesio Bar (Av. 23, under the Habana Libre Hotel) from 4 p.m. to 8 p.m. and enjoy the Happy Hour! All cocktails are 1 CUC. Not bad, huh?
23- Move your body to the rhythm of the rumba and learn about Afro-Cuban culture in El Callejón de Hamel (Hamel Alley). The rumba show takes place every Sunday at noon, but you can visit the alley at any time to see the murals and graffiti that adorn the walls.
Warning: This place is full of hustlers. I recommend a lot of patience.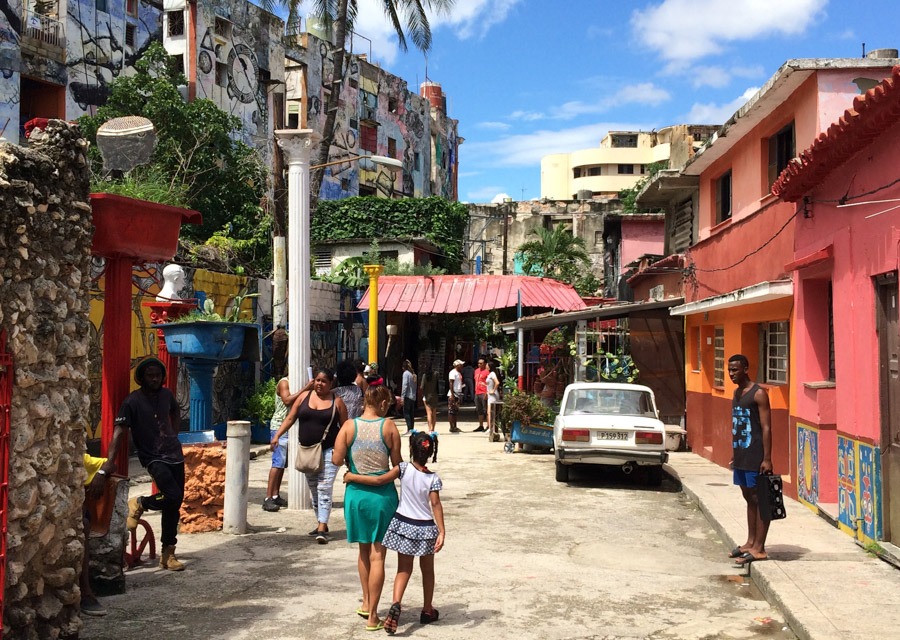 24- Ramble through the gardens of the Hotel National and enjoy the sunset while listening to a live band and having a piña colada.
25- Loosen up your hips by taking salsa lessons. Cuba is the birthplace of the first sounds and dances that became today's salsa. Most schools offer 10-hour private packages for 100 or 120 CUC.
26- Get lost in the neighborhood of Havana Centro and explore the city's most authentic part. The streets aren't well-kept, the buildings are old and everything is falling apart.
26- Have a glass of rum at a local bar. Yes, I'm talking about one of those crappy bars with a couple of broken chairs. A glass of rum costs 10 cents and the company is usually excellent. Cubans love to talk. I guarantee that you'll have a good time.
28- Take a walk around the bohemian neighborhood of El Vedado, which is full of beautiful colonial mansions, trendy bars and tree-lined avenues.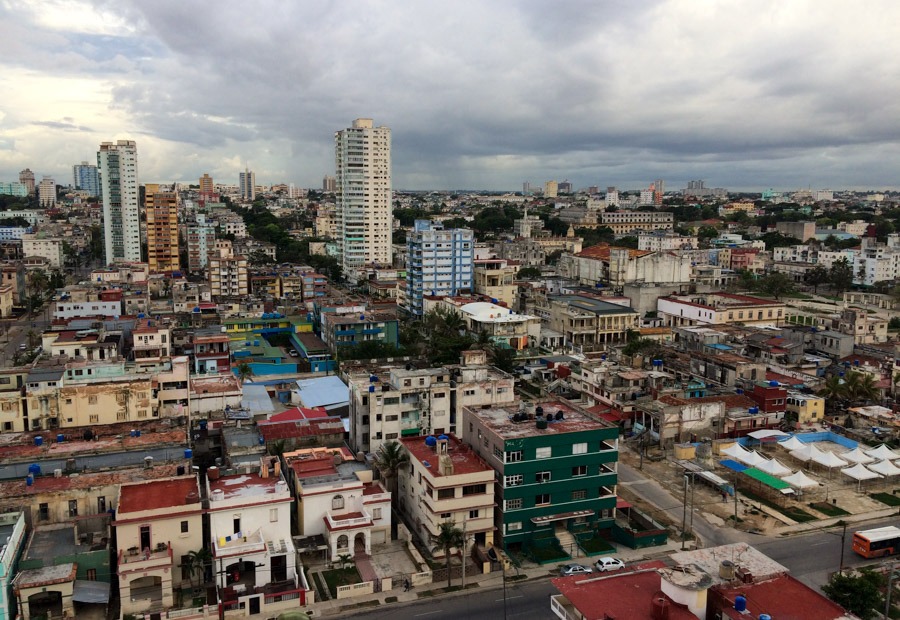 29- Visit the beautiful University of Havana, the most emblematic and important university in the country.
30- Forget about hotels. Stay in a "casa particular" and live with a family. This is the best way to get to know the Cuban people and understand their reality.
31- Havana is pretty warm, right? Go to any "ventanilla" and get a soft drink for only 2 CUP.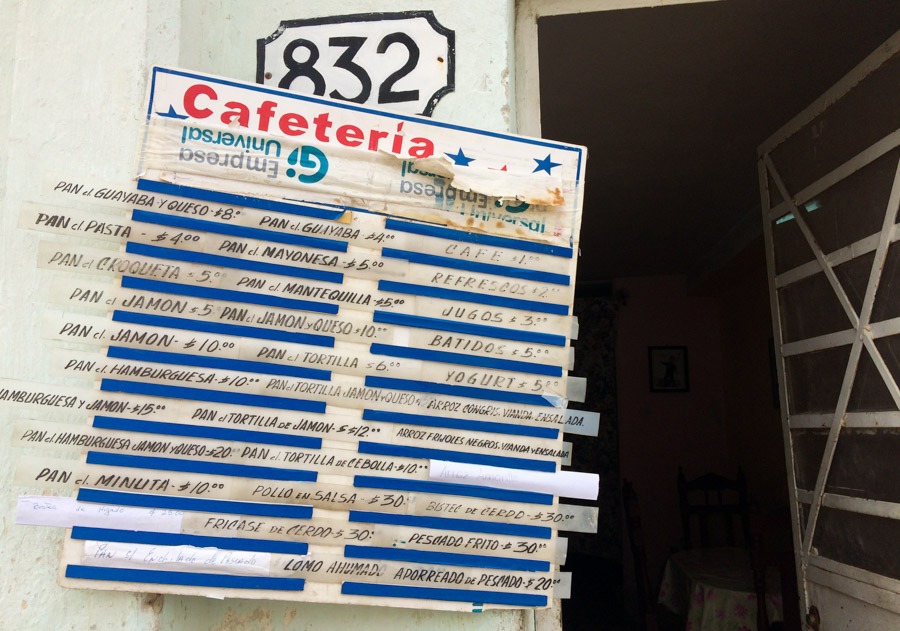 32- Have a cold "Bucanero" beer and sit in a park to watch life go by.
33- Feel like a real Cuban standing in line. This isn't a recommendation, but rather something you'll have to do during your stay in Cuba, whether you like it or not. If you need to buy an Internet card or an ice cream, or if you need to exchange money, you'll wait in a queue for it. Take it easy and don't complain.
34- Practice your Spanish with the locals and learn some new expressions. Cubans have their own slang, which sounds pretty funny sometimes.
35- Put your liver to the test with the local rum. Many places in the city have signs saying "There's rum." Bring an empty bottle of water, and they'll fill it for less than 1 dollar.
36- Spend a cultural evening at Cine Yara. Located in one of the most popular corners of the city, this cinema is a true icon. There, you won't find the latest Hollywood releases, but alternative international movies. Admission is only 2 CUP, which is practically for free!
WHERE TO EXCHANGE YOUR MONEY
First, don't change your money in the street. Go to any of the several exchange houses (called Cadecas) that you'll find around Havana. You can exchange a little money at the airport and the rest when you get to the city. Theoretically, all Cadecas offer the same exchange rate, though I think the rate was a bit lower at the airport's Cadeca.
If you are staying in Centro Havana or Vedado, you can go to the Cadeca on 23rd Street, next to the famous Coppelia.
HOW TO GET FROM HAVANA AIRPORT TO THE CITY CENTER
Cheap way – by bus
Although most taxi drivers at the airport will tell you that you can't travel to the city center by bus, it's actually possible. The only problem is that the bus doesn't stop at the airport terminal itself. You have to walk a little.
What most people do – by taxi
Official yellow taxis usually charge around 30 CUC for a ride to downtown or Old Havana. If you ask around, you'll find other taxis (which are "normal" cars) for 20 CUC.
ACCOMMODATION IN HAVANA IN 3 DAYS
I like to stay in Centro Havana because it's close to Old Havana and Vedado. In addition, the atmosphere is more relaxed than in Old Havana, where some people can be very insistent.
"Casas particulares" cost between 15-25 CUC per room. If you're on a budget, hostels are available for about 5-7 CUC. I recommend Mirella Hostel, a perfect place to meet other travelers and have a great time.
WHERE TO EAT
Most restaurants in Old Havana are touristy and generally overpriced. You can pay 5-7 CUC for a simple meal and between 8-10 CUC if you order fish or lobster.
If you don't want to spend a lot of money, don't worry; there are many places where you can eat for 1 dollar. They are local houses with a couple of tables inside. The prices are in CUP, and the places usually offer rice with chicken, bread with omelets, pizzas and stuff like that.
HOW TO TRAVEL WITHIN THE CITY
By shared taxi
I love taking shared taxis to move around the city. These taxis, which are generally old cars from the 50s, are also called "almendrones" or "maquinas."
By private taxi
These can be old Soviet Ladas, modern Hyundais or potentially any car that you stop in the street. Always negotiate over the price because they will probably try to cheat you.
By bus
City buses cover many routes within the city. They also travel to nearby locations, including the eastern beaches. A ride costs half a peso, which is practically nothing. The problem is that sometimes you have to queue up for a long time.
By bike-taxi
This is supposed to be a very cheap means of transport. However, bike-taxi drivers tend to ask for crazy fees from tourists.
WHERE TO GO OUT AT NIGHT
A visit to Havana isn't complete without a night of dancing, music and mojitos. If you like salsa, you're in the right place to practice your steps. If you're not a salsa fan, don't worry; there are parties and music to suit all tastes.
These are my favorite places to party. Some are well-known, while others are off the tourist track.
Bars and clubs
King Bar: Latin and international music, good decorations and nice spaces. Great deals on food and drinks.
EFE: A cool place for a chill-out night. There are usually live concerts and a lot of foreigners.
Paparazzi: A great option if you're in a large group because the place is huge. There's often live music; other times, DJs play salsa, merengue and reggaeton.
Sia Kará: A perfect place to go as a couple or in a small group, see some good musicians playing jazz and enjoy a glass of old rum.
La Fábrica del Arte: The best place to go out in Cuba. An old factory reformed into an art gallery, a concert hall and an electronic club.
La Casa de la Bombilla Verde: A cool bar with a relaxed and friendly atmosphere, live concerts and good drinks at reasonable prices.
Places to dance salsa
In Havana, you'll hear salsa at every corner. If you want to make the most of your days and dance a lot, I recommend that you check out the following places.
Mondays: Hotel Florida
Tuesdays: Jardines del 1830
Wednesdays: La Gruta and Bertol Bretch
Thursdays: Jardines del 1830 and El Salón Rojo de la Tropical
Fridays: El Árabe
Saturdays: Casa de la Música de Miramar and Café Cantante
Sundays: Jardines del 1830
PLAN YOUR TRIP
Flights to Cuba: Download the Skyscanner app now and get the cheapest flights.
Travel Insurance: Remember that you must have travel insurance to enter Cuba. Check it out here.
Accommodation: If you're backpacking, I recommend that you stay at Mirella's house. Without a doubt, it's my favorite hostel in Havana.
---
Did you like The 36 Best Things to do in Havana in 3 days? Leave a comment!
Hi, I'm Miguel; Adventure traveler, scuba diver and hiking lover. I have been traveling the world for the last 12 years and I hope my experiences, photos and hiking routes inspire you to travel the world too.