The Juta to Roshka trek connects the touristy region of Kazbek and the remote region of Khevsureti. The highlights of this hike are the sharp peaks of the Chaukhi massif, the stunning views from the top of the pass and the visit to the Abudelauri Lakes. Of all the mountain routes I've taken in Georgia, this is definitely one of my favorites. If you are trekking through the Kazbek region, I suggest that you include this trek in your itinerary. There, you'll find some of the most beautiful landscapes in the country.
If you are interested in hiking in Georgia, don't miss my articles about Tusheti, Kazbegi and Svaneti.
Trekking from Juta to Roshka via the Chaukhi Pass:
Details:
Difficulty: Medium-high
Distance: 18-25 kilometers
Duration: 1-2 days
Maximum height: 3345 meters
Elevation gained: 1300 meters
How many days does it take to complete this trek?
From Juta to Roshka, the distance is about 18 kilometers. However, you can walk up to 25 kilometers if you decide to visit the Abudelauri lakes. There are three lakes: the green lake, the blue lake and the white lake. The green and blue lakes are easy to reach. If you want to visit them, you won't have to stray too far from the original trail. The white lake (which is the most beautiful of the three) is a bit farther away, so you'll need to take a detour to get there. I think the place is really worth it, so if you have time, I recommend that you go see it.
I completed the trail in 7 hours, which included visiting the three lakes. However, my pace was fairly fast. At a normal pace, I think you can walk to Roshka as well as visit the blue and green lakes in one day. If you want to have plenty of time to visit the white lake, bring some camping gear and complete the trail in two days.
Is it safe to go without guides? Is it necessary to carry a GPS?
I found only 4 hikers along this trail, and all of them were hiking on their own. However, there were a couple of times when the trail could have been confused with goat paths, etc. Therefore, I suggest that you bring a GPS to be on the safe side. I brought one, and even then I had a moment of confusion close to the Chaukhi massif. I hadn't looked at the GPS for a while and had continued hiking towards what I was sure was the Chaukhi Pass. In the end, I realized that I had taken the wrong path, and I had to hike back for half an hour to get back on the original trail. It was one of those things that happen.
Difficulty and danger
The route is of medium difficulty so long as it's done starting from Juta and heading towards Roshka. If you plan to start in Roshka, keep in mind that you'll encounter a considerable elevation gain. In that case, the difficulty would be high.
The route is not particularly dangerous, but you'll have to be careful at some points. After crossing the Chaukhi Pass, watch out for the descent because there are some steep parts with loose stones. Otherwise, there are no great dangers.
Where can I camp during the trek?
The path that connects Juta and Roshka doesn't pass near any villages. This means that if you want to complete the trek in two days, you'll have to bring the necessary gear and pitch your tent in the wild. The area near the lakes contains flat meadows. It's a pretty rocky area with plenty of bushes, but you'll find some grassy areas where you can camp. This would be the best option.
There is another good camping area not too far from Juta, right before you begin going around the Chaukhi massif. This would be a good option if you don't want to pay for accommodation in Juta.
Budget for this hike
The area has no access fee. Your only expenses will be transportation to / from the region, accommodation in Juta and / or Roshka, and food.
Accommodation
In Juta
Juta is a very small town. Its lower part contains some hotels, but I recommend that you stay at Camping Zeta, which is located in the upper part. The place is very cool, with a mountain-hut atmosphere and great facilities. It costs 50 GEL (breakfast included) and you can pay by credit card. Farther on is a kind of "chic" boutique hut. I didn't check the price, but it looked expensive.
During the route
There are no accommodations between Juta and Roshka.
In Roshka
The options in Roshka are quite limited. A couple of basic guest houses charge around 50-60 GEL for half board. You can't pay by credit card.
Food and drink
You can get food and drink in both Juta and Roshka. Camping Zeta offers some pretty good dishes as well as wine, beer and other drinks.
Along the hike, you'll find several streams from which you can refill your water bottle. However, water is scarce along some parts of the trail. Once you start the climb to the Chaukhi Pass, you won't find water for a while.
At one point, I was running out of water and I refilled my bottle in the blue lake. A local guide who was visiting the lakes told me that it was safe water filtered by the mountain. I didn't have any problems, but I used my filtered bottle. I wouldn't dare to drink from the lake without a filter.
Weather. When to complete this route?
For most of the year, snow covers the 3,345-meter-high Chaukhi Pass. Therefore, the trail is open only from June to October. (The exact dates will change every year depending on the weather.) July and August are the months with the best weather, and they also seem to draw the highest number of tourists. I completed the route in September, and it seemed like a great time to do it: good temperatures, clear skies and very few hikers.
The hike, step by step:
FIRST STAGE: GETTING TO JUTA
First, you'll need to travel to the village of Stepantsminda, located in Kazbegi. The easiest way to get to Kazbek is by taking a minibus (marshrutka) from Tbilisi. The minibuses depart from the Didube station approximately every hour. I recommend that you arrive with enough time to pick one of the best seats. The trip takes about 3.5 hours, and the ticket costs 10 GEL. Also, shared taxis depart from Didube for about 20 GEL. They leave when they are full.
Once in Stepantsminda, you'll travel to Juta. No public transport is available to Juta, but the Mountain Freaks travel agency in Stepantsminda organizes daily departures at 9:00 a.m. and 11:30 a.m. These buses return at 4:30 p.m. and 6:30 p.m. The minibus is small and fills up pretty quickly during the high season. I recommend that you buy your ticket the day before. The price of the ticket is about 40 GEL.
You can also take a shared taxi at the Stepantsminda main square. The trip should cost around 50 GEL one way and 100 GEL round-trip. Keep in mind that some taxi drivers may try to overcharge you, so negotiate a bit.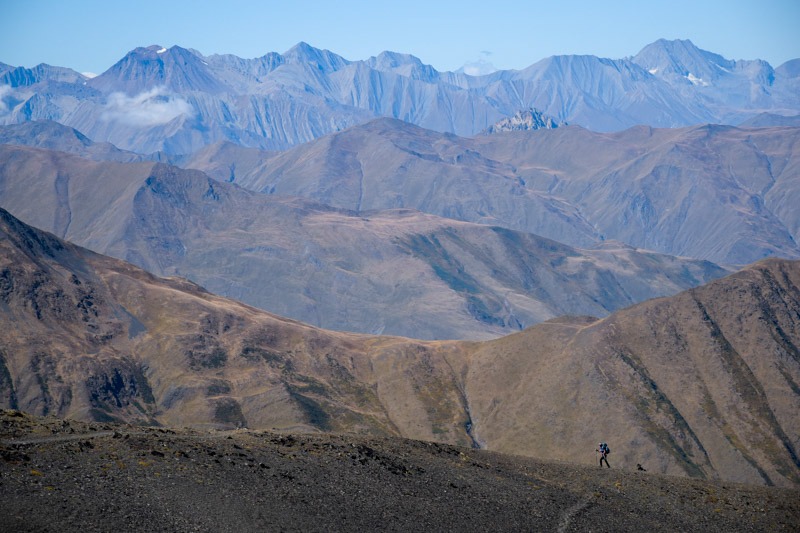 SECOND STAGE: HIKING FROM JUTA TO ROSHKA
Starting from Juta, take the path that leads to the upper part of the town. When you reach the top of the hill, you'll find Camping Zeta, which is the place that I recommend you stay at if you are going to spend a night in Juta. From the campsite, you'll see the spectacular Chaukhi massif and a trail heading in that direction.
Always follow the main path leaving the Chaukhi massif on your right. You'll gradually be getting closer to the massif, walking uphill and downhill, crossing streams and open fields until you reach an area that gives you access to the Chaukhi Pass. There's a point where you'll have to be careful: From a distance, you'll see a dark slope with a zigzag path to the mountaintop. That's not the Chaukhi Pass! The Chaukhi Pass is farther to the left. I recommend that you bring a GPS or an app for your phone.
After crossing the pass, you'll take a descent with a lot of loose stones. Hiking down from the pass isn't technically difficult, but I wouldn't want to hike up that path. It's the kind of trail on which, because of the stones, you'll take two steps forward and one step backward. Therefore, I recommend that you complete the route from Juta to Roshka, and never from Roshka to Juta.
Once in the lower part of the valley, you will reach an area with ​​open meadows, large rocks and lots of bushes. Be careful to avoid getting lost because the path mixes with the bushes several times and it's easy to get off track. Remember that the blue and green lakes are on your right side; this might help you orient yourself. To get to the white lake, you'll deviate towards the massif, which adds an hour to the hike.
Immediately after the lakes, you'll find a beaten trail that, in less than 2 hours, will take you to Roshka. Once in the village, you'll be able to find accommodation and transportation.
THIRD STAGE: LEAVING ROSHKA
Leaving Roshka may seem complicated because no public transport is available. However, it's not impossible. The nearest town with transport options is Barishako. To get there, you'll have to negotiate with a taxi driver in Roshka. The price should be around 50-70 GEL. Keep in mind that only 3 marshrutkas per week travel from Barishako to Tbilisi. Ask at Camping Zeta or one of the guest houses in Roshka; they should know the marshrutka departure times.
Also, you can take a taxi from Roshka to Tbilisi (which is what I did). It wasn't my original plan, but I met a couple who had already negotiated a price, and they asked me if I wanted to join and share expenses. We paid 250 GEL for 3 people, which I think was a good price. I think we were lucky because it could happen that nobody wants to drive you to Tbilisi on the same day. It's a 4-hour ride.
Is there another way to visit the Abudelauri Lakes without doing the hike?
If you like hiking, I think this is the best way to visit the Abudelauri Lakes. However, a less demanding option is available for those who don't want to hike much. The lakes are easily accessible from Roshka following a path which can be completed in 2-3 hours. This path has a very gentle slope and doesn't involve crossing any high passes. The most complicated thing about this option is finding transport from Tbilisi to Roshka and back. I met a group of tourists who had booked a tour in Tbilisi, including transport and accommodation in Roshka, and they looked very happy.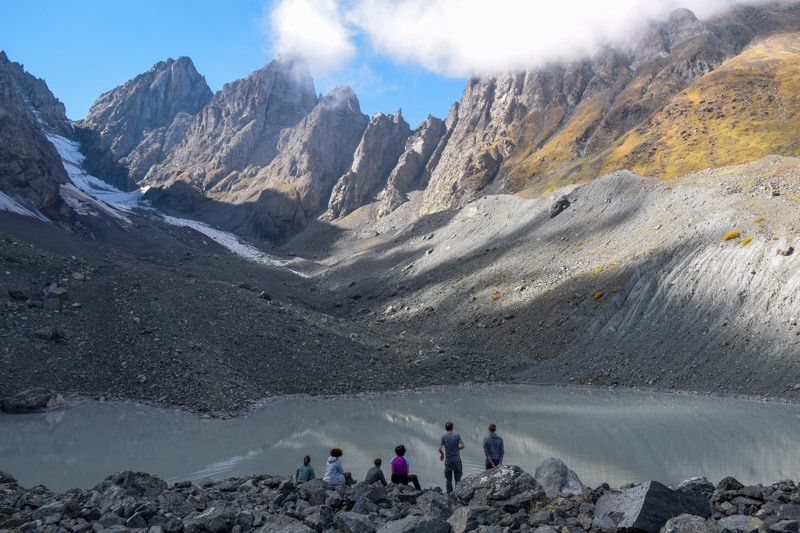 What gear do I need for this trek?
– Small backpack
– Hiking boots or shoes
– Breathable T-shirt
– Convertible pants
– Down jacket
– Waterproof jacket
– Filtered water bottle
– GPS device
Tips to complete this trek
– Bring cash because you can't get money in either Juta or Roshka.
– If you plan to take public transport in Roshka, check the departure times.
– Follow the route on your GPS so you don't take the wrong pass like I did.
– Bring plenty of water and some snacks.
– Get good travel insurance. I aways recommend World Nomads.
---
Did you like How to hike from Juta to Roshka via the Chaukhi Pass? Please, leave a comment!
Some of the links in this post are affiliate links. This means that if you book or buy a service, I'll earn a small commission at no extra cost to you. I only link to stuff I love.
Hi, I'm Miguel; Adventure traveler, scuba diver and hiking lover. I have been traveling the world for the last 12 years and I hope my experiences, photos and hiking routes inspire you to travel the world too.