After the wonderful visit to the temples of Bagan, the city of Mandalay and Inle Lake, it was time to get a bit off the beaten track. That's how we ended up in the small town of Namhsan, ready to hike the mountains for three days and reach Hsipaw, in the heart of the Shan state in Myanmar.
Although there are many areas in the region that restrict access for foreigners, the area around Hsipaw tends to be calm and safe. In any event, I recommend that you get updated information before you go there because restrictions may change from one day to the next.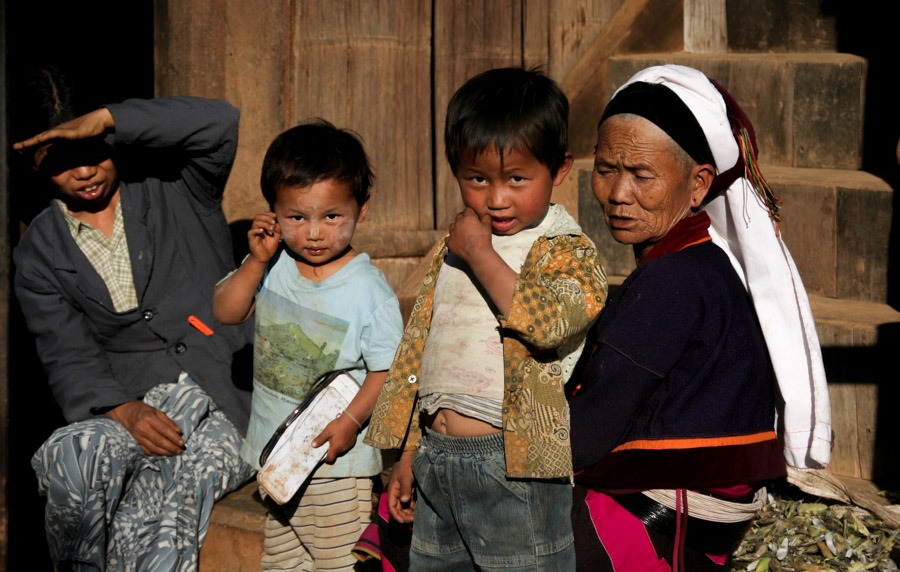 Transport. How to get to Namhsan and Hsipaw
Several buses travel from Mandalay to Hsipaw every day. The journey takes about six hours and costs around 5,000 or 6,000 Kats. Hsipaw can also be reached by train.
From Hsipaw to Namhsan you have to take a Jeep. There is only one Jeep leaving every day and the ride is quite uncomfortable. It is on a road full of dust, holes and bumps. If you go during the dry season, be prepared to get covered in dust up to your ears.
The ride takes about six hours and costs 7,000 Kats.
What can I visit in Hsipaw?
The town of Hsipaw is not particularly beautiful. However, there are several places nearby that are worth a visit.
Little Bagan is a nice archaeological site with small temples and pagodas. It's not as impressive as Bagan, but it's a cool place to visit and chat with the locals.
I found the Hsipaw market also very interesting. It's a fascinating place where you can find almost everything! A mix of strange food, second-hand clothes and lots of Chinese trinkets.
If you want to get in touch with the local culture, you can visit many Shan villages near Hsipaw. However, we were going to complete the trek from Namhsan, so we would visit the villages along the hike.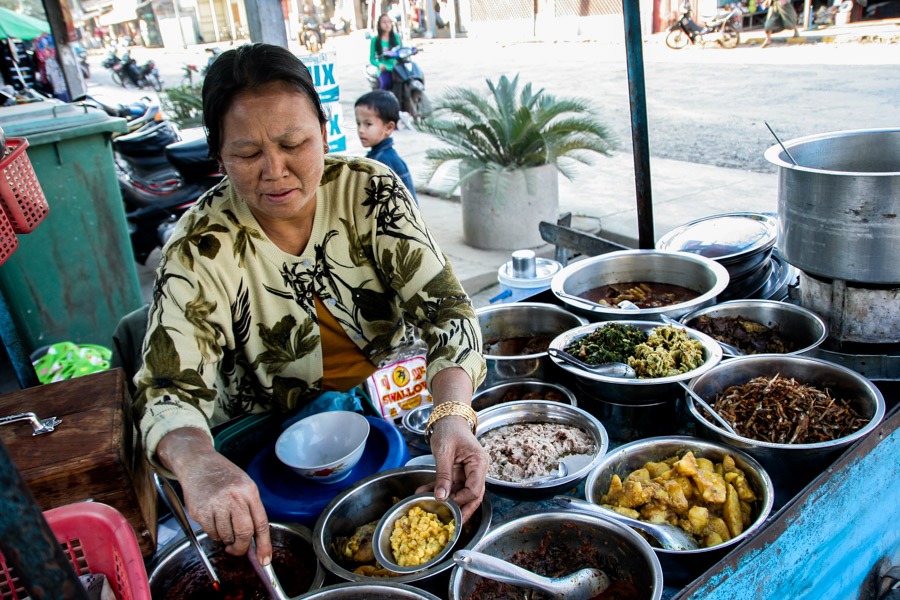 What can I visit in Namhsan?
IMPORTANT: I heard that the access to Namhsan may be closed to tourists due to current conflicts with the local guerrilla. Check out the situation before you visit the region.
Namhsan is a really charming place. Almost all the houses are made of wood and it seems as though no time has passed in that cool mountain village. There are a few pagodas and temples that you can visit. However, what I enjoyed most was strolling the streets, having a cup of tea and feeling the tranquility of the place.
We were really lucky in that there was a great celebration in the village. It seemed that part of the local monastery had been enlarged and a great number of new nuns had come in (all kids). All the people from the nearby villages came down to pay their respects and bring gifts, money, etc.
There was a great feast and we were invited. We met many friendly people and were amazed at the beauty and diversity of the traditional costumes. Best of all, we were only five tourists in the midst of all those amazing people. It was great!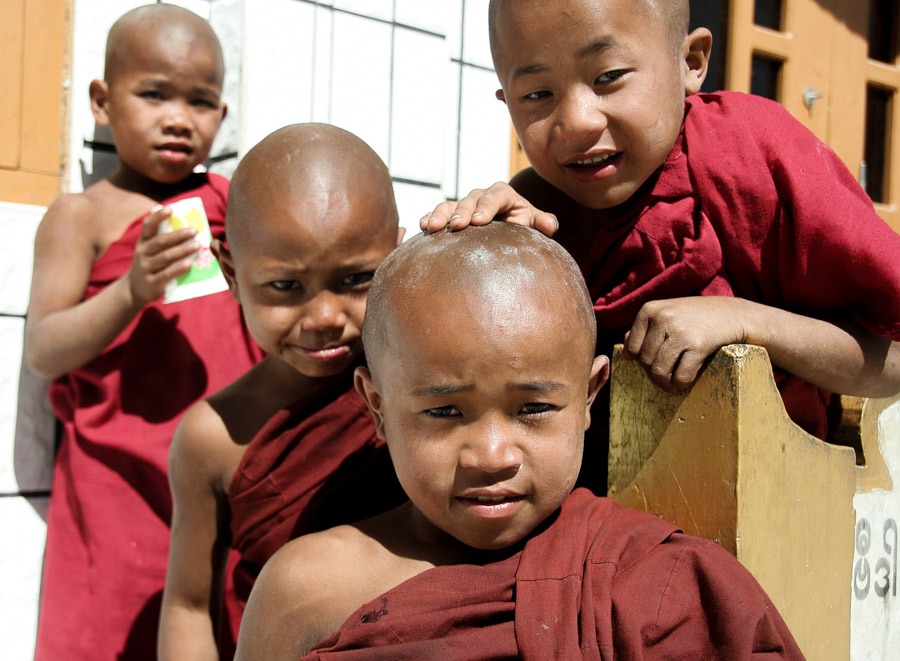 Where can I stay? Accommodations
In Hsipaw:
The most famous hostels are Mr. Charles, Lily Guest House and Ever Green.
We stayed at Lily Guest House. The staff was very friendly and the place was pretty clean. We paid about €10 for the double room with breakfast included. The internet was awful, though.
In Namhsan:
We stayed at the Namhsan Guest House. A very basic place, but very authentic. I really liked it; it looked more like a mountain shelter than a hostel. We paid €8 for the double room.
Can I do the hike on my own?
It depends on the current security situation and on what the government establishes. There have been times when it was forbidden for a foreigner to cross this part of the country, while at other times it was fine so long as you were accompanied by a guide. Sometimes you could go without a guide (or at least that's what we were told).
We went on our own and had no problem. Well, the truth is that on the way we met the revolutionary Shan guerrillas who fight against the government, but they were quite friendly. They had a Che Guevara style. Yes, I know that something could have happened, but we didn't know we would join them… Anyway, I've heard that these guerillas have declared a cease-fire after several negotiations in Bangkok, so it should be all right.
Otherwise, the hike is highly recommended. Although the mountains in the area are somewhat deforested, the villages still have a special charm. The people are extremely friendly, the kids go out to greet you and you can stay in the monasteries or in private homes.
Be careful with this because in Burma it's forbidden for locals to host foreigners without a license. Even so, it seemed that they don't take this rule very seriously in the region because we were invited to stay in houses several times, and so we did. Spending time with the people was the best part of the hike; sharing dinner, playing with the children and even sleeping on the wooden floor, with the back wrecked but a smile from ear to ear.
The path is not particularly difficult to follow and you'll always find people whom you can ask for directions. Be prepared to get lost a couple of times if you go without a guide. Sometimes you will find crossroads and it'll be like, "Ok, should I flip a coin?"
Here's a trick we used so that you can go without a guide and not get lost. The same day we left Namhsan, another couple was doing the hike with a guide. We greeted them and talked for 10 minutes. I noticed that the guy was wearing a pair of Salomon boots and I remembered his footprints. The route had a lot of dirt and dust, so it was really easy to follow his footprints for most of the trek. Every time we got to a crossing, Marcela walked in one direction and I walked in the other… the first one who found the Salomon's footprints would shout, "This way!" Ha-ha, it was a lot of fun!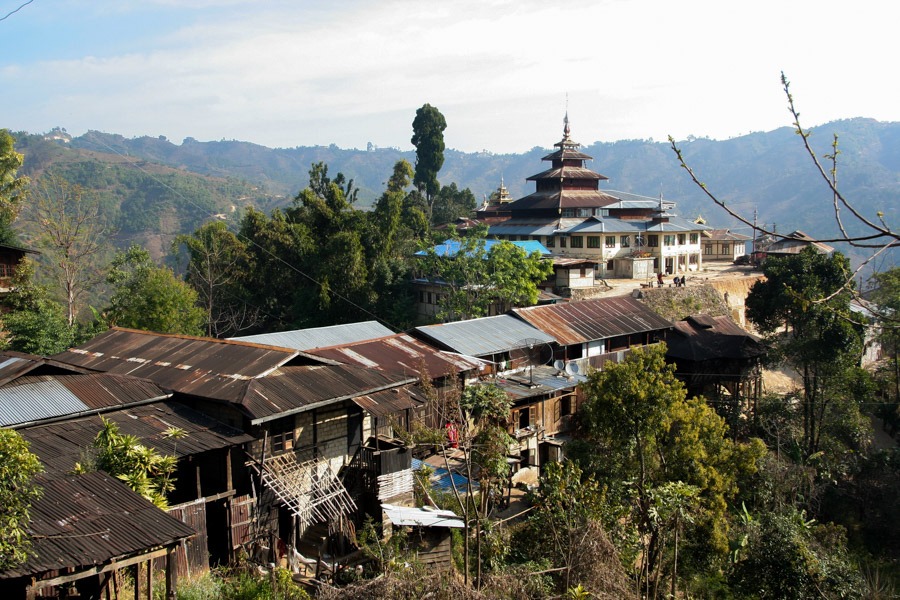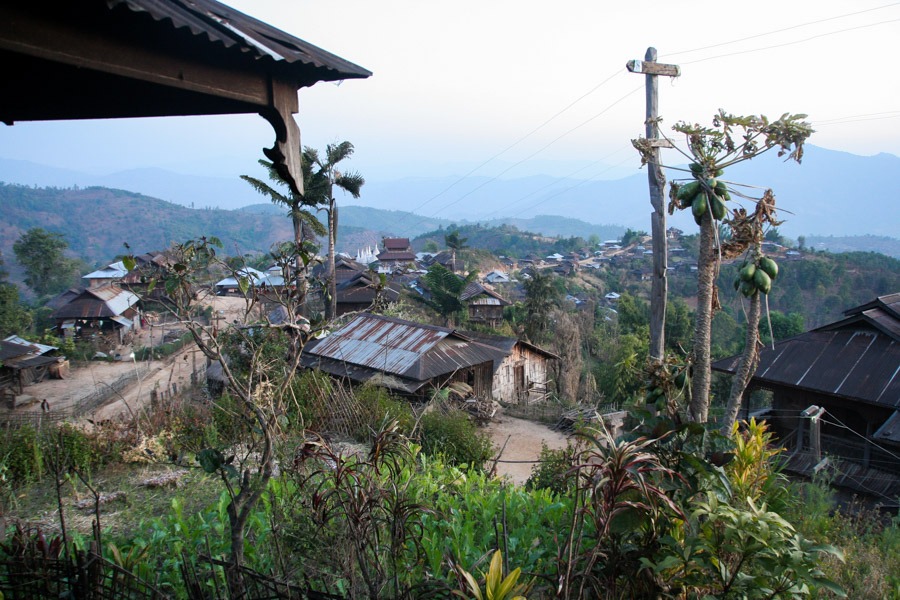 Weather. What's the best season for Hiking from Namhsan to Hsipaw?
The rainy season runs from June to September. During these months, it's still possible to complete the hike, but you can expect showers.
From October to January is the coolest season. These months are ideal for this route because there is little rain and the landscapes are still very green.
From February to May is the hottest season. However, being at that altitude, we're talking about bearable temperatures.
Tips for Hiking from Namhsan to Hsipaw:
Do not ask for accommodation; it will be offered to you.
As we mentioned before, hosting foreigners without a license is prohibited in Myanmar. That's why it's best not to ask anyone to host you. You can get them into big trouble.
When you get to a town, walk around and greet the locals. It's very likely that someone will invite you to his house. Otherwise, you can go to a monastery, where the doors tend to always be open.
TRAVEL INSURANCE
I highly recommend that you get a good insurance policy before you visit Maynmar. Trusted by thousand of adventurers, World Nomads is one of the best and more reliable options (without breaking your bank).
---
Have you enjoyed How to Hike from Namhsan to Hsipaw on your own? Leave a comment!
Some of the links in this post are affiliate links. This means that if you book or buy a service, I'll earn a small commission at no extra cost to you. I only link to stuff I love.
Hi, I'm Miguel; Adventure traveler, scuba diver and hiking lover. I have been traveling the world for the last 12 years and I hope my experiences, photos and hiking routes inspire you to travel the world too.