Several secrets are hidden inside this mountainous island. Rivers, lakes and waterfalls decorate the wild and thick jungle. We came to the Seven Sisters waterfalls to know this less visited region.
This hike is perfect for those who want to know something of nature without undergoing much physical exertion. The trek to the falls (more like a walk) is completed in just three hours roundtrip. The difficulty is medium -low.
The trail passes through a private property so you have to pay 5 EC to enter. At the entrance the boy will tell you that you need a guide to get to the falls, but it is not necessary. Kindly ask him to show you the path and there will be no problem. From the entrance you can see how the path takes different ways ahead, but the boy will tell you to take the left one. It is almost impossible to get lost.
The path is well marked and despite having some mud during the rainy season, there are wooden steps on the steepy parts so there are no accidents.
The nicest part is just before reaching the Seven Sisters waterfalls, where you walk through dense jungle and then a little further away from the falls, where you walk along a stream and the forest is dominated by huge bamboo trees.
The water in the pool is a little cold, but it is worth a swim to be just below the stream of the waterfall. It is a great feeling of freedom.
For the more adventurous, there is an access road to the top of the waterfall, where you can jump off. Personally, I didn't because I wasn't sure how deep the pool was, but later they confirmed that it's safe to jump.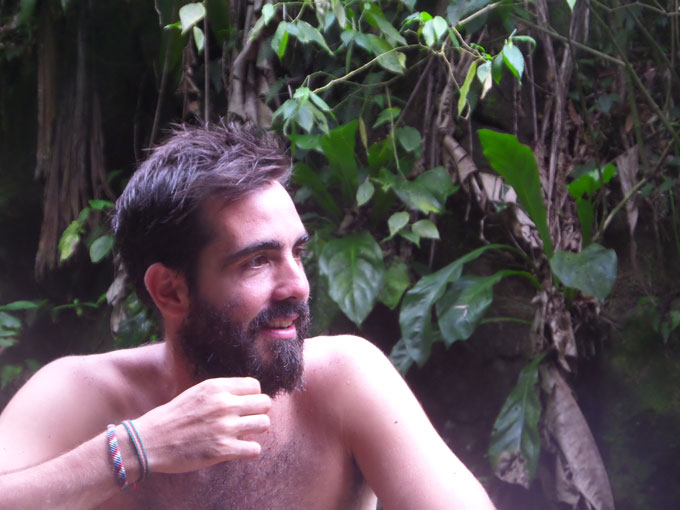 Map
Transport. How to get to the Seven Sisters Falls
You can take a MaxiTaxi from Saint George's to Greenville and ask the driver to drop you off at the junction with the waterfalls. 5 EC
Weather. When to go
Any time is good to visit the Seven Sisters falls in Grenada. We went during the rainy season and the path wasn't that slippery.
Tips for Hiking Seven Sisters Falls in Grenada
You don't need a guide to get here. Ask the guy at the entrance to show you the way from the wheelhouse.
---
Next Read:
---
Check out
the Ultimate Hiking gear list and don't forget anything important on your Caribbean expedition!
---
Do you have any questions about Hike to Seven Sisters Falls in Grenada? Please Contact me!
Hi, I'm Miguel; Adventure traveler, scuba diver and hiking lover. I have been traveling the world for the last 12 years and I hope my experiences, photos and hiking routes inspire you to travel the world too.