Papua, Indonesia's last frontier, is one of the most remote, beautiful and culturally fascinating places I've ever seen.
The local tribes, Dani and Yali, will surprise you with their traditions, strange clothes (or lack there of) and their kindness. In addition, the landscapes throughout the valley are spectacular; huge cliffs, waterfalls and rivers are home to this unusual people.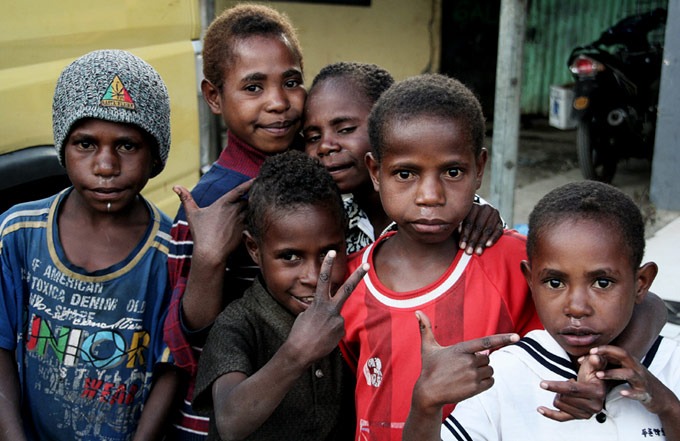 Knowing some Bahasa Indonesia (which is the easiest language to learn in the world) it is possible and advisable to make the Baliem Valley trek without agencies. Otherwise, be prepared to pay about 70 dollars a day for guides and porters.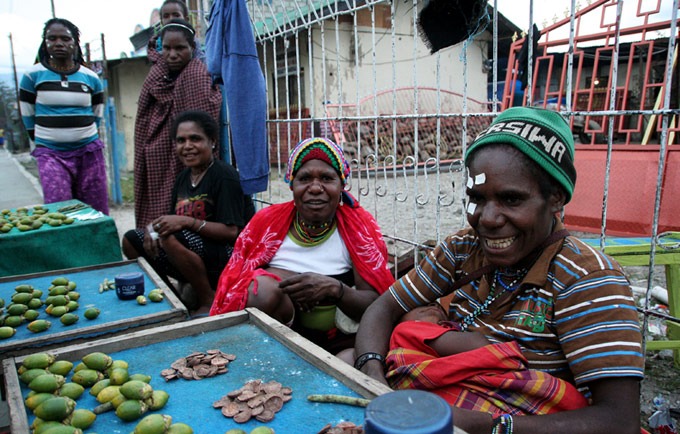 There are several routes and options depending on the days you want to wander through the valley. In my case, I took 6 days accompanied by my friend Adriana. After talking with some local people, I think that the route we took was alright to follow without a guide. A longer hike, going to remote areas can be complicated without someone who knows the roads. In fact, I had to hire a local guide for 2 days to get to Kiroma.
MAP
HIKING THE BALIEM VALLEY ON A BUDGET FOR 6 DAYS
Day 1: Wamena – Kurima – Hitugi
The first day it's best to wake up early and take the bus that goes to the post of Kurima. Here you have to register at a police post and begin the trek.
It's a simple way along the valley, with the Baliem river on one side. Once we cross the river by a reliable wooden bridge, the climb to the village of Hitugi begins.
The village, like all of them, is very basic, but you can get a floor (literally) to sleep on and buy some food. It's the first contact with the local people.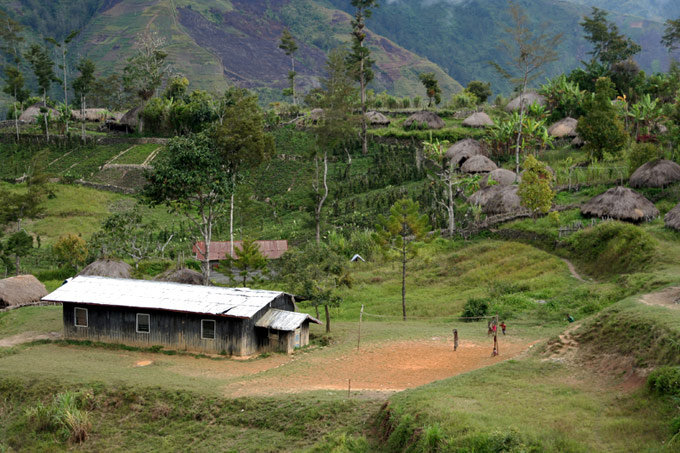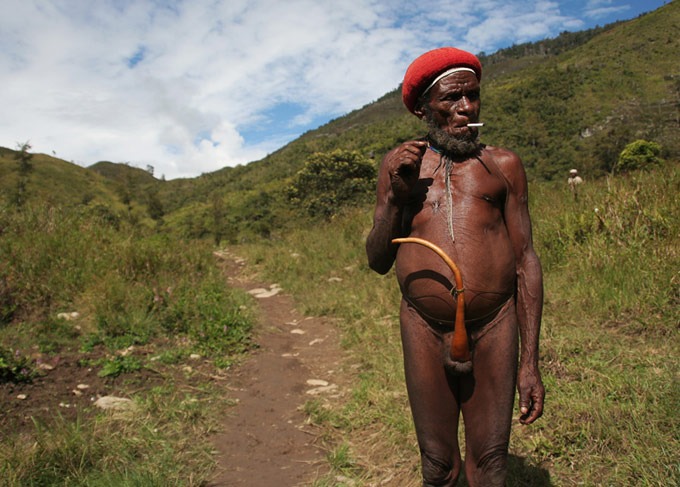 Day 2: Hitugi – Yuarima – Yogoshine
A day with beautiful landscapes along the valley and the river. It descends from Hitugi to Yuarima, a nice town with many children, and after crossing the river, the climb begins to Yogoshine.
In my opinion, this is the day with the most stunning scenery. Yogoshine is also where I liked the people more, they were nice, they approached, we took photos and shared some betel nuts.
Day 3: Yogoshine – Kiroma
Once in Yogoshine, I thought it would be a good idea to reach the territory of the Yali, beyond the village of Peliam. In this area the paths aren't well marked and its easy to get lost, so I hired a local guide who would take me to the village of Peliam while Adriana would wait a few days resting in Yogoshine.
In the end, we only arrived to Kiroma and then decided to turn back. The path was extremely heavy, with mud and water. In addition, you must pass a mountain, I had not many warm clothes and the nights were freezing.
In any case, reaching Kiroma with my guide was a good adventure. We spent a night in a shelter where water and cold trickled between the walls and crossed some complicated areas. We also came across some very real villagers.
Day 4: Kiroma – Yogoshine
Realizing that reaching Peliam would be too complicated because of the cold, rain and mud, I decided to turn around and return to Yogoshine, hang out again with Adriana and keep on this amazing route through the Baliem Valley.
Day 5: Yogoshine – Somewhere between Syokosimo and Userem
This was undoubtedly the most exciting day of hike. We were back on the route, circling, returning by the other side of the valley and trying to get to Syokosimo where we could sleep.
For some reason that I don't understand, we kind of got lost. The path was slippery, we had to cross a small river that ended up being a waterfall and in the end, it was too late. The sun was setting and we were in a thick forest that never seemed to end. We knew there was a village nearby but could not find it.
Finally, we could see the village at about 500 meters but it was dark, we kept going following the smoke rising from the houses and a man showed up and guided us to the dreamed destination. Literally all the people came out and help with looking for a place for us to sleep, they opened an old house by forcing the door with a crowbar. We all sat on the floor and spent some time eating, talking and laughing.
This town isn't on the map and I don't know the name, but they said that tourists never went out there and the people were incredibly nice.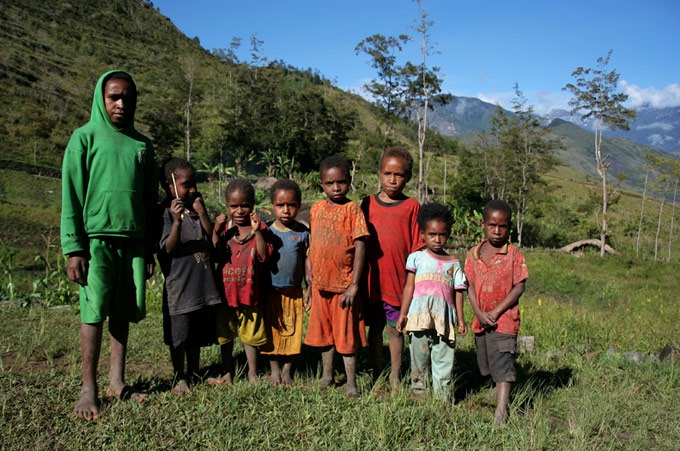 Day 6: Lost Village – Kurima
After spending a fun morning with all the people of this village, some children guided us for an hour to take back the original path so we could finish our route to Kurima. This was a simple day, descending the mountain and the valley to Kurima where we got a transport to Wamena.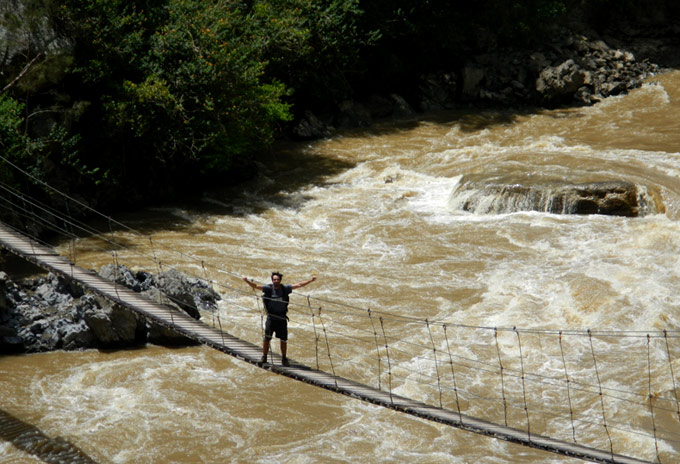 BUDGET FOR HIKING THE BALIEM VALLEY
To make the trek on our own, we spent about $8 a day between accommodation and food. The local guide who took me to Kiroma charged me 150,000 rupiahs a day, around $10. A good price.
Accommodation
All the places on my route and detailed map feature basic huts or family houses to sleep.
The price per person is about 100,000 rupiahs, but we negotiate to 60,000 rupiahs in each village and they all agreed.
---
Transport. How to get to the Baliem Valley
To get there you have to fly to Wamena.
Jayapura – Wamena with Air Trigana cost around $150. From Wamena to Kurima there are several vans in the morning.
---
Food and drink
You will find boiled water in every village and you can buy some food that they'll cook for you.
In general, we didn't spend more than $2 – $3 a day on food.
WEATHER, WHEN TO GO.
Rainfall is constant throughout the year, so it shouldn't be an obstacle to visit the Baliem valley.
During July and August there are major festivals with representations of wars, tribal dances, etc.
WHERE TO STAY
Before you get to the Baliem Valley, you'll probably need to stay one or two nights in Jayapura. Most hostels will cost you around $20-$25 for a single or double room.
I liked this place: Homestay Galpera Papua.
TRAVEL INSURANCE
I highly recommend that you get a good insurance policy before you visit Papua. Trusted by thousand of adventurers, World Nomads is one of the best and more reliable options.
TRAVEL TIPS FOR HIKING THE BALIEM VALLEY
Wamena Market
Before you grab your backpack and get lost in the valley, I recommend you visit the amazing and colorful market of Wamena.
You can take the opportunity to ask the name of some fruits and vegetables in the local language. So, you know how to ask for them while trekking.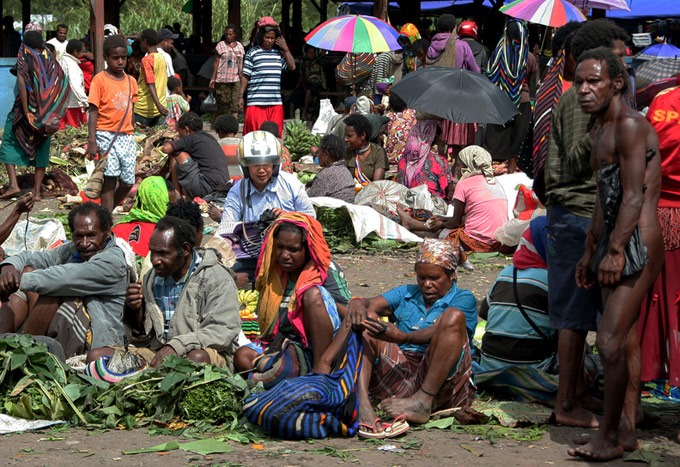 Couchsurfing
The hostels in Papua are quite expensive, however, there are several interesting couchs both in Jayapura and Wamena. Check out the Couchsurfing Website.
Maps
The map I have attached to this post is indicative and distances are not to scale, but it serves to give you an idea. In Wamena you can get more detailed maps. You can have a look at this Wikiloc route.
---
Trekking routes
Although we walked for six days, I think a 4-day route through the valley is enough to meet people and enjoy the scenery.
Of course including more days would also be interesting, but if you want to get away from this basic path, you should get a guide.
I recommend:
Day 1: Wamena – Kurima – Hitugi.
Day 2: Hitugi – Yogoshine.
Day 3: Yogoshine – Syokosimo.
Day 4: Syokosimo – Kurima – Wamena.
If you intend to go further you can get a guide in these same villages for a much better price than in Wamena. Expect to pay about 150,000 rupiahs a day.
---
Learn Bahasa Indonesia
Knowing the minimum of their language is very important to buy food, ask for directions, places to sleep, etc.
---
Meet the locals
Although obviously influenced by the modern world, these characters still live in the traditional way and keep their culture almost intact, with their simple lives, huts and traditions.
Of course, the younger people wear shirts and shoes nowadays, but if you spend a few days with them, you'll see their way of life is almost as it was hundreds of years ago.
Papua is your last adventure in Indonesia!

"They were well flavored days of intense mountain, not for the food which was poor or for the boiled water that tasted like fire, but because we felt the force of such overwhelming nature with its rivers of rough water and suspension bridges, thick forests and mud puddles, and above all, for meeting this incredible people that despite time and modernity, keep that tribal force and Papua heart intact."
---
Do you have any question about Hiking the Baliem valley? Please Contact me!
Some of the links in this post are affiliate links. This means that if you book or buy a service, I'll earn a small commission at no extra cost to you. I only link to stuff I love.
Hi, I'm Miguel; Adventure traveler, scuba diver and hiking lover. I have been traveling the world for the last 12 years and I hope my experiences, photos and hiking routes inspire you to travel the world too.