If you are looking for a diverse destination for boasting in subtropical weather, dramatic landscapes, and hiking trails, you should visit La Palma in the Canary Islands. Commonly known as "la isla bonita" (the beautiful island), La Palma stands out for its contrasting landscapes, where you'll find volcanic craters, coastal cliffs, alpine forests, and deep canyons.
La Palma has an extensive footpath network of almost 1000 km, offering a variety of amazing hikes. This well-marked network includes the famous GR130 and GR131 routes, as well as a bunch of ancient paths that the island's inhabitants have created over the centuries. Today, I'll offer a selection of the most popular trails on the island, along with a few lesser-known trails that I'd like to mention.
Note: Some trails run through thick forests and narrow canyons, in which the GPS signal is usually not accurate. That's why distances and elevations indicated below are approximate.
Check out other articles to find the best hikes in Tenerife and Picos de Europa.
THE BEST HIKES IN LA PALMA
1- FROM LA CUMBRECITA TO PICO BEJENADO
This trail offers one of the best views of the spectacular Caldera del Taburiente, a huge volcanic crater that is home to the highest peaks on the island, including El Roque de Los Muchachos, which is 2,426 meters high.
The path starts and ends at La Cumbrecita Viewpoint, located at 1,322 meters high, and goes up to Pico Bejenado, at 1,853 meters high. Most of the trail runs close to the crater rim, offering stunning views of the caldera from different angles.
This isn't a difficult hike, but keep in mind that it's uphill for the first two hours. If you are looking for something easier, you can hike the small circuit around La Cumbrecita Viewpoint, which can be completed in less than an hour. Actually, I recommend this short circuit to anyone who comes here, as it has two beautiful viewpoints, especially the Lomo de Las Chozas viewpoint.
If you don't have a car, you can start at La Cumbrecita. From there, you can hike up to Pico Bejenado, then hike down to the Visitor Center near El Paso, where you can get public transportation.
Distance: 10 km (La Cumbrecita – Bejenado – La Cumbrecita)
Duration: 3 – 4 hours
Difficulty: Moderate
Elevation gain: 750 meters
Access: There is a public parking lot in La Cumbrecita, but you'll need to get a permit to access the area. You can book your access permit here. If you don't have a private car, you can take a taxi from El Paso. Some hostels offer transportation to La Cumbrecita, too; it costs around €20 one way from El Paso or Los Llanos.
2- FROM LOS BRECITOS TO BARRANCO DE LAS ANGUSTIAS
Also located in the mighty Caldera del Taburiente, this trail will take you from Los Brecitos Viewpoint down to the very heart of the volcanic caldera. Most of the trail is downhill, which makes it an excellent option for those not used to difficult treks.
First, the trail runs through a pine forest that reveals the majestic crater walls on the sides. Later, it crosses the camping area as well as the river, which follows the Barranco de las Angustias (Angustias Canyon) down to the Caldera del Taburiente car park. This is undoubtedly one of the most popular trails on La Palma. Don't miss it!
Distance: 16 km
Duration: 4 hours
Difficulty: Easy – moderate
Elevation gain: 155 meters
Access: Los Brecitos car park is accessible only by taxi. Access by private car isn't allowed due to the small size of the car park. Also, the road can be pretty dangerous. The best way to get there is by driving to Caldera de Taburiente car park and then taking a taxi from there to Los Brecitos. The taxi ride costs €51 one way.
3- LOS TILOS WATERFALL AND ESPIGÓN ATRAVESADO VIEWPOINT
Grab your raincoat and get ready to explore one of the greenest parts of the entire island. Located in Las Nieves Natural Park, Los Tilos is one of the most important laurel forests in the Canary Islands due to its great biodiversity and wild nature.
When you see the thick forest and huge ravines surrounding the Espigón Atravesado viewpoint, you'll know what I'm talking about. The scene is reminiscent of Southeast Asia!
Los Tilos Waterfall, which is easily accessible from the car park in less than 10 minutes, is another must-visit in the area.
Distance: 8 km
Duration: 2 – 3 hours
Difficulty: Easy – moderate
Elevation gain: 300 meters
Access: There is a parking lot at Los Tilos Visitor Center. There is no public transport to get there.
4- MARCOS Y CORDERO
Considered one of the best hiking trails on La Palma, Marcos y Cordero Trek runs through 13 tunnels located between impossible cliffs and dense laurel forests.
Don't forget your raincoat, as heavy rains are common on this part of the island. Also, tunnel number 12 is usually flooded, so don't be surprised if your boots end up completely wet. I recommend that you bring a spare set of clothes, extra socks, etc.
Distance: 12 km
Duration: 4 – 5 hours
Difficulty: Moderate
Elevation gain: 600 meters
Access: To complete this route, there are two popular options:
1- The simplest and most popular option is to travel by private car to Los Tilos Visitor Center, and from there take a shared taxi to La Casa del Monte. The taxi ride costs €150, but it's a van with a capacity of eight people. I recommend that you arrive around 9:00 a.m., so you can find other travelers to share expenses with.
2- If you get two cars, you can park one of them near Los Sauces, just before Los Tilos Bridge. Then, you drive the other car to Los Tilos car park. From there, you have to hike up to the 13 tunnels, then hike down the path that ends near Los Sauces. Keep in mind that this option is 10 km longer.
5- ROUTE OF THE VOLCANOES
Following the spine of the island, this route runs through cloud forests, old lava flows, and volcanic craters. The traditional trail starts at Refugio El Pilar and descends to Las Salinas, at the southern point of La Palma.
This trail is really popular because it allows you to observe a great variety of landscapes and colors while offering an incredible panoramic view of both the east and west coasts of the island. Often, the route runs above the clouds, which makes it an unforgettable experience.
Keep in mind that due to its length and height difference, hiking the entire trail in one day can be somewhat demanding. For this reason, many hikers do it in two days or complete only one of the sections.
The first part goes from Refugio El Pilar to Fuencaliente. The second part connects Fuencaliente and Las Salinas.
Distance: 19 km (the first section) and 23 km (the entire route)
Duration: 5 – 6 hours, or 7 – 8 hours
Difficulty: Moderate – difficult
Elevation gain: 750 meters
Access: There is no public transportation to Refugio El Pilar, but it's easily accessible by taxi from El Paso. Some hotels and hostels can arrange transportation from El Paso and Los Llanos. The price is around €20 one way. To return, bus 200 connects Fuencaliente with Santa Cruz, while bus 210 connects Fuencaliente with Los Llanos.
6- FROM TIJARAFE TO PORÍS DE CANDELARIA
The impressive Porís de Candelaria is a place that you can't miss on La Palma. Imagine a small village built inside a huge cave. Crazy, right?
Most people visit it by car, but this is an article about hiking routes, so I suppose you'd prefer to get there by hiking along the ravine of Tijarafe.
There are two trails from Tijarafe down to La Candelaria: the north trail (straight, but a bit boring) and the south trail (much more beautiful, but longer). I recommend that you complete a circuit taking both trails.
Distance: 11 km
Duration: 4 – 5 hours
Difficulty: Moderate – difficult
Elevation gain: 950 meters
Access: The trail begins in the town of Tijarafe. If you're traveling by public transport, bus 110 connects Los Llanos with Tijarafe every hour.
7- LOS FRANCESES AND LOS GALLEGOS
If you like dramatic cliffs, you must take the path that connects Los Franceses viewpoint with Los Gallegos viewpoint, on the northern face of La Palma.
This trek crosses incredibly wild ravines that will amaze you. It's easy to understand why many people consider this one of the most beautiful hikes on the island.
You can park your car in the town of Los Franceses and, from there, visit both viewpoints. However, there are longer routes, starting from El Tablado, Barlovento, and other places.
Distance: 9 km (round trip)
Duration: 3 – 4 hours
Difficulty: Moderate – difficult (there is quite a lot of hiking up and down)
Elevation gain: 600 meters
Access: The easiest way to visit the area is by private car. Otherwise, bus 120 connects Barlovento with Puntagorda and stops at Los Franceses.
8- LA GALGA
La Galga trek is a great option for those who want to walk along a beautiful canyon covered by thick laurel forest, but without putting in a lot of effort.
The trail is relatively short and easy, but don't forget your raincoat, as this area is quite rainy. I recommend that you take the circular path leading to the Somada Alta viewpoint, which offers amazing views of the surrounding mountains.
Distance: 9 km
Duration: 3 hours
Difficulty: Easy
Elevation gain: 400 meters
Access: There is a car park right where the path begins. Also, bus 100 leaves Santa Cruz every hour and stops in front of the car park.
9- FROM LAS TRICIAS TO CUEVAS DE BURACAS
If you're having one of those days when you just want to do an easy hike, I recommend traveling to the little town of Las Tricias. The path that descends to Cuevas de Buracas doesn't take you along large ravines or impossible cliffs but it has an unusual, unique charm.
This region boasts one of the highest concentrations of dragon trees (an arboreal plant, typical of the subtropical climate of Macaronesia) on La Palma. Plus, the local hippie-style houses make the trail even prettier with their colorful doors and flowery windows.
Distance: 4.5 km (round trip)
Duration: 1.5 hours
Difficulty: Easy
Elevation gain: 300 meters
Access: You can get to the town of Las Tricias by private car or by taking bus 120, which connects Barlovento with Puntagorda.
10- PLAYA DE LA VETA
Lastly, I bring you a short trail that ends at a beautiful black sand beach. If you want to combine a bit of hiking with a chill beach day, Playa de la Veta could be what you are looking for.
Distance: 2 km (round trip)
Duration: 1 hour
Difficulty: Easy – moderate
Elevation gain: 250 meters
Access: The beach can be accessed from a car park located about 6 km west of Tijarafe. The only way to get there is by private transport.
WEATHER. WHEN TO GO HIKING IN LA PALMA
Although you can hike on La Palma at any time of the year, bear in mind that, despite its subtropical climate, there are significant differences from season to season.
From November to January, the weather can be somewhat rainy and cloudy, although it will depend on the year. The 2020 winter was exceptionally rainy, but most winters are moderate. In January and February, the Roque de Los Muchachos area can be quite cold and even covered in snow.
Spring (March to June) is, without a doubt, one of the best moments to visit this hiking paradise. You can go hiking in summer (July to September) too, but keep in mind that the temperature will be higher.
ACCOMMODATION. WHERE TO STAY IN LA PALMA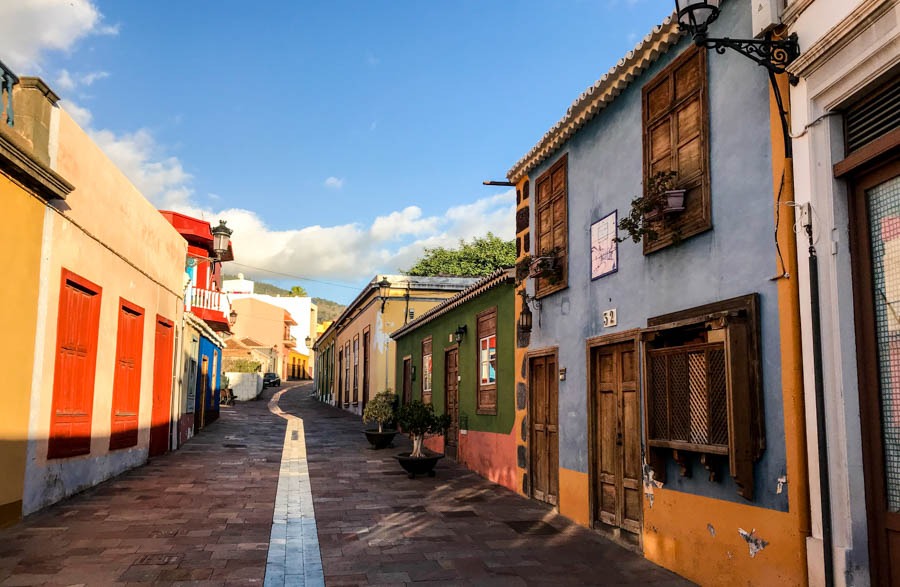 La Palma has many beautiful places to stay. The two most populated cities are Santa Cruz de La Palma and Los Llanos. Santa Cruz boasts one of the best-preserved historic centers on the Canary Islands. Los Llanos has a beautiful historic quarter, too, although it stands out more for its commercial and leisure activity.
If hiking is the main reason you want to visit La Palma, I recommend that you stay in Los Llanos, which has better access to most routes on the list. The small town of El Paso is also quite charming and very well situated.
If you are looking for a backpacker hostel with a great vibe, where you can easily meet other hikers and travelers, I recommend Vagamundo Hostel in Los Llanos. Here, you'll find other interesting accommodation options on La Palma.
HOW TO GET TO LA PALMA
From other islands
There are daily flights to La Palma from Tenerife and Gran Canaria. If you are flying from other islands, you'll have to make a stopover. The main local airlines are Binter, Canaryfly, Air Europa, and Iberia.
From Spain
There are direct flights from several Spanish cities to La Palma. Some airlines make a stopover in Tenerife or Gran Canaria before reaching La Palma.
From Europe and other regions
Despite its being a relatively small island, several direct flights connect some European cities with La Palma. For instance, there are direct flights from Germany, as this island is very popular with German tourists.
TRANSPORTATION WITHIN THE ISLAND
By car
I recommend that you rent a car so you'll be able to reach the most remote areas on the island at your own pace. Most companies have similar prices. The main price difference will stem from insurance. I like Cicar, which is a very professional company. Its cars are in very good condition, and it includes fully comprehensive insurance.
By bus
If you don't want to rent a car, you can use local buses to get to many places. The main problem is that some bus lines don't run very often. Also, sometimes you'll need to change buses to get to certain places, which can result in long waits.
Take a look at the La Palma bus network, with detailed stops and schedules.
Hitchhiking
Hitchhiking works pretty well on La Palma. Most locals are not familiar with the concept, but you'll find lots of tourists driving around the island, and they'll likely give you a lift.
MAPS, ROUTES, AND BOOKS
For GPS routes, I always use the Wikiloc app, which features hundreds of hiking trails on La Palma. If you're looking for a guidebook, I recommend the La Palma guidebook by Cicerone, in which you'll find the most popular long-distance routes as well as short trails.
OTHER PLACES TO VISIT IN LA PALMA
In addition to spectacular treks, La Palma has hundreds of towns, viewpoints, and beaches that are worth a visit.
I recommend that you visit the town of Tazacorte, where you'll find a beautiful beach that's almost always sunny, even when clouds cover the rest of the island.
If you go to Callejoncito Beach, you'll see an incredible canyon with small caves where you can bivouac. Naturally, you can't miss Los Nogales, which is considered the most beautiful beach on the island.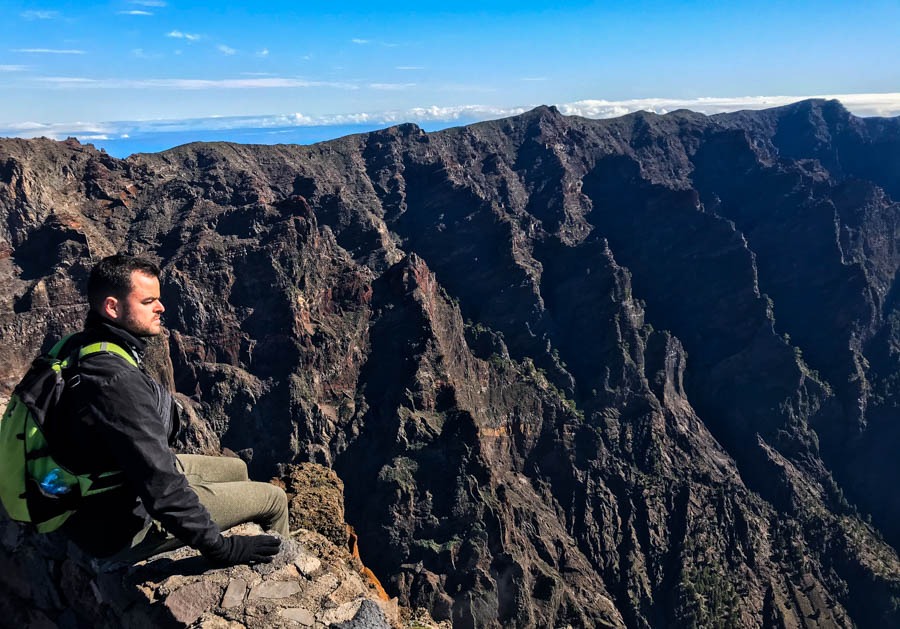 Also, you should visit the Roque de los Muchachos Viewpoint, which is located near the Astrophysical Observatory of La Palma.
Hi, I'm Miguel; Adventure traveler, scuba diver and hiking lover. I have been traveling the world for the last 12 years and I hope my experiences, photos and hiking routes inspire you to travel the world too.