Getting to Siberut is not an easy task. There are just a few cargo ships to go there and the schedule is non-existent.
I can do it; I thought. I took the bus from Medan and 24 hours later I arrived in the city of Padang, Sumatra. Ask and ask, call the port, contact hotels, and nothing. Noone knew if there was a boat to the Mentawai Islands, nor from where it may depart. I gave up. I went to a small hotel to have a rest and suddenly the miracle happened. The guy at the desk was an angel sent by God and informed me of a boat leaving in two hours from a nearby port. There we go, Mentawai!
The trek of the Mentawai islands is one of the hardest yet most rewarding experiences of my time in Asia. Be prepared for long walks through rain and mud, sleeping directly on the wooden floor and eating "Sagu" and "Durian" day after day.
The reward; to live with the Mentawais. A tribe of eccentric traditions and the demonic aspect that inhabits the islands for over 4000 years.
The Mentawai still retain their traditional culture in the form of natural medicine, tattoos decorating their bodies, sharpening teeth, and artisan food preparation.
Map. Visiting the Mentawai Islands
Hiking the Mentawai Islands on a budget. 6 days Itinerary
Day 1. Padang – Muara Siberut
After 10 hours by boat, I got to Muara Siberut. Although it's the largest population of the island, the Mentawai culture here is almost non-existent. The Indonesian government is populating the island with the called "transmigrasi"; people brought from other Indonesian islands, whose function is to gradually edge out the local cultures.
Here is where I found my guide for the jungle (a guide whom I won't recommend since I found him very bad).
Day 2. Muara – Traditional Mentawai Longhouse (Uma Mister Lala)
Once everything was negotiated with the guide (prepare to shell out some big bucks, this I'll explain in the budget section), we left early from Muara Siberut.
The first part of the journey was done by tuk-tuk up to a beautiful river. From there, we boarded a small boat and continued 2 hours upstream to reach the Mister Lala's Uma (that's how they call their longhouses).
In that Uma, I met all the Mentawai family and I was just amazed. It was my first contact with them, and I couldn't stop looking at their tattoos, clothes, sharp teeth and the way they smoke cigarette after cigarette.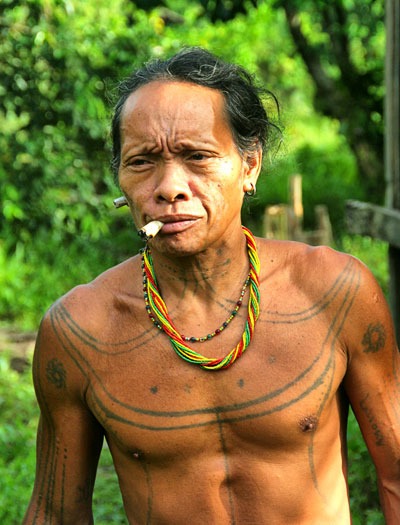 Day 3. Mister Lala's Uma – Salomó's Uma
This was a tough day, many hours of walking through the jungle, with heat and humidity that made each step heavier than the previous. It's important to wear good shoes since it's a jungle path, but then you see the Mentawais go barefoot all the time. The path is exceptionally muddy everywhere, so there may also be some slips and falls, but no worries, all part of the adventure!
Eventually, we reached the Salamo's house, one of the most respected Mentawai in the region, who even had participated in a reality show in Spain. Here I could see what life is like in a Mentawai house; Customs, family hierarchy or how they kill animals and cook. It was getting very interesting.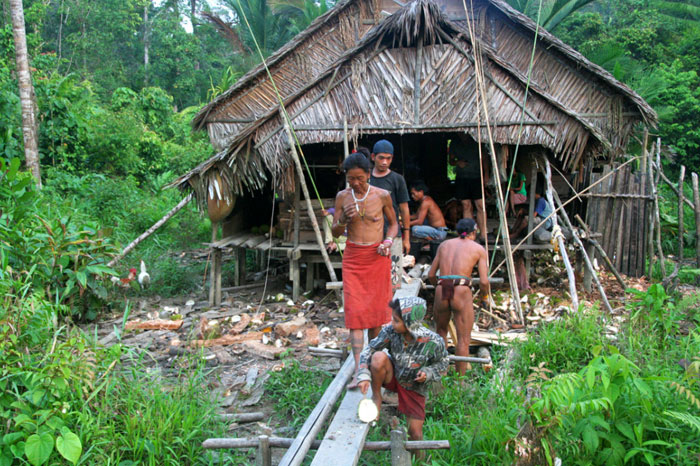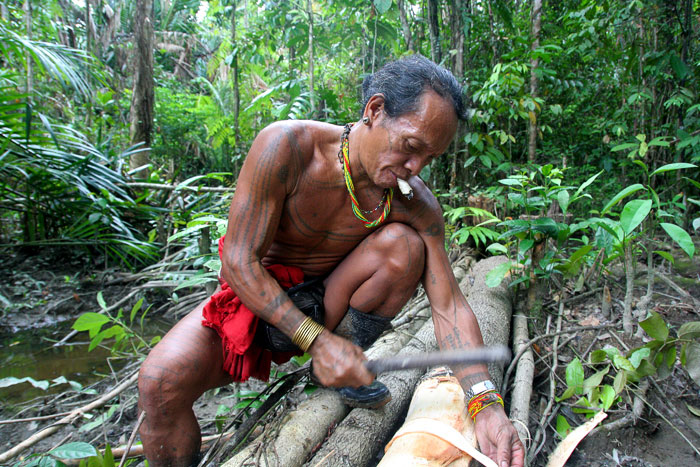 Day 4. Activities in Salamo's Uma
This was one of the best days. We went looking for some fruits deep in the jungle, we "tried" to hunt an animal, they taught me how to prepare the poison used for the arrows and also how to prepare the "Sagu"; a typical Mentawai meal, consisting of a white mass made from the trunk of a tree. You must try it, but it's absolutely tasteless.
Day 5. Salamo's Uma
We left pretty early and after much walking, we reached a small village. The houses are basic, the streets full of animals and people very friendly.
Here I got to know quite a few Mentawais; these people are amazing. They spend all their time smoking and arguing. All the kids wanted to play with me, so I let them guide me to a small nearby waterfall, a nice place to swim in the middle of the jungle.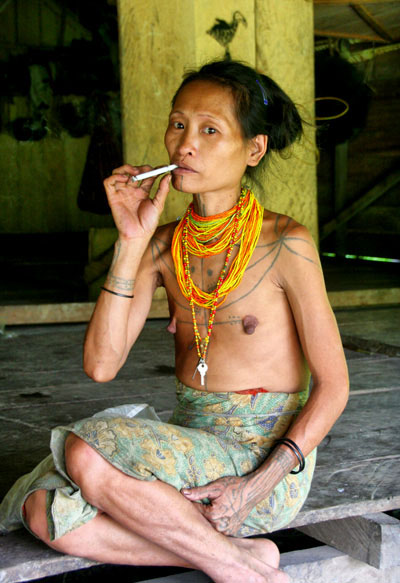 Day 6. Village Mentawai – Muara Siberut
The last day. We walked to the river to take the small canoe that would bring us back to Muara. The adventure ended, but my sense of satisfaction had no limits. Test Passed!
---
BUDGET FOR VISITING THE MENTAWAI ISLANDS
I spent about $35/day, including the guide, food, transport and accommodation in local houses.
PLAN YOUR TRIP
ACCOMMODATION IN HOSTELS
During the Trek, you stay in the Umas, which are traditional wooden houses, and you usually sleep directly on the ground or perhaps on a blanket. There are thousands of mosquitoes and no bathroom: the forest is a big bathroom!
In Muara Siberut, you can stay at Hotel Siberut: $8 for as simple room for two people.
Before you get to the Mentawai Islands, you'll probably stay in Padang for one or two nights.
I liked this place in Padang: Riverside Hostel. Clean, nicely decorated, great staff and comfortable rooms.
ACCOMMODATION IN AIRBNB
A good option for couples and groups, with rooms and apartments at great prices. If you sign up through my link, you will get $35 of Airbnb credit!
TRAVEL INSURANCE
I highly recommend that you get a good insurance policy before you visit Mentawai. Trusted by thousand of adventurers, World Nomads is one of the best and more reliable options (without breaking your bank).
TRANSPORTATION. GETTING TO SIBERUT
From Muara Siberut there are theoretically several ferries a week to Padang, however, do not rely on the information that you find online, or you hear before arriving in Padang. You should go ahead and then ask for information directly in the city or call a travel agency in Padang.
I had a pretty decent ferry on the onward way for $10.
On the way back I took an old and completely overloaded wooden ferry also for around $10.
---
MENTAWAI FOOD
The Mentawai specialities are "Sagu"; a white dough made from some kind of tree with no taste, and the "Durian" a fruit that smells bad and tastes even worse. When they have guests, they usually prepare something better, so you'll probably have a chicken or perhaps some pig meat.
WEATHER. WHEN TO GO
The driest season goes from June to September, although this is a tropical island, so be prepared to get wet anyway.
TIPS FOR TRAVELING TO THE MENTAWAI ISLANDS
Booking a tour
In Padang, there are several hotels that can organize tours from the city. Obviously, this option is very expensive and not for a backpacker's budget.
If you want to do it on your own, more cheaply, I recommend you go to Muara Siberut and directly hire a local guide. Almost all speak Basic English and can explain the details of what you book. Of course, you have to bargain hard because they want to charge you a lot. Here everything works as a community and each family that you visit gets some of the money.
I paid about $35 a day all inclusive; the guide, the tuk-tuk ride, the boat ride, stays and meals for all the days. I know it's not cheap, but it's the cheapest option to do so.
---
Cigarettes
I suppose you'll want to take lots of pictures of these amazing characters. Well, the currency; cigarettes. They are kind of smoking junkies and will be happy to pose for all your photos as long as you give them a lot of cigarettes. I took two cartons and returned with nothing!
---
Anti-mosquito
This is an area with quite a number of malaria infections and other diseases transmitted through mosquito bites, so it's important to have a good mosquito repellent.
---
Important stuff
Bring a torch, toilet paper, several batteries for the camera, enough clothes, excellent boots, an insulator or a small sleeping bag you can use as a mattress and some plastic bags to protect all your valuables, because believe me; You will end up wet!
Check out
the Ultimate Hiking gear list and don't forget anything important on your Asian expedition!
---
---
Did you like Visiting the Mentawai Islands on a budget? Leave a comment!
Some of the links in this post are affiliate links. This means that if you book or buy a service, I'll earn a small commission at no extra cost to you. I only link to stuff I love.
Hi, I'm Miguel; Adventure traveler, scuba diver and hiking lover. I have been traveling the world for the last 12 years and I hope my experiences, photos and hiking routes inspire you to travel the world too.