With an extension of ​​65,000 hectares, huge limestone peaks, lush forests, and vertical ravines, Picos de Europa National Park is a true paradise on earth. After a long time spent writing about routes in remote places, such as the Annapurna Base Camp Trek and the Mount Roraima Hike, I thought it was time to talk about the hiking trails in Spain. After Teide National Park, Picos de Europa is the second-most-visited park in the country. It's easy to understand why; there are plenty of routes for all levels, the landscapes are extraordinary, the food is great, and the local people are really friendly.
In this article, I'll offer a selection of what I consider to be the best hiking trails in Picos de Europa, including a few trails suitable for the entire family and others recommended for experienced hikers. Keep in mind that it's a totally personal choice. The park contains hundreds of trails, and everyone has their own preferences. In any event, this list will help guide those who are visiting Picos for the first time and don't know where to start.
Check out other articles to find the best trails in Tenerife and La Palma.
The 7 Best Hikes in the Picos de Europa
1- RUTA DEL CARES
Huge cliffs, impossible trees hanging from the rock, and the Cares River roaring at the bottom of the canyon have made this place the greatest icon in Picos de Europa. Unfortunately, its well-deserved reputation attracts thousands of visitors during the high season, which kind of ruins the magic of the place. The trail is suitable for anyone who is in decent shape (in other words, you don't need to be an experienced hiker), except for those who are afraid of heights. I recommend that you don't get too close to the edges because the fall would be monumental.
There are several options for completing this hike. One of the most popular options is to start from Poncebos (where you can park your car), take the trail to Cain, and return to Poncebos by following the same path back. If you don't want to walk that much, there are taxi services that can leave you in Cain and pick you up in Poncebos or vice versa. As for the difficulty, if you start in Poncebos, keep in mind that the first hour of the trail is uphill. It's not difficult, but take this fact into consideration if you are hiking with kids or older people. On the other hand, if you start in Cain, that steep section will be downhill. The rest of the trail is totally flat.
Distance: 12 km (24 km round trip)
Duration: 3 hours (6 – 7 hours round trip)
Difficulty: easy (moderate round trip)
Elevation gain: 500 meters
How to get there: You can start this trail from Cain or Poncebos, whichever you prefer. The easiest way to get there is by driving your own car. In the summer, there is a bus from León to Caín and another one from Arenas to Poncebos. During the high season, access to Poncebos may be closed to avoid traffic jams. If that happens, you must leave your vehicle in any of the authorized parking lots.
2- THE HIKE UP TO REFUGIO DE URRIELLU (URRIELLU HUT)
The trail up to the Urriellu Hut is another classic journey in Picos because it allows you to reach the base of the mythical Urriellu Peak, also known as Naranjo de Bulnes. The trail runs along green meadows and rocky slopes before it enters the stone heart of the great central massif. There, you'll enjoy awesome views in all directions.
Once you get to the hut, you can hike back to Pandébano, take another trail, or spend the night in the shelter. I took the trail to Fuente Dé, which is a challenging but awesome hike.
Distance: 6.5 km
Duration: 2.5 – 3 hours
Difficulty: easy – moderate
Elevation gain: 850 meters
How to get there: The easiest and most popular trail starts in Pandébano, which is very close to the beautiful town of Sotres. If you're driving your own car, keep in mind that the last 3 km of the road are in pretty bad condition. Drive carefully if you don't want to scrape the bottom of your vehicle.
3- FROM REFUGIO DE URRIELLU TO FUENTE DÉ (EXTENSION OF THE PREVIOUS TREK)
If you make it up to Refugio Urriellu and want to keep hiking, I recommend that you take the trail to Fuente Dé. This way, you'll be crossing the central massif pretty much end to end (from Pandébano to Fuente Dé). This is one of the most beautiful hikes in Picos de Europa.
To complete this trail, you'll need to cross the Horcados Rojos, which is a steep and exposed pass. This section is equipped with cables to help you on the steeper parts. Getting through the pass is not technically difficult, but I certainly don't recommend that inexperienced people do it. Also, if snow is on the pass, you shouldn't cross unless you feel very confident and have brought crampons.
Distance: 8.7 km (15 km from Pandébano to Fuente Dé)
Duration: 4 hours (7 – 8 hours from Pandébano to Fuente Dé)
Difficulty: moderate – difficult
Elevation gain: 560 meters
Access: The easiest option is to park your car in Pandébano, hike the trail from Pandébano to Fuente Dé, and then take a 4×4 taxi back to Pandébano.
4- FROM PONCEBOS TO BULNES
This steep, beautiful path will take you to Bulnes, a charming village featuring cobblestone streets and stone houses with flowers in the windows. You'll also encounter friendly people and enjoy breathtaking views of the surroundings. In fact, Bulnes is considered one of the most beautiful villages in Spain. If you don't feel like hiking that day, you can take a funicular up to the village. The cost is about 22 euros round trip.
Distance: 9 km
Duration: 3 hours
Difficulty: moderate (the trail is easy to follow, but it's uphill all the way)
Elevation gain: 500 meters
How to get there: You can leave your car in Poncebos, either parked on the roadside or in the small parking lot next to the funicular station.
5 – FROM SOTRES TO FUENTE DÉ (VIA THE ALIVA HUT)
I've already talked about the hike from Pandébano to Fuente Dé via the Urriellu Hut. Remember the complicated step that I mentioned? No worries! Here, you have an easier option of hiking from Sotres to Fuente Dé, which also offers amazing landscapes. For this route, you'll take the trail through the Aliva Hut. Keep in mind that this trek is quite long and involves much uphill and downhill hiking.
Distance: 20 km
Duration: 5 – 6 hours
Difficulty: Moderate
Elevation gain: 1000 meters
How to get there: You'll start in Sotres and then have to look for transportation back from Fuente Dé to Sotres. You can take a 4×4 taxi.
6- COVADONGA LAKES
One of the most famous places in Picos de Europa and in all of Asturias, the Covadonga Lakes are a great option for short hikes with family or friends. It's a great place for those who aren't in good shape, as there are several circuits around the lakes which one can complete in an hour. If you are a demanding hiker, you'll find longer routes available, too.
Distance: 3.65 km (short hike around the lakes)
Duration: 1 hour
Difficulty: very easy
Elevation gain: 115 meters
How to get there: The fastest access is from Cangas de Onís. During the high season and certain holidays, the lakes cannot be accessed by private vehicle. A bus system runs every 20 minutes and stops at Cangas de Onís, certain parking lots, the Sanctuary of Covadonga, and the lakes. Leaving your car in enabled parking lots costs 2 euros (valid for the whole day). The bus costs 9 euros round trip.
7- ANILLO DE PICOS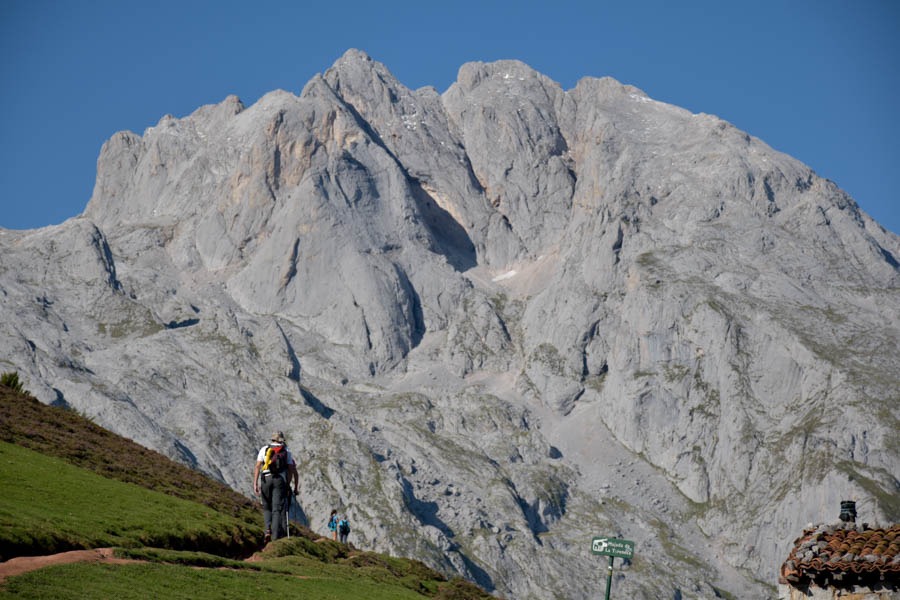 The Anillo de Picos is a circular route that connects all the official huts in Picos de Europa. Actually, it's a combination of several connected circuits. The shortest circuit is the Anillo Vindio, which runs through the western massif. The second circuit is the Anillo Extrem, which takes you along the western and central massifs. The last circuit is the Anillo 3 Macizos, which crosses the three massifs. All circuits can be started in any of the huts.
This is the perfect option for experienced hikers who want to explore the park in-depth. More information about the Anillo de Picos is available here.
Distance: 63 km for Anillo Vindio, 82 km for Anillo Extrem, and 114 km for Anillo 3 Macizos
Duration: 3-9 days
Difficulty: moderate – difficult
Elevation gain: 3,900 – 8,500 meters
How to get there: Different access points are available depending on your itinerary and starting point.
---
Weather. When should you go hiking in Picos de Europa?
You can visit the park at any time during the year. However, during the fall, winter, and parts of spring, snow will be covering many of the trails. (Remember, several peaks are over 2,500 meters high.)
If you don't want to encounter snowy paths, the best season for trekking in Picos de Europa runs from June to September.
The weather conditions will also depend on the type of hiking you're planning to do. During high-altitude treks, you're likely to find some snow even in June, while the first snow may fall in September.
If you're doing Ruta del Cares, I strongly recommend that you travel in spring or autumn. In July and August, there are way too many people. Also, try to avoid weekends.
As you know, the weather changes every year, and the first snow can fall earlier or later than expected. I recommend that you ask about the state of the trails before you plan your hike in Picos de Europa.
Accommodation. Where should you stay in Picos de Europa?
Mainly, this will depend on the places you want to visit and the type of accommodation you prefer. The towns of Potes, Arenas de Cabrales, and Cangas de Onís provide easier access to most of the trails on this list. These towns offer a great choice of mountain gear stores, restaurants, and hotels. Arenas de Cabrales is my favorite option because it's located in the middle of everything, making it a great base camp for most trails.
Take a look at the hotels available in Arenas de Cabrales, Poncebos, Potes, and Cangas de Onís.
If you prefer to camp, you'll find campsites in several municipalities along the park. There are official campsites in Cangas de Onís, Soto de Cangas, Avín, Arenas de Cabrales, Santa Marina de Valdeón, Posada de Valdeón, Potes, and Fuente Dé, among others. Oh, by the way, you can also camp in the Urriellu Hut.
Transportation in Picos de Europa
By car
Driving your own car (or a rented car) is, without a doubt, the best option for traveling to and around Picos. Some roads are narrow, but most of them are in very good condition. However, there are a few remote roads that only jeeps should tackle.
By bus
If you don't have a car, don't worry! You can enjoy Picos as a backpacker by using public transit. I won't say it's easy, but you do have some options. Several buses run from Santander, Santiago, Bilbao, and other cities to Cangas de Onís. There are also several buses a day from Santander to Potes.
A bus company called Alsa connects Cangas de Onís to Arenas de Cabrales and Panes. During the high season, a bus service runs from Cangas de Onís to the Lakes of Covadonga. During the summer, a bus travels from Arenas to Poncebos, while another goes from Fuente Dé to Potes.
With a little patience, you'll make it to many places in the park by bus. However, keep in mind that other places are accessible only by car, taxi, or hitchhiking.
By taxi
The park has many taxis, including taxi-jeeps that will take you to remote areas. This comes in handy when you're hiking trails with different starting and ending points. Also, some roads (such as the road to Pandébano) are in bad condition, so you won't want to drive your car on them. I recommend that you ask in your hotel; they'll recommend a reliable taxi driver.
TOURS
If you don't have your own car, you can always book a tour from Gijón or Santander. Check out this Day Tour from Santander.
Maps, GPS trails, and guidebooks
You'll find several maps, GPS routes, and guidebooks online. If you want to download GPX files for your GPS device, I recommend Wikiloc, where you'll find lots of trails. As for guidebooks, I recommend Picos de Europa Guidebook by Rother, which includes 50 detailed routes at a great price.
---
Did you enjoy the best hikes in the Picos de Europa? Leave a comment!
Disclosure: As an Amazon Associate I earn from qualifying purchases. Some other links in this post are affiliate links too.
Hi, I'm Miguel; Adventure traveler, scuba diver and hiking lover. I have been traveling the world for the last 12 years and I hope my experiences, photos and hiking routes inspire you to travel the world too.