Do you know the James Bond movie where the bad guys are hidden under the lake of a volcanic crater? No, it's not "Goldeneye"… it's "You Only Live Twice". Anyway, that place looks like something out of a Hollywood movie but if you go to Ecuador you'll see it's real.
Hiking the Quilotoa loop is one of the most rewarding things you can do on your visit to Ecuador. This loop can be a good part of your acclimatization plan before trekking Iliniza Norte or before attempting something more serious like a climb to the Cotopaxi volcano. In addition, you will be encountering small villages, visiting colorful markets, enjoying a surreal lagoon and getting lost a couple of times along the way, which usually makes for some good adventures.
Most people hike the Quilotoa loop starting directly from the lagoon, which I think doesn't make much sense. Call me a purist if you want, but I think the point of a hike is getting to the highlight at the end, enjoying the place and the feeling that you are being rewarded for all your effort.
Therefore, the route I recommend starts at Sigchos, goes through Isinliví and Guayama, and ends at the Quilotoa lake. There are different routes depending on whether you want to visit other markets or villages. If you have the time you can make the Quilotoa loop much longer.
Route details
Total distance: 30 km approx. (Sigchos – Guayama – Quilotoa)
Time: 3 days
Difficulty: Medium
Maximum Elevation: 3,810 meters
Itinerary
Day 1: Latacunga – Saquisilí market – Sigchos -Isinliví
Day 2: Isinliví – Guayama
Day 3: Guayama – Quilotoa – Latacunga
Map
Best route for hiking the Quilotoa loop
Day 1: Latacunga – Saquisilí market – Sigchos -Isinliví
Most of the villages in the area hold a market once a week. We were about to start our trek when there was a Thursday market in Saquisilí, so we didn't want to miss that. The market of Saquisilí is colorful, lively and a bit chaotic. It's a good place to admire fabrics, hats and the clothing of the local culture in general. The animal market is very authentic, with a large guinea pig section (Yes, in Ecuador they are not pets; they go straight into the pot).
From Saquisilí we got a bus to Sigchos. When we arrived in Sigchos it was a bit late and getting dark so we hitchhiked and got a lift to Isinliví. When we got to Isinliví we barely had time to find a place to camp on the outskirts of the village before sunset.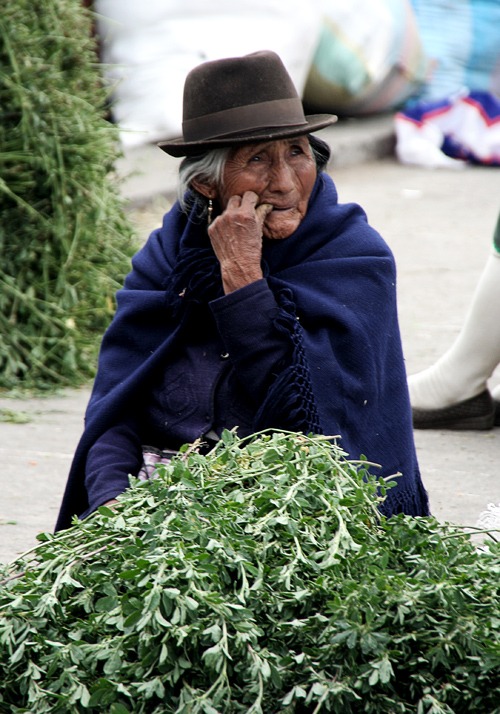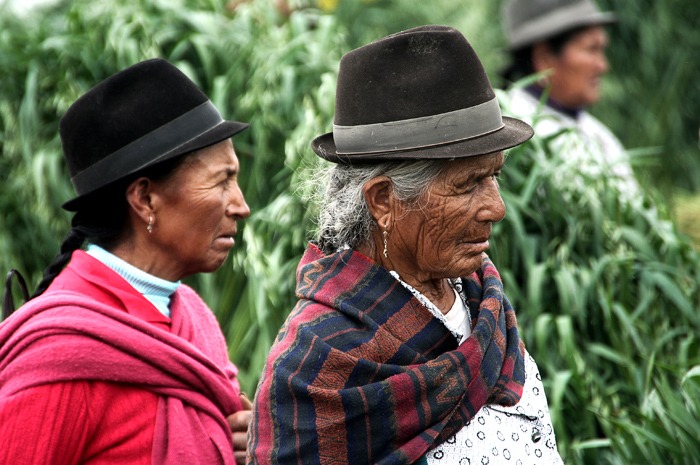 Day 2: Isinliví – Guayama. 8 hours of trekking
This is the toughest day of the hike. It's a long way uphill and downhill along some beautiful valleys and cliffs. It's not a busy route but you can meet some travelers, farmers and children grazing their sheep near small villages.
Sometimes the route is not well marked, so it's pretty easy to get lost. It's not a big deal, though; most of the time you'll realize within a few minutes that you have taken the wrong way. I recommend finding someone to ask for directions to be sure you are on the right path.
Day 3: Guayama – Quilotoa – Latacunga. 6 hours of trekking
From Guayama there is a shortcut to get to the Quilotoa crater in about two hours. Once there, take your time to enjoy amazing views and take some pictures. You have to walk around the crater to get access down to the lake. The way down to the lagoon is steep and dusty but well worth it. Now that we have gotten to the crater, we are not going to give up being so close to the end, are we?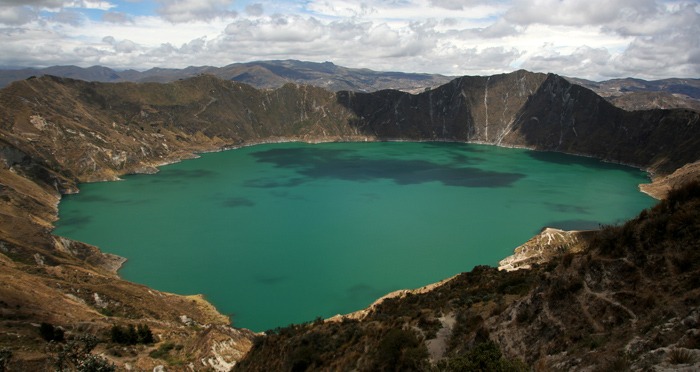 Budget for hiking the Quilotoa loop
We brought our own food and tent, so we spent only about $20, including transportation from Quito and food for 3 days.
ACCOMMODATION
There are several hostels and hotels in Sigchos, Isinliví and Guayama with prices starting at about $ 5.
FOOD
You'll find a few small stores in every village. Also, most of the hostels serve breakfast and dinner (though it's usually not included in the price).
TRANSPORT. HOW TO GET TO THE QUILOTOA LAGOON
Bus Quito (Quitumbe terminal) – Latacunga: $ 1.50
Bus Latacunga – Siquisilí: $ 0.75
Bus Siquisilí – Sigchos: $ 2
Bus Quilotoa- Latacunga: $ 2
TRAVEL INSURANCE
I highly recommend that you get a good insurance policy before you visit Ecuador. Trusted by thousand of adventurers, World Nomads is one of the best and more reliable options (without breaking your bank).
WEATHER. WHEN TO HIKE THE QUILOTOA LOOP
Although this route can be completed any time of the year, the best seasons are from June to September and from November to February.
TIPS FOR HIKING THE QUILOTOA LOOP
BEST CAMPING SPOT
Accommodation in Isinliví seemed a bit expensive to us since there is not much competition. Luckily, there is a very nice viewpoint a bit outside of town where you can camp for free in front of an impressive ravine. It's close to something that looks like an open chapel.
BRING WARM CLOTHES
Nights above 2,000 meters can be quite cold. Bring enough warm clothing such as gloves, a hat, long pants, a jacket, etc.
COMPLETE THE ROUTE IN REVERSE ORDER
Although I recommend starting the hike from Sigchos, I must say that starting from the Quilotoa lagoon and doing the route in reverse is physically easier since you start from the highest point of the hike.
---
---
Did you like trekking the Quilotoa loop? Leave a comment!
Some of the links in this post are affiliate links. This means that if you book or buy a service, I'll earn a small commission at no extra cost to you. I only link to stuff I love.
Hi, I'm Miguel; Adventure traveler, scuba diver and hiking lover. I have been traveling the world for the last 12 years and I hope my experiences, photos and hiking routes inspire you to travel the world too.