Today, I bring you what I consider to be the 10 best hiking trails in Tenerife. Most treks are in Anaga Rural Park, Teide National Park, and Teno Rural Park, located in the eastern, central, and western parts of the island. Don't worry about distances because it's easy to get around Tenerife by car and even by public transport.
In case you didn't know, Tenerife boasts many great things besides sunny beaches, holiday resorts, and nightclubs. The largest island in the archipelago is a perfect destination for the adventure lover. This volcanic paradise offers plenty of spectacular trails for all levels.
Some hikes run along massive ravines, while others cross lush laurel forests and still others end on idyllic beaches. Teide National Park, listed as World Heritage by UNESCO, is the most visited site in Tenerife, and a place that you can't miss! The hike up to Teide Peak is the highlight of the park, but there are many routes around the surreal volcanoes.
The list is based on personal preference, but I think it will help first-time visitors to the island. If you are traveling and hiking in Spain, take a look at these posts about hiking in Picos de Europa, and La Palma.
THE 10 BEST HIKES IN TENERIFE
1- TEIDE PEAK
The Teide Peak is the subject of Tenerife's most classic postcards due to its perfect conical shape and moon-like landscape. You likely won't be surprised to hear that Teide National Park is the most visited park in Spain. Also, at 3,718 meters above sea level, it's the highest point in the country. The hike to the peak has become so popular that the Canarian government has launched a visitor control plan to regulate access.
Most people get to Teide Mount by cable car. However, the cable car fee doesn't give you access to the last part of the peak. If you want to climb to the crater, you'll need a special permit, which you should book weeks (or even months) ahead of time.
If you didn't get the permit in time, you'll have four options: 1 – Get up to the cable car station without reaching the crater (either hiking or using the cable car). 2- Contact a travel agency and book a Hiking Tour to Teide. 3 – Hike up to the peak at night, when there is no access control, and enjoy a beautiful sunrise from the summit (this is the cheapest option). 4 – Spend the night in the Altavista Hut and hit the summit early the next morning.
Several paths lead to Teide Peak, but Montaña Blanca is the most popular one. The easier and shorter option would be to make the round trip on the same trail. Otherwise, you can take the Montaña Blanca trail on the way up and the Pico Viejo trail on the way down. (It's longer and more difficult, but worth it.) I'll talk about this option in the next point.
Distance: 17 km (Montaña Blanca round trip)
Duration: 7 hours
Difficulty: Moderate – Difficult
Elevation gained: 1,344 m
Access: There is a parking lot with capacity for about 12 cars at the base of the Montaña Blanca trail, and a large parking lot right next to the cable car station. If you don't have a car, there is a bus service that connects several cities in Tenerife with Teide Park.
2- TEIDE + PICO VIEJO
If you decide to hike Teide Peak on your own (and if you are in good shape), I recommend that you follow these trails: Montaña Blanca + Teide Crater + Pico Viejo. The best thing about hiking through Pico Viejo (which, at 3,135 meters, is the second-highest peak on the island) is that you can visit its huge 800-meter-diameter crater. Trust me – just visiting this impressive crater makes the trip worthwhile.
The only disadvantage is that the trek has different starting and ending points. You can leave your car in Montaña Blanca's parking lot, complete the route (which ends at the Parador Cañadas del Teide), and then hitchhike back to your car.
Distance: 21 km
Duration: 10 hours
Difficulty: Hard
Elevation gained: 1,361 m
Access: Montaña Blanca parking lot
3- CRUZ DEL CARMEN – PUNTA DEL HIDALGO
Let's travel to the northeastern tip of the island to visit Anaga Park – one of the best places for hiking in Tenerife. Anaga stands out for its laurel forests, lush valleys, and steep peaks (known locally as roques).
The trek from Cruz del Carmen to Punta del Hidalgo (via Chinamada) is my favorite in the park because it offers a wide variety of mind-blowing landscapes, especially the huge cliffs above the sea.
The starting point is near the Cruz del Carmen Visitor Center. Pay special attention because there are two signs pointing to Puerto de Hidalgo. You should follow the wooden sign. It's a linear trail, so I recommend that you use public transport.
Distance: 12 km
Duration: 6 hours
Difficulty: Moderate
Elevation gained: 62 m (it's downhill all the way)
Access: You can take bus 275 from La Laguna to Cruz del Carmen. To return, take bus 105 from Punta del Hidalgo to La Laguna.
4- CIRCULAR AFUR – TAGANANA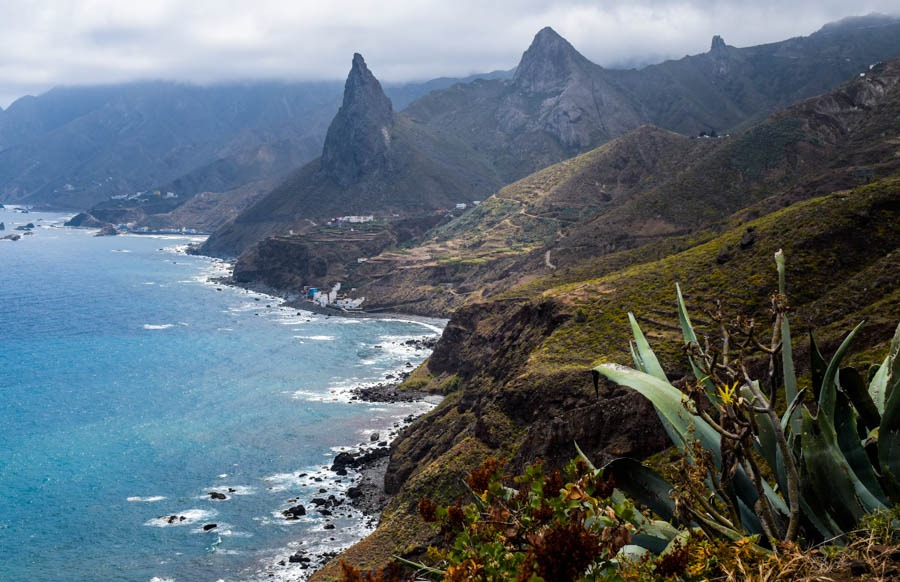 Starting and ending in the beautiful village of Afur, this hike offers stunning views of Tenerife's wild coast. Besides the nature of the trek, Afur and Taganana are charming villages, making them great places to have lunch or take a break. If you prefer to start the circuit in Taganana, I recommend that you drive to Benijo in the afternoon to make the most of your visit. The ride along that coast is spectacular.
Distance: 12 km
Duration: 5 hours
Difficulty: Moderate
Elevation gained: 900 m
Access: Afur or Taganana. If you want to travel by bus, bus 076 connects La Laguna with Afur, while bus 946 goes from Santa Cruz to Taganana.
5 – MASCA CANYON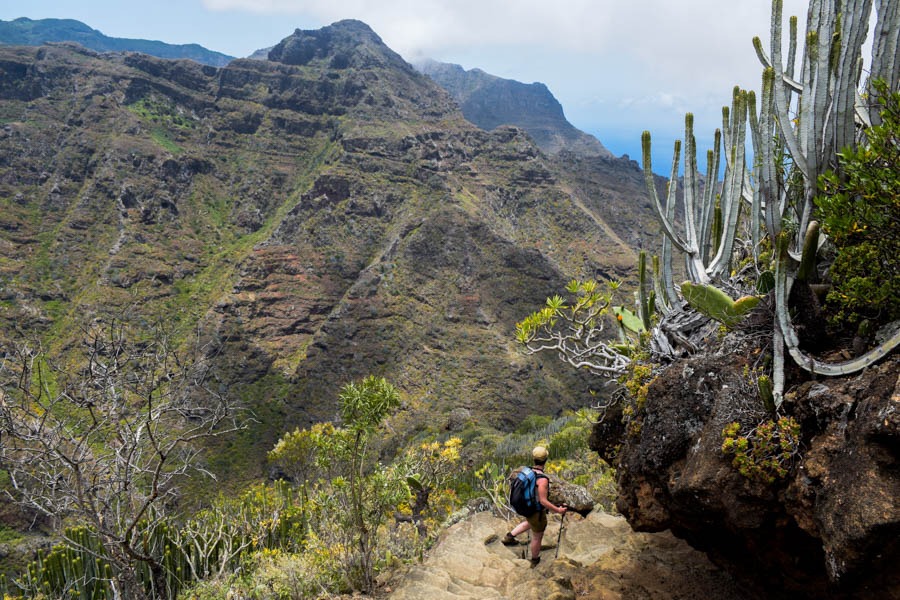 I bet you've already seen photos of this place, as Barranco de Masca has become one of the most popular hikes in Tenerife. This is partly because of its location on the southwest part of the island, near touristy destinations such as Los Gigantes or Playas de las Américas. However, the real reason for its fame is the tremendous cliffs that dominate the landscape of Masca.
Distance: 5.3 km
Duration: 4 hours
Difficulty: Moderate
Elevation gained: 30 m (it's downhill all the way)
Access: Part of the trail is being rebuilt in 2019, and there are rumors that they'll begin charging an admission fee soon. Also, the trail will be accessible only by public transport. For the trip back, a boat service travels from Playa de Masca to Los Gigantes.
6- CIRCULAR CHAMORGA – ROQUE BERMEJO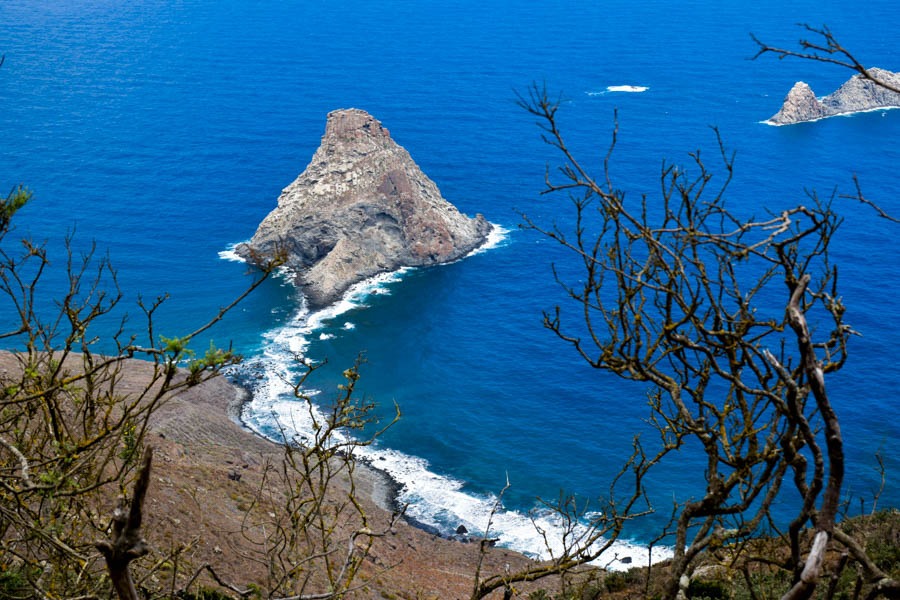 This hike will take you through the mountains of Anaga down to Roque Bermejo, a picturesque fishing town adorned with a small chapel and a black-sand beach. The trek also passes through Cruz del Draguillo, Tafada, and Chamorga, which is the starting and ending point.
Distance: 11 km
Duration: 5 hours
Difficulty: Moderate
Elevation gained: 760 m
Access: Keep in mind that the road to Chamorga is fairly narrow and twisty. Bus 947 connects Santa Cruz to Chamorga.
7- ALTO DE GUAJARA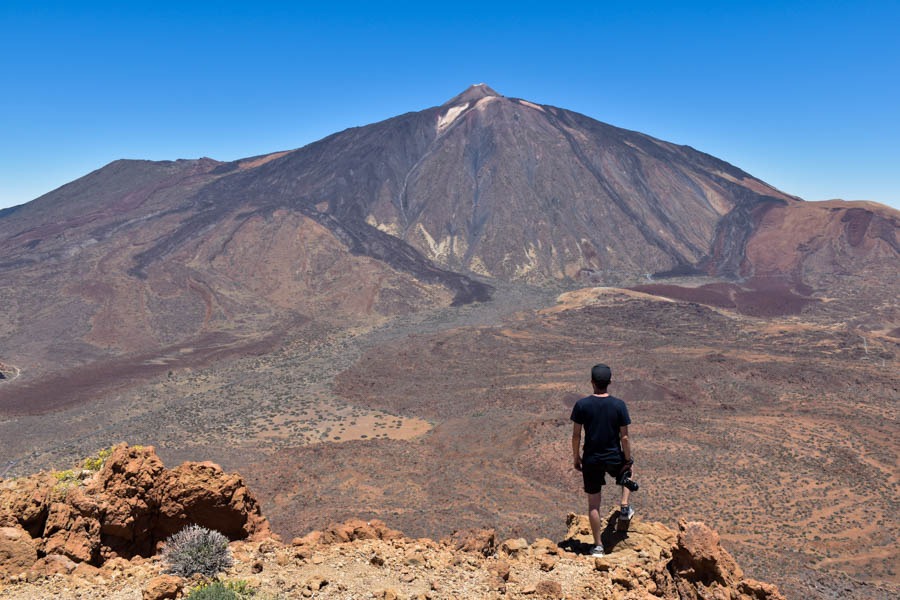 If you want to enjoy one of the best views of Teide Peak, you should take the Alto de Guajara Trek. The uphill section is quite progressive, so you don't need to be in great shape. However, there are many loose stones along the trail, which can sometimes be a bit uncomfortable.
As you would on any trail in Teide National Park, make sure to bring plenty of water. The sun is always strong in the park and there are no streams where you can refill your bottle.
Distance: 10.5 km
Duration: 4 hours
Difficulty: Moderate
Elevation gained: 686 m
Access: The trail starts at Parador Cañadas del Teide, where you can park your car. A bus service connects several cities with Teide National Park.
8- PLAYA DE ANTEQUERA
The trail begins in Igueste de San Andrés, ascends to the Antequera junction, and then continues down to Antequera Beach through a ravine which is very exposed to the sun. The beach is decorated with colorful cliffs in which you can see all the rock layers.
You can return by following the same path or by taking the trail along the coast. The coastal path is definitely much more spectacular, but keep in mind that it's very close to the cliff. I think it's easy to complete, but there are two or three somewhat exposed steps that could scare people who are afraid of heights.
Distance: 13 km
Duration: 6 hours
Difficulty: Moderate
Elevation gained: 1000 m
Access: Igueste de San Andrés, in Anaga Park. Bus 945 leaves from Santa Cruz every two hours.
9- VUELTAS DE TAGANANA
Several trails around Taganana will allow you to explore the beautiful laurel forest of the region. The trail that passes through La Cumbrecilla is probably the most popular one. From there, you can see Taganana, Afur, Roque del Fraile, and Roque La Monja. This is the easiest hike on the list, but it does involve some elevation gain.
Distance: 6.5 km
Duration: 3 hours
Difficulty: Easy – Moderate
Elevation gained: 600 m
Access: Taganana. If you don't have a car, bus 946 connects Santa Cruz with Taganana.
10- VENTANAS DE GÜIMAR
This trek runs through several tunnels that have been excavated along the side of a great valley. It's a unique hike, as the tunnels feature hundreds of windows carved in the rock!
If you complete the whole circuit starting and ending in the town of Güimar, it may feel like a pretty long day. If you want to shorten it, I recommend that you take a guided tour. Oh, and don't forget your headlamp!
Distance: 19 km (Güimar circuit)
Duration: 8 hours
Difficulty: Moderate
Elevation gained: 900 m
Access: You can park your car in Güimar. Bus 120 connects Santa Cruz with Güimar.
Weather. When to go hiking in Tenerife
Because of its wonderful subtropical climate, you can hike in Tenerife all year round. In general, the months of spring and autumn (February to May and September to November) are the best for trekking, as the temperatures are mild. Summer may be too hot for some trails.
Meanwhile, during the winter months, Teide Peak may be covered in snow. Anaga Park is a very humid place, and although rainfall is more abundant in the winter, it can rain at any time of the year.
Accommodation. Where to stay in Tenerife
The trails on the list are scattered throughout the island, so it doesn't matter where you are staying. Many tourists choose Las Americas because it offers a wide range of apart-hotels, good restaurants, and clubs. To be honest, I don't like it. Las Americas is way too touristy and impersonal.
My favorite place is La Laguna, which is a cute colonial city with an authentic atmosphere. While there are some tourists, they are barely noticeable. Most people in the city are locals.
La Laguna has very interesting cultural offerings, in addition to bars, restaurants, and all types of shops. If you are looking for a hostel with very good vibes, I recommend El Patio Hostel.
If you plan to stay on other parts of the island, check out the offering of hotels and hostels in Tenerife.
Transport
By car
If you want to explore the island freely, the best thing you can do is to rent a car. Most car rental companies offer similar prices and services, though some will try to charge you a few extra bucks for the insurance policy, etc. Cicar is the company I like the most. It has a huge car network throughout the Canary Islands and offers the best prices, including all-risk insurance coverage.
By bus
If you don't have a car, you can (in theory) move around the island by public transport. Tisa is the bus company that connects most cities and towns in Tenerife. The problem is that some places are accessible only from Santa Cruz, others only from La Laguna, and others from other cities. Also, some bus lines offer infrequent transport. This means that you are likely to spend a few (or many) hours, including transfers, before you reach some remote destinations.
Oh, by the way, in the Canary Islands the word for bus is "guagua."
Hitchhiking
Hitchhiking works relatively well on the Canary Islands. The local people don't use it much, so they are unlikely to give you a lift. However, there are many tourists traveling the island, which improves your odds. You may need to wait for a while, but with a little patience, you'll be able to move around the island by hitchhiking.
Maps, GPS routes, and Books
For GPS routes, I recommend the Wikiloc app, in which you will find a lot of trails throughout the island. As for guidebooks, I recommend the Tenerife Guidebook by Cicerone, which is pretty detailed, with 45 popular trails, all at a great price.
---
Did you enjoy the Best Hikes in Tenerife? Leave a comment!
Disclosure: As an Amazon Associate I earn from qualifying purchases. Some other links in this post are affiliate links too.
Hi, I'm Miguel; Adventure traveler, scuba diver and hiking lover. I have been traveling the world for the last 12 years and I hope my experiences, photos and hiking routes inspire you to travel the world too.