Organizing a trip is exciting and fun. You start thinking about the cities you want to visit, the monuments you don't want to miss, and all the delicious food you want to try. On the other hand, there is an annoying part, which is finding accommodation. Where should I stay? What's the best neighborhood? How many days should I stay in each city? And most importantly … how can I find cheap hotels?
No matter what their budget is, everyone likes to find great deals and save some money, right? That's why I've written this article on how to book cheap accommodation. This post consists of two parts. First, I'll talk about the best apps and websites to get cheap hotels. Then, I'll give you some useful tips for finding good offers.
Take a look at other articles to find: Airbnb discounts, Revolut travel card reviews, and cheap flights on Skyscanner.
WEBSITES AND APPS TO FIND CHEAP ACCOMMODATION
1. BOOKING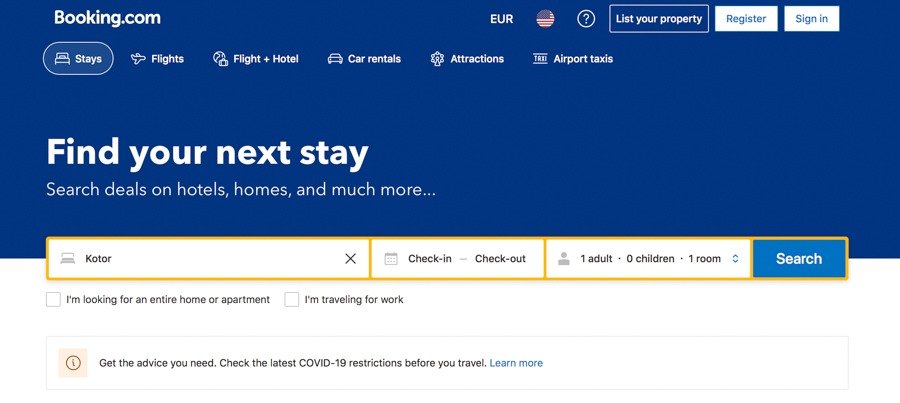 In my opinion, Booking is the best website to find cheap hotels. The reason is simple: 90% of the times I've searched for a hotel, I've found the best price on Booking. And price is not the only advantage.
The platform has a wide range of accommodations all over the world. From backpacker hostels to luxury villas, you'll find all types of places. Actually, Booking is the hotel search engine with more reservations made per day in the world.
Advantages:
1. It fits all budgets. The platform has a filter that allows you to search within a range of prices.
2. You can narrow your search with other useful filters: breakfast included; type of accommodation (hotel, hostel, apartment); private bedroom or shared dorm; single bed, twin beds, or double bed; star classification; distance to the city center; type of cancellation policy; free parking included; kitchen included; swimming pool; room service, etc.
3. In most cases, it allows you to cancel your reservation without extra costs as long as you do so before the established cancellation deadline.
4. Most of the time, it allows you to book your hotel without making any advance payment. Sometimes, you can even book a hotel without entering your credit card details. In that case, you pay the whole amount once you arrive at the hotel.
5. It has a mobile app (that's really easy to use and intuitive), so you can make your reservations while traveling.
6. Customer service is pretty good. If you have a problem with any reservation, they usually reply quickly.
7. It has a best price guarantee. If you make a reservation on Booking and later find a better price on another platform, you can contact them and they will refund the difference.
8. It has a loyalty program. After making only two reservations on Booking, you become a Genius user. Here, I explain how it works:
The Genius program offers discounts on some accommodation bookings. It's a way of rewarding customers for their loyalty.
There are several levels, from Genius level 1 to Genius level 3. To be a Genius user, you must create a Booking account (it's really fast). Then, once you make two reservations, you'll be a Genius 1 user, which allows you to get a 10% discount at selected accommodations.
After five reservations, you'll be Genius 2, which means you'll get a 15% discount and free breakfasts at selected accommodations. After 15 reservations, you'll become Genius 3, which allows you to get a 20% ​​discount, free breakfasts, and priority attention at selected accommodations.
9. The most important advantage: It often shows you better prices than other booking sites like Agoda, Expedia, and Kayak.
Disadvantages:
I don't want you to think that Booking has paid me to write this article (I wish they did), so here are some cons.
1. It doesn't have the best prices 100% of the time, so it's worth checking out other platforms, too.
2. It doesn't show all the hostels and hotels in the world. For example, some hostels are on Hostelworld, but not on Booking. If you're looking for a backpacker hostel, I'd recommend that you check out Hostelworld, too.
2. HOSTELWORLD
As its name suggests, Hostelworld focuses on hostels. If you are looking for a hotel, you can discard this option right now. On the other hand, if you are a backpacker, Hostelworld could become your favorite app to find cheap hostels.
Also, Hostelworld has its own blog with plenty of posts about cities that you can visit around the world; they will tell you which hostels have the best scores in those destinations. In addition, they give special awards to all types of hostels—for example, the best hostels for digital nomads, eco-friendly hostels, hostels that promote local culture, etc.
By the way, Hostelworld has a new feature for solo backpackers. It's called Roomies, and it's like Airbnb's "Experiences," but with accommodation included. It can be a great option for meeting other travelers while exploring tourist places.
Advantages:
1. One of the largest databases focused on hostels.
2. You'll find great deals on hostels (although you won't always find the best prices, so you should compare with other platforms).
3. You can see if the hostel organizes activities, for example, if it has surf lessons, jam sessions, salsa nights, and things like that.
4. It's a secure platform with 24/7 customer service.
Disadvantages:
1. It doesn't have as many filters as Booking.
2. It lists only hostels. If you are looking for another type of accommodation, it will be of no use.
3. You can find offers and discounts on some bookings, but it doesn't have a loyalty program like other platforms.
3. AGODA
Agoda is a hotel search engine that specializes in Asia. I mean, you can find hotels all over the world, but let's say that their offer in Asia is bigger and sometimes cheaper than those of other search engines.
If you are traveling around Asia, you might be interested in taking a look at this platform. By the way, both Booking and Agoda are part of the same parent company, Priceline.
Advantages:
1. It shows a wide range of accommodations in Asia.
2. It has a loyalty program called PointsMax. This program allows you to earn points that you can later use to get discounts. It's a pretty good program, but I like Booking's Genius program better.
3. It has a lowest price guarantee, too.
4. It allows you to pay using PayPal.
Disadvantages:
1. It doesn't always have the best prices, especially for accommodations in Europe and America.
2. Search filters are displayed both on the left and at the top of the web, which makes it a little less intuitive than other platforms. Overall, I find the site to be less user-friendly than others.
4. HOTELTONIGHT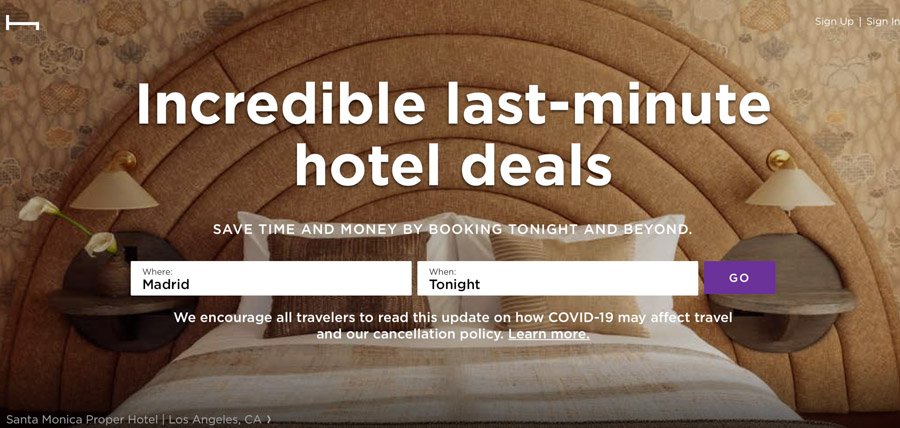 Hoteltonight is a last-minute-booking search engine. Let's say you need a hotel for later this evening and you want to find a last-minute bargain, one of those crazy deals. You can go to Hoteltonight and take a look.
This platform rents unreserved rooms to guests looking for accommodation within the next 24 to 48 hours.
Advantages:
1. It has a mobile app.
2. It allows you to find last-minute deals.
Disadvantages:
1. It has a fairly limited list of hotels.
2. Generally, it lists medium- to high-category hotels. If you're looking for the cheapest hotel in town, you won't find it here. Usually, it doesn't show basic hotels, hostels, or guesthouses.
5. HOTELS COMBINED
Hotelscombined leaves me with mixed feelings. To be completely honest, I'm not a big fan. I admit that it's a good hotel comparison platform, but I think it's not the best site for finding the cheapest hotels.
Let me explain: Hotelscombined is a meta search engine. It works pretty much like Skyscanner, but instead of searching for flights, it helps you find hotel deals. By the way, don't miss this article on how to find cheap flights on Skyscanner.
Hotelscombined is really easy to use. First, you enter your destination and desired dates. Then, the site shows you a list of accommodation options. You can refine your search by using advanced filters: breakfast included, hotel category (1 star, 2 stars, etc.), type of accommodation (hotel, hostel, apartment, etc.), price range, etc.
If you take a look at the list, you'll see that you can book your hotel on different platforms (Booking, Trivago, Expedia, etc.). So, you are not booking directly on Hotelscombined. Basically, Hotelscombined compares other search engines' prices, so you can see which one offers the best price. Afterward, it redirects you to the site you clicked on, so you can complete your reservation.
Advantages:
1. Because it searches multiple platforms, it has a large database, with thousands of hotels all over the world. Plus, you can search in tons of languages ​​and pay in all major currencies.
2. It's a price comparator. It tells you which platform offers the best price for each hotel. For example, Booking may give you the best price for hotel A, while Expedia may give you the best price for hotel B.
3. Like most hotel search engines, it allows you to sort the results by price, category, and rating.
4. You can sign up and create your own profile. This way, you can see your latest reservations, save hotels as favorites, and receive special offers.
Disadvantages:
In my opinion, the main (and big) disadvantage is that it doesn't show all the available hotels listed on other platforms. For example, in the past, I have gone to Hotelscombined to find a cheap hotel. Then, I have opened another window and gone directly to Booking.com. I did the same search and, to my surprise, found a bunch of cheaper hotels that weren't listed on Hotelscombined.
In short, if you find a hotel you like on Hotelscombined, the platform will tell you which website gives you the best price. However, you can often find cheaper options by going directly to other platforms like Booking.com.
6. AIRBNB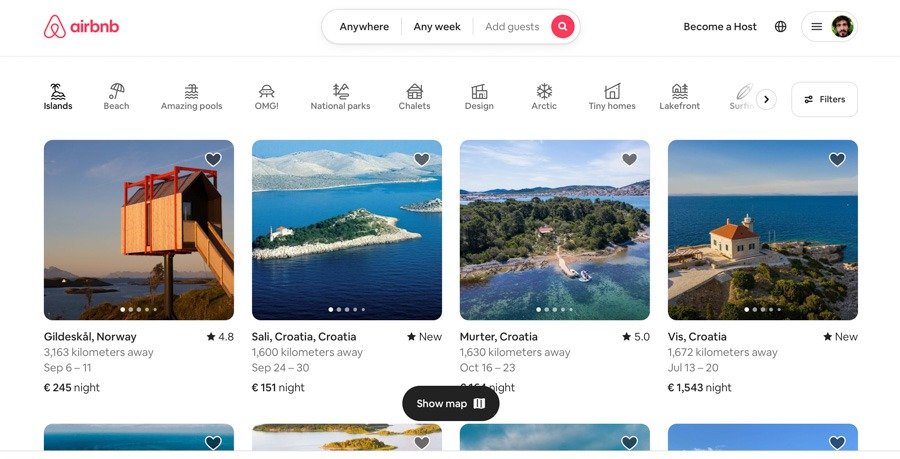 How about staying in an apartment instead of a hotel? If you can't find anything interesting on Booking, you should take a look at Airbnb and compare options. However, the problem with Airbnb is that it often charges fees that increase the final price.
That said, you can find interesting discounts for weekly and monthly stays. In addition, it offers a wide range of accommodation in practically every city and town in the world, from shared dorms to luxury apartments.
I've used it quite a lot during my travels and, most of the time, I've had good experiences. I recommend that you read this post on how to find good deals on Airbnb.
Advantages:
1. Airbnb has a large range of apartments all over the world.
2. Many properties include services such as a kitchen, washing machine, coffee maker, etc.
3. By booking an entire apartment for yourself, you reduce the risk of your belongings being stolen.
4. It features a review system (star ratings and reviews written by other travelers) that helps you understand the conditions of the place.
5. You will easily find discounts for long stays. You can even negotiate the price directly with the host.
6. It has a larger number of pet-friendly and kid-friendly options.
Disadvantages:
1. Some apartments are not always what they seem to be in the pictures.
2. Sometimes, it can be difficult to find really cheap accommodation.
3. Booking fees and cleaning fees can significantly increase the final price.
7. WORKAWAY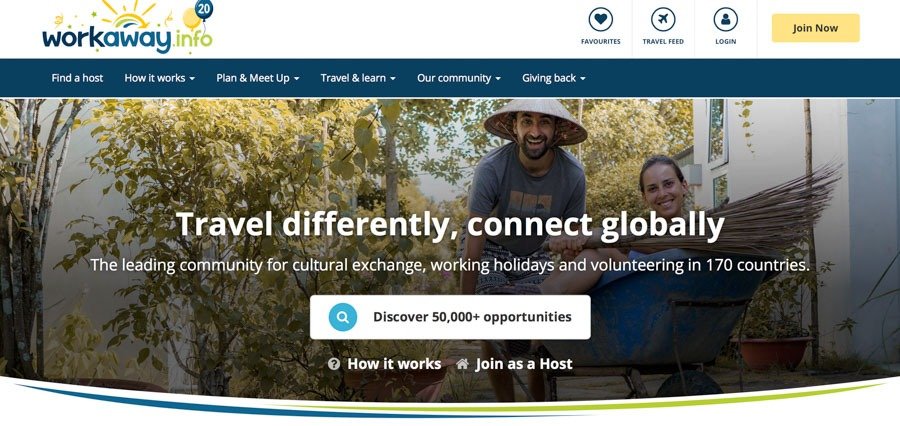 Have you thought about volunteering while traveling? This is another way of avoiding the need to spend a lot of money on accommodations. It should be clarified that Workaway is not a site to find hotels. This platform is designed to find volunteer jobs.
With over 40,000 opportunities worldwide, Workaway is one of the largest platforms within the job exchange community. What kind of volunteering can you find on Workaway? A bit of everything. There are opportunities to work as an English teacher or hostel receptionist, or in taking care of horses, reforming an old house, working in permaculture … the list is huge.
But, if it's a volunteer job, will they pay you? Generally, they won't pay in cash. However, they have to give you something in return for your effort and time.
Most hosts will offer you accommodation and board in exchange for about 25 hours of work per week. These conditions change from offer to offer, so you'll need to take a good look at the job and clarify all your doubts with the host. I used Workaway quite a lot when I was traveling in Latin America, and I had unforgettable experiences.
8. COUCHSURFING
Yes, I know … Couchsurfing is no longer free, so it's not the same anymore. For those who don't know what Couchsurfing is, it's a platform that allows you to share your house with travelers. In the same way, you can stay at other people's houses while you travel.
Note that hospitality on Couchsurfing must be free; while the platform will charge you to register, your host should not charge a fee.
If you decide to sign up, you will have access to a list of users all over the world. You can contact them and ask for accommodation for a few days. You can ask for two or three days, that's fine.
Another advantage of Couchsurfing is that users can organize events and meetups. You can see what events are taking place in your city and then sign up. Couchsurfing meetups are a great way to meet other travelers in the cities you are visiting. Despite the changes, the Couchsurfing community is still large and active.
I used Couchsurfing a lot when I was traveling in Asia, and I always had great experiences. It allowed me to have contact with the local people, which otherwise would have been difficult.
HOW TO BOOK CHEAP HOTELS
1. USE RELIABLE SITES AND APPS TO FIND HOTEL DEALS
The Internet is full of hotel search engines, hotel ads, travel forums, online travel agencies, etc. The offer is so big that it can become overwhelming. The key to finding a cheap hotel is to use the best websites and, of course, compare prices.
We have already talked about hotel search engines, and each person has their own preferences. Hostelworld is my favorite search engine to find cheap hostels. On the other hand, Booking is the best platform to find both hostels and hotels.
2. TRY TO BE FLEXIBLE WITH YOUR DATES
Being flexible with your travel dates is a great advantage when it comes to finding cheap accommodation. Sometimes, traveling a few days before or a few days after can significantly change the final price of your reservation.
Most hotels raise prices during the weekend, when there is more demand for hotel rooms. Some super-touristy cities like Barcelona and Paris receive tourists virtually every day of the year, so there probably won't be huge price differences from one day to another.
However, lots of beach destinations, such as Málaga in Spain and Miami in the United States, can be more expensive during the weekends. If you can travel during the week, you could easily find more attractive offers.
3. AVOID THE PEAK SEASON AND MAJOR EVENTS
Traveling in the summer months (especially July and August) or at Christmas or Easter is a guarantee of high prices, not only for hotels but also for flights, tours, car rentals, and virtually any tourist service. You can use the best website to find cheap hotels, and yet, if it's high season, prices are always high.
It comes down to when you have to take your holidays, but if you can avoid the high season, do it! On the other hand, you won't want to travel to Ibiza in February, when it's cold and you can't go to the beach. Also, you won't want to visit India during the monsoon season or visit southern Morocco in August.
You need to find a balance. For example, lots of destinations around the world have pleasant temperatures during the spring and autumn months. If you do some research, you'll surely find a country with good weather and reasonable prices for your vacation months.
Also, world-famous events can cause hotel prices to skyrocket. The Carnival in Rio de Janeiro, the Carnival in Venice, the Oktoberfest in Munich, St. Patrick's Day in Dublin, San Fermín in Pamplona, and the Fallas of Valencia are just a few examples. The same goes for certain sporting events, such as the Olympics, the Super Bowl, the Champions League final, etc.
If you're planning to attend any of these celebrations, keep in mind that hotels will be much more expensive. You should book well in advance, as we will discuss in the section below.
4. BOOK IN ADVANCE TO FIND CHEAP ACCOMMODATION
Just like airlines, most hotels adjust their prices depending on demand and check-in dates. Booking far in advance can be the key to finding a cheap hotel.
But how long in advance? It's difficult to answer that question because it really depends on the city, type of hotel, dates selected, etc. Generally, I recommend booking three or four months in advance. At that time, lots of hotels offer discounts of up to 25%.
5. FIND LAST-MINUTE DEALS
Although booking in advance is one of the best ways to find great deals, there are times when booking at the last minute can work pretty well, too.
I will never recommend waiting until the last day to book a hotel, especially if you are traveling to a tourist destination. However, sometimes plans change, unexpected trips come up … and there you are, booking a hotel just a day before arrival.
Depending on check-in dates and availability, many hotels decide to lower last-minute prices (to avoid low occupancy). Ultimately, they prefer to rent a room for a lower price than to not rent it at all. Of course, this technique is pretty risky, and it doesn't always work.
Of all websites and apps for booking cheap hotels, Hoteltonight.com is the best for last-minute deals. As I mentioned before, this site lists the last available rooms from dozens of hotels. Often, it has incredible discounts.
6. AVOID TOURIST AREAS
Avoiding the most central, expensive, and popular neighborhoods is another excellent way to save money on your next reservation.
A hotel located in Manhattan will be more expensive than a hotel located in other neighborhoods of New York. Similarly, a hotel located in Ipanema will be more expensive than a hotel of the same category located in Botafogo.
Hotel prices vary greatly depending on location, so it's worth looking at different neighborhoods. However, don't stay somewhere that's two hours by train from the city, either, even if it's the cheapest option. It's about finding a balance between location and price.
7. LOOK FOR LONG STAYS
Finding long-stay offers in hotels is not as easy as it is on Airbnb, but sometimes you can be pleasantly surprised. It never hurts to take a look. Some hotels give great discounts if you stay for more than four, five, or six nights. Others have special offers, like "pay two nights and get the third night free." Each hotel has its own promos.
In addition, some hotels ask for a minimum stay. This is common during certain months or special events, such as Carnival and Easter. In that case, you'll have to book a minimum number of nights.
If you are flexible with your travel dates, you can try entering a few more days into the platform and check for interesting offers. If you'd like to stay in the same place for weeks or months, I recommend looking for Airbnb apartments.
8. LOOK FOR HOTEL + FLIGHT DEALS
Many hotel search engines allow you to book a flight + hotel package. By booking it all together, you can sometimes get lower prices. Lots of online travel agencies offer this service, but eDreams is my favorite option for packages.
These flight + hotel offers will vary significantly depending on the destination and travel dates. Also, keep in mind that a package is not always cheaper.
My recommendation is that you first check how much the package costs on eDreams or a search engine of your preference, then go to Skyscanner and see how much the flight costs. Finally, go to Booking.com or another site to search for cheap hotels, and see how much the hotel costs separately.
Now you can compare prices and decide which option is better. Keep in mind that flight + hotel search engines do not usually show hostels and guest houses. If you plan to stay in a hostel, you would probably be better off looking separately.
9. MAKE SURE YOU UNDERSTAND WHAT YOUR STAY INCLUDES
Understanding exactly what your stay includes is another way to save money. For example, does the hotel include breakfast? Does it have a car park? If you're booking an apartment, does it have a kitchen and a washing machine? If you can cook your own meals and wash your clothes, you will spend much less.
Also, if you have to use a private car park, the final price of your trip will increase. Take into account all these extra expenses. If you find a nice hotel that is a bit more expensive, but it includes breakfast, a car park, laundry services, etc., it may be a great deal.
10. BE CAREFUL WITH THE HOTEL BREAKFAST BUFFET
If you decide on a hotel that doesn't have free breakfast, why not go for a walk and have breakfast somewhere else? Generally, hotel breakfast buffets are much more expensive than any breakfast you can get in a local restaurant.
Also, this is a great way to get to know typical restaurants and mix with the local people. It can be really cheap, too! For example, in many countries in Asia or Latin America, you can have a delicious breakfast for just a couple of bucks. In Thailand, a delicious Pad Thai costs between one and two dollars.
11. BOOK HOTELS WITH FREE CANCELLATION
As much as you plan, unforeseen events can always affect your trip. Also, you could make a reservation and later find another cheaper, nicer hotel. For this reason, many hotels have free cancellation policies.
Each hotel has its own cancellation policies, so you must confirm this before making the reservation. I use Booking for most of my reservations precisely for that reason. Most hotels on Booking have this option.
They often give you a week before charging any money. Most of the time, they allow you to make a reservation without paying in advance. They may ask for your card details; then, if you haven't canceled your booking after the deadline, they may charge part of the amount.
12. TRAVEL WITH COMPANY
If you're traveling as a couple, with friends, or with family, you can split the expenses among several people. A double room paid for by two people is virtually always cheaper than a single room paid for by one person.
If you're in a big group, you can even book an apartment. This is one of the best ways to save money on accommodation.
13. IF YOU TRAVEL ALONE, LOOK FOR CHEAP ACCOMMODATION IN HOSTELS
If you prefer to travel alone, that great, too. I do it all the time. In that case, you should consider staying in backpacker hostels. Most hostels have shared rooms at great prices. Plus, it's a great way to meet other travelers.
Many hostels organize activities—for example, yoga classes, hiking tours, happy hours, etc.—so you can socialize with other guests. In my opinion, Hostelworld and Booking are the best sites to book cheap hostels.
I have to admit that after many years of backpacking around the world, you can easily get tired of sharing a room with 10 other people … a guy who wakes up at 6:00 a.m. and turns the light on, a guy who is totally drunk and starts making noise, another guy who snores like a bear.
That's hostel life, right? Don't worry, as some hostels have inexpensive single rooms or small dorms with only three or four beds. That way, it's easier to get some rest.
14. HOUSE SWAPPING
Have you heard of Homeexchange.com? This site allows you to stay in other people's houses while they stay in yours. It's one of the best sites to find cheap accommodation. I say cheap and not free because you need to sign up first, and the annual membership fee is 175 dollars.
Homeexchange has over 450,000 members with homes all over the world. Simply find the house that interests you, then agree on the exchange dates with the owners.
15. BECOME LOYAL TO ONE HOTEL BOOKING SITE
The more you use the same hotel booking platform, the more advantages you'll get. Therefore, you should try to use the same website most of the time.
Personally, I like the Booking Genius program, (I talked about it at the beginning of the post.) There are other interesting loyalty programs on the market, but I think the Genius program has the best offers and discounts.
16. USE A REVOLUT CARD IF YOU'RE PAYING IN FOREIGN CURRENCY
When you make a hotel reservation, you may need to pay part of the total amount at the time of booking. Then, you can pay the balance directly at the hotel. If you're traveling within your country, you won't have any problem, as you will pay for everything in your currency. However, if you're traveling abroad, you'll have to pay the remaining sum in the local currency.
In that case, I recommend that you use a Revolut card, so you can get the best exchange rate. Actually, this card is really useful for paying not only for accommodation, but also for any expenses you have abroad.
Revolut's exchange rate is much better than most banks' exchange rates. Also, it allows you to withdraw money from local ATMs without charging a commission (up to 1.200 dollars per month, after which a 2% commission applies). I've been using Revolut cards for many years and I've saved hundreds of dollars in commissions and conversion fees.
17. TRAVEL AT NIGHT
If you are traveling across a large country, taking night buses and night trains can be a great way to save some money on accommodation. In India, long-distance trains have pretty comfortable sleeping cars. In addition, you can meet other travelers along the journey. You should give it a try, as it's a really cool experience.
In Peru, I took the most comfortable night buses of my life. They had huge reclining seats that went virtually all the way back, as if they were beds. Also, in Vietnam, I took a night bus that literally had beds instead of seats.
Traveling at night isn't for everyone. Keep in mind that you'll never rest as well as you would in a hotel, but it can be done from time to time.
18. SEEK THE ADVICE OF OTHER TRAVELERS
Did you know that lots of hotels, guest houses, and hostels are not published on any booking platforms? The best way to find these cheap hotels is by asking other backpackers. So much inside information comes out of those hostel conversations with a beer in hand!
When I meet other backpackers and we talk about itineraries, I often ask them where they stayed, if they liked the place, if they recommend it, etc. By doing this, you can get great advice for your next destination.
19. GO DIRECTLY TO THE HOSTEL AND NEGOTIATE THE PRICE
This is an interesting option for long-term backpackers and people who basically go with the flow, with no plans. I traveled like this around many countries in Southeast Asia and Latin America and I loved it. I wasn't booking accommodation online. I just asked for accommodation in each town, I showed up at a hostel, then spoke directly with the owner.
If the price was alright, I would stay. If not, I would try to get a discount. Generally, it's easy to get a lower price because they prefer to rent the room a bit cheaper than to not rent it at all. Obviously, it works only when availability is sufficient.
This method has its risks, too. Some days, most hostels in town may be fully booked, and it will be difficult to find cheap accommodation.
However, most of the time, you'll find something. When traveling around Thailand, we always found some kind of accommodation, even when we went to the full moon party in Koh Phangan.
---
Did you like these tips on how to book cheap hotels? Leave a comment!
Hi, I'm Miguel; Adventure traveler, scuba diver and hiking lover. I have been traveling the world for the last 12 years and I hope my experiences, photos and hiking routes inspire you to travel the world too.