Although I should be writing about adventure travel, hiking routes, or diving in Southeast Asia, today I'd like to talk about blogging and how I increased by 3 times the traffic to my travel blog in just 3 months.
I'm going to give you direct advice with examples of what helped me multiply my visits. I will not talk about ambiguous concepts; I'll go straight to the point!
Just a few months after launching, my blog went from 6,500 to 20,000 visits per month. I know 20,000 visits is not that crazy, but I'm talking about a very young blog, and the visits just keep growing! Now I'm getting about 140.000 pageviews/month.
All the steps I'm going to explain here should work for any blog, whether it is new or not, and whether it is about travel, fashion, or whatever.
Moreover, you should know that the most important thing is not the number of visits, but the quality of them. The key is to get visitors who become followers, subscribers, or, even better, customers!
Obviously, it depends on each blog and the strategy to follow, but in my case, getting many visits from Facebook or Twitter does not mean much to me. These social media networks require investing too much time or money, and in the end why would you want many visits if they mean nothing more than numbers?
Follow the next 6 steps to triple your visitors with quality traffic! In my case, that's mainly traffic from Google and Pinterest.
First of all, I want to make clear that I'm not a SEO expert or anything like that. This is simply the result of good tips I've received from other bloggers (especially Antonio of theadventurejunkies; thanks, mate 🙂 ), from hours of searching for strategies on Google, by attending webinars and travel blogging courses, and from putting in hard work.
What I mean is that if I've done it, you can too!
How to increase traffic to your website. Index:
1. HOW TO MAKE GREAT CONTENT: 3 MASTER TIPS
2. HOW TO BUILD QUALITY LINKS
3. HOW TO FIND THE BEST KEYWORDS
4. THE POWER OF PINTEREST TO INCREASE YOUR WEB TRAFFIC
5. OTHER SOCIAL MEDIA
6. SUPERSTAR BLOGGING
1. HOW TO MAKE GREAT CONTENT: 3 MASTER TIPS
This is a key step, but it's not as easy as simply writing a good article. Once you have chosen a keyword to write about (later we'll see how to choose the best keywords), you must make the article stand out from the others.
1.1. Compare results
Enter your keyword into Google and look at the 10 articles on the first page. Read them, analyze them, and think about how you can write an article that is better than those 10. You can inspire yourself by some of those articles and add new and more updated information, new ideas, new experiences, etc.
The goal is to write an article that is better than those 10 on the first page of Google, or at least better than most of them.
1.2. Write an attractive headline!
You've heard that 33 percent of clicks go to the article in the first position, 18 percent to the second position, and so on…
However, if you make it to the first page of Google (even if you're at the bottom), and if you have a really good headline, you can get more clicks than websites ranking above you. In that case, Google interprets this as indicating that your article better suits that search and will move you up.
Examples of "bad" headlines:
– My backpacking trip in Yucatan for two weeks
– Exploring the South of India
– Hiking in Peru: The Huayhuash Circuit
Example of "good" headlines:
– How to travel in Yucatan for less than $15 a day
– Top 10 things to do in the South of India
– How to hike the Huayhuash Circuit on your own, without guides!
You want to write a headline that will create curiosity in the reader. 'Hmm,' he'll think, 'how did they make it on a $15 budget? What are the top 10 things to do in India? How did he complete that route without a guide?' etc.
1.3. You should maintain a regular posting schedule
Maybe you think it would be a good idea to post once a week, or every two days, or as you like, but make it regular. This way, your readers will know that you post every Monday, for example, and you'll create a good relationship with them (thereby developing loyal and regular traffic).
2. HOW TO BUILD QUALITY LINKS
Everything I have just said about writing good content is beautiful and fantastic, but let's face it; it won't work if we don't create backlinks to those posts. Without links, your website is worth nothing online and you will show on page 38 of the Google results.
2.1. How to build quality backlinks
2.1.1 Guest posts
You probably know this one, right? You write an article for another blog (with more authority than yours) so that you can gain more followers and views and, most importantly, links from an important blog to yours.
It is one of the best ways to get a powerful link to your blog.
Just after launching my blog, I began to contact other bloggers and I have now written several guest posts. I was lucky to write this article: "How to Complete a High-Altitude Hike" for theadventurejunkies, a top travel blog.
Those articles do not bring me much traffic, to be quite honest; however, it is a great way to start building relationships with other bloggers, let people know that you exist in your scene, and get some quality links, making you rank higher in the search results.
– Search in Google for "guest post travel blog" and other variations and look for blogs accepting guest posts. Then send those bloggers an email, telling them you would like to write a guest post for them.
2.1.2 Interviews
This is another fantastic way to get links. Most of the time, when your blog is pretty new, there won't be many people looking to feature you on their blog. However, if you have interesting content, you can contact the webmaster directly and ask him for an interview! Yes, just like that; a bit cheeky, but it's all right!
– Search in Google for "interview travel blog" and other variations and find blogs conducting interviews of other travel bloggers.
– Contact the websmaster and kindly ask him for an interview. It is best to be brief; something like this would do:
Hello "Name", how are you doing?
First of all, congrats on your great work. I have a travel blog too and I'm trying to do something very inspiring. It's about ……. "adventure travel or whatever it is."
This is the url:
I wanted to nominate myself for your next Interview series!
Thank you very much; please let me know!
Sincerely,
If you have an interesting blog, it is very likely you'll get a few interviews!
2.1.3 Link exchange
There is some controversy about this strategy because Google's guidelines say you should not contact other webmasters to ask them for a link exchange. (You put a link from your blog on the other website, and vice versa.)
However, link exchanges are something that will also happen naturally and organically.
You shouldn't focus your link building strategy only on link exchange because it might look suspicious in the eyes of Google. However, a few reciprocal links from/to other blogs should not be a problem.
2.1.4 Lists
Lists are another quick and effective way to get quality links. You can create a list like "Top 25 Adventure travel blogs of the year" or "Top 10 travel blogs that changed my life," etc. (I recommend that you feature only bloggers you really like; otherwise it makes no sense.)
Then get in contact with those bloggers and let them know they have been featured on your list. This is a great way to: 1) Make relationships with other bloggers, 2) Get backlinks, as some of them will put up a link back from their blog to yours (typically in their "Press" or "Media Mentions" section), and 3) Get new traffic and potential followers. (Most bloggers will share your article on their Facebook, Twitter, and other social media accounts as a thank you, and thousands of their followers could potentially go to your post.)
2.1.5 The skyscraper technique
Now, we are going to use the skyscraper technique created by SEO expert Brian Dean to build new links to the articles we want.
The idea is simple but effective. You remember how I said we should create good content, trying to write something better than those articles on the first page of Google?
Now that we have a fantastic and more up-to-date article than those on the first page of Google, we can do the following:
– Use ahrefs (paid) or Moz Explorer (free) to enter all the articles on the first page of Google, then analyze them and see how many links they have and where those links come from.
It says Title and URL of linking page. That's the website linking to the article.
– Now that you know which websites have links to those articles on the first page of Google, you can contact the webmasters. If you they have links to those articles, why wouldn't they put a link to your article if it's better, more informative, and more up to date?
You can send them something like this:
Hello "Name"!
I was looking for articles about (the topic) and I found your page (URL)
I've noticed you mentioned (article title). It's a great post!
I have created a more extensive and up-to-date article about (the topic), with lots of tips. I think it might add value to your post.
It would be great if you'd consider adding it to your page.
Cheers,
This way you are not begging him for a link; on the contrary, you are offering something that will add more value to his blog. That's why this strategy is so good, because both parties benefit and there is no need to beg.
2.2. Good architecture: internal links
Organized architecture will let Google know which articles should take priority over others. I recommend that you create internal links from your articles to others. (Obviously, this linking has to make sense and the articles should be related.)
Personally, I add three or four internal links from each article linking to others related in some way. I don't recommend that you add a bunch of links to the footer of the post because Google doesn't place much importance on links added to the footer.
3. HOW TO FIND THE BEST KEYWORDS
How do you find a good keyword? Do you go to Google AdWords and look for some combination of words (a long tail keyword) with a large number of searches per month?
It's not enough!
Imagine you want to write about traveling to Ecuador. If you go to Google AdWords, you'll see that there are 3,000 searches per month for the keyword "travel to Ecuador". One might think, '3,000 … mmm … okay, it's a good keyword!'
Maybe not! The number of searches is not the only thing that matters. You have to know how easy or difficult it would be for your blog to reach the first page of Google with those keywords!
Most times, it's better to find keywords with fewer searches, but with more chances to do well on the search rankings.
For example, this keyword: "backpacking Ecuador". Just 110 searches … okay … that's much less than 3,000 searches, but it may be easier to rank on the first page of Google.
How do you know which keywords are good?
The four systems I know best:
3.1. Using Moz Keyword Explorer (free, with limitations)
Enter your keyword "travel to Ecuador (or whatever your keyword is)" in the Moz Keyword Explorer, then get several values. Go to where it says SERP Analysis.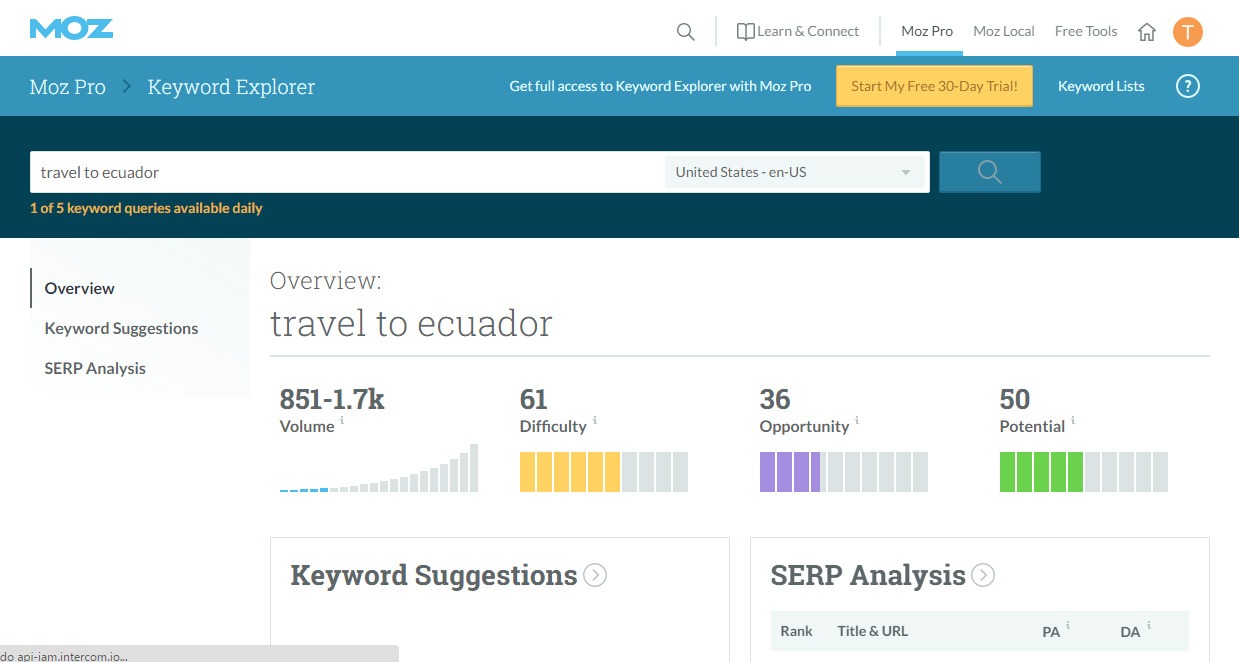 In the SERP analysis you can see the DA (Domain Authority), PA (Page Authority), and number of links for each article on the first page of Google. It also tells you the difficulty for ranking with that keyword (although that depends on the authority of your blog, too).
If you have a new blog, you want to see articles on the first page with low DA and PA, and having a few or no links.
If most of them have a high DA, forget about it! It will be very difficult to rank for that keyword (unless you are able to get many high-quality links to your article).
Let's see what happens with the other example of the keyword we discussed before: "backpacking Ecuador". I enter it in the Moz Keyword Explorer, then I go to SERP analysis and … ta daa!
Many of the articles have very low DA and PA, and just a few links. In other words, it is very feasible to use that keyword and rank on the first page of Google.
In fact, you might have noticed that my article "Backpacking Ecuador on a budget" is among the results. On the first page of Google!
If I had chosen the other keyword "travel to Ecuador" I would probably be around the fourth or fifth page of Google. You see? it might have 3,000 keyword searches, but what's the point if no one is going to read my article?
The problem with Moz Keyword Explorer is that it's not easy to understand how the PA, DA, links, and difficulty value work. It takes time to learn how to read and interpret all those values.
After five searches a day, the software asks you to upgrade to Pro, which is a good idea if you want to use it a lot.
3.2. Using the MozBar (free)
This is the free version of the previous system if you want to check more than five keywords per day.
You must install the MozBar extension, so you'll see the icon on the top right of your bar.
You can go to Google and search for a keyword. When you have the results, click on the extension and it will show you a box below each result with the PA, the DA, and links to each article.
The problem with the MozBar is that the system itself is slower than the previous one and is also a bit difficult to interpret.
3.3. Using Long Tail Pro (paid)
The Long Tail Pro software gives you a similar result as the MozBar, but more detailed, more reliable, and, above all, easier to understand. In addition, the software comes with video tutorials so that you can learn how to use it and become a keyword genius.
Enter a keyword and the software gives you hundreds of new ideas for related keywords, plus data about DA, PA, links, link juice, page age, etc. The software analyzes the word and provides a value of difficulty, telling you how competitive it would be to rank for that keyword.
It's a great tool to determine which keywords to choose and which not to choose. I've used it for a few months and I'm very happy with the results. The price is quite good, too.
On the downside, the software is a little slow.
3.4. Using ahrefs (paid)
Ahrefs is probably the best toolset to research keywords, compare keywords, look at links from other sites, compare yourself with competitors, and much more. It is a very powerful tool for people taking their blogs to the next level.
When you search for a keyword, it gives you an easy-to-understand "keyword difficulty score" for ranking in Google. It has many tutorials explaining how to use the different tools, how to get the most successful keywords, how to compare your position to those of other websites, etc.
Obviously, it's the most expensive tool of all.
3.5. Using Semrush (paid)
If you're scared of ahrefs' exaggerated price (like I am) but are looking for something more detailed than Long Tail Pro, I recommend that you check out SemRush.
This toolset also offers great keywords research (assigning a difficulty score to rank in Google), competitor analysis, backlinks analysis, advertising research, and more.
The price of Semrush is more affordable and it works great.
4. THE POWER OF PINTEREST TO INCREASE YOUR WEB TRAFFIC
Pinterest is an amazing tool for generating traffic for your blog. We could say that Pinterest works like Google in some ways. People search for keywords and then find a photo related to those keywords; then they click on the photo and go to your blog. This means that the person is actually interested in your article (because they are looking for those keywords), and if they like what you've written, you might gain a follower.
This article on how to use Pinterest helped me generate good traffic.
I summarize it in the following steps:
1. Create your Pinterest account.
2. Do not pin your photos from your blog to your Pinterest account. You should create a specific photo for each post, upload it to Pinterest, and link to your article.
3. Make vertical photos of an approximate size of 736 x 1200 pi.
4. Place a catchy title in the photo.
5. Use Pingroupie to search "Boards" in which you can collaborate and upload your photos.
6. Contact the creators of the "Boards" and ask them to add you as a collaborator.
7. Try to post one photo per day in each "Board."
In the article I mentioned above, you'll find more detailed information, but that's the idea. And believe me, Pinterest really works! You can send a lot of traffic to your website!
This is an example of a Pin! By the way, you could pin it to one of your "Boards" if you are liking this post; it's free! 🙂
5. OTHER SOCIAL MEDIA
Personally, I'm not a big fan of social networks (excluding Pinterest). In my experience, to get a lot of traffic from Facebook or Twitter, you have to be a little "annoying" or "spammy," or spend money on ads. None of the three convinces me, although I know some bloggers who do very well on social media.
5.1. Facebook:
It's quite easy to get traffic from Facebook to your blog, but I think it is not the best traffic.
I think many people may read your post on Facebook just because they are bored at the office and want some kind of entertainment, not because they are really interested in the post.
If you're interested in getting free traffic from Facebook, you can send requests to be part of many of the travel groups (or whatever your blog is about) and leave links to your posts when the group rules allow it.
5.2. Reddit:
Reddit works better than Facebook, in my opinion. You can join groups and leave links to your posts. Some groups are very active, and sometimes you can get hundreds of visits in a matter of minutes just from Reddit. The problem, again, is finding a balance between providing something of interest to the group and leaving tons of links like a spammer.
6. SUPERSTAR BLOGGING
If you want to know how to monetize your blog, the Superstar Blogging course is one of the best options.
It is helpful both for those who have not yet started their blogs, and for those who already have blogs and want to monetize them.
The course was created by Matt Kepnes. Probably the most successful bloggers in the world. He knows his stuff. Best of all is the private Facebook group to which you have access for being part of the community. It's totally VIP! Many of the most famous bloggers also took the course and are very active in the group. It's amazing when you ask something and get it answered by Matt and other Super Top Bloggers!
Think about this course not as an expense but as an investment that you get back when you start monetizing your blog. That's what I did!
TAKE ACTION!
Start doing good keyword research using Moz Explorer, Long Tail Pro, ahrefs, or Semrush!
Create high-quality content, better than others, on the first page of Google!
Build good links to your posts!
Open an account on Pinterest and create catchy Pins!
Check out some new networks like Reddit!
Consider taking the Superstar Blogging course to start monetizing your blog!
---
Did you enjoy How to increase 3x traffic to your travel blog in 3 months? Share it with other bloggers!
---
Disclosure: Some of the links in this post are "affiliate links." This means if you click on them and purchase the item, I will receive a commission. Regardless, I only recommend quality products and services I trust and believe will add value to my readers.
Hi, I'm Miguel; Adventure traveler, scuba diver and hiking lover. I have been traveling the world for the last 12 years and I hope my experiences, photos and hiking routes inspire you to travel the world too.