I bet somebody has already told you not to miss the Kalaw to Inle Lake trek during your travel in Burma, right? This hike has become very popular among travelers and it's no wonder why.
I truly enjoyed both the route itself and the amazing days we spent at the famous Inle Lake. It's a special place where it seems as though no time has passed. It's really worth a visit!
On the other hand, I have to be honest. The landscapes are not the most impressive ones you'll have seen in your life. With the exception of Inle Lake, the route is not too spectacular. I guess those mountains were quite beautiful years ago. Nowadays, with the extensive agriculture and uncontrolled logging (it's incredible the number of Chinese trucks loaded with timber that you can see throughout the country), some parts of the country reminded me of Andalusian olive farms rather than subtropical mountains.
So, why does everyone love this hike? Easy… because of its people! It's amazing how the people of this country can be so friendly. The beauty of this hike is that it allows you to walk through their lands and villages, stay in their houses, and share a cup of tea and lots of smiles with them.
I get the feeling that Burma must be like Thailand or Cambodia 30 years ago. Everything's very basic, with little industrial development and a lot of handmade, agricultural and livestock work. What is clear is that its people are not tired of visitors yet, as happens in some neighboring countries, and they keep welcoming us with joy.
Enjoy the Kalaw to Inle Lake trek! This is Myanmar, the land of smiles!
Transport. How do I get to Kalaw?
There are several buses going to Kalaw from cities like Yangon or Mandalay. There are also a few buses departing from Bagan.
We took the Bagan – Kalaw bus after visiting the amazing city of 4,000 temples.
The trip takes about 9-10 hours. For a change, we took the crappiest bus, so we had no air conditioning, thanks to God (or to Buddha). I tell you this because some buses can be as cold as Alaska when they turn on the AC. Bring a sweater or blanket if you're going to take the AC bus.
The price should be around 10,000 – 15,000 MMY.
Where can I stay in Kalaw?
Kalaw has become quite popular among travelers lately. In fact, the number of visitors to Myanmar is rapidly increasing every year.
There is a wide array of hotels and lodges. Once again, we stayed in one of the crappiest hostels in town, the Golden Lily House. It's a very basic place with an authentic atmosphere and a very reasonable price.
The double room costs about $7, with breakfast included.
There are several trekking companies… any recommendations?
The most famous agencies are Ever Smile and Sam's Family. If you walk around Kalaw, you'll see that there are many other agencies. I think most of them offer a very similar tour, but the prices might vary slightly.
We had met a couple of friendly travelers and they were going with Sam's Family, so we ended up going with them.
Our experience with Sam's was very good. Both Uncle Sam and the guide were very friendly, and the price was OK.
How much does it cost? What's included?
We paid about $ 12 per person per day, including food, accommodation, guide and the boat transport on Inle Lake.
In addition, almost all agencies take your backpack to the hostel of your choice on Inle Lake. This means you have to carry only a small backpack with the necessary stuff for three days. Once you arrive in Inle, your backpack is waiting for you.
The hike is completed in three days. Usually, you'll sleep in a local house (homestay) on the first night and in a Buddhist monastery on the second night. The monastery experience was very interesting. Not that there were many monks to interact with, but there were a few. The monastery was close to a village, so it was nice to talk to the locals, anyway.
To access Inle Lake you must pay a $10 entrance fee.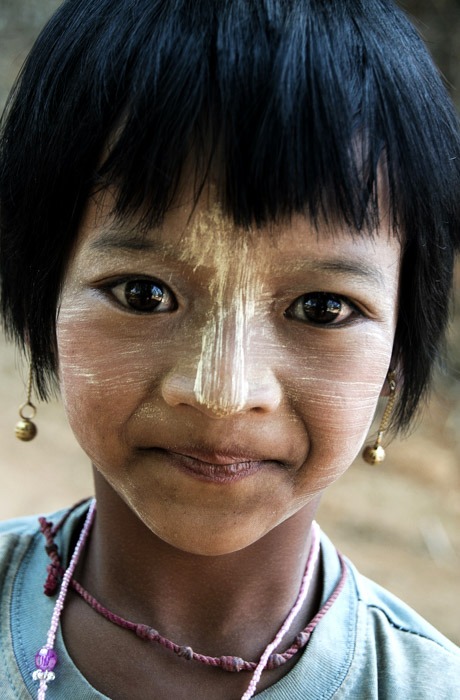 Can I do the hike by myself?
Yes. You can do this trek independently without any problem. In fact, if we had known beforehand that it was so simple, we would have done so.
We met a couple from Israel doing the hike without guides and they had no problems. Of course, they sometimes had questions about which path to follow, but the area is quite populated, so it's easy to find people to ask.
The only thing you have to keep in mind is that in Myanmar it's forbidden to host tourists in your house without a proper license. That means you cannot stay anywhere. Ask the villagers and they will tell you which houses are licensed homestays, so you can spend the night there.
What does the three-day Kalaw-to-Inle hike look like?
FIRST DAY:
The first day was a lot of fun. Shortly after leaving Kalaw, we arrived at a small town in which they were celebrating a wedding. They invited us into one of the houses and offered us food, cigarettes… and above all, lots of drinks! Ha-ha… the fiancé's father was quite "tipsy" (more like drunk) and we laughed a lot with him. He insisted that we stay for the celebration and offered us the house to sleep in. It was a shame that we had to keep going, because I'd have stayed, for sure.
We continued our way around arid landscapes, scattered villages and lots of people working the land. Later, we arrived at the homestay and spent the night in the beautiful local house.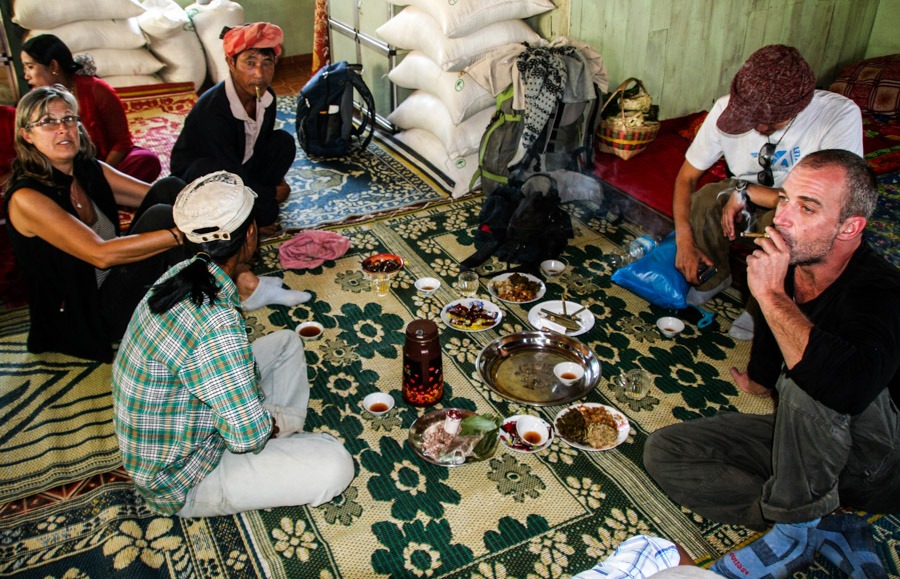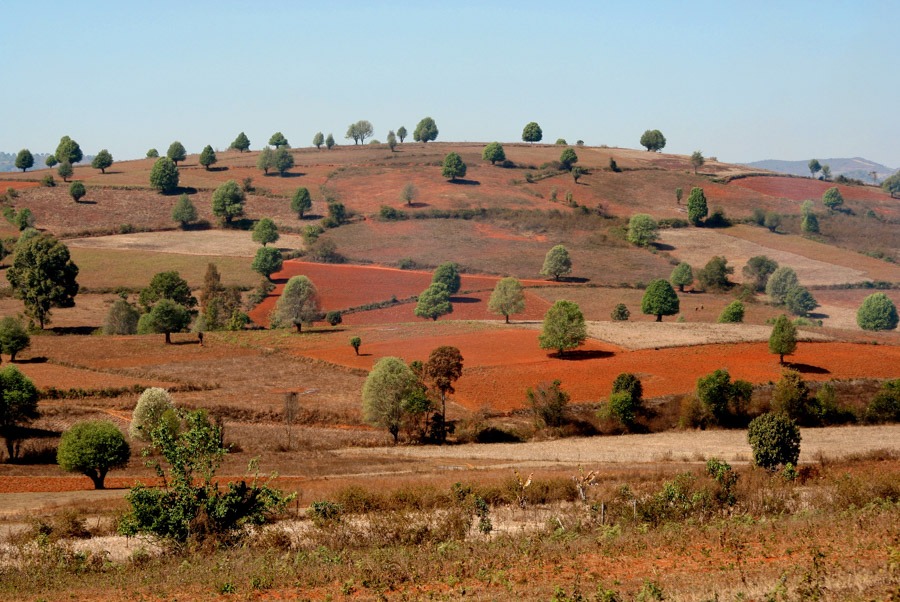 SECOND DAY:
The landscape didn't change much along the trek, but there were always villages and nice characters on our way. Sometimes they just smiled, other times they stopped to greet you, shake hands with you or take a picture with you. They are great people! It's crazy when kids come from everywhere, jumping, asking for photos or hanging from your arms!
Finally, we arrived at the monastery, a beautiful place with lots of peace of mind and tranquility.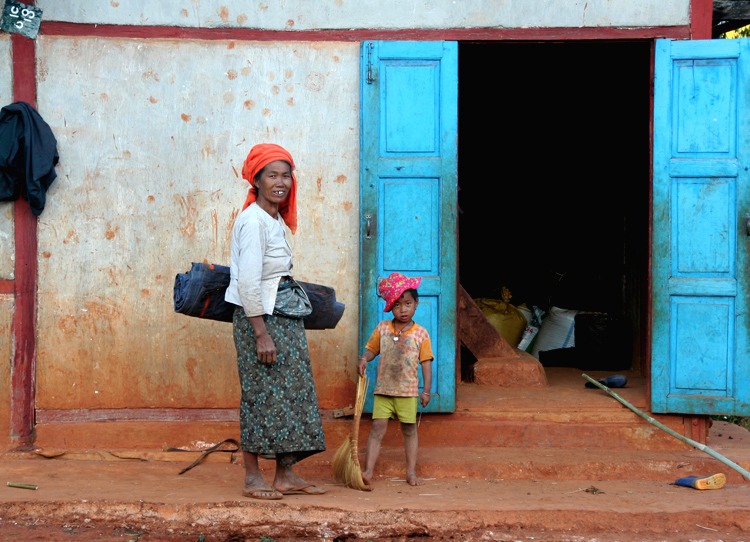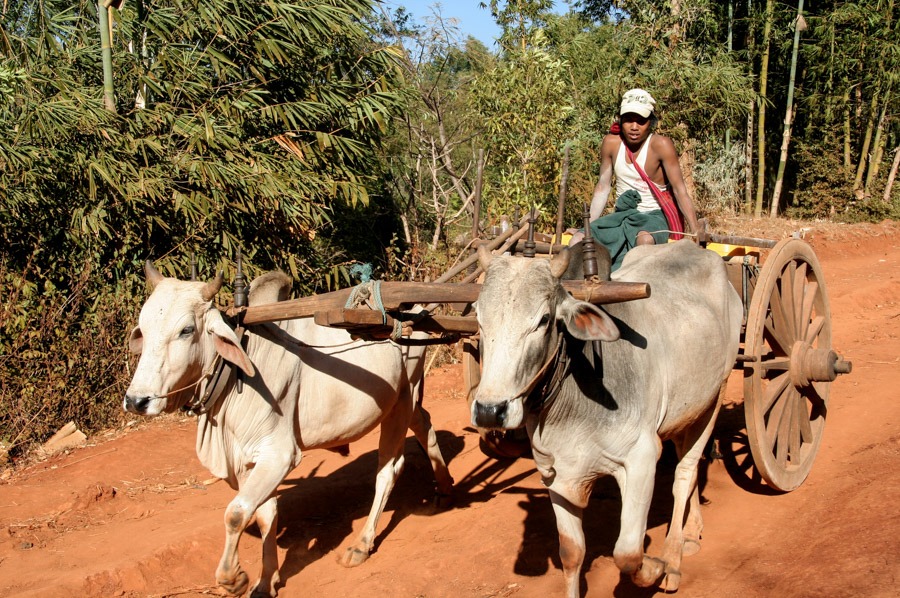 THIRD DAY:
The last day we didn't walk much. We reached a small port on Inle Lake, where we paid the tourist tax and embarked for Nyaung Shwe (or whichever town where you'll be staying).
There are some nice resorts on the lake. However, if you are backpacking, most people stay in Nyaung Shwe, which is the main village. It's also the place with more activity, markets, shops, etc. It's a small town with a lot of character.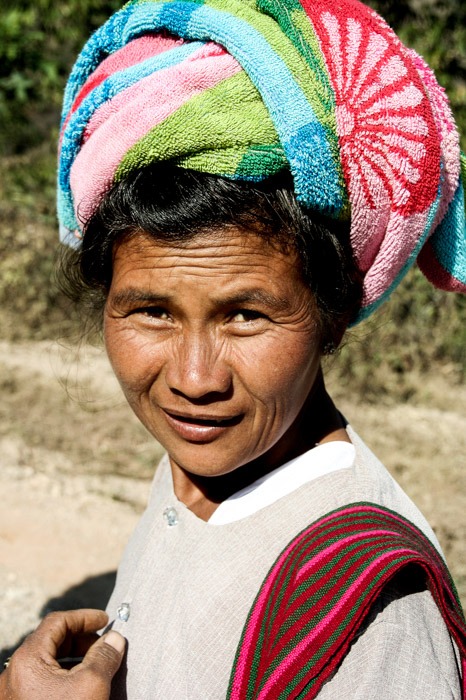 Weather. What is the best season for hiking from Kalaw to Inle?
The rainy season runs from June to September. During these months, it's still possible to complete the hike. However, you can expect showers.
From October to January is the coolest season. These months are ideal for this route because there is little rain and the landscapes are still very green.
From February to May is the hottest season. However, being at that altitude, we are talking about bearable temperatures. On the other hand, the landscapes are quite dry.
Tip: Enjoy the simplicity of the place.
You will find no luxuries on this route. You'll sleep on an old mattress on the floor of the houses and walk along dusty paths. And as I said before, the landscapes are not even spectacular until you reach the lake.
The idea of this trip is to enjoy its people, the simple things, the smiles of the children, and share a cup of tea with the locals. It's a great opportunity to realize that it doesn't take much to be happy in this life.
Many of our needs aren't, in fact, necessary; we have simply created them. The beauty of doing this route and meeting these people is just that… It will make you appreciate the most important things in life.
TRAVEL INSURANCE
I highly recommend that you get a good insurance policy before you visit Myanmar. Trusted by thousand of adventurers, World Nomads is one of the best and more reliable options (without breaking your bank).
---
---
Have you enjoyed "How to Complete the Kalaw to Inle Lake Trek"? Please, leave a comment!
Some of the links in this post are affiliate links. This means that if you book or buy a service, I'll earn a small commission at no extra cost to you. I only link to stuff I love.
Hi, I'm Miguel; Adventure traveler, scuba diver and hiking lover. I have been traveling the world for the last 12 years and I hope my experiences, photos and hiking routes inspire you to travel the world too.