Puerta del Sol, Plaza Mayor, Gran Vía, Malasaña, Chueca… Madrid has so many iconic places that selecting the best options is a daunting task. However, you are in luck! If you have 4 days to see Madrid, you will have a little more time than the average visitor to explore its streets, squares, and monuments.
In this article, I will provide recommendations for you to organize your visit day by day. I will start with the most famous places but also give you some recommendations for alternatives.
Check out these other articles: Madrid in 3 days, Madrid in 1 day, Barcelona in 3 days, Barcelona in 2 days, Barcelona in 1 day, Valencia in 3 days, Valencia in 2 days, and Valencia in 1 day.
MADRID IN 4 DAYS: ITINERARY FOR A GREAT VISIT
ITINERARY FOR DAY 1:
On the first day, when you arrive with lots of energy in a new city, you must start big! These are the must-see places that I recommend you visit on your first day:
1. PUERTA DEL SOL
Puerta de Sol is possibly the most iconic place in Madrid. It is the nerve center, the meeting point par excellence, ground zero, the heart of the city, the soul of the metropolis… you get the picture.
Here you will find several must-see spots where you can take the typical tourist selfie. Examples include the "Tío Pepe" building with its mythical advertising sign, the clock tower that marks the chimes on New Year's Eve, the "Oso y el Madroño"—"The Bear and the Strawberry Tree"—featured on Madrid's coat of arms, and the Zero Kilometer Plaque, from which all Spanish roads start counting their kilometers.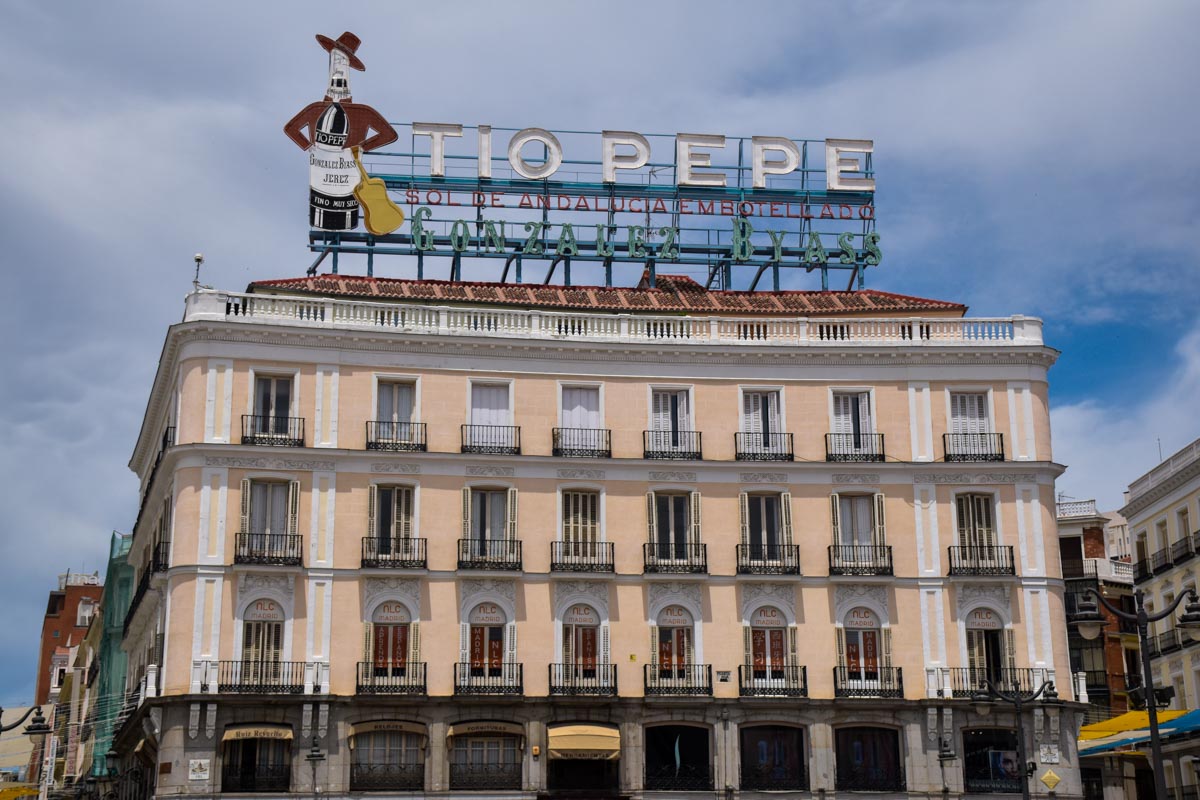 2. BARRIO DE LAS LETRAS
Very close to Plaza del Sol, Barrio de Las Letras is perfect for taking a walk, going into a "castizo" bar to eat tapas, or sitting on a terrace for a couple of beers. The area around Plaza Santa Teresa is very pleasant.
Did you know that some of the most important playwrights in Spanish literature lived in this neighborhood? Luminaries such as Góngora, Quevedo, Lope de Vega, and even Miguel de Cervantes himself used to walk around here. Now I understand why it is called Barrio de Las Letras—the Neighborhood of Letters. It couldn't have a better name.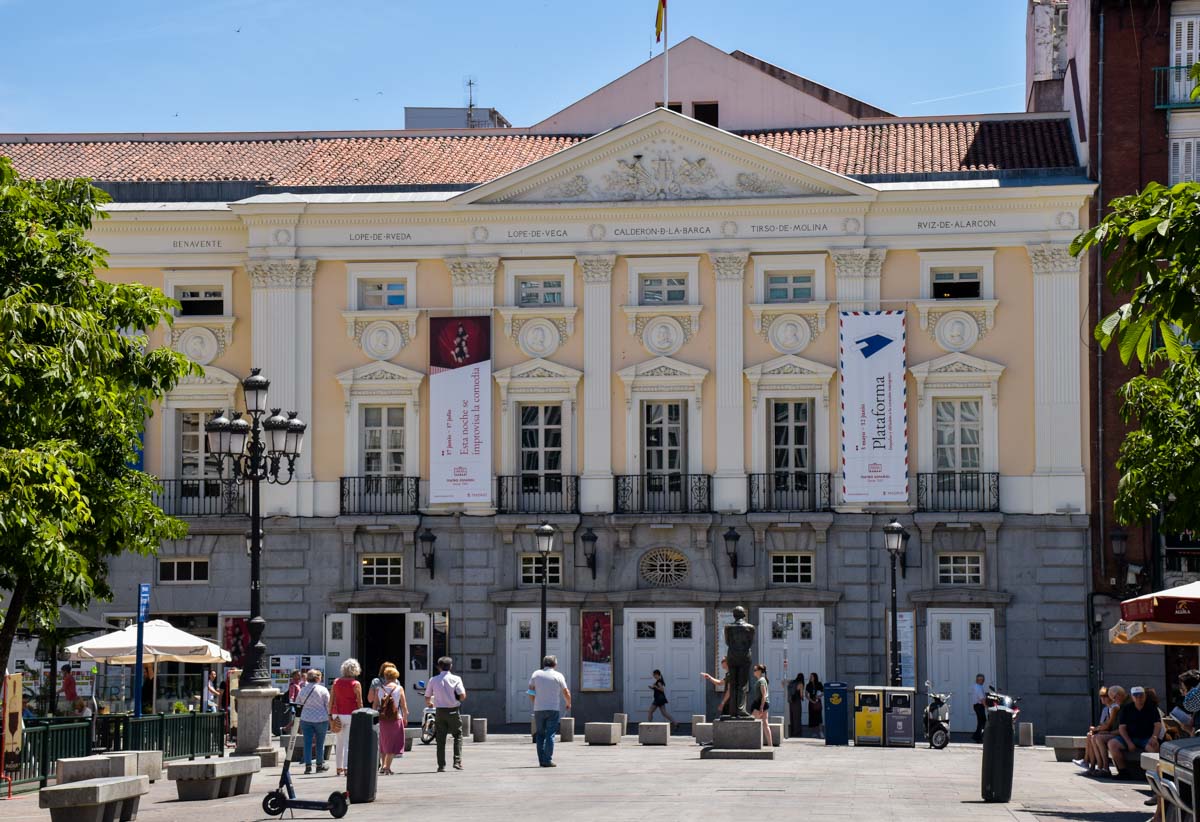 3. WALK DOWN BARRIO DE LOS AUSTRIAS
Barrio de Los Austrias—the Austrias neighborhood—occupies a large part of the historic center of Madrid. In this neighborhood, you will find the Plaza Mayor, the Opera, and Mercado de San Miguel—San Miguel Market—as well as other emblematic places.
The best thing to do in Madrid is to simply walk down the streets and get lost in the alleys. This is one of the most pleasant areas to visit on foot. Among its most outstanding places, you should not miss:
1. Plaza Mayor, a space full of history and tradition. Nowadays, it's the perfect place for sightseeing, taking pictures, and eating a bocadillo de calamares—a calamari sandwich, which is a classic of Madrid's gastronomy.
2. Plaza de la Ópera is located in the heart of the Austrias neighborhood and surrounded by vibrant streets, restaurants, and stores of all kinds. Calle Arenal is one of the busiest streets in the area.
3. Mercado de San Miguel—San Miguel Market—has a generous offering of typical dishes from various parts of the country as well as high-quality products. Note that the quality is reflected in the price, so prepare your wallet.
4. GRAN VÍA AND PLAZA CALLAO
Gran Vía, especially the area near Plaza Callao, is an incredibly vibrant street full of people, international stores, and shopping malls.
Here you will find some of the city's most mythical buildings, including the Carrión Building, the Telefónica Building, and the photogenic Metrópolis Building, which you have likely seen in many images and postcards of Madrid.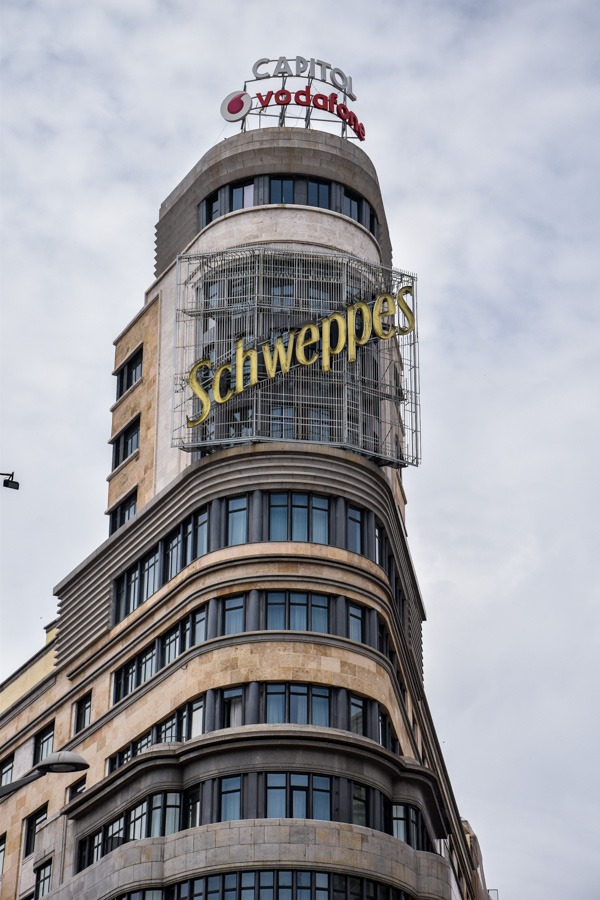 5. PALACIO REAL AND THE ALMUDENA CATHEDRAL
Philip V built quite a Royal Palace back in 1764! As you will discover, this building is simply colossal. In fact, it is one of the largest palaces in Europe. It also features the largest number of rooms: more than 3,400! To think that I live in a little 9-square-meter room… What an injustice!
Here is a link to the official website of the Royal Palace so that you can check opening hours and buy tickets. By the way, admission is free after 4 pm.
Right in front of the palace, you will find the Almudena Cathedral, another mandatory stop on your visit to Madrid. Although it is not the most beautiful cathedral in Spain, Almudena has a monumental facade that justifies the visit. One of the best views of the Almudena Cathedral is from the Temple of Debod.
6. PLAZA ESPAÑA AND THE TEMPLE OF DEBOD
Continue your visit by walking to Plaza España. You will recognize this square easily, as it is flanked by several imposing buildings. The tallest buildings in the square are La Torre Madrid and Edificio España.
If you continue walking west from Plaza España, you will reach Parque de la Montaña—the Mountain Park—where the mystical Temple of Debod is located. This temple was a gift from Egypt to Spain, made in 1968 in gratitude for the help that Spain provided in saving the temples of Abu Simbel.
I recommend that you leave this visit for the end of the day, as it is one of the most beautiful places in Madrid from which to see the sunset.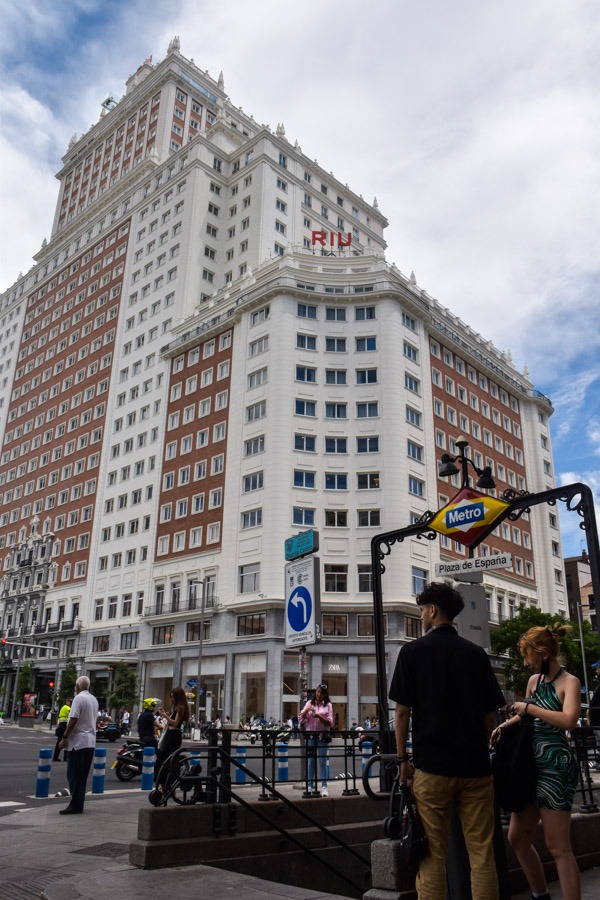 ITINERARY FOR DAY 2:
The first day was quite hectic. If you didn't have time to visit a site, that's okay! Leave it for the second day. The important thing is to enjoy the city and fall in love with its streets at your own pace.
On this second day, you can see some emblematic places in Madrid, visit the Prado Museum and take a stroll through Parque del Retiro—Retirement Park.
7. CONGRESO DE LOS DIPUTADOS
El Congreso de los Diputados—the Congress of Deputies— is a very important place in the history of Madrid and Spain. This is where politicians come to insult each other and make proposals they will fail to fulfill.
The truth is, we never really know what goes on inside that building. However, you can enjoy the outside and admire its beautiful portico with Corinthian columns. Be sure to take a picture next to the mythical bronze lions guarding the entrance—an icon of the city.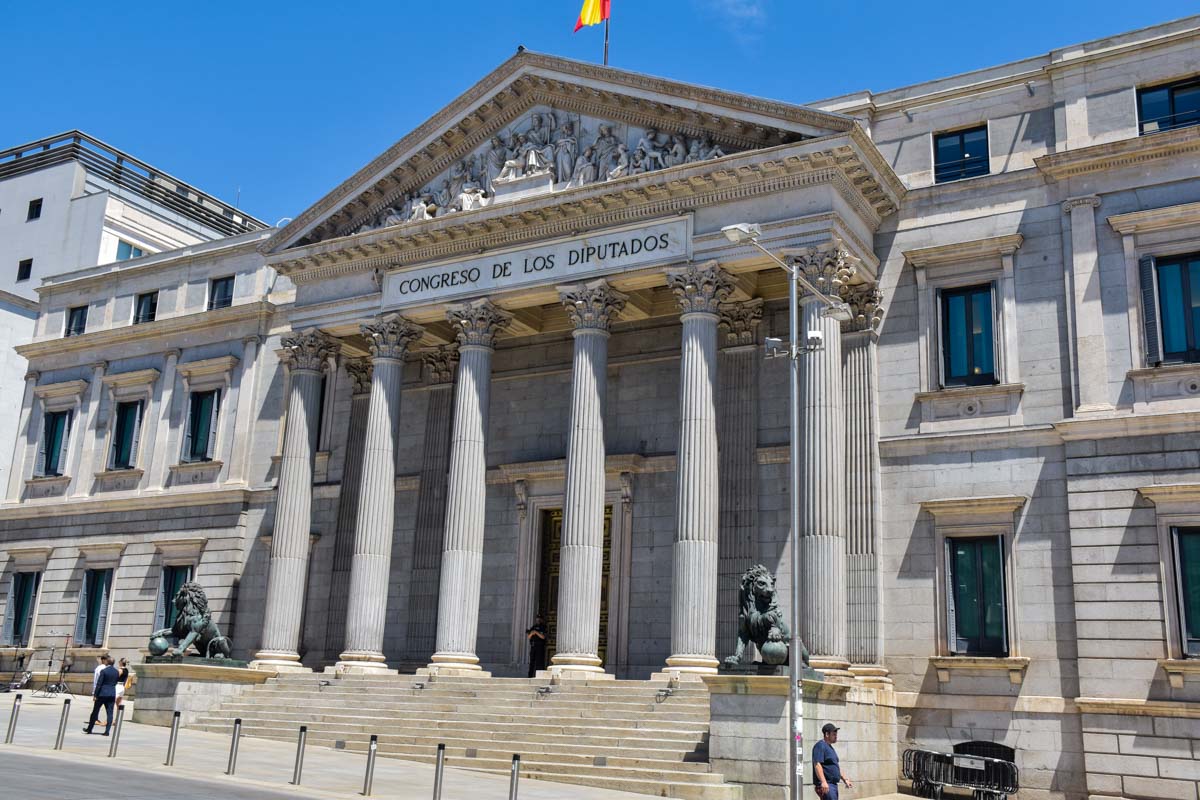 8. FUENTE NEPTUNO AND FUENTE CIBELES
If you continue down San Jeronimo road, you will reach the Fountain of Neptune. A little farther north is Fuente de Cibeles. Both fountains are beautiful and highly popular with tourists and locals—especially to celebrate Real Madrid's and Atletico Madrid's victories.
At Plaza Cibeles, you will find another must-see of Madrid: Palacio Cibeles, one of the first modernist-style buildings in the capital. Today it serves as the headquarters of the Madrid City Council.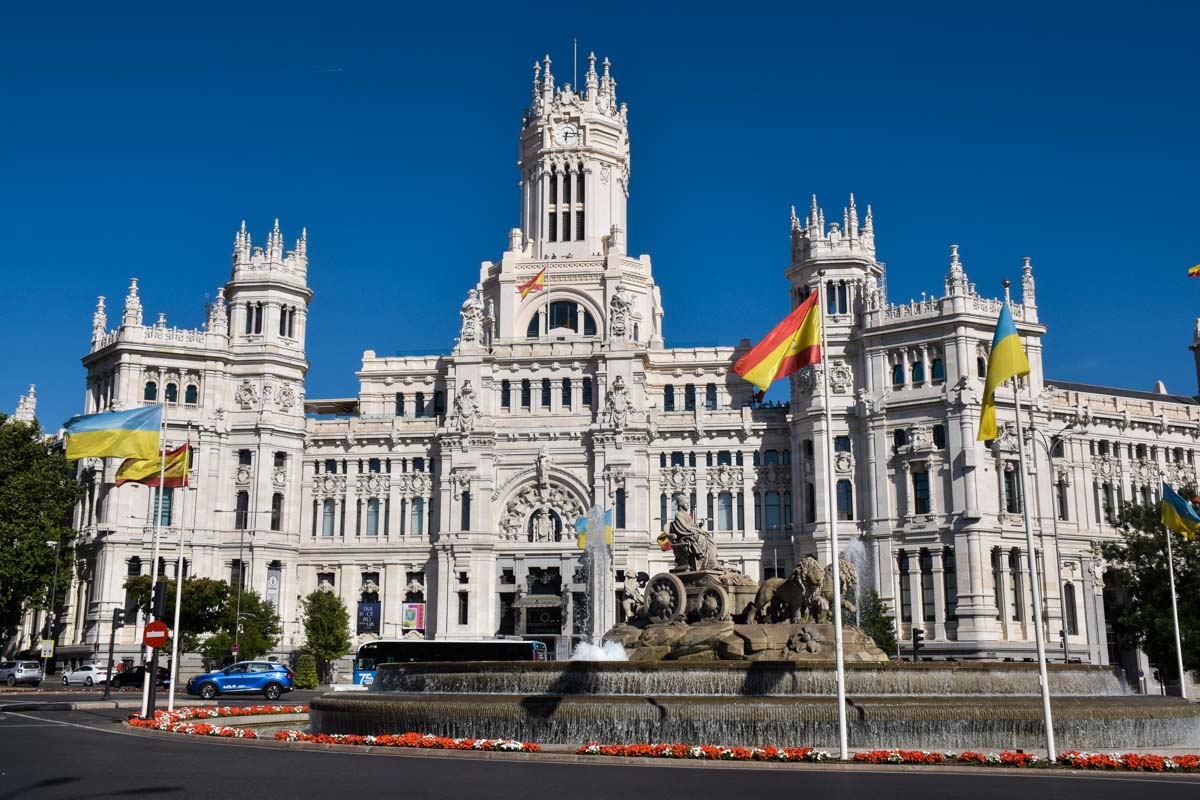 9. PUERTA DE ALCALÁ
East of the Cibeles Fountain, down Alcalá street, you will find the famous Puerta de Alcalá. This is one of the five royal gates that visitors had to go through to enter Madrid.
Built in 1778 by order of Charles III, this gate stands out for its refined neoclassical style and monumental presence, which resembles other triumphal arches. At this location, you are just a stone's throw from one of the main entrances of Parque del Retiro—Retirement Park. A little farther south is the Prado Museum.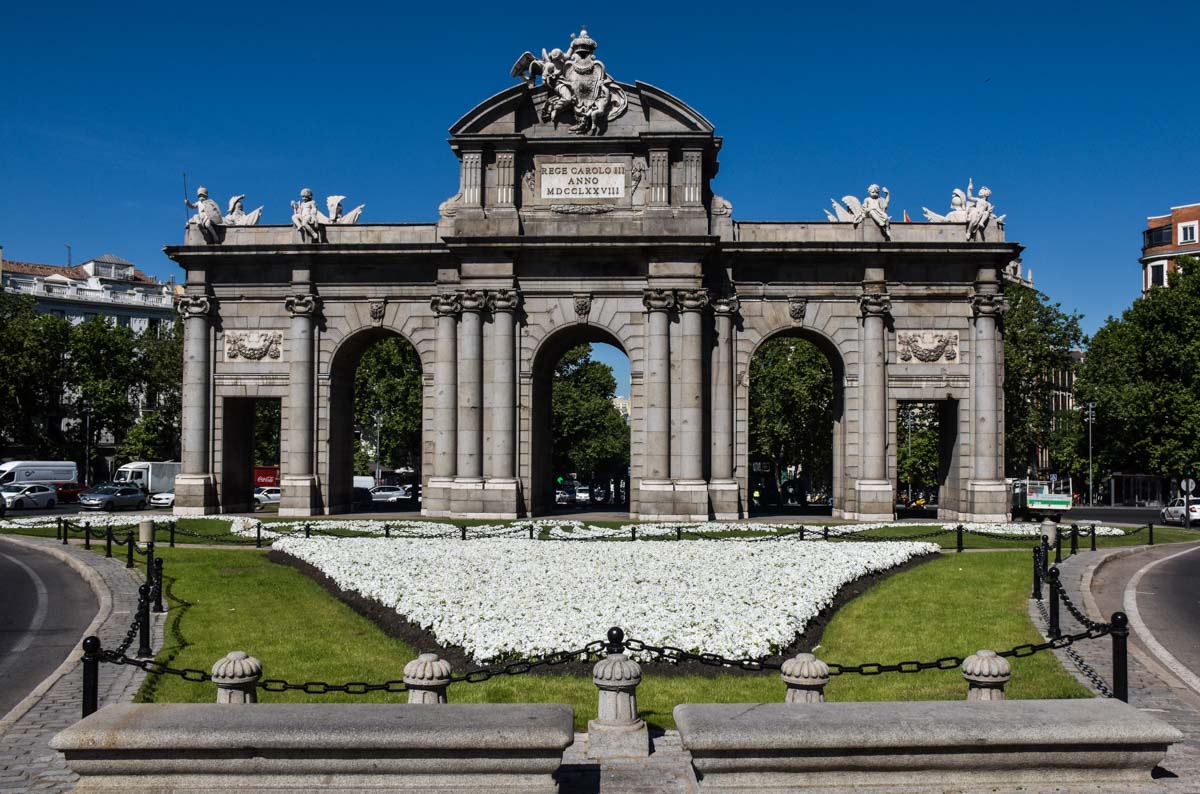 10. PARQUE DEL RETIRO (RETIREMENT PARK)
This gigantic park is the perfect place to escape the city's stress, noise, and pollution, if only for a few hours. What can you do there? Several things. For example, you can sit under a tree and read a book, take a boat ride, exercise, or just walk around.
I find Palacio de Cristal—the Crystal Palace—to be the most magical spot in the park. Inspired by London's Crystal Palace, this Crystal Palace was built as a huge greenhouse in 1887. It housed the Philippine Islands Expo, and hundreds of tropical plants and unique species were kept here.
Presently, the palace is managed by the Madrid City Council and the Reina Sofia Museum, and it houses various contemporary art exhibits. The pond in front of the palace makes it one of the most photogenic places in Retirement Park.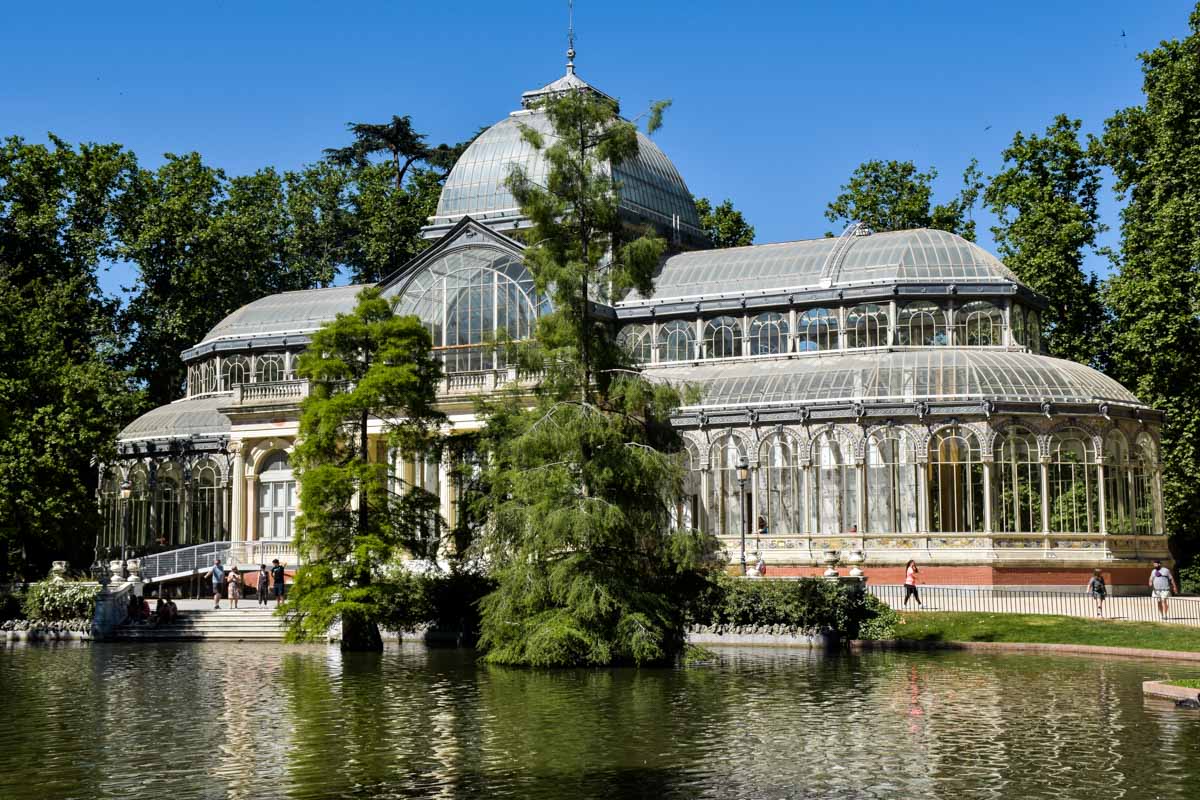 11. MUSEO DEL PRADO
What a wonderful museum Madrid has to offer! The Prado Museum is simply marvelous. For this day in Madrid, take a minute to estimate how many hours you will spend at each location, as you will need quite a bit of time to see the museum.
With some of the most famous works of Goya, Rubens, Velázquez, and Bosch, the Prado Museum attracts over 3.6 million visitors a year. It is also considered one of the top ten museums in the world. You can't miss it. Here is a link where you can purchase your ticket online.
Visiting hours are Monday to Saturday from 10 am to 8 pm and Sundays and holidays from 10 am to 7 pm.
12. CLIMB UP TO A SKY BAR TERRACE
Madrid has a lot of "sky bars" or "rooftop bars," which are basically bars on top of tall buildings that feature spectacular views of the city.
In most cases, these terraces belong to a high-class hotel. Although admission is usually free, drinks are not cheap. However, I think the experience can be worth the price. Some of the most famous sky bars are Picalagartos Sky Bar, Ginkgo Bar, Le Tavernier, and the Hotel Riu Rooftop Bar 360.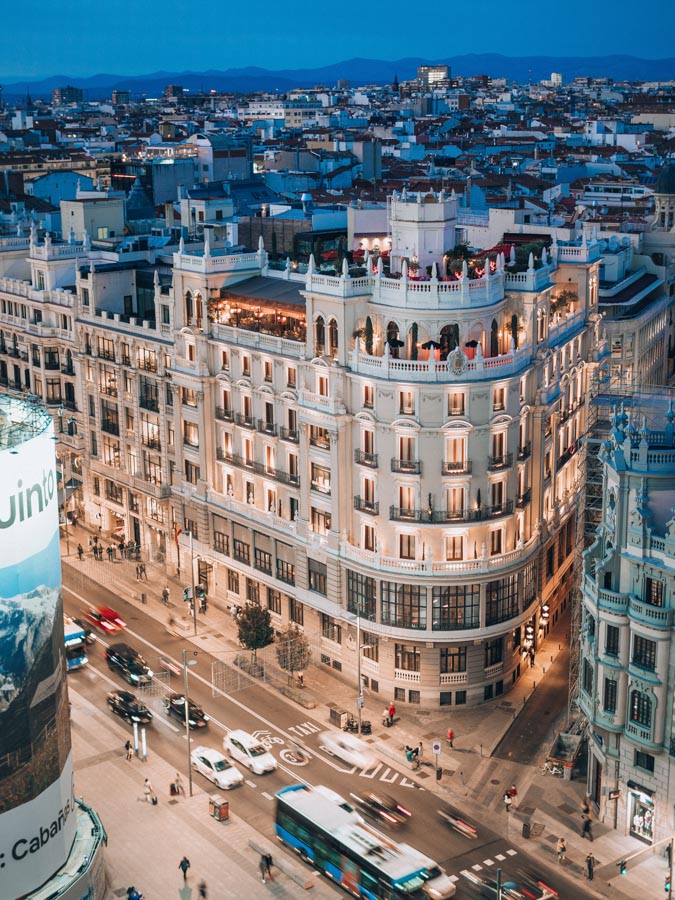 ITINERARY FOR DAY 3:
How's your stamina so far? During the first two days, you visited some of the most famous sights in Madrid. On this third day, we will continue with some more classics you should not miss on your visit.
13. TORRES KIO AND CUATRO TORRES
The Kio Towers are two 114-meter-high inclined skyscrapers located in Plaza de Castilla. They are two emblematic buildings of modern and futuristic Madrid, next to the more recent Cuatro Torres—Four Towers.
"Freak" movie lovers might remember that the final scene of the legendary 1995 film The Day of the Beast by director Alex de la Iglesia was filmed here. My God, what a movie!
14. MUSEO REINA SOFÍA
The Reina Sofia is Madrid's second most famous museum, after the Prado Museum. Reina Sofia houses great works of contemporary and surrealist art by renowned artists such as Joan Miro, Salvador Dali, and Pablo Picasso.
Here you will find Picasso's famous Guernica, a spectacular painting that surprises one with its enormous size. Did you know that Guernica is almost 8 meters long? You'd better see it in person. It is well worth it.
15. LA LATINA
La Latina is a neighborhood brimming with magic, flavor, and "flow"… It's great! Very close to the Austrias neighborhood but with a more informal atmosphere, La Latina is the place to eat delicious tapas, drink vermouth, or refresh yourself with a cold beer.
16. MALASAÑA AND CHUECA
While parties take place everywhere in Madrid, these are probably the most "fiestuqui"—partying—neighborhoods in the city. Malasaña is famous for its university atmosphere and rock and electronic bars. Chueca is the gay district of Madrid and is full of bars, restaurants, and clubs for dancing.
For a quiet drink during the day, I really like Plaza Comendadoras in Malasaña. I'm not saying it's the most beautiful square in Madrid (it's not) but it has a nice atmosphere and a few beautiful buildings, including the Church of Santiago el Mayor, which stands out for its beautiful salmon-colored facade. By the way, it is a good place to go with children, as it has a playground.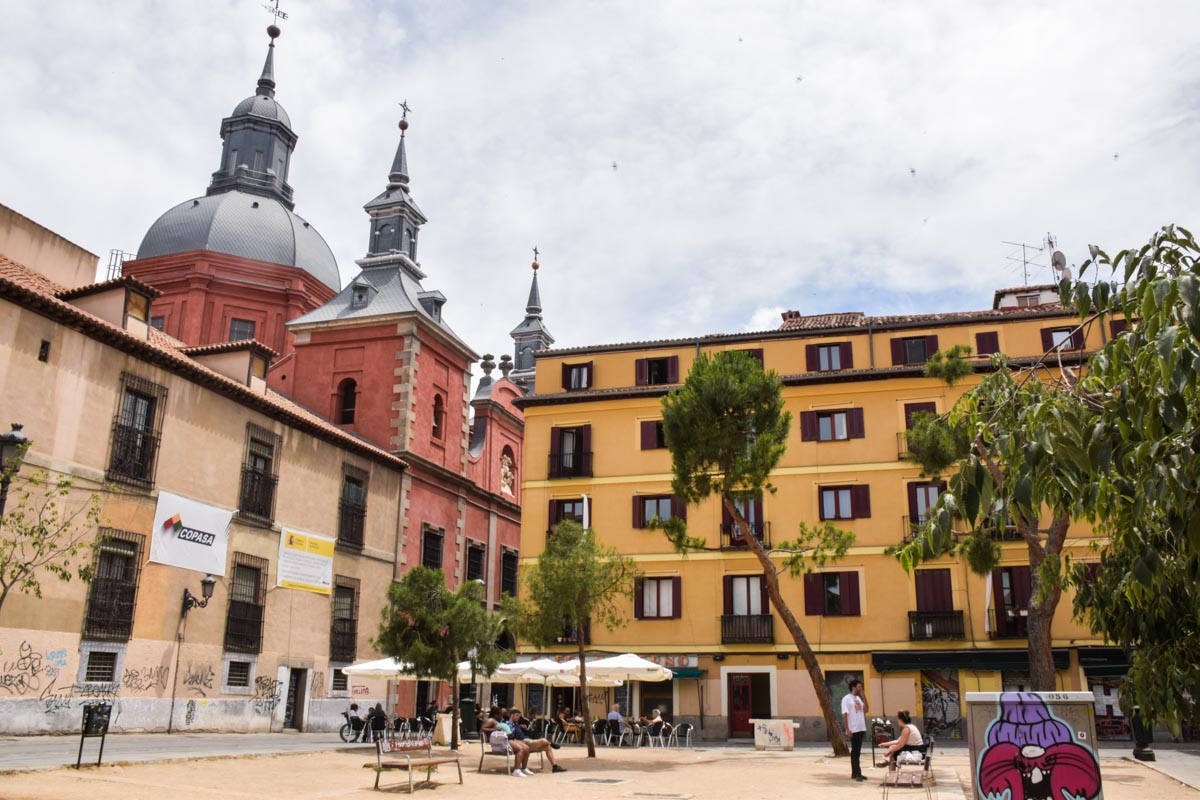 17. ENJOY THE SUNSET AT CÍRCULO DE BELLAS ARTES
Did you like visiting a sky bar? Today I bring you another proposal in the same vein. The Circulo de Bellas Artes building also has a beautiful terrace. Admission costs 5 euros but the views of the Gran Via are truly amazing, especially the image of the mythical Metrópolis Building that dominates the city.
ITINERARY FOR DAY 4:
What to do in Madrid in 4 days? After the first three days of exploring the most "tourist-type" places, we can check out some alternative sites on the fourth day.
18. ANDÉN 0 – MUSEO CHAMBERÍ STATION
The old Chamberí station is part of the first subway line built in Madrid in 1919.
The station closed in the 1960s when the metropolitan company decided to increase the length of the trains and Chamberí could not adapt to the changes. Today it is a museum that will make you feel like you are in 1950s Madrid.
19. TABACALERA AND OTHER CULTURAL CENTERS
La Tabacalera is a social, cultural, and artistic center located in what used to be the old Tobacco Factory of Madrid, in Lavapiés. Here are held activities, exhibits, and super interesting workshops about photography, audiovisual, and contemporary arts.
It is currently closed. However, we hope that it will be able to open its doors very soon.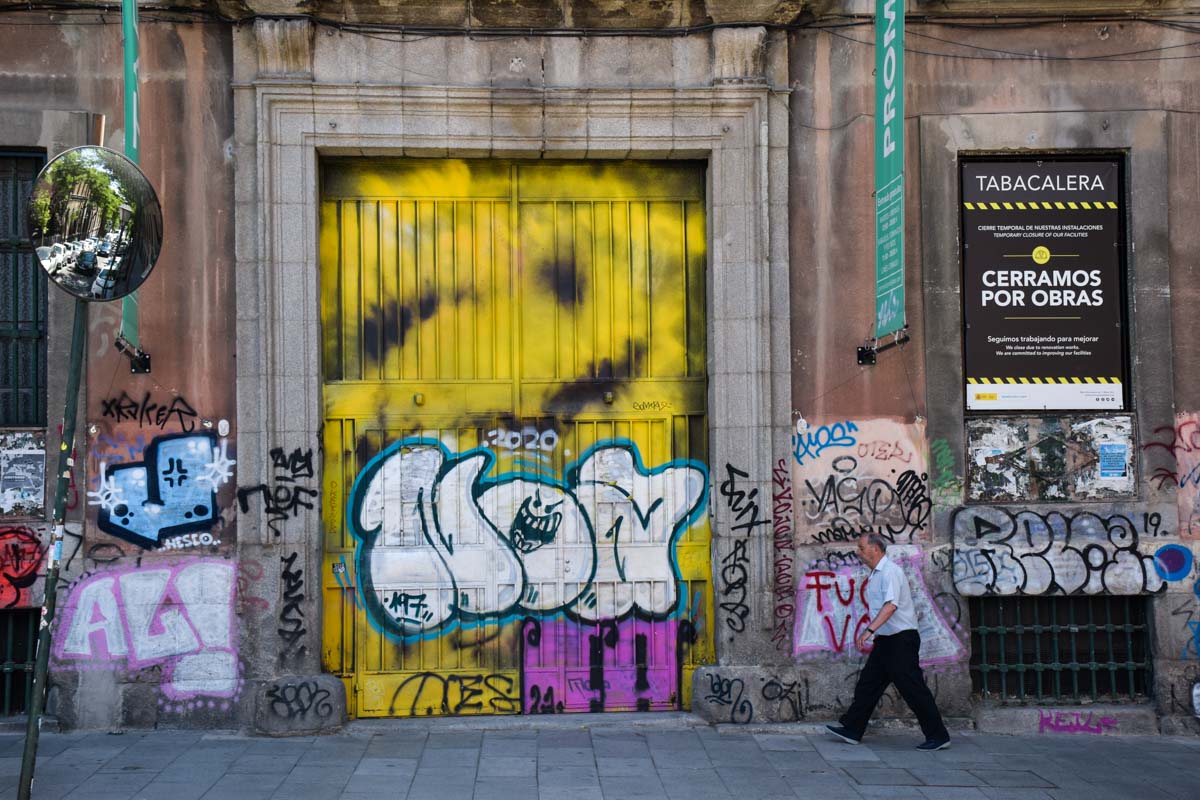 20. TRY THE CHINATOWN RESTAURANTS
While this area is not an actual "Chinatown," you will find a large concentration of Chinese restaurants near Calle del Maestro Guerrero and Calle de los Reyes, very close to Plaza España. I wouldn't know which one to recommend because I have tried several and I liked them all.
21. GO SHOPPING AT CALLE PRECIADOS AND CALLE FUENCARRAL
Consider yourself warned: You might not be able to control yourself while shopping during your first few days in Madrid. Don't feel guilty! It happens to all of us. As you will see, the area of Gran Vía, Calle Preciados, and Calle Carmen is a fantastic place to go shopping.
If you are looking for alternative stores, designer brands, and original products, I recommend that you take a stroll down Fuencarral street, which is very popular among locals.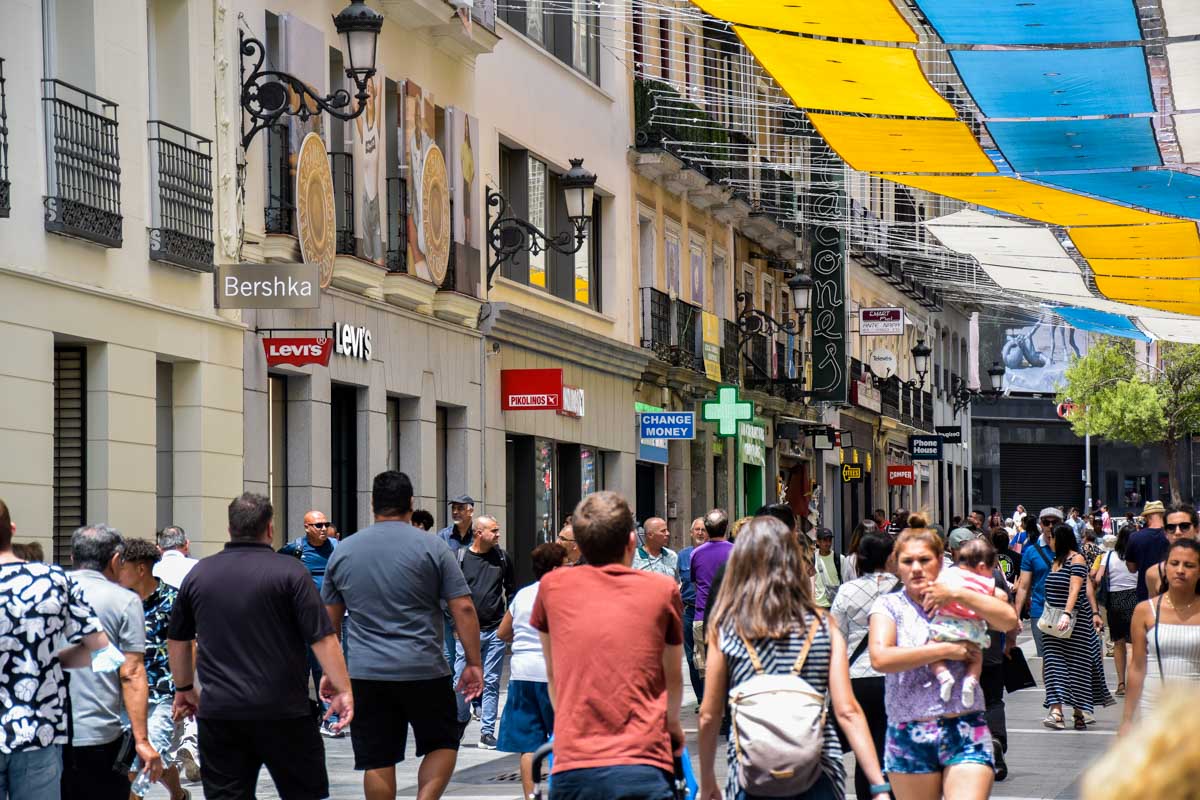 22. PARQUE DE ATRACCIONES DE MADRID
Parque de Atracciones de Madrid—Madrid's Amusement Park—can be a good option for spending your last afternoon in the city. The 23-euro admission fee gives you access to the main attractions, including bumper cars, El Abismo (The Abyss, a roller coaster), the Top Spin, and the Tornado.
MAP WITH MADRID'S TOURIST ATTRACTIONS
DO YOU HAVE MORE THAN 4 DAYS TO VISIT MADRID?
If you have more than four days to see Madrid, I recommend that you take the opportunity to visit a nearby city. Toledo, Segovia, and Avila are relatively close and are really beautiful. Another good option would be to visit El Escorial monastery.
You can also eliminate some of the visits I recommended before, try to see everything important in 3 days, and leave on the fourth day to visit Toledo, Avila, or Segovia. There are many options for organizing your trip to your liking.
If you don't have a car, don't worry. You can visit these places by bus. If you prefer, you can hire a one-day guided tour: Tour to El Escorial / Tour to Toledo / Tour to Ávila and Segovia.
DISHES YOU HAVE TO TASTE
Like most Spanish cities, Madrid is an outstanding gastronomic destination. Among the typical dishes of the Spanish capital are cocido madrileño, callos a la madrileña, huevos estrellados, and, of course, bocata de calamares.
The cocido—a stew—and the callos—tripe—are not exactly a light meal, so you will have to choose the right moment to eat them. On the other hand, you can order a bocata de calamares—calamari sandwich—at any time. At Plaza Mayor, you will find several restaurants that make a very tasty bocata.
In addition, many bars serve all kinds of Spanish tapas such as tortilla de patatas, patatas bravas, mariscos—seafood—octopus, Iberian ham, several types of cheese, and more.
4 DAYS IN MADRID: WHERE TO GO FOR A DRINK AT NIGHT
Madrid is a super vibrant city by day… and by night! Ay, ay, ay, ay, you would not believe the parties I've been to in the Spanish capital.
What are you looking for? In Malasaña, you will find a university atmosphere, rock bars, and alternative clubs. The party goes on in some areas of the neighborhood until the sun comes up. You can check out the bar La Via Láctea, a neighborhood classic.
Chueca is the city's gay-friendly neighborhood. It features many bars of all kinds. In general, there is quite a lot of partying. The area of Huertas street, in the Las Letras neighborhood, is also very lively, with plenty of restaurants, bars with live music, and clubs playing various music styles.
In the area of Nuevos Ministerios are several famous clubs with a less touristy atmosphere than in Huertas: Chueca and Malasaña. The Salamanca neighborhood also has good clubs and concert venues, such as the Wizink Center.
THE WEATHER: WHEN IS THE BEST TIME OF THE YEAR TO VISIT MADRID?
You can visit Madrid at any time of the year. However, if you come in July or August, be prepared for the scorching heat. If you come from December to March, bring your best winter jacket. One advantage of visiting Madrid in the winter is that there are not as many tourists everywhere.
In general, the most pleasant months to visit Madrid are from September to November and from April to June. These are the times of the year when the city enjoys its most moderate climate.
WHERE TO STAY DURING YOUR 4-DAY VISIT TO MADRID
Generally, the central district is the best area to stay in Madrid. You are within walking distance of many tourist sites and you can also go out for dinner at night without having to worry about taking a cab.
You will find many hotels, hostels, and pensions in this area, especially near Plaza del Sol, Plaza España, Callao, Chueca, Malasaña, and Gran Vía. Many 5-star hotels are located here.
If you are looking for a quieter neighborhood and luxury hotels, visit the Salamanca or Chamberí areas. Keep in mind that these neighborhoods are among the city's most expensive.
Check out this selection of highly-rated hotels and hostels:
TRANSPORTATION TO THE DOWNTOWN AREA
If you travel to Madrid by plane, you will land at Barajas International Airport. From there, you have several ways to get to the city center:
By bus: Line 200 arrives at the Avenida América terminal, Line 101 goes to Canillejas, and "Express Aeropuerto" ends its route at Atocha.
By subway: While it is not the fastest option, it goes all the way to the city center. There is an additional charge for passengers getting on the subway from the airport but it is still a cost-effective option.
By train and subway: If you are going to the city center, you can take the Renfe train to the Nuevos Ministerios stop and then take the subway to the stop that suits you best.
By cab: If you want to avoid public transport, you can take a cab, which is the most comfortable option of all. The fare to the city center is 30 euros. It is a fixed price, so you don't have to worry about the meter.
HOW TO GET AROUND DOWNTOWN MADRID: THE METRO
I think the metro is the best way to get around the city, especially if you are a tourist and don't know the Renfe train network well.
The metro is inexpensive—in the central area of Madrid, the fare is 1.5 euros each way. Also, it is fast and super-easy to use. With 13 lines and more than 300 stations, the metro enables you to reach almost any part of the city comfortably. It runs from 6 am to 11:30 pm. Here is a link to Madrid's metro map.
WHAT TO DO IN MADRID IN 4 DAYS WITH CHILDREN
In addition to all the tourist places to see in Madrid, there are many interesting options for visiting the city with children. Earlier, I told you about the Madrid Amusement Park, which is one of the best places to visit in Madrid when you bring kids.
In addition, on Saturdays and Sundays, there is a puppet show in Parque del Retiro, near the entrance closest to Puerta del Alcalá.
Casita-Museo del Ratón Pérez is a special place where magic, fiction, and culture coexist—Ratón Pérez is the Spanish equivalent of the Tooth Fairy. Here you will find plenty of figures, books, and audiovisual projections about this charismatic mouse.
The Museum of Natural Sciences never fails to please the most curious, whether they are children or adults. Its extensive collection of mammals, birds, and invertebrates, as well as the sections dedicated to geology and entomology, will enable you to spend a great afternoon with your family.
You can also take a look at the following places: the Museo de Cera (the Wax Museum), Baby Spa Madrid, Micropolix, or Palacio de Hielo (the Ice Palace).
ARE THERE HIKING TRAILS NEAR THE CITY?
Of course! Surely, you've heard about the mountains of Madrid. Sierra de Guadarrama is the perfect place for short weekend getaways from the capital.
If you have the time, you can take on some hiking trails in this natural park. The most popular routes are Ruta de los Siete Picos (difficult), the trek around Ciclo Glaciar de Peñalara from Cotos, and La Maliciosa, starting at La Barranca.
If you prefer to go in a group, check out the following guided tours in the Sierra de Guadarrama.
SAFETY AND HEALTH
Generally speaking, Madrid is a very safe city. As in many large metropolises, petty crime, theft, and even burglary occasionally occur. While certain neighborhoods are somewhat troubled, the city center is fairly quiet.
What is undeniable is that the city has an abundance of pickpockets. As a visitor, you must be careful with your belongings, especially on the metro or in crowded places. Also, don't be overconfident, never leave your phone visible on a terrace table, don't carry your bag open, and generally abide by these types of common-sense precautions.
If you are a foreigner, you can take some extra safety measures: Don't carry too much money on you, make a copy of your passport and leave the original at the hotel, and, above all, watch out for pickpockets in the metro. Follow these tips and you shouldn't have any problems.
USEFUL APPS
In today's technological world, there are useful applications for almost everything, including travel. Here are some apps to help you on your 4-day trip to Madrid.
---
Did you enjoy "What to do in Madrid in 4 days: the perfect itinerary"? Leave a comment below!
Hi, I'm Miguel; Adventure traveler, scuba diver and hiking lover. I have been traveling the world for the last 12 years and I hope my experiences, photos and hiking routes inspire you to travel the world too.