Would you like to explore one of the most authentic areas in all Thailand? If you are looking for an alternative to the crowded southern beaches, I recommend that you travel to Chiang Mai and embark on an unforgettable adventure: the Mae Hong Son Loop.
This loop will take you through lost villages, popular markets, sacred temples and amazing landscapes. Most people think that Thailand is a very crowded, touristy destination (and they are right). However, there are still plenty of beautiful areas to visit, places where mass tourism hasn't arrived and in which the friendly locals greet you with a smile.
The Mae Hong Son Loop, with 600 km of road and more than 4000 curves, is a famous route among cyclists and motorists, as it crosses mountains, forests, waterfal.ls and traditional villages. You can complete it in three or four days, but I'd recommend taking a few extra days to get the most out of it.
If you want to enjoy this adventure to the fullest, prepare a light backpack, rent a scooter and hit the road. You'll have the freedom to explore off-the-beaten-track places at your own pace.
ITINERARY
There are several ways to complete this adventure, taking different roads and visiting hundreds of destinations. It depends on your plans and the amount of time you have. The "must-see" places are Chiang Mai (the starting and ending point), Pai, Mae Hong Son and Mae Sariang.
In addition, you can visit other villages, temples, waterfalls, mountains and places along the way. In this guide, I'll talk about the places we visited during the seven days it took us to complete the loop. I'll also tell you about some of the best things you can do in each one.
Some travelers start the route from Chiang Mai to Mae Sariang, but we decided to start in the opposite direction: from Chiang Mai to Pai. To be honest, I don't know why we did this, but it doesn't really matter. You can do it either way you'd prefer; the direction doesn't change anything.
TRANSPORT: BICYCLE, MOTORCYCLE, HITCHHIKE OR BUS?
Although most people visit this area by bike, there are other alternatives. If you don't know how to ride a motorcycle, don't worry! You can complete the loop by car, hitchhiking or taking local buses. Sure, it will take longer, but it can be a good experience too. There are regular buses and minibuses connecting the main cities on the route. For more specific visits, you can hire a tour that will take you to small villages, national parks, etc.
After hiking in the Salawin National Park, we hitchhiked our way back from a small village to Mae Sariang. Getting a lift was easy and quick. The people of the region are very friendly and it seems that hitchhiking is a common practice among them.
This route is also very famous among cyclists. Just keep in mind that there are steep slopes along the way. If you are going to cycle, you get all my respect!
WHAT DO I NEED TO RENT A MOTORCYCLE FOR THE MAE HONG SON LOOP?
When you get to Chiang Mai, you'll see hundreds of motorcycle rental shops. Prices are similar, but it also depends on the scooter, the engine capacity and other factors. I recommend that you take a walk and visit two or three rental shops before making a choice. If you are planning to rent the bike for several days, try to bargain on the price a little.
Even though it sounds crazy, they will not ask you for a driver's license. However, this is very irresponsible.
IMPORTANT: Although they won't ask you for a driver's license, you should have one. If you have an accident and you don't have a license, you'll get into serious trouble. You should have experience driving a motorcycle if you want to attempt this circuit. I don't recommend inexperienced drivers to do it.
They will ask for your passport, even though it is illegal that they keep it. Try to leave a photocopy if possible because you'll want your passport with you in case you find a police control. Usually, they want to keep the physical passport in case anything happens to the bike. However, you'll find a few rental shops in which they accept a photocopy.
It's important that you take photos of the bike in case it has any small dent or scratch. This way you will avoid getting charged for any defect the bike had before you rented it.
There are different types of bikes, so find the one that best fits your needs and experience. The classic 125cc scooter is by far the most popular choice among travelers and backpackers. The price is usually about 250 baths a day.
If you want to rent semiautomatic or manual motorcycles, the prices increase to 800 – 2000 baths a day.
HOW IS THE ROAD?
On some parts of the route, such as the outskirts of Chiang Mai, you will find well-paved roads with a freeway look. The rest of the route is mostly mountain road. Sometimes, you will have to get off the road and ride on unpaved roads with small stones, sand, mud, etc. In general, the roads are acceptable but keep in mind that they contain hundreds of curves and steep slopes.
Moreover, you can find a couple of dogs "sunbathing" in the middle of the road or a chicken crossing the road at any time. Always wear a helmet and proper clothes for the road.
WHAT SHOULD I WEAR?
I recommend that you go light on this route. You can take the clothes you need, a camera, etc. and leave the rest at your hostel in Chiang Mai. Most hostels will store your stuff until you return from the trip.
Keep in mind that it's a mountain road, so even though you are in a tropical country, it can get cold depending on the season! It's not strange to encounter sudden weather changes and heavy rainfalls at any time. Bring at least an extra jersey and a waterproof jacket. In addition, don't forget a pair of shorts, a set of flip-flops and a few t-shirts for day-to-day wear.
HIKING THE NORTH REGION
This is the perfect place for hikers and adventure lovers. You can find several agencies offering hiking tours in all cities along the route. If you are looking for something cheap, Chiang Mai offers the best prices. However, it's the most touristy and least authentic option of all. Be ready to hike in a group of 10 people along beaten trails, visiting towns that five million tourists have visited before you.
I'd recommend that you hike in the Mae Sariang area. We hired a three-day jungle trek and it was amazing. We saw howler monkeys, walked through beautiful valleys and visited authentic villages. Very few people come to this part of the country, so the locals treated us almost like friends. We shared some of the local liquor, drank with them, ate with them, laughed … It was a very nice experience! You can tell that they are not tired of seeing "gringos," which is the case in other places.
THE MAE HONG SON LOOP
CHIANG MAI
Beautiful Chiang Mai will delight most travelers with ancient temples, good hostels and a lively nightlife. It's quite a touristy spot, so be careful if you're planning to book a tour from there. This is also the mecca of meditation, reiki and massage courses in Thailand.
Things to do in Chiang Mai:
– Wat Phra That Doi Suthep Temple. Although the city has several temples, Wat Phra That is one of the most picturesque in the northern region.
– Sunday Night Walking and Saturday Night Markets. The city markets are great places to try local food and walk among the locals.
– Climbing in Hang Dong Rock. A good option for the most adventurous; climb to the top of the rock and jump into the turquoise lagoon.
– Cooking, yoga and massage courses. Chiang Mai has a wide variety of courses, offering very reasonable prices.
– Bars and nightlife. Although it's not Bangkok or Phuket (fortunately), the city has an amazing nightlife. Many bars offer live music, shows and a bit of Thai naughtiness.
CHIANG MAI TO PAI
This is the roughest part of the trip, so be prepared to drive through steep slopes and infinite bends for a few hours. You will find beautiful landscapes, amazing viewpoints and tiny villages.
Although most people drive straight to Pai, I recommend that you take the road to Chiang Dao, a quiet mountain village surrounded by large rock formations. There you'll find a famous complex of caves with more than 12 km of tunnels, stalactites and other formations.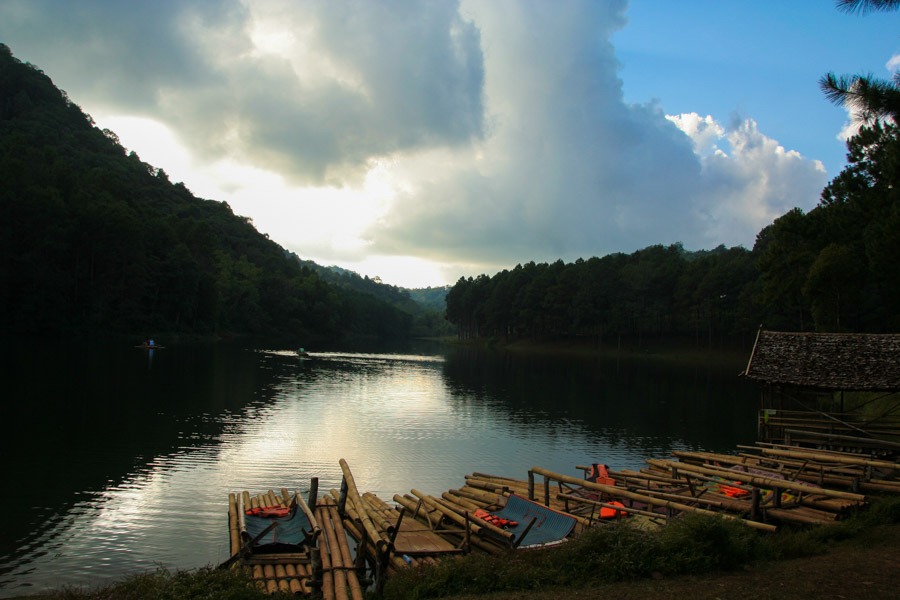 PAI
Pai is a lovely town that attracts hippies, backpackers and adventurers. A long time ago, it was a quiet place, although lately it has become a "must visit" for every backpacking route. You can visit waterfalls, hot springs and caves around Pai, or spend the days having a coffee and reading in a hammock with amazing views of the nearby mountains.
Things to do in Pai:
– Waterfalls. If you like to swim in natural places, you'll be glad to know that Pai has hundreds of nearby waterfalls that you can visit during the day. Mor Paeng is probably the most popular one.
– Pai Grand Canyon. Visit this amazing place to enjoy an unforgettable sunset.
PAI TO MAE HONG SON
Right after leaving Pai, you'll find some hot springs where you can enjoy a relaxing bath. When we visited the place, hardly anyone was there, but it can be a popular spot among organized tours. In any event, I don't think the place is really worth it. If you don't have much time, I'd skip it.
A bit later, you'll find a detour to visit the spectacular Tham Lot caves. You can take a bamboo boat that navigates the river into the cave or walk along the marked path and explore the cave by yourself.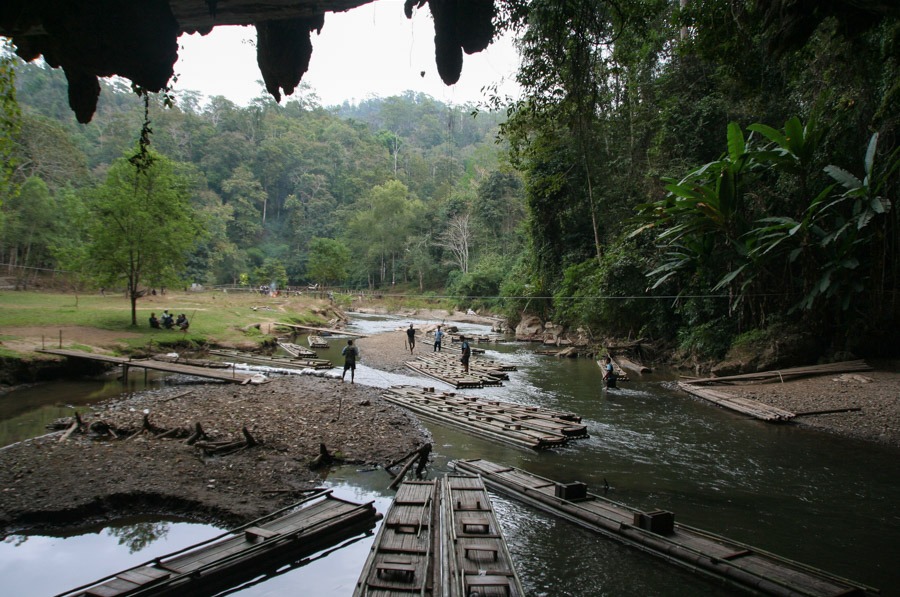 Keeping on your way to Mae Hong Son, you'll find the road to Ban Rak, a little Chinese town on the border with Burma. Located on the shores of a beautiful lake, Ban Rak is a picturesque village with an ancient tea tradition. It's a good place to take a break, enjoy a cup of tea and have a walk around the nearby tea plantations.
About 16 km before arriving at Mae Hong Son, you can visit the town of Ban Ruam Thai. Known as the Switzerland of Thailand, it grows not tea but coffee … and they say it's the best in the country! We wanted to see if this was true, so we took a break, sat in a coffee shop and had a cup of coffee. Yes, I must admit, it was delicious!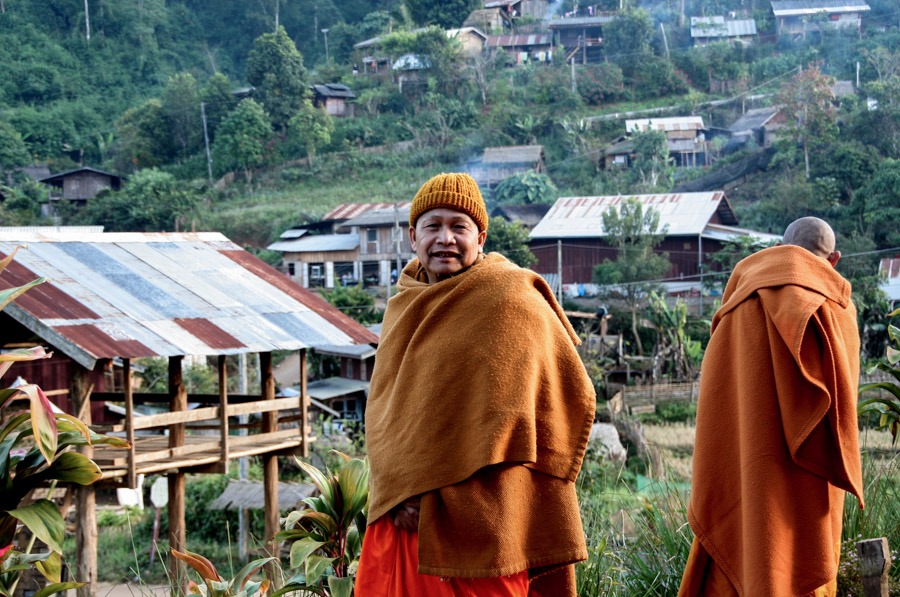 MAE HONG SON
Mae Hong Son is a popular destination among Thai tourists (especially during the weekends). However, you won't find many foreign tourists visiting this laid-back destination. I found it to be a lovely place, with an impressive lakeside temple and lively food markets.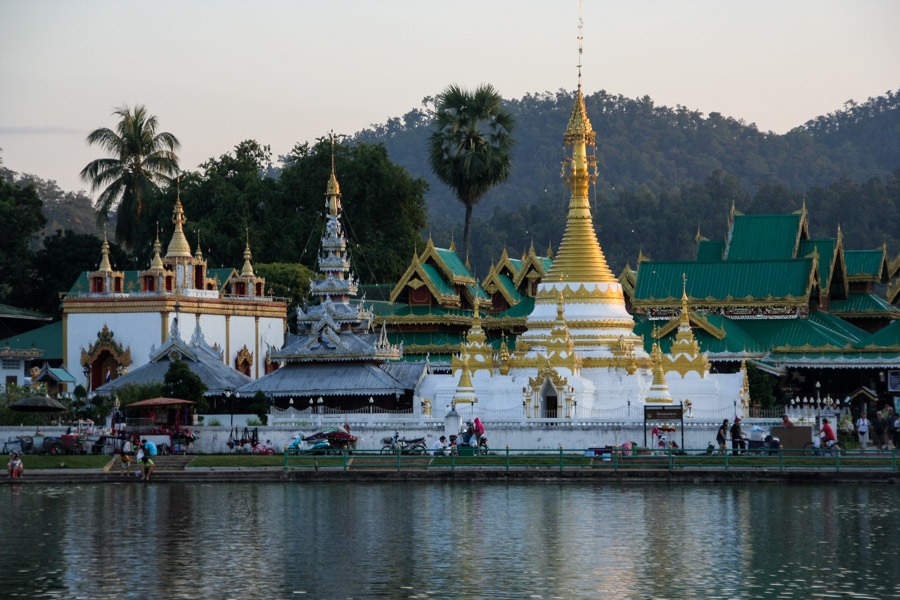 Things to do in Mae Hong Son:
– Wat Phra That Doi Kong Mu. Located on a hilltop, this beautiful temple offers the best views of the valley.
– Wat Chong Kham. Don't miss a visit to the main temple of the city, right in the central lake.
– Karen villages. There are several "long-neck" villages around Mae Hong Son. These villages are much less touristy than those close to Chiang Mai or Chiang Rai.
MAE HONG SON TO MAE SARIANG
A visit to the Mae Suring National Park is one of the best things you can do on this day. Known for its spectacular 100-meter-high waterfall, this is one of the greenest and wildest areas of northern Thailand.
A little farther on you will get to Khun Yuam. If you think you are short of time, this city is a good point to make a decision. Basically, you have two options: You can head towards Mae Sariang (which means adding one or two days to the route) or you can take the road that goes through Doi Inthanon National Park, returning to Chiang Mai. If you have time, I recommend that you continue to Mae Sariang and visit Doi Inthanon Park on the last day.
MAE SARIANG
Mae Sariang is a little town in which you probably won't find any other "farang" (white tourist). The options in terms of guest houses and travel agencies are quite limited, although there are a few decent choices. The best thing about getting here is feeling that you are really off the beaten path. The region, virtually unknown by foreigners, offers spectacular hikes through beautiful forests and traditional villages.
Things to do in Mae Sariang:
– Wat Chomchaeng. Visit this peaceful temple and enjoy a beautiful view from the top of the hill.
– Markets. There are several interesting and busy markets to visit.
– Trekking in Salawin National Park. I recommend that you hike around the nearby mountains and explore the less-visited Thailand. The area is full of traditional villages in which it seems as though time has not passed.
MAE SARIANG TO CHIANG MAI
If you still have time, take the detour to Doi Inthanon and visit this spectacular national park. This is home to the highest mountain in Thailand and is a real paradise for nature lovers.
WHEN TO GO
There are different, marked seasons in this part of the country, so keep the weather in mind before completing the loop.
From November to February the weather is cool and dry. This would be the most recommended season to visit the region. During March and April most peasants are burning weeds, so there might be some smoke along the fields. April is also one of the hottest months of the year. From July to September you'll have to bring along a waterproof jacket because the monsoon rains will make the trip somewhat difficult.
RESPONSIBLE TRAVEL:
SHOULD I RIDE AN ELEPHANT?
I would recommend that you don't ride elephants while visiting Thailand. Although some centers do a great job rehabilitating elephants and caring for them, other centers are just tourist attractions where elephants are used for profit. Most of these elephants are ridden for several hours a day, and in many cases they are abused.
Elephants are strong and aggressive animals, and they would never allow anyone to ride them if not for the beatings and abuse to which they have been subjected since they were babies. That's the truth about elephant rides.
If you want to see elephants up close, you can visit the Elephant Nature Park. There you can touch them, bathe them and even feed them, but no one rides the elephants.
SHOULD I VISIT THE LONG-NECK TRIBES?
Did you know that the famous Thai long-neck women are not Thai? Actually, this tribe, the Karen, is originally from Burma and took refuge in Thailand because of a civil war against the government. The Karen women have been using series of rings to stretch their necks for centuries, and although there are several theories about the origin of this practice, the truth is that they have a surprising and unique look.
Karen villages have become a major tourist attraction in Thailand. I admit that I was very curious to see them with my own eyes, so we drove to one of these villages. It's a complicated issue, as mass tourism has turned these villages into unethical human zoos in which other people benefit from the cost of the entries while the Karen women barely make a living out of their handicraft. However, not all Karen villages work like that. We avoided visiting the villages near Chiang Mai and Chiang Rai, which most organized tours visit.
Instead, we visited a small village near the border with Burma (I don't remember the name). There were no tourists and we were assured that the price of admission was only for the community.
If you decide to visit a Karen village, follow these recommendations:
– Find a Karen village off the tourist routes.
– Visit a village in which the entrance fee is for the community itself and not for intermediary third parties.
– Don't stop to take photos as if it were a zoo. Try to learn something about their history and their customs.
Keep in mind that in most cases the Karen have suffered repression and don't have adequate access to education, jobs or health care. When they are turned into a tourist attraction, these inequities become bigger. On the other hand, tourism is a source of income for them, so it would be difficult to change their situation from one day to the next without strong government support.
TRAVEL INSURANCE
I highly recommend that you get a good insurance policy before you visit the country. Trusted by thousand of adventurers, World Nomads is one of the best and more reliable options (without breaking your bank).
MAE HONG SON LOOP: OVERVIEW
This is a fantastic trip! If you want to get off the beaten path, don't miss this part of the country. To get the most out of it, a five- or six-day route would be the minimum to enjoy this paradise properly. Otherwise, you would spend all your time on the bike without being able to enjoy the route.
Rent your bike and have fun!
Some of the links in this post are affiliate links. This means that if you book or buy a service, I'll earn a small commission at no extra cost to you. I only link to stuff I love.
Hi, I'm Miguel; Adventure traveler, scuba diver and hiking lover. I have been traveling the world for the last 12 years and I hope my experiences, photos and hiking routes inspire you to travel the world too.