If you are thinking about going to the Himalayas and don't know where to start, I recommend you get to the province of Ladakh and enjoy one of the most breathtaking landscapes of this world. I could compare it with that time I hiked to the Annapurna Base Camp in Nepal!
It is possible to do the Markha Valley trek independently, without guides or sophisticated equipment. All towns through which you pass have houses that welcome travelers (homestay), where you can eat, sleep and recharge to continue on your route.
This is the route I took; the technical difficulty is medium and you don't need to be an expert mountaineer. Obviously you need to be well acclimatized to the altitude and have some level of fitness.
Itinerary of seven days. Markha Valley trek on a budget:
Day 1: Spitok – Rumbak
Day 2: Rumbak – Shingo
Day 3: Shingo – Skyu
Day 4: Skyu – Markha
Day 5: Markha – Hankar
Day 6: Hankar – Nimaling
Day 7: Nimaling – Kongmaru La-Shjang
Map
The logistics of the trek are simple. You will find dozens of places to sleep and drinking water is not a problem (usually boiled and with a burned wood taste).
You'll need a map of the region that you can find in different libraries in Leh and if possible, don't go independently to the mountain. Try to put together a group with fellow travelers you met before departing.
If you are alone and don't dare to do it on your own, you can also get a guide to accompany you for a much better price than hiring a whole tour with an agency.
Day 1: Spitok – Rumbak
There are many buses leaving from Leh to Spitok. From there you can walk to Rumbak or take a taxi from Spitok to Jingchan and avoid the first part where you walk along a rather boring road.
After Jingchan begins the most beautiful path leading to Rumbak, where you can find several shelters. It's a simple path, keeping the river on one side and crossing the Jingchan pass.
Day 2: Rumbak – Shingo
It's one of the most spectacular parts of the hike. We walked through the Ganda pass at approximately 4900 meters. From here, the endless landscape of snowy peaks and huge cliffs of the nearby mountains can be seen. The Stok Kangri, at 6130 meters, watched us carefully as we trekked.
We met some villagers and you can see their clothes finished with Yak hair, and cheeks reddened by the relentless sun. Here we began to see more grazing animals such as horses and some sheep.
Day 3: Shingo -Skyu
This is a day of descent. From the 4120 meters of Shingo to the 3430 meters of Skyu. Take it easy, because it's still the beginning of the trek and your knees have to go all the way. Upon reaching Skyu, you are at the entrance of the beautiful valley of Markha.
Day 4: Skyu – Markha
This is one of the flatter walks around the trek, but the heat and the distance may make it a bit of a heavy day. On the other hand, the village of Markha is lively with nice people. It's a good place to talk with local people (which probably will offer you Chang and other drinks), play with the kids, visit the nearby buildings, etc.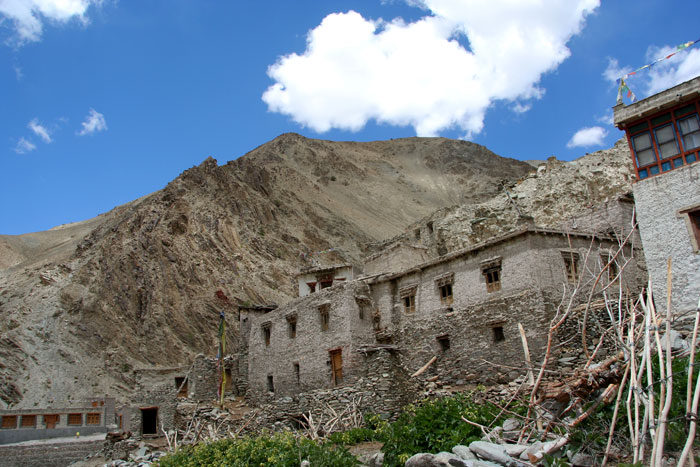 Day 5: Markha-Hankar
From Markha village, you can begin the ascent to Hankar. Here again, we are going to sleep at more than 4,000 meters, but if you've hiked up slowly, your body should be acclimated.
The path consists mainly of following the river before getting to the next village, so there are no major complications. Once you get to the village of Hankar, you will see that it is one of the most beautiful in the region and another good place to meet local people.
Day 6: Hankar -Nimaling
This is when we start climbing seriously. On this day, we will climb up to 4900 meters and sleep on the primary Nimaling camp, where some tents and plastics enable a fundamental place to overnight. If you didn't bring enough warm clothes (as was my case), this is where you'll regret it. The night is really cold, so bring a good sleeping bag.
The scenery here is different, it reminds me of the plains of Mongolia, where horses graze between large expanses of green and yellow (ok, I haven't been to Mongolia, but I saw some pictures, hehe.)
Day 7: Nimaling-Kongmaru La-Shjang
This is the hardest day of the whole trek, crossing the Kongmaru La pass at 5260 meters. However, it is also, in my opinion, one of the most beautiful days. The views from the Kongmaru La into the next valley are spectacular. The mountains are red, but other colors of orange and even green are mixed in the stones. From there, it's a day of pure descent to reach Shjang.
The bus going back to Leh from Shanjg leaves early in the morning, so you can spend the night and return the next day. You can also try to get a lift to Hemis where there are more bus options.
Budget for the Markha Valley trek
ACCOMMODATION:
All the villages mentioned in this itinerary have guest houses, with basic but comfortable rooms and most of the families are very friendly. Homestay: The price per person is about 800 rupees, including food and water.
---
TRANSPORTATION:
There are several buses from Leh to Spitok. However, part of the trek up to Jingchan is pretty boring, so it's a good idea to take a taxi to Jingchan and start the trek from there.
To return from Shjang there is no bus until the next morning, but you can get a ride to Hemis where there are more options.
---
FOOD AND DRINK:
No need to bring food, except for some biscuits, energy bars or whatever. In every house, they will serve you dinner and breakfast plus a small snack for the day. The food is basic but good, usually soup, rice, boiled potatoes and similar things.
You can try the yak milk tea. It's awful in my opinion, but you are in the Himalayas, so go ahead. The Chang, which is like the local beer, is not going to lack in the houses.
---
TRAVEL INSURANCE
I highly recommend that you get a good insurance policy before you visit the Markha Valley. Trusted by thousand of adventurers, World Nomads is one of the best and more reliable options (without breaking your bank).
WHEN TO GO
The best time to Hike the Markha Valley is from June to September when the paths are clear of snow and the cold isn't that intense. If you wanna go in another season, you should get a good guide and go very well equipped.
TIPS FOR HIKING THE MARKHA VALLEY
FIND HIKING BUDDIES
Although it's a route that can be done without guides or agencies, I don't recommend you going alone to the mountain. You never know what could happen, a fall, a broken leg, got too drunk in some of the villages because you had too much Chang?
---
GET A MAP IN LEH
Ask for it in bookstores, it shouldn't cost much. Study it a bit before heading out to the mountains and ask someone who knows the way to explain the itinerary to you.
---
DRINK LOTS OF WATER
Despite the height, the heat can be strong sometimes.
---
BEWARE OF ALTITUDE SICKNESS
It's not an excessively high trek, but if you're sick, you feel a headache or nausea, climb down, have a rest and you'll feel better. Detailed info about High Altitude sickness.
---
WEAR WARM CLOTHES
In general, the houses are well insulated, but the night at the Nimaling Camp, ufffff … that's cold!! Why did I ignore my mom when she told me to bring more clothes?
---
ENJOY
This is so far one of the hikes I've enjoyed most in my life. The landscapes, the people, the customs, the monasteries, the colours of the rocks and the never-ending mountains, will make you feel close to heaven.
Check out
the Ultimate Hiking gear list and don't forget anything important on your Himalayan expedition!
---
Do you have any question about Markha valley trek on a budget? Please Contact me!
Some of the links in this post are affiliate links. This means that if you book or buy a service, I'll earn a small commission at no extra cost to you. I only link to stuff I love.
Hi, I'm Miguel; Adventure traveler, scuba diver and hiking lover. I have been traveling the world for the last 12 years and I hope my experiences, photos and hiking routes inspire you to travel the world too.