My journey in Indonesia continued . After visiting the marvelous Mount Bromo, my body was asking for another dose of active and amazing volcanoes.
This time, the challenge would be bigger, a small hike to reach the summit of Mount Rinjani, which along with Mount Kelimutu in Flores is one of the most beautiful places you can find in Indonesia.
The Mount Rinjani Trek can be easily done with an agency or independently. In this case, I decided to go with an agency, mainly because I was traveling without the appropriate gear. The agencies provide a guide, sleeping bag, tent and several porters who carry all the food and cook basic but tasty Indonesian dishes.
Map
Hiking Mount Rinjani in 3 days / 2 nights:
Day 1: Senaru – Camp 1
A not too hard day, which goes progressively from Senaru's 600 meters to the 2,600 meters of the crater rim.
The beginning of the trek passes through a landscape of tropical forest with some more open areas including rice paddies and steep slopes. The landscape becomes more arid and rugged as we approach the crater rim.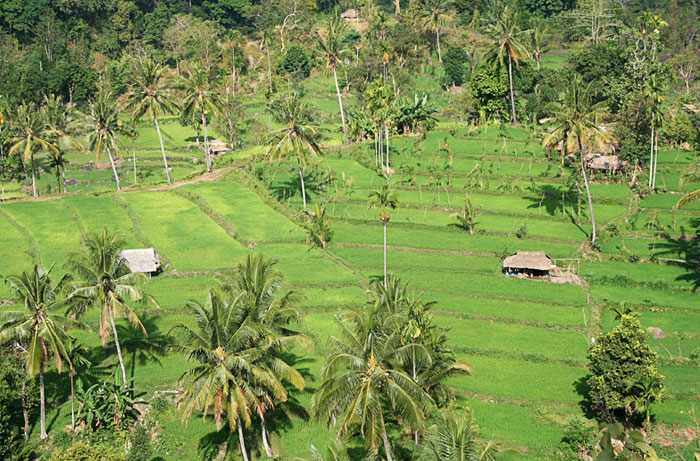 Day 2: Camp 1 – Camp 2
There are beautiful landscapes of huge cliffs in the thick mountain fog.
In the morning, we can see the perfect picture of Mount Rinjani, the lagoon and the relatively new volcano, Gunung Baru, inside. We get down to the lake and visit a nearby hot springs, and then reach Camp 2 where we spend the night.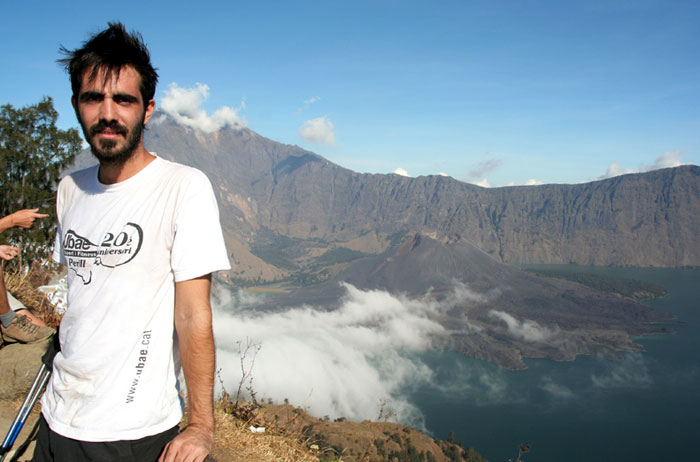 Day 3: Camp 2 – Summit of Mount Rinjani at 3.726 mts – Sembalun Lawang
While the trek wasn't particularly technical until now, I have to admit that the last part is quite hard. Each step up to the top is a battle against the cold, wind and even vertigo.
Once on the top, watching the mountains of neighboring Bali and Sumbawa, as the sun begins to color the stage, you feel that all the effort was worthwhile.
It may not be the highest mountain in the world, but still above the clouds and watching that show it doesn't matter, for me I was on top of the world for a moment.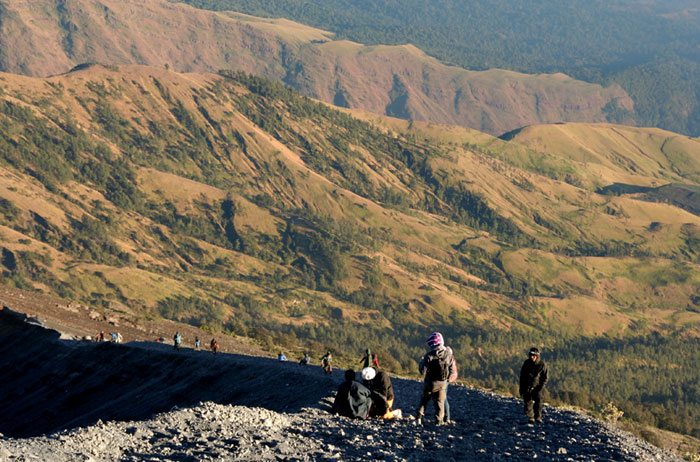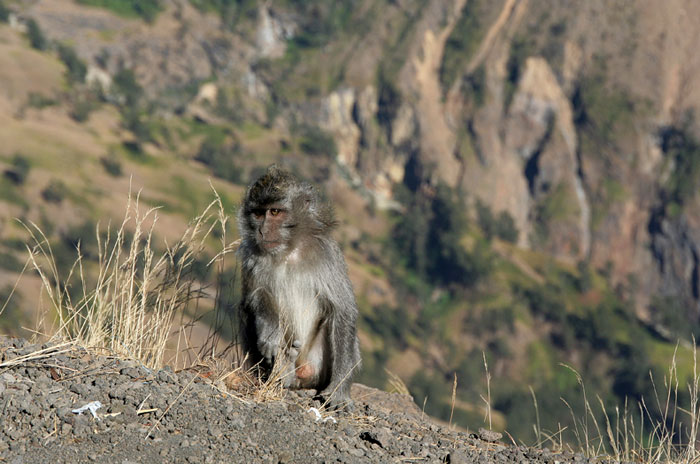 HOW TO GET THERE. MOUNT RINJANI TREK
Although not frequent, there is a bus from Mataram to Anyar which costs about $2 and takes 2.5 hours.
From Anyar to Senaru several vans or motortaxis will take you up for $1 or $2. If you go with an agency, they will pick you up and take you from Sembulan Lawang back to Senaru.
If you are flying to Indonesia, I highly recommend that you download the free Skyscanner app. The main advantage of this app is that shows you a comparison calendar with the cheapest days in each month.
PLAN YOUR TRIP
ACCOMMODATION
These are some options that I loved in Mataram and Senaru:
Mataram: Kurnia Jaya Hotel. Great option for couples. It's clean and comfortable.
Senaru: Anak Rinjani. Beautiful place with breakfast included.
Airbnb is also a good option for couples and groups, with rooms and apartments at great prices. If you sign up through my link, you will get $35 of Airbnb credit!
TRAVEL INSURANCE
I highly recommend that you get a good insurance policy before you visit Indonesia. Trusted by thousand of adventurers, World Nomads is one of the best and more reliable options (without breaking your bank).
WHEN TO GO
The best season to climb Mount Rinjani is from April to November, when the rains are less frequent. The park may be closed from December to March.
INFO AND TIPS. HIKING MOUNT RINJANI.
Permits
All visitors must pay an entrance fee to the park of 150,000 rupees, around $10.
---
Go independently
For those who want to do it independently, without guides I recommend starting by Sembalun Lawang. Otherwise, starting in Senaru, some people may tell you that you should go with a guide and make some trouble.
The guide is not necessary at all, the path is well marked and there are many people on the route so you can always follow some other group.
---
Warm clothes
The climb to the top is done at night, so it is very important to have good warm clothes, gloves and a hat as the wind at that altitude is very cold until the sunrise begins.
---
Gear
Besides good boots and warm clothes, it's important to bring a torch for the night, a swimsuit to have a bath in the hot springs and toilet paper.
Check out
the Ultimate Hiking gear list and don't forget anything important on your Indonesian expedition!
---
---
Do you have any question about Mount Rinjani Trek? Please Contact me!
Some of the links in this post are affiliate links. This means that if you book or buy a service, I'll earn a small commission at no extra cost to you. I only link to stuff I love.
Hi, I'm Miguel; Adventure traveler, scuba diver and hiking lover. I have been traveling the world for the last 12 years and I hope my experiences, photos and hiking routes inspire you to travel the world too.