Palacio de Cibeles (Cybele Palace), Parque del Retiro (Retirement Park), Plaza del Sol, The Opera, the Gran Vía… Madrid offers hundreds of fascinating places to fall in love with. Do you have only one day in Madrid? Don't worry. Although the city is quite large, many of its most famous spots are located in the central district, within easy walking distance. Plus, Madrid's metro works really well.
We'll start our day by visiting some of the city's most famous landmarks; then, we'll go for some delicious tapas. We'll finish the day with a beautiful sunset. In case you have additional time, I'll suggest extra things you can do on your second day in Madrid.
You can also take a look at these other articles: 4 Days in Madrid, 3 Days in Madrid, Three Days in Barcelona, Two Days in Barcelona, One Day in Barcelona, Three Days in Valencia, Two Days in Valencia, and One Day in Valencia.
WHAT TO DO IN MADRID IN ONE DAY
1. A FREE TOUR
If you have only a little time to get to know the city, a free tour can be one of the best things to do. Most tours in the center of Madrid are very similar. Check out this free tour, which lasts about 2 hours and takes you through the most famous spots in the city.
The local guides do their job well and share stories, legends, and interesting tidbits about the city. Overall, these tours are a great way to learn about the city and make some friends along the way. Although the tour is free, people always tip the guides.
2. THE FAMOUS PLAZA DEL SOL
If you are exploring the city alone, I recommend starting at Plaza del Sol. Located in the center of Madrid, this is possibly the most famous square in town. Did you know that this is where people celebrate the chimes on New Year's Eve? Yes, it all happens right in front of the clock tower.
If you take a walk around the square, you will find other famous landmarks such as a statue of the El Oso y el Madroño (the Bear and the Strawberry Tree), a building featuring a billboard for Tío Pepe (Tío Pepe is a famous brand of sherry and brandy), and the Kilometer Zero Plaque.
In addition, you will find that the square is always bustling with tourists, Madrileños running around, street vendors, and all sorts of other characters. Additionally, the Plaza del Sol has access to some of the city's most famous neighborhoods, such as the Barrio de los Austrias, the Barrio de Las Letras, and the shopping areas of Calle Preciados, Callao, and Gran Vía.q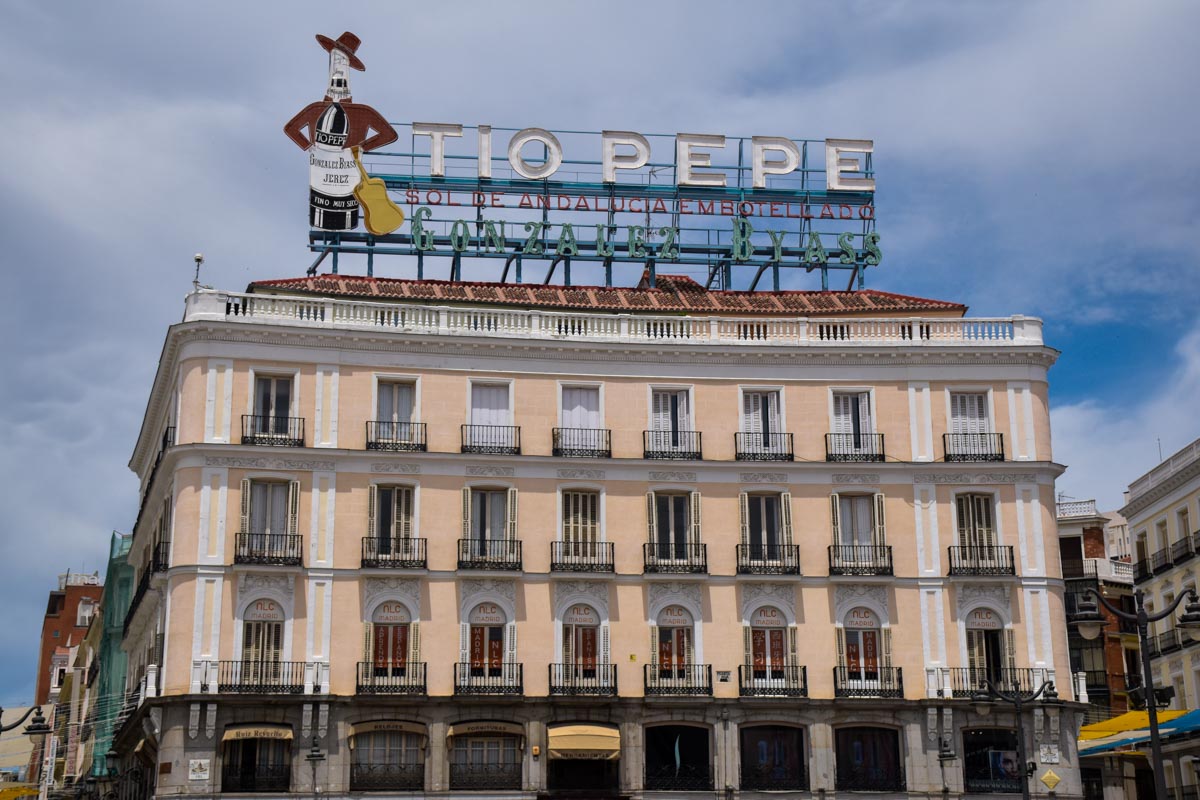 3. THE PLAZA MAYOR AND THE BARRIO DE LOS AUSTRIAS
The Plaza Mayor is the heart of Madrid de los Austrias, one of the most historic city neighborhoods. As you walk among chapels, palaces, and other historic buildings, you can get a feel for the medieval past of the capital. One of the top activities here is walking through the alleys, entering small squares, and enjoying the unique architecture of this neighborhood.
I love the area of Cava de San Miguel, Cuchilleros street, Arco de Cuchilleros, and Latoneros street. Oh, I almost forgot… In the Plaza Mayor area, they make finger-licking-good calamari sandwiches. People say the bocadillos or bocatas (sandwiches) at Bar La Campana and Bar La Ideal are the absolute best.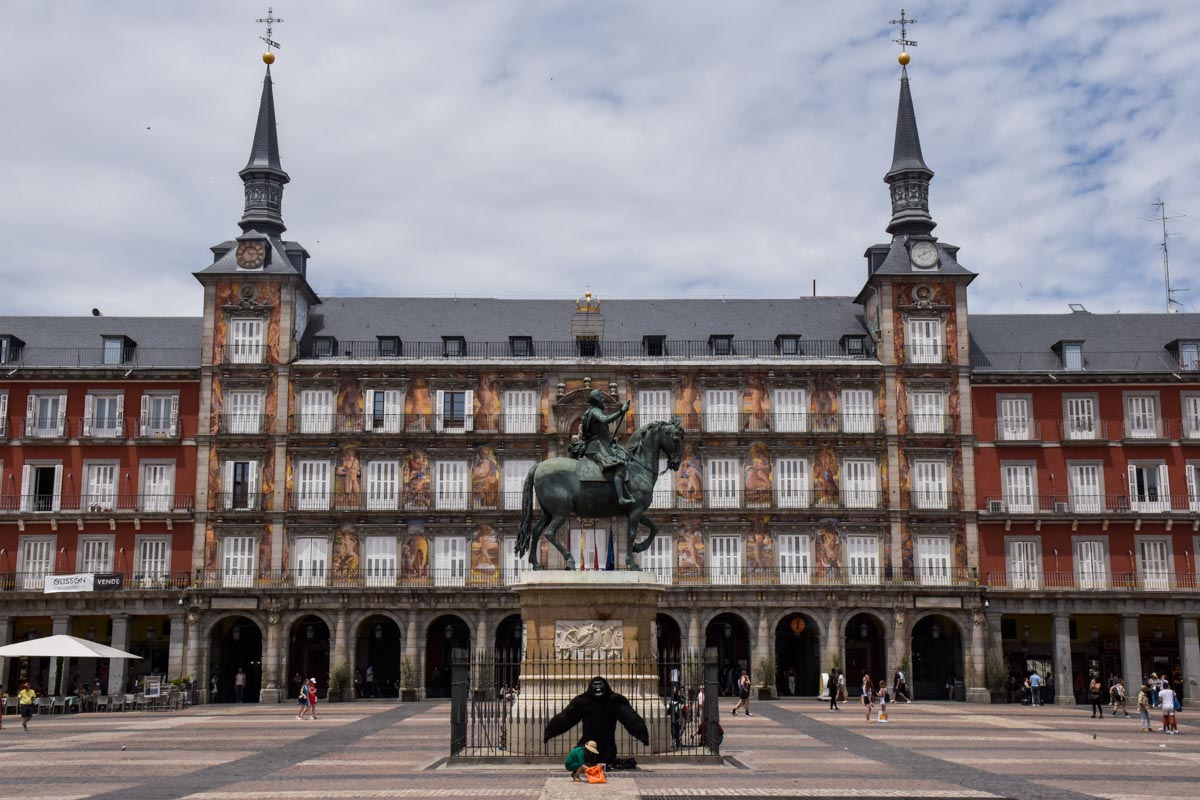 4. THE MARKET OF SAN MIGUEL
Just off the Plaza Mayor, Mercado de San Miguel is a monument to Spanish gastronomy. This beautiful market, over a hundred years old, and with metal and glass structure, hosts numerous traditional food stalls from all corners of Spain.
Trying to select the best tapas in the market is an impossible task. The best thing to do is to take a walk around and see what piques your interest. Top-quality Iberian ham, octopus, seafood skewers, padrón peppers, fried fish, oysters… You can get anything and everything there! And, of course, all of this delicious food can be accompanied by a good Ribera del Duero wine or whatever you prefer.
5. THE PLAZA DE CIBELES AND PUERTA DE ALCALÁ
Now, we leave the Austrias District to visit two other essential landmarks in Madrid: the Plaza Cibeles and Puerta de Alcalá.
In the Plaza Cibeles, you will find two key monuments: 1. La Fuente de Cibeles (Cybele Fountain), which was built in 1782 and represents the Roman goddess Cybele on a chariot pulled by two lions. 2. Palacio de Cibeles (Cybele Palace), a beautiful modernist building from 1909. It was originally the headquarters of the Post and Telegraph service and is currently the headquarters of the City Council of Madrid.
The Puerta de Alcalá was inaugurated in 1778 and was one of the main entry points to Madrid for visitors coming from the north, for example, from regions such as Aragon and France. Today, it is one of the most renowned monuments in Madrid.
6. THE ROYAL PALACE AND THE ALMUDENA CATHEDRAL
Built under the rule of Philip V, the Royal Palace is an absolute must-see on any trip to Madrid, whether for one day, two days, or longer. This stunning palace has 3,418 rooms, plus a lot of major spaces, such as the Throne Room, the Royal Armory, the Hall of Columns, the Royal Chapel, and others.
The Almudena Cathedral, located directly opposite the palace, is another place you can't miss. Dedicated to the Virgin of Almudena, this cathedral features a beautiful colonnaded portico on the entrance floor and a large balcony on the second floor.
7. WALK ALONG THE GRAN VÍA
Madrid's Gran Vía is synonymous with bustle, stores, businesses, 5-star hotels, and observation points overlooking the city. This major thoroughfare connects iconic landmarks such as Plaza España, Plaza Callao, Calle de Alcalá, Malasaña, and Chueca, so you are bound to find it at one point or another.
This is a great location to take a selfie with a famous building in the background. Some of the most unique buildings in Gran Vía are:
The Carrión Building, a multipurpose space in the style of art deco and expressionism, is famous for the huge Schweppes billboard that illuminates the nights of Madrid.
The Metropolis Building is one of the most beautiful buildings in Madrid, with its eclectic French-style dome and spectacular sculptural façade.
The Telefonica Building is a truly massive structure that, when built in 1929, was one of the first skyscrapers in Europe. As the name suggests, it is the headquarters of the Telefonica phone company.
8. ENJOY THE SUNSET AT THE TEMPLE OF DEBOD
Did you know that there is an Egyptian temple from the 2nd century BC in the center of Madrid? Crazy, isn't it? A gift from Egypt to Spain, the Temple of Debod comes from Lower Nubia in southern Egypt.
The place has an almost mystical air, especially at sunset, when the reddish hues of the sky reflect on the small pools surrounding it.
9. GO OUT FOR A DELICIOUS DINNER
As with any good European metropolis, Madrid offers an excellent choice of restaurants. You will find bars with cheap tapas, restaurants with local specialties such as bocata de calamares (a Spanish-style baguette sandwich stuffed with fresh and crunchy fired calamari rings), luxury restaurants… you name it. There are options for all tastes.
If you are looking for local food, I recommend some tapas restaurants. La Taberna El Sur, Entre Santos Madrid, and El Sur de Huertas all have very good reviews.
Do you fancy something more international? If so, I recommend Bakan, Mawey Taco Bar, or Barracuda MX if you want Mexican food. If you are looking for Indian food, check out Curry Masala Restaurant. If Japanese food is more your thing, try Sibuya Urban Sushi or Yakiniku Rikyu.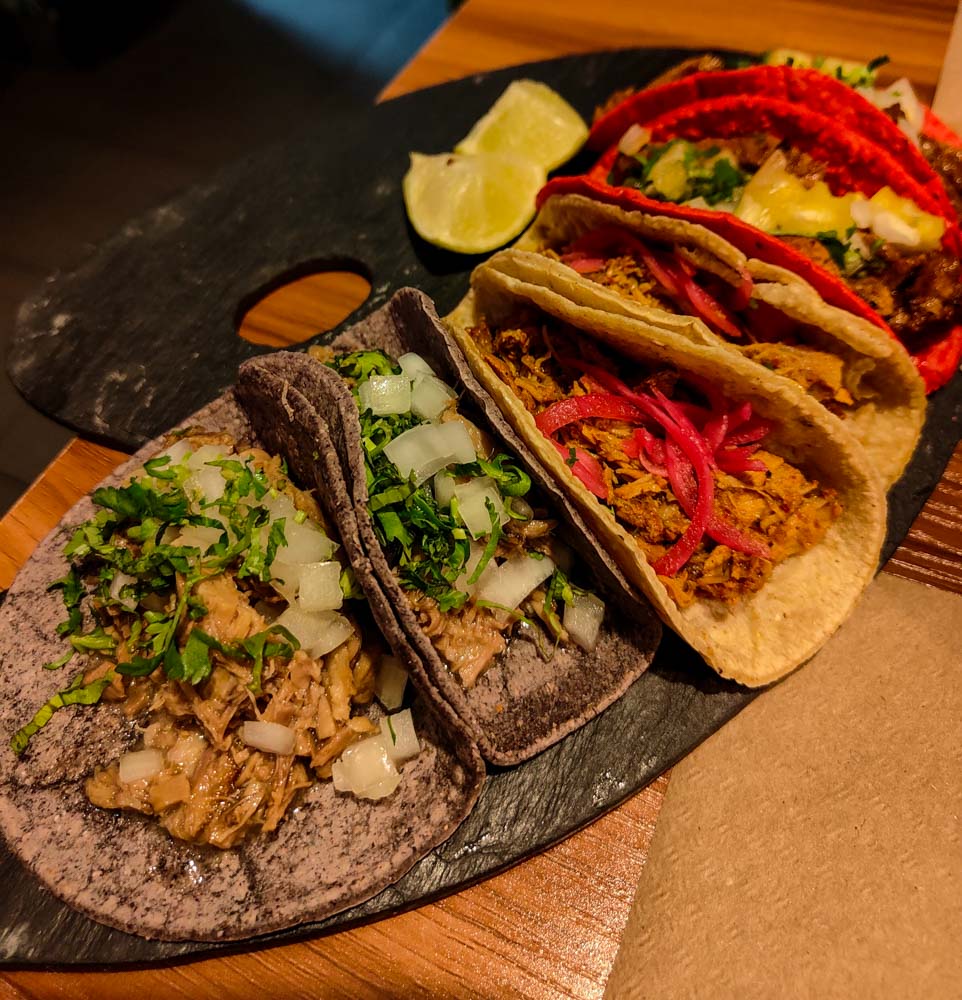 10. GO OUT FOR A DRINK
Now that you've had a great dinner, what could be better than a drink to help with digestion? The center of Madrid is home to many lively venues where you can get your pick of drinks. Huertas street, in the Las Letras neighborhood, features a wide selection of bars and nightclubs.
Malasaña and Chueca are two other neighborhoods with a very active nightlife. If you walk around, you're sure to find a place to enjoy a cocktail.
A few of the highest-rated cocktail bars in Madrid are Glass by Sips, Momus, and Lovo Cocktail Bar. Keep in mind that they are quite expensive.
DO YOU HAVE MORE THAN ONE DAY TO VISIT MADRID?
Let's say the previous visits are mandatory; they are the places you cannot miss. However, if you have a little more time in Madrid, say, a day and a half or even two, I recommend that you include some of the following stops in your itinerary:
11. CONGRESO DE LOS DIPUTADOS
The Congreso de los Diputados is the lower house of the Cortes Generales, where Spanish politicians meet to talk and play political tug-of-war. The building that houses the Congress is called the Palacio de las Cortes and is another emblematic site in Madrid.
The palace's facade is quite beautiful. It features an elegant portico flanked by six Corinthian columns and two bronze lions, the work of sculptor Ponciano Ponzano.
12. PARQUE DEL RETIRO
There is no better getaway from the hustle and bustle of the capital than a walk in El Retiro Park. With its 125 hectares and 150,000 trees, El Retiro Park is a true haven of peace in the middle of the metropolis.
Locals and tourists come to this green space to walk, play sports, or take a boat ride. The park has a beautiful pond where you can rent a boat and paddle at your leisure.
Another location you cannot miss is the Palacio de Cristal (Crystal Palace), which was built as a greenhouse for the 1887 Philippine Islands Exposition. Today it hosts contemporary art exhibitions.
13. THE PRADO MUSEUM
What can be said about the Prado Museum? The only issue with this treasure is that visiting it takes several hours due to the many stunning works of art it contains. That's the main reason why going through the Prado Museum is probably not the best idea if you have only one day to see Madrid.
Obviously, though, it depends on each person's preferences. For example, one time, my father and I took a trip to Madrid almost solely to see the museum.
The Prado Museum, which experts consider to be one of the world's finest museums, houses priceless works by artists such as Rubens, Goya, and Bosch, to name just a few. Velázquez's Las Meninas is one of the museum's most famous treasures but there are many, many more pieces of note. If you visit, do not miss the section on Goya's black paintings. It is truly spectacular!
14. BARRIO DE LAS LETRAS
This is one of Madrid's most popular neighborhoods, full of tapas bars, picturesque streets, and lively squares. Here you will find the famous Huertas street, a very popular nightlife spot.
In addition to being an important place of leisure, the Barrio de Las Letras was home to illustrious Spanish writers. Here lived Quevedo, Cervantes, and Lope de Vega, whose house was converted into a museum managed today by the Royal Spanish Academy.
15. LA LATINA
La Latina is one of the liveliest neighborhoods in the city, both day and night. One of the top activities in the area is sitting on a terrace eating tapas and drinking beers. I can tell you it is easy to get used to such a hard life!
At night, there is something for everyone. The Berlin Cabaret, quite popular from Monday to Thursday, entertains its clientele with provocative shows of fantasy and wit. The Contraclub is another interesting venue, hosting various shows ranging from hip-hop to jazz to flamenco. If you enjoy big clubs, go to the Shoko, where you will find live concerts, DJs, and a variety of music styles.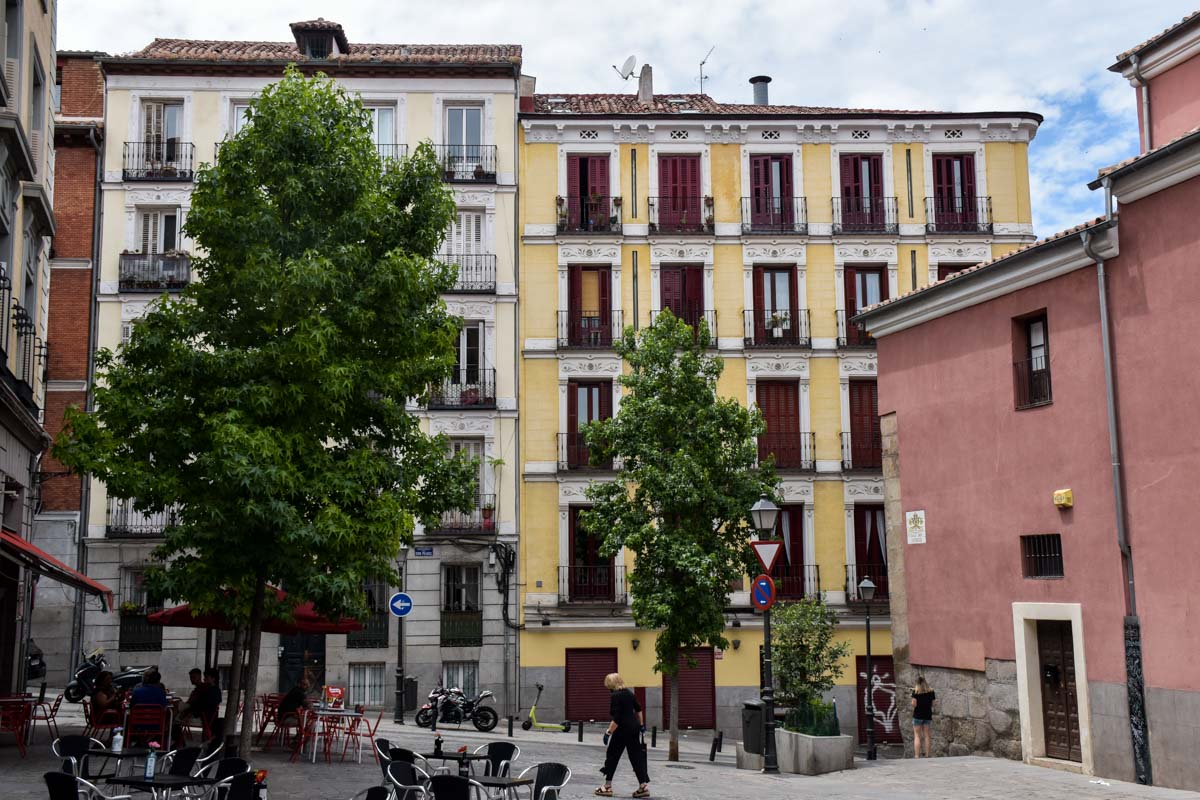 16. CALLE DE PRECIADOS
People who love to go shopping find paradise on earth in Madrid. There are so many stores of all kinds—both international brands and original products—that it is difficult to resist the temptation of giving out to consumerism.
Calle de Preciados, or simply Preciados, a street connecting Plaza del Sol with Plaza Callao, is among the most popular. Here you will find Zara, Pull & Bear, Desigual, Sephora, and other well-known brands.
Of course, this area also has two large El Corte Inglés locations. El Corte Inglés is a chain of department stores famous all over the country. It is like a big shopping mall, and it sells almost everything you can imagine.
17. CLIMB TO A BEAUTIFUL VANTAGE POINT
On what higher note is there to finish this visit to Madrid than by climbing to a terrace with a bar? In Madrid, many hotels have a sky bar from which you can watch over the city, cocktail in hand.
Another option is to go up to the terrace of the Círculo de Bellas Artes. The 5-euro admission fee is certainly worth the epic views. You can purchase your ticket at the entrance.
MAP OF PLACES TO SEE IN ONE DAY IN MADRID
HOW TO GET FROM THE AIRPORT TO THE CENTER OF MADRID
There are several ways to get to the city center by public transportation. The most popular are:
By taxi: The official fare is 30 euros in either direction, from the airport to downtown and vice versa. The ride takes about 30 minutes but this depends on traffic.
By bus: The truth is, I have never taken it, but several lines connect the airport with the center of Madrid. The most popular is Bus Exprés, which reaches the city in 40 minutes and costs about 5 euros.
By train: Fast and cost-effective, the train connects the T4 terminal with several important stations including Chamartin, Nuevos Ministerios, and Atocha. Here is the link to the Renfe website.
However, these stops might not work for you if you are going to the city center (the Puerta del Sol area, etc.). You can take the train to Nuevos Ministerios, for example, and then take the metro (subway) from Nuevos Ministerios to the stop that suits you best. I usually do this. I have found the combination of train and metro to be one of the best ways to get to downtown Madrid.
By subway: If you prefer, you can take the metro line 8 to Nuevos Ministerios. From there, switch lines to reach your destination. This is a good option if your plane lands in terminals T1, T2, or T3, which do not have a train stop. Here is the Madrid metro map.
GETAWAYS NEAR MADRID
If you have more days to spend, why not visit some of the beautiful cities that are only one or two hours away from Madrid?
El Escorial: El Escorial Monastery was built under the mandate of Philip II to commemorate the battle of San Quintín. A UNESCO World Heritage Site, this set of buildings with almost 500 years of history is one of the best tours you can take from Madrid. Day tour to El Escorial.
Toledo: One of the best-preserved medieval cities in Spain, Toledo is a must-see for those who want to learn about the country's exciting history. Day tour to Toledo.
Avila: Located northwest of Madrid, Avila is famous for its impressive city walls, its old town (another UNESCO World Heritage Site), and its churches and palaces. Day tour to Avila and Segovia.
Segovia: Surely you have already heard about the Aqueduct of Segovia. However, that is not all. Segovia has a beautiful medieval old town, a stunning cathedral, and an Alcazar (Islamic-style palace) that are well worth a visit. By the way, the AVE high-speed train takes only 30 minutes to connect Segovia with Madrid. If you prefer, you can go on an organized tour.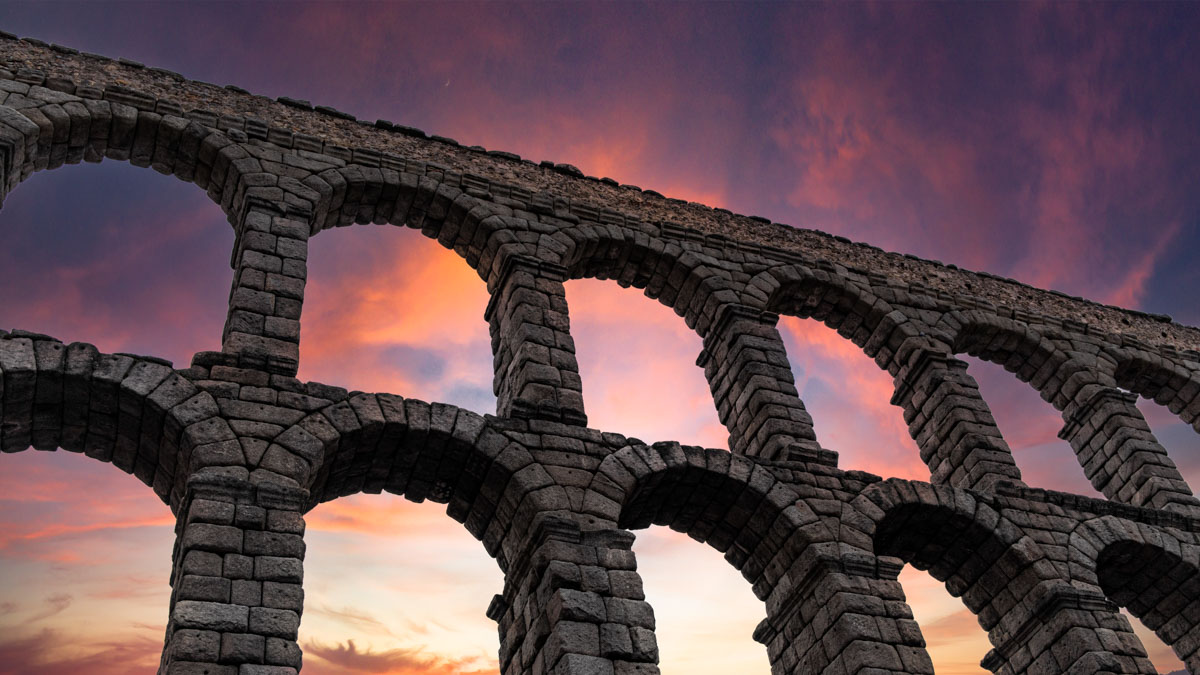 WHERE TO STAY OVERNIGHT IN MADRID
If you have only one day to see Madrid, staying in the city center is best, as most of the interesting places are in the downtown district. There are also plenty of restaurants and bars to visit at night. This way, you don't have to worry about taking a cab back to your hotel.
The following hotels have very good locations and excellent ratings:
WHEN TO VISIT MADRID
If you have a choice as to when you'll be traveling to Madrid, I recommend that you avoid July and August, as these are the hottest months of the year. Summer in Madrid can be sweltering! Also, those months are the high tourist season, which means the city is full of visitors taking pictures on every corner.
Likewise, I recommend avoiding January and February, which are very cold months. That said, you can visit the city at any time. You just need to wear the right clothes.
SOME FINAL TIPS FOR A ONE-DAY VISIT TO MADRID
1. If you visit the city in the summer, bring a hat, sunscreen, and a bottle of water. Seriously, it can get really hot.
2. If you visit Madrid during the winter, bring warm clothes. One of the advantages of Madrid's winter is that the cold weather is quite dry. Therefore, if you dress warmly, it is quite bearable.
3. Don't worry about visiting all the places on the list. Each of these spots has its own pace. Choose the ones you don't want to miss, mark them in an app on your phone (e.g., maps.me), and go through your itinerary little by little. If you don't have the time to visit a place, that's okay! This will give you an excuse to visit Madrid again at another time.
4. Walk a lot. Although it can be tempting to take the subway from one place to another, the best way to get to know the city center is to walk through its neighborhoods and get lost in its streets.
5. If you don't have much time, I recommend that you take the Free Tour. They will take you through the most iconic sights in just 2 hours. This way, you won't have to worry about anything.
---
Did you enjoy "What to do in Madrid in one day: the perfect itinerary"? Leave a comment below!
Hi, I'm Miguel; Adventure traveler, scuba diver and hiking lover. I have been traveling the world for the last 12 years and I hope my experiences, photos and hiking routes inspire you to travel the world too.