One of my reasons for coming to Peru was to explore the Cordillera Blanca. The Peruvian Andes are spectacular throughout the country. Once in Huaraz, we made some plans to explore different regions. From day trips around nearby lakes to some wild adventures like hiking the Huayhuash circuit without a guide, the endless options make this region one of the most interesting in the country.
After a few days of acclimatization and hiking logistics, we were ready for our first adventure: The Santa Cruz Trek.
This circuit is usually completed in 4 days and 3 nights, and goes through a beautiful valley decorated with snowy peaks, glaciers, rivers and beautiful lakes. It is one of the most beautiful hikes you can do in South America.
Most tourists come here with groups organized by agencies in Huaraz. We decided to buy a map and go on our own. The path is well marked and you will always find some group, so it would be very difficult to get lost along the Santa Cruz trek.
In general the difficulty is medium, depending on whether you take porters or go on your own. In any case, after a few days of acclimatization in Huaraz, it is possible for anyone with a certain physical fitness to complete the circuit.
MAPA
The city of Huaraz
4 days hiking the Santa Cruz trek on a budget
Day 1: Huaraz – Llamacorral
On the first day it's a good idea to wake up pretty early. First we took a van from Huaraz to Caraz. In Caraz we took another van that would take us up the road (not suitable for people with vertigo) to the tiny village of Cashapampa. This is the starting point of the hike.
From Cashapampa we walked into a narrow valley with stunning views. Huge cliffs and a very long valley create a landscape of great beauty. Arriving at the Llamacorral camp, at 3,750 meters, we dropped our backpacks and began setting up camp. Here, one of the rangers charged us the park fee of 65 soles.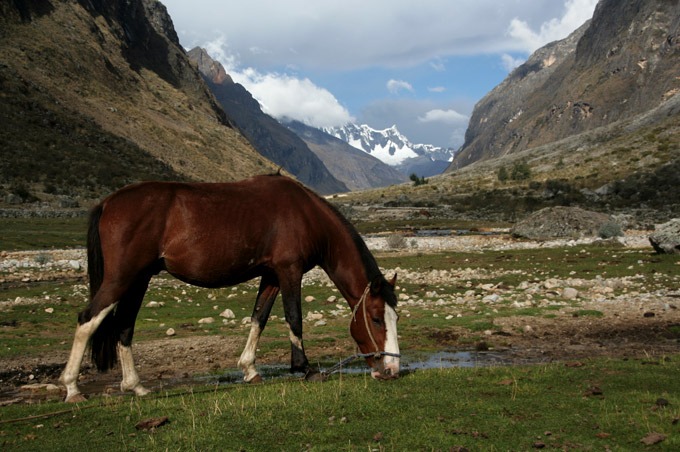 Day 2: Llamacorral – Tuallipampa
We continued along the beautiful valley up and downhill. We passed the "Jatuconcha" lagoon and admired the imposing mountains on both sides. On the left, you can see the peaks of Santa Cruz, Quitaraju and Alpamayo. At the end of the day, we camped in Tuallipampa (4,250 meters); one of the most beautiful places I've camped in my life. Right in front of the campsite, the peak "Taulliraju" forms a huge rock wall, rising from an amazing lagoon surrounded by glaciers. Simply spectacular.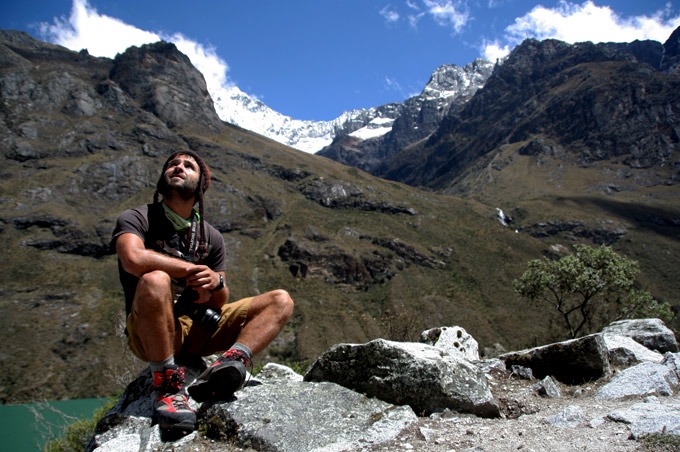 Day 3: Tuallipampa – Paria
This is the most spectacular day of the trek. We passed the highest point, "Punta Unión" at 4,760 meters, and saw several valleys and snowy peaks in all directions. After a long way down, we reached the campsite of Paria, at 3,850 meters, where we spent the night.
Day 4: Paria – Vaqueria
The last day of the hike was not very difficult. Basically, we walked down from Paria to the village of Vaquería, where we could find transport back to Huaraz. The views from the van window are spectacular.
ACCOMMODATION IN HUARAZ
I loved this hostel: Casa de Ana B&B. Amazing terrace on the top.
WEATHER. WHEN TO GO
The best season is betwen May and September, when the days are sunny and there is not much rain. We went in November though, during the rainy season, but the weather was okay.
TIPS FOR HIKING THE SANTA CRUZ TREK ON A BUDGET
GET A MAP
If you go on your own, consider buying a map in Huaraz. Although the path is well marked, it is always good to be sure where you go. There are several shops where you can buy one.
---
ACCLIMATIZATION
The Santa Cruz trek passes through a point of 4,750 meters, so it is important to do a good acclimatization. There are several lagoons near Huaraz that you can visit in a day trip. Just perfect for a gradual acclimatization.
---
WATER
Throughout the trekking you will find some streams where you can refill your bottle. However, be careful because there may be droppings and even dead animals in the lower areas. If you see a stream, try to fill your bottle from a higher area. Never drink water from the river that runs through the middle of the valley.
---
COMPLETE THE HIKE FROM VAQUERÍA
If you are not quite used to hiking, we were told that starting the trek from Vaquería was a bit easier. So that may be an option to consider.
---
VAN GOING BACK TO HUARAZ
There are several vans from Vaquería to Huaraz, but the schedules are infrequent. However, there are almost always some vans waiting for organized groups. You can ask if they have a place and they may take you for the same price.
---
TRAVEL INSURANCE
I highly recommend that you get a good insurance policy before you go hiking in Peru. Trusted by thousand of adventurers, World Nomads is one of the best and more reliable options (without breaking your bank).
---
---
Check out
the Ultimate Hiking gear list and don't forget anything important on your Peruvian expedition!
---
Do you have any questions about Santa trek on a budget? Leave a comment!
Some of the links in this post are affiliate links. This means that if you book or buy a service, I'll earn a small commission at no extra cost to you. I only link to stuff I love.
Hi, I'm Miguel; Adventure traveler, scuba diver and hiking lover. I have been traveling the world for the last 12 years and I hope my experiences, photos and hiking routes inspire you to travel the world too.